WordPress Turns 20: Unlocking The #WP20 Milestone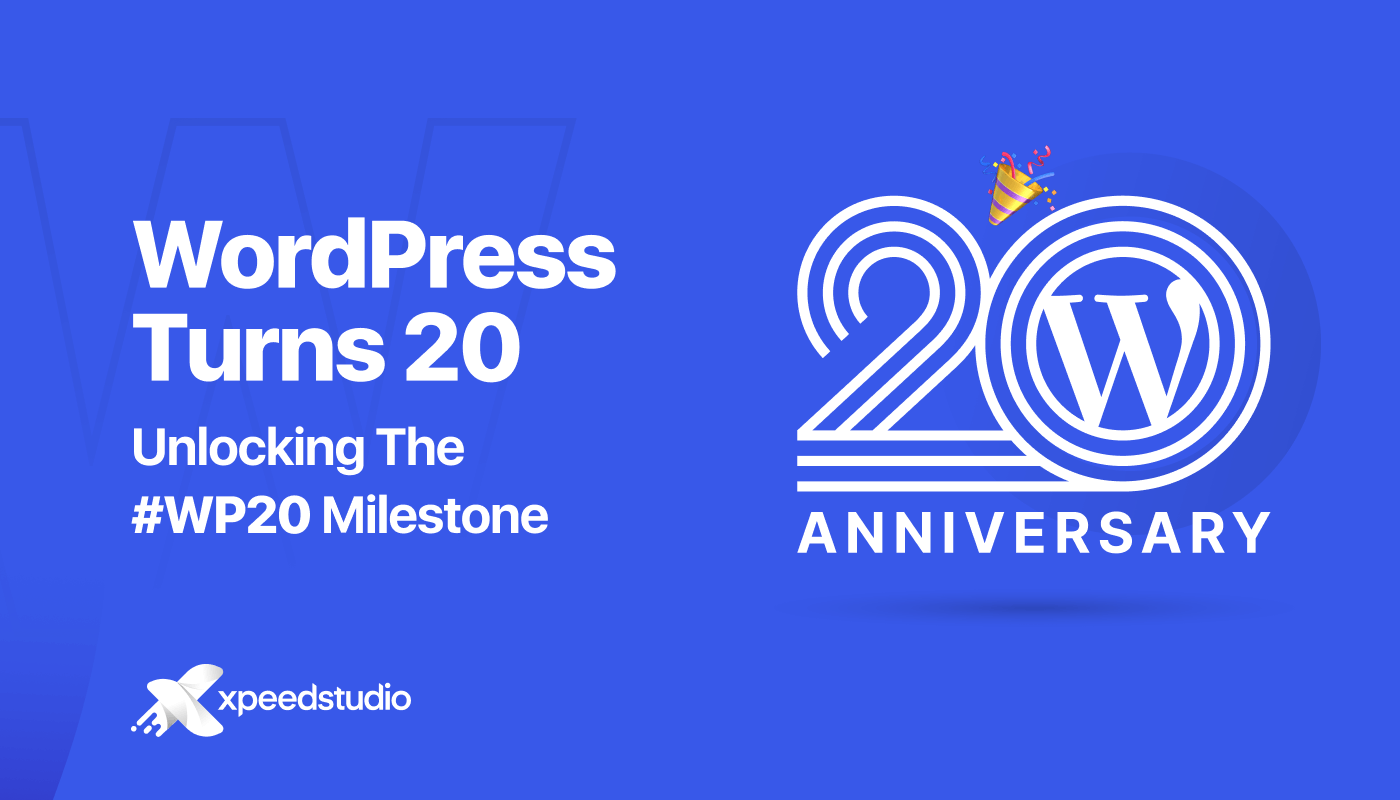 From a blogging platform to a global phenomenon, WordPress is turning 20 years old on May 27, 2023! 🎉
With an intuitive interface, endless customization, and robust security, WordPress evolved into a powerhouse that fuels around 43% of websites across the world.
However, the #WP20 milestone signifies the incredible achievement and endless possibilities of WordPress. And, to celebrate and honor this occasion, various events and activities have been arranged already all over the world.
In this write-up, we will explore the marvelous journey of WordPress, event details, and also find out the reasons behind this enormous success.
Let's begin! 🥳
The Evolution of WordPress: Long Story Short
In the digital era where online presence is paramount, WordPress is the name of a reliable and versatile content management system. But it hasn't come to this place within one day, right?
So, what makes WordPress one step further from its competitors?
Well, the revolutionary growth of WordPress is the result of its continuous improvements to empower individuals regardless of large or small businesses.
Hold your breath and dive into the journey of WordPress!
Birth of WordPress (2003)
The journey of WordPress started in 2003 in need of a well-architect publishing system. And, Mike Little and Matt Mullenweg — these 2 legends thought something "out of the box" and created this dynamic content management system.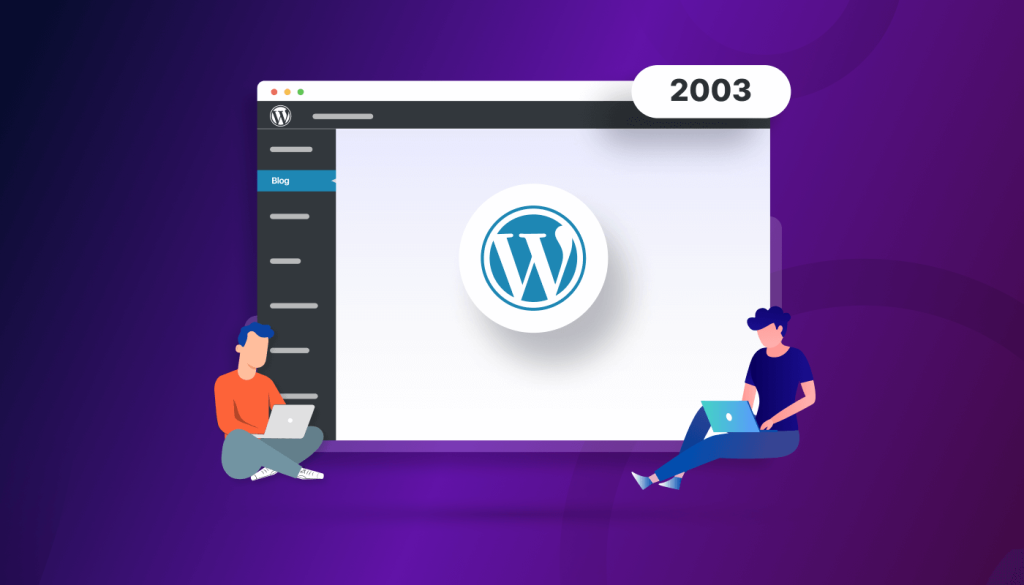 Initially, they developed a fork of "b2/cafelog" with Texturize, and XHTML 1.1. The first version of WordPress 0.7 (None) was released on May 27, 2003, and installed on 2,000 blogs as of May 2003.
In the earlier versions, WordPress mainly focused on installation, upgrade, adding support of plugins, search engine-friendly permalinks, multiple categories, XFN support, Atom support, etc.
And now, it's a powerful content management system (CMS) built with PHP and MySQL initiated and developed by Michel Valdrighi.
Revolutionizing Web Publishing (2005–2017)
The next decade was the raising era for WordPress. After the initial design and development, the developer keeps continuing releasing new versions with new features in this time period. This help to make WordPress the most reliable content management system.
The WordPress theme/template concept started in the 1.5 version (Strayhorn) and it was released on February 17, 2005. And after that, there was no looking back! Michael Heilemann has designed a new default template to manage static pages of WordPress.
At the end of 2005, WordPress 2.0 (Duke) was released adding a wide range of features for smooth editing, image uploading, administration controls, etc. Plus, plugin development was also included in this core release.
In 2007-2009, releases were mainly concerning automatic upgrades, widget support, dynamic dashboard, dashboard widgets, multi-file upload, corrected security issues, and so on.
Noteworthy features of the releases from 2010 to 2017:
Introducing new theme APIs
Launching default theme "Twenty Ten"
Adding a new admin bar to manage pages and posts, comments, and internal linking
Adding post locking
Improving post formats UI update and menus UI improvements
Appling maintenance and security updates automatically
Including a color picker
Improving image workflow
Adding new menu functions
Enhancing site speed
Simplifying the main dashboard
Responsive design for mobile devices
Compatibility with PHP version and MySQL
However, all of the editing tasks were done by using the official Classic Editor plugin before developing the Block editor in 2018.
The Gutenberg Block Editor Era (2018 – Present)
In 2018, WordPress brought a significant change in its editor and take it to the next level. WordPress 5.0 (Bebo) release introduced the new block-based editor Gutenberg.
Gutenberg allows users to add multiple media types and design complex layouts without any coding knowledge.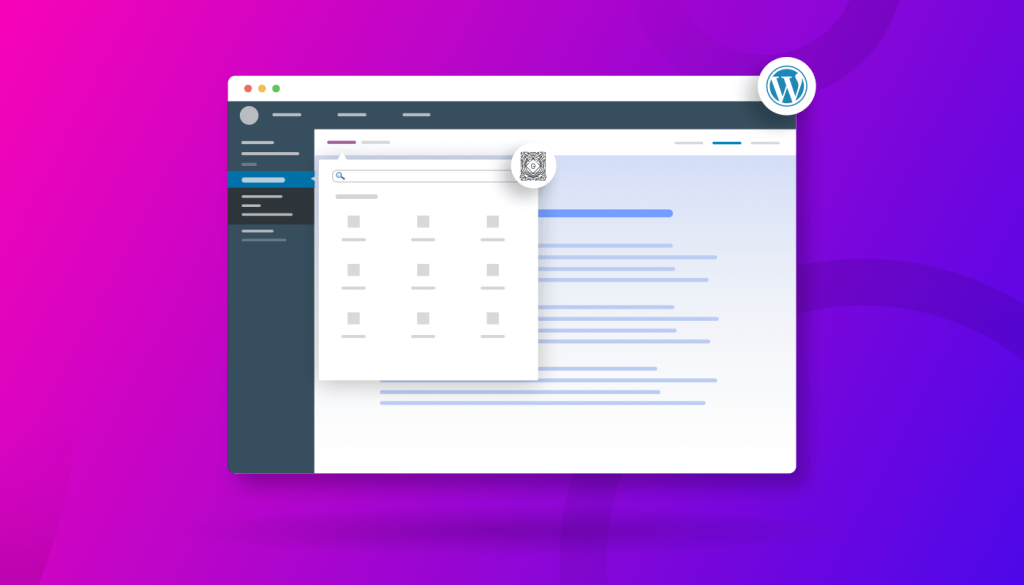 Also, a new theme Twenty Nineteen is included in this same release. And, every year they launched their new default theme according to the current year. (e.g. now the default theme is Twenty Twenty-Three).
Now, WordPress 6.2 (Dolphy) is the latest release which comes with lots of improvements and updates:
New site editor interface
Templates and templates parts
Improved navigation block
Block inserter
Free media access
Theme Style browsing
Distraction-free mode
Copy and paste styles, etc
All of these features added more control and flexibility to design and develop WordPress websites for any purpose.
📢📢 Learn more About WordPress 6.2 –
👉👉 What's New in WordPress 6.2: 11 Major Features and Beyond!
WordPress Turns 20: Celebrating Glorious 2 Decades
Making 2 decades of revolutionization in content management and helping millions of businesses, WordPress proudly turns 20 years old on May 27, 2023.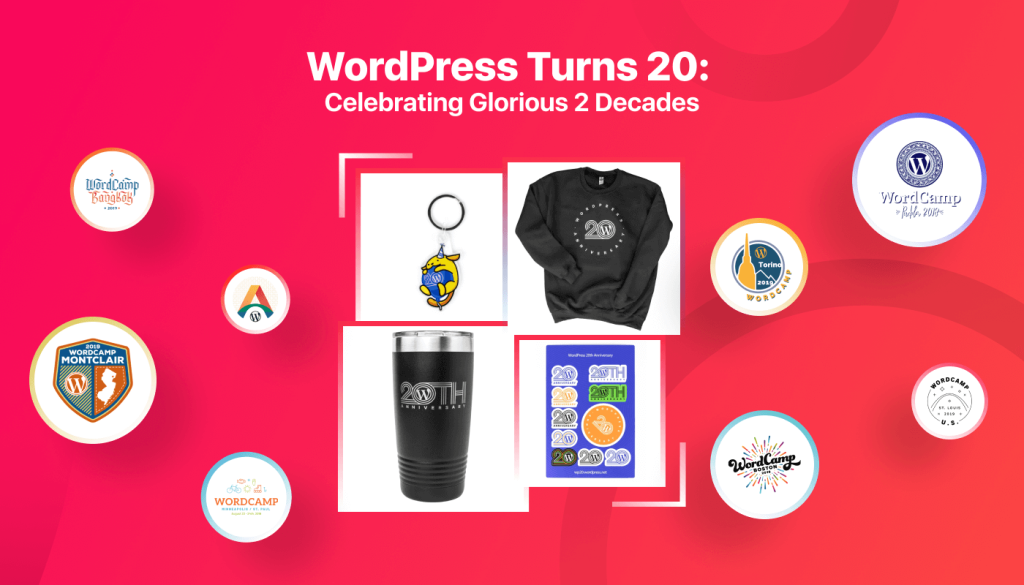 There are countless arrangements, events, meetups (virtual & physical), innovations, and new visions across the world to celebrate this remarkable milestone and journey of exploration.
To connect everyone and provide all updates about this anniversary celebration, WordPress has launched an official anniversary website: https://wp20.wordpress.net/. Whether you are a designer, developer, or user, you can check all the events associated with the biggest day of WordPress.
This celebration doesn't last only a day! There will be 100+ meetup events in various regions and countries throughout the whole year! There will be virtual meetups too. All of these will reflect the marvelous journey of WordPress and look toward the future.
Using the hashtag #WP20 on social media to spread the spark of celebration among more people and the community.
Developed a Community Event Submission Form to recognition of events and campaigns planned throughout the community. Anyone can enlist their events on the official anniversary website sharing all details in the form.
In addition, there will be too much fun with this grand celebration. There is also the arrangement of various swag and merch to enhance the joy of celebration. T-shirt, sweatshirt, thumber, keychain, sticker sheet, enamel pin, etc swags are available at https://mercantile.wordpress.org/
Awards and Recognition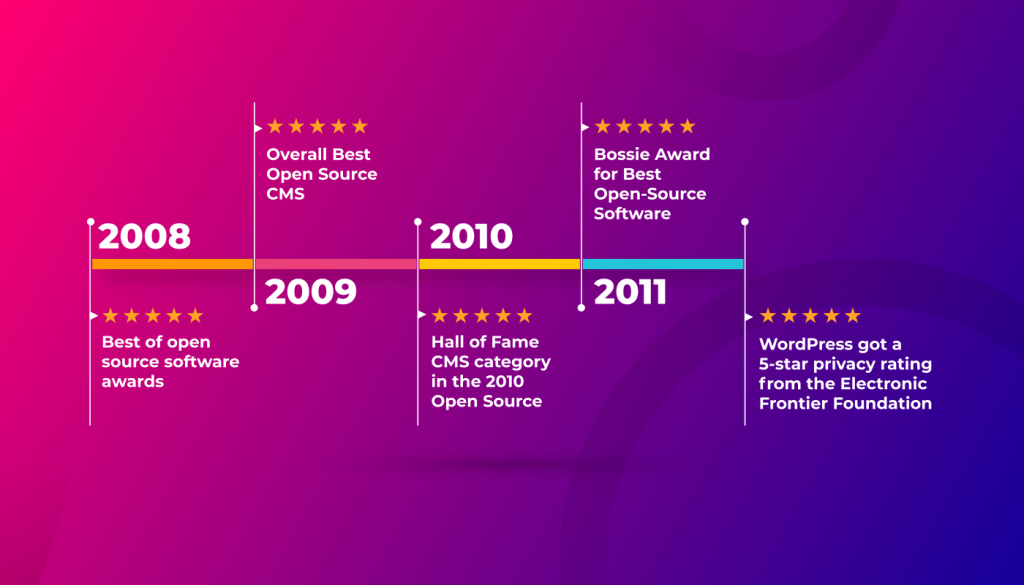 5 Reasons Behind the Immense Success of WordPress
The immense success of WordPress for the last 20 years can be attributed to the following 5 key factors –
1. Hassle-Free Site Management
The first reason for the remarkable success of WordPress is its seamless site management system. The user-friendly interface and easy installation make WordPress accessible to users without even coding knowledge.
Also, you can host a WordPress website on a local server(e.g. LocalWP, XAMPP) without any cost for developing, testing, and learning purposes.
Besides, there are 31000+ themes available (free& pro) to change the appearance and functionality of the WordPress website without changing the site content or core code. Moreover, the block-based editor and the latest version of WordPress offer a full site editing experience.
Plus, thousands of plugins are available on WordPress.org to extend or depreciate any features and functionalities.
Moreover, WordPress websites are device responsive, and phone apps are available on WebOS, Android, iOS, Windows Phone, and BlackBerry.
In addition, this platform provides an intuitive admin panel to customize the website design and content effortlessly.
👉👉 See also – What is WordPress Block Pattern and How to Use It Like a Pro
2. Democratizing Web Publishing and Content Creation
The mission of WordPress is "Democratize Publishing" and works towards the goal. WordPress gives the freedom to build, change and share web content all over the world.
With minimum setup and cost, WordPress emphasizes accessibility, security, fast speed performance, and ease of use. Besides, the clean permalink structure, integrated link management, and search engine–friendly as well as user-friendly interface help people to share their information and express themselves online efficiently.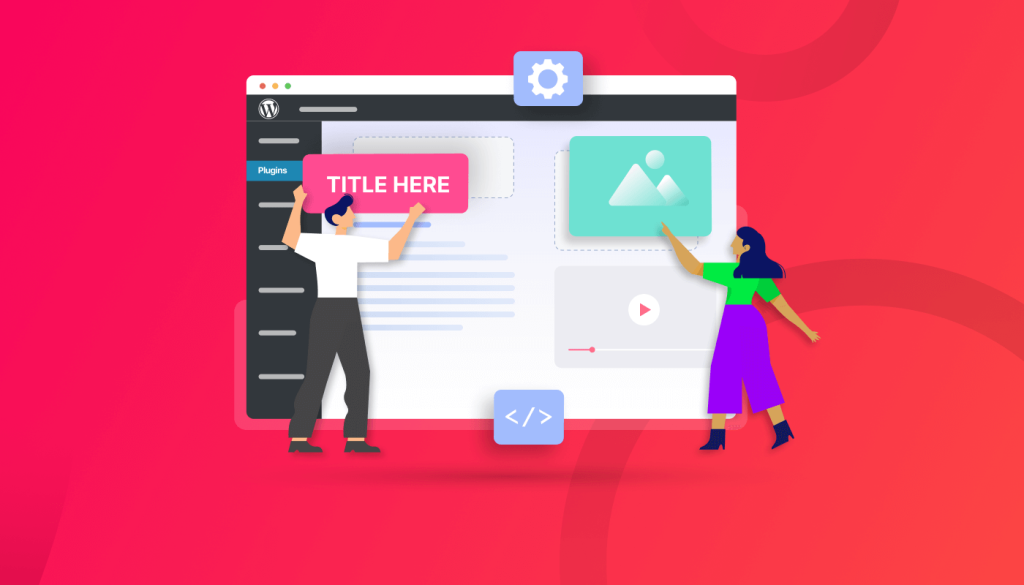 3. Empowering Individuals
After that, WordPress has empowered individuals and businesses of all sizes to share their ideas and talents and reach a global audience. Also, it gives them control over their online presence, their ideas, and their content with the world. Besides, WooCommece integration helps to build a fully functional store to showcase and sell products and services.
Whether you're a small blogger, an e-commerce entrepreneur, a large corporation, or a non-profit organization, WordPress allows you to shape your websites to reflect your unique identities and goals.
4. Regular Updates and Keep Improving
Since 2003, WordPress has released 40+ versions and will be continuing these updates regarding new features, improving performance, and fixing vulnerabilities. Their commitment to keeping improving with regular updates helps users get the best ever experience using WordPress.
Besides, the regular update ensures users benefit from new features and stay ahead of emerging trends. And, the continuous improvement of WordPress makes it a trusted and reliable platform for website and content management.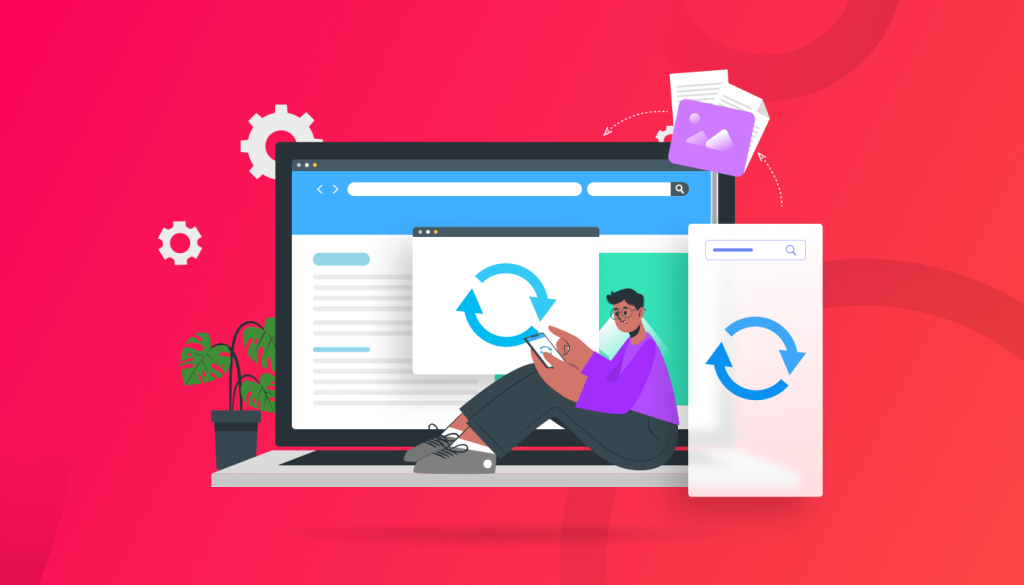 5. Excellent Community and Open Source Culture
Last but not least, the excellent community and open-source culture are also reasons to reach the 20 years benchmark. WordPress is licensed under GPLv2 to ensure 4 freedoms to the users.
Run any program for any purpose
Study how the program works and
Redistribute and change it to make it do what you wish
Distribute copies of your modified versions to others
Besides, WordPress has a powerful support system for any kind of issue or query. The community arranges meetups, and WordCamps, as well as provides forums, and documentation to make it easy to find assistance and connect with the world.
What to Expect from WordPress in 2023: Future Outlook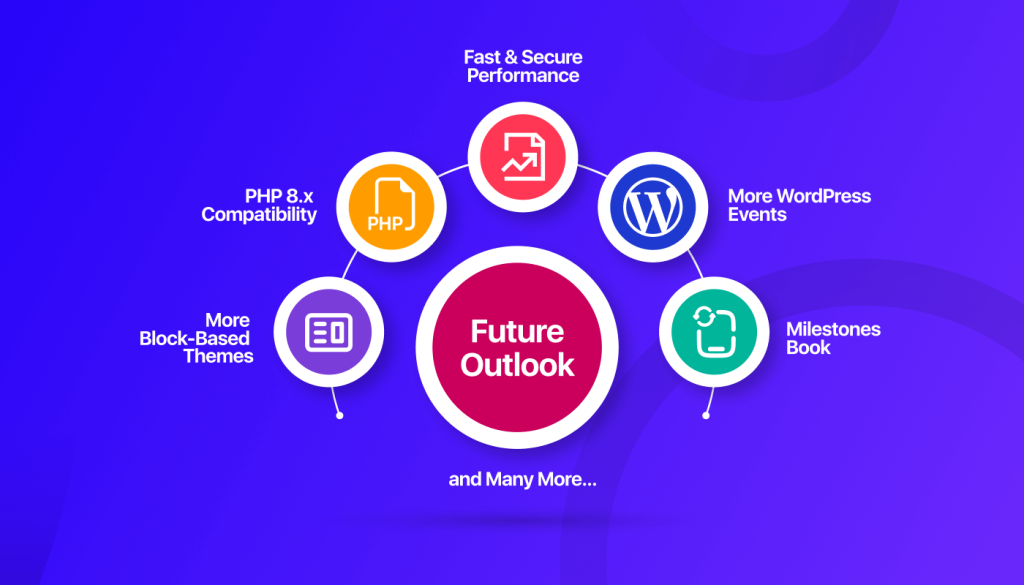 More block-based themes to provide more flexibility and control to customize design and layout
PHP 8.x compatibility (Core and Gutenberg) to offer more error handling, improved RFCs, and optimizations
Include 4 phases of Gutenberg e.g. Easier Editing, Customization, Collaboration, and, Multilingual
Core implementation for Multilingual sites
Collaboration with a more intuitive way to co-author content
Release 2 releases(6.3, 6.4) at August and November of 2023
Fastest and most secure experience for the end users
Onboarding the holistic contributor
Create a WordPress brand discipline
Simplify the release process
Develop a canonical plugin program for both Community and Ecosystem
Update content and refresh design across wordpress.org
Arrange more WordPress Events (Wordcamp, meetup, hackathon) all over the World
Open-source "Milestones Book" covering 10 years of updates of WordPress
Happy Birthday, WordPress!
WordPress has undergone remarkable improvements and consistent adaptions to evolve the needs of its users for the last 2 decades.
For unparallel flexibility, versatility, and transparent principle, WordPress captures the hearts and minds of millions of creators, developers, designers, and end users.
And, we are also happy to be a part of this glorious journey of WordPress.
Happy Birthday, WordPress!🎉
Let's celebrate! 🥳