Gutenberg vs Table Plugins: Which One is Better for WordPress Tables?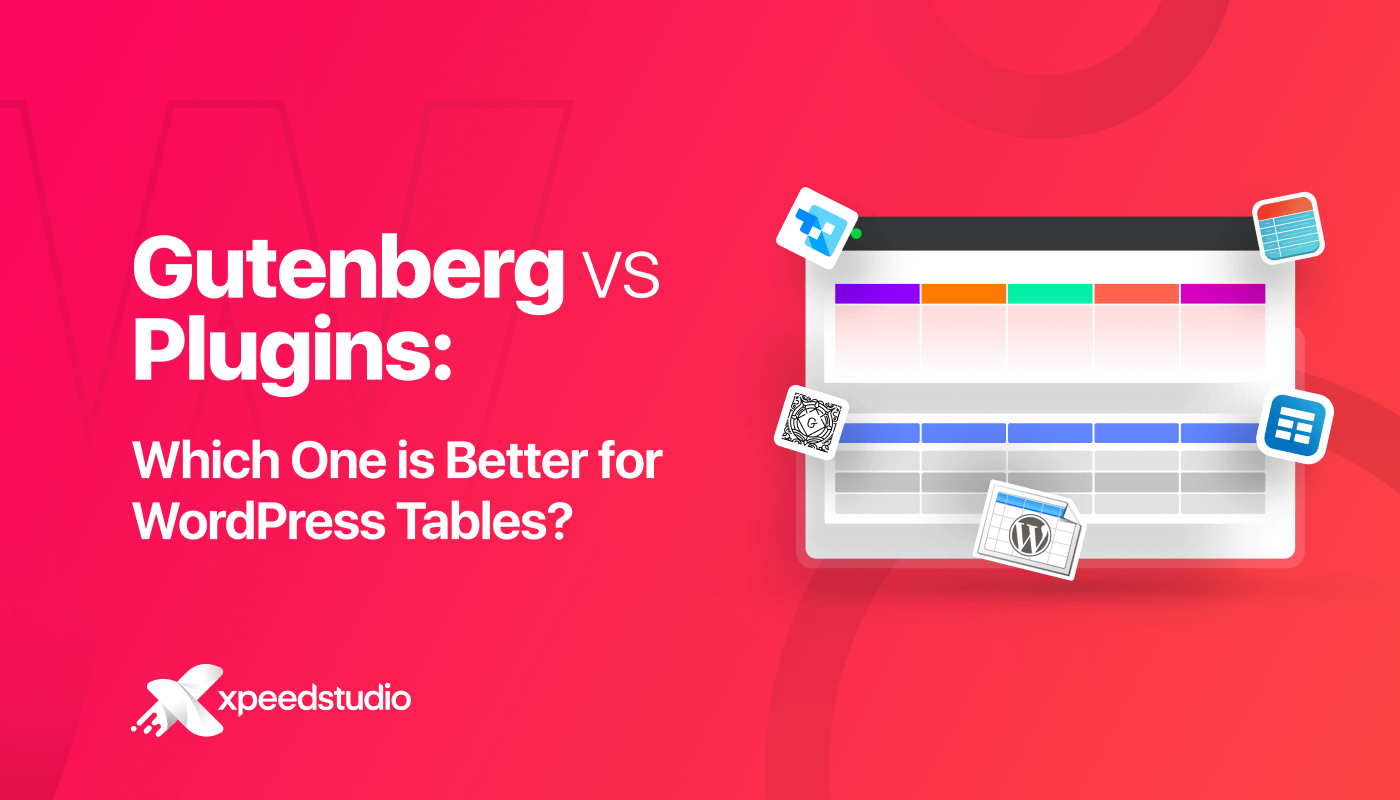 If you're launching a WordPress website, the first thing you need to ensure is making it visually appealing. A website should present all sorts of dynamic data in an organized way. And with the Gutenberg block editor, things became slightly easier.
The default table feature in Gutenberg can show multiple data, highlight the text background, and customize the table layout. But the functions are pretty limited, and most of the time, it doesn't even look good!
Besides, Gutenberg tables don't allow custom filtering, table designs, pre-made templates for pricing or comparison tables, or other functionalities an online table must have. It'll be a very basic table with limitations.
Smart and responsive WordPress tables are the solution here. Next time you're pondering over this comparison, this blog will help you decide.
Best table plugins for WordPress data presentation
The basic Gutenberg tables look simple, and they are easy to use. But they fail to stand up to the task more often than you would think.

However, a table plugin can do your website data some justice!
Plugins like TablePress, Ninja Tables, wpDataTables, Data Tables Generator by Supsystic, etc., offer many customizable options and flexibility to create dynamic tables. You can control the table data, design, and everything as much as you want!
And for maximum features at a reasonable price, we suggest checking out Ninja Tables.
Ninja Tables is the best data table plugin for your WordPress website because of all the intuitive features, WooCommerce integration, Google Sheets auto-sync, custom designing, and much more!
Luckily, you can enjoy all its unmissable features for a lifetime if you grab the Ninja Tables LTD offer that's currently running!
Compare WordPress table plugins
Ninja Tables runs miles ahead of many table plugins out there, and this table can summarize why.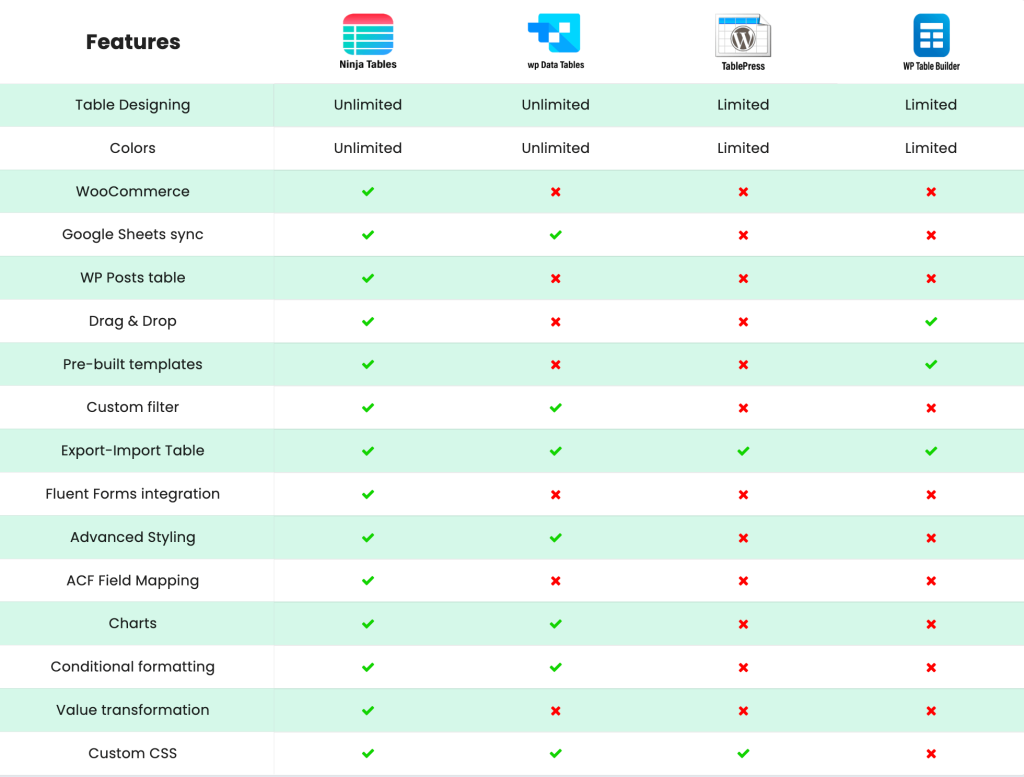 Let's take a dive into some of the features in detail.
Features of the best WordPress table builder
When picking a tool that would take care of your tasks properly, you should expect it to be versatile. The best choice would be to go with the option that is capable of not just replacing the Gutenberg table block, but also enables you to go beyond and design advanced tables that update themselves!
And that's where Ninja Tables comes in. This table plugin contains all the functionalities you need to build static and dynamic tables. Here's what Ninja Tables brings for you:
Multiple types of tables
Table templates
Google Sheets auto-sync
WooCommerce tables
Form entries in tables
Value transformation
Table customization
Conditional formatting
Sort/search/filter
Charts
Responsiveness
Create multiple kinds of tables
Ninja Tables lets you pick a table creation option from 9 different types.
Default table creation: Create dynamic data tables manually and customize them with all the robust table features.
Drag and drop table: Build tables fast using the "Drag and drop" cell elements function.
Import data: Import CSV/JSON files of an existing table in Ninja Tables or other table plugins and edit however you want.
Connect Fluent Forms: Create a table with Fluent Forms entries.
WP Posts: Fetch all WP posts and display them in tabular format.
WooCommerce: Create WooCommerce product tables and increase sales by showing sortable and filterable product data in one place.
Google Sheets data table: Auto-sync with Google Sheets brings all the data in a tabular layout and shows edited data live.
External CSV: Fetch data from external cloud storage.
Custom SQL query: Create tables from your SQL database with the custom SQL query.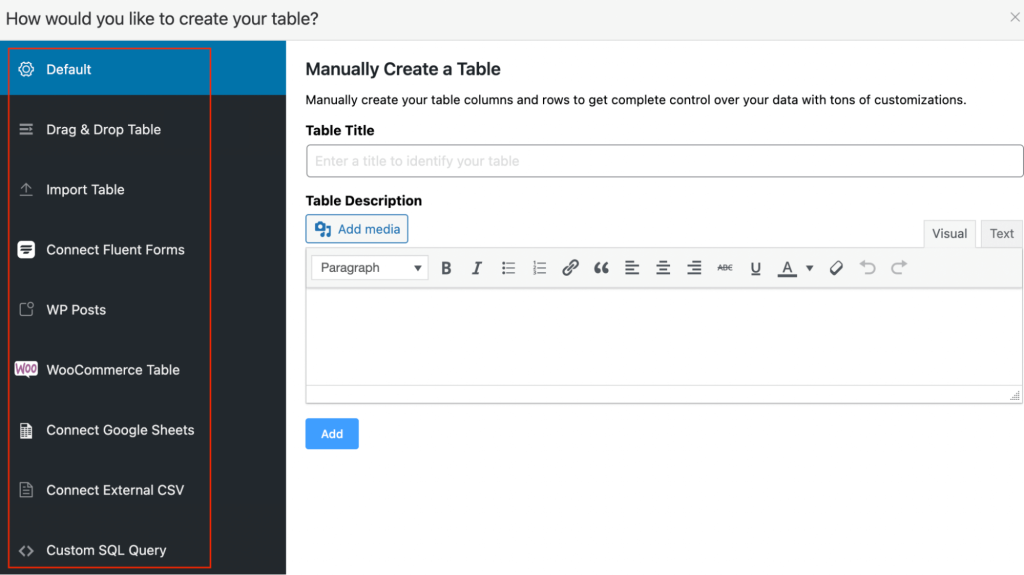 Table templates
The "Drag and Drop Table" option provides multiple pre-designed (but customizable) table templates.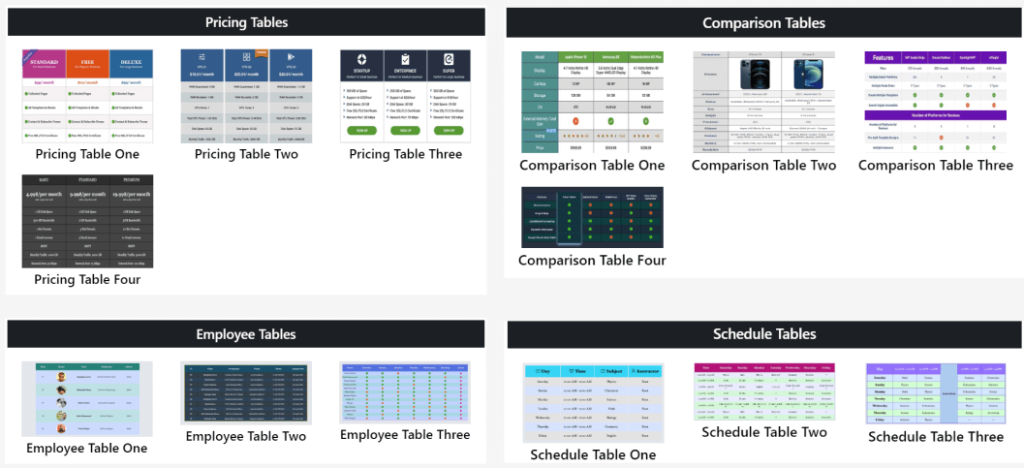 Pick a template and edit it in the table builder with more cell elements, merge/split, design options, etc.
This function is only available in the Drag and Drop table mode.
Google Sheets integration
If you have Google Sheets with a huge load of data and finding it difficult to manage, Ninja Tables can give you a clean way to present all Google Sheets data entries in tabular format.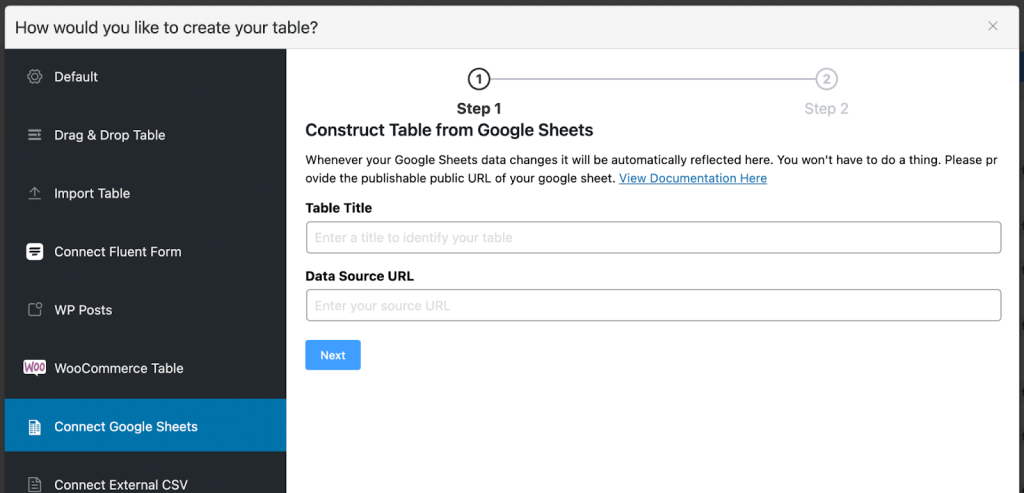 Control the data in the table however you need. Any change in the sheet will show up on the table within a 5-minute interval, thanks to the auto-sync feature.
Visit the short tutorial for more.
WooCommerce tables
Get the best results in your WooCommerce sales by integrating with Ninja Tables!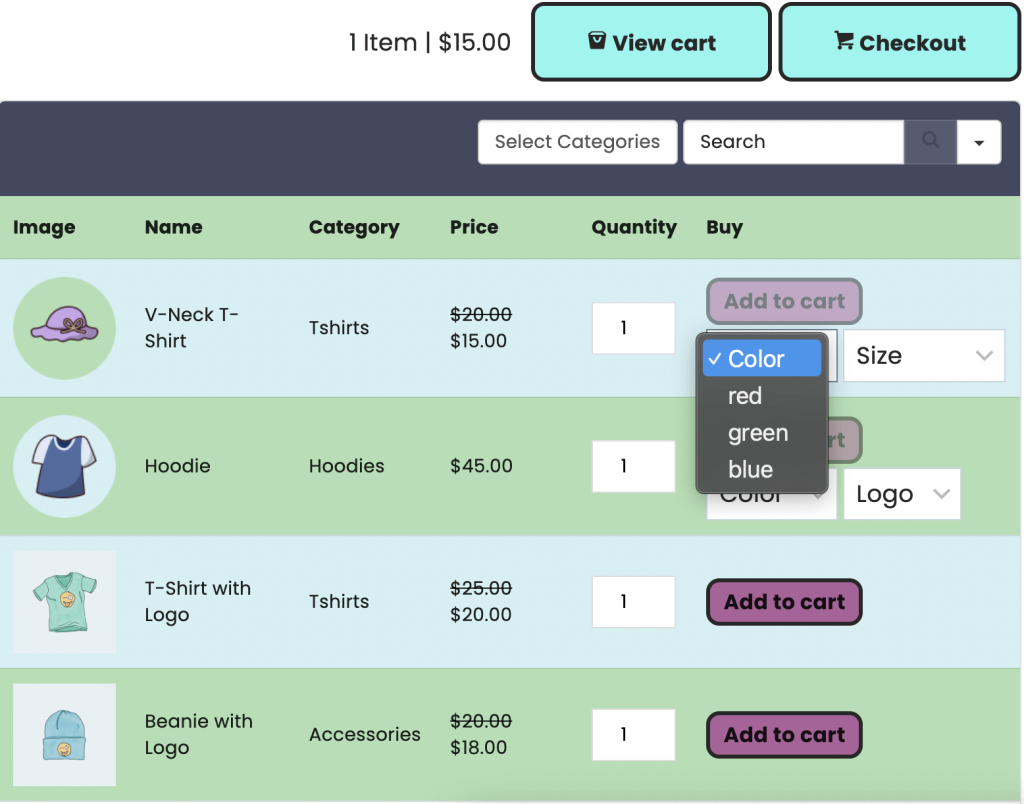 Show WooCommerce products in detailed, organized, and customized product tables to engage more customers and sell more.

Form entries in tables
Looking forward to displaying your form entries on the front end? Gone are the days of manually copying each and every data from your form entries' list and entering them into your table builder or raw HTML code.
Ninja Tables' Integration with Fluent Forms will automatically fetch your form data entries and display them in customized tables. Now it's for you to decide if you want to display them in public or keep it private just for managerial tasks.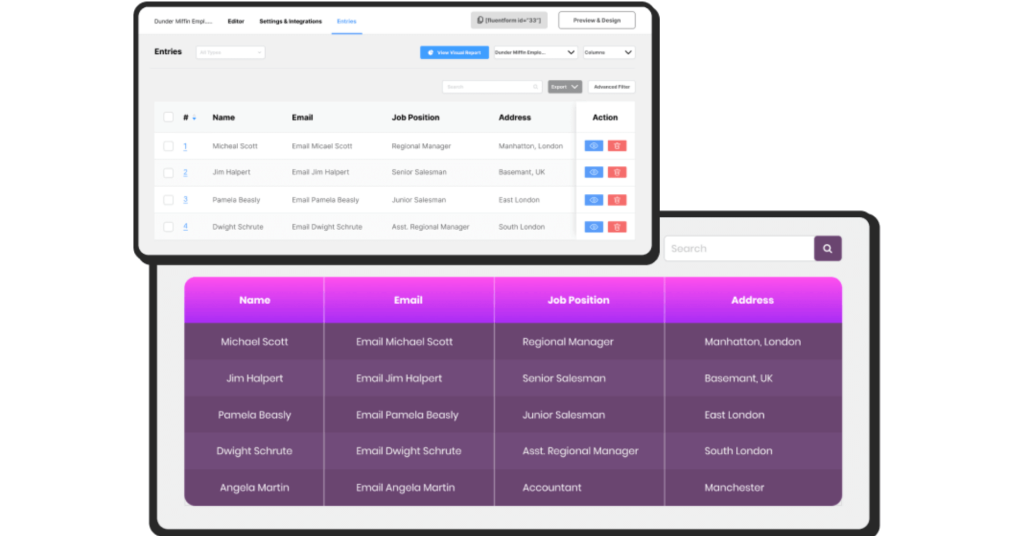 Value transformation
This feature helps with transforming default data value into hyperlinks using simple HTML code and respective auto-generated shortcodes.
Filling up forms, calling, or emailing directly from the front end is possible with this.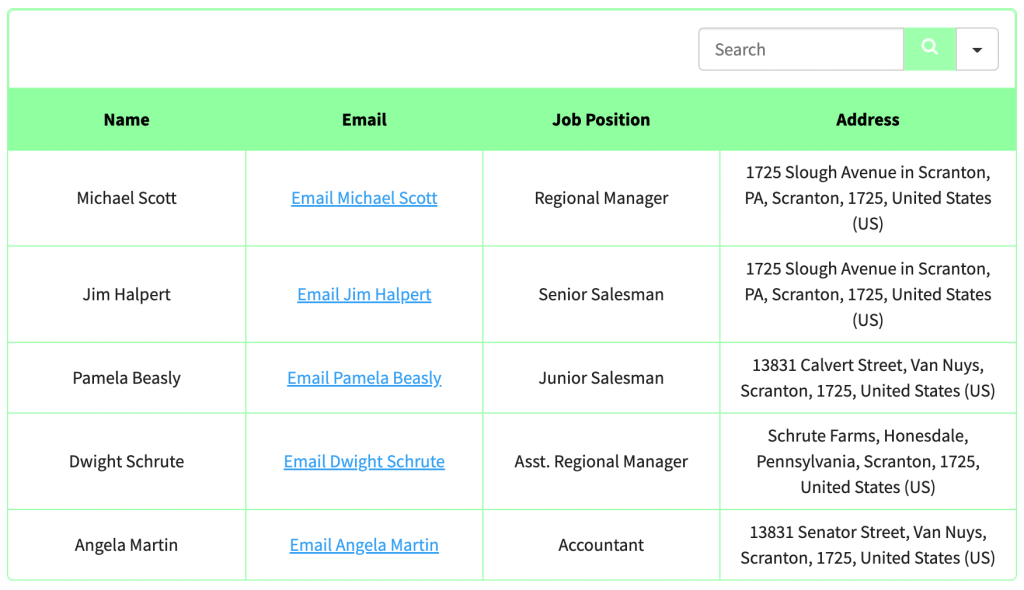 Code to call/email:
<a href="Shortcodes">"Preferred Text"</a>
Code to fill up forms:
<a href="Published page URL with form"> "Preferred Text" </a>
Just click on the hyperlinks and the table will prompt a call, email, or take you to a form.
Table customization
Designing a table for your website has to be the most crucial part. After all, a smart and engaging appearance is the first thing to attract website visitors. And Ninja Tables might make you feel like Picasso!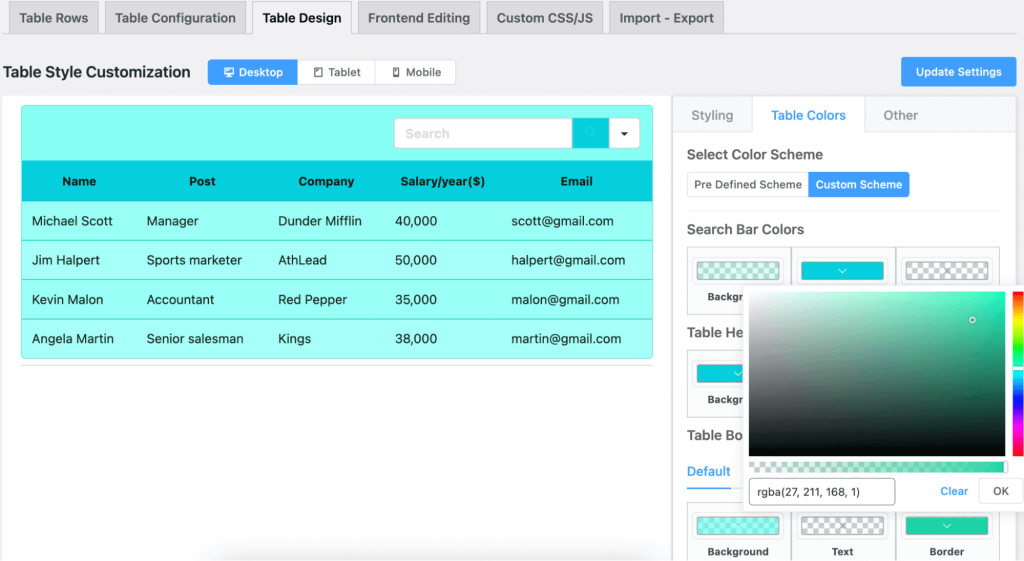 Design all your tables with vibrant colors and 100+ table styles. See the changes in real-time and customize all you want.
Conditional formatting
Simple conditions applied to table cells can change the appearance a lot! Select a specific cell value and apply conditions to change the table according to it.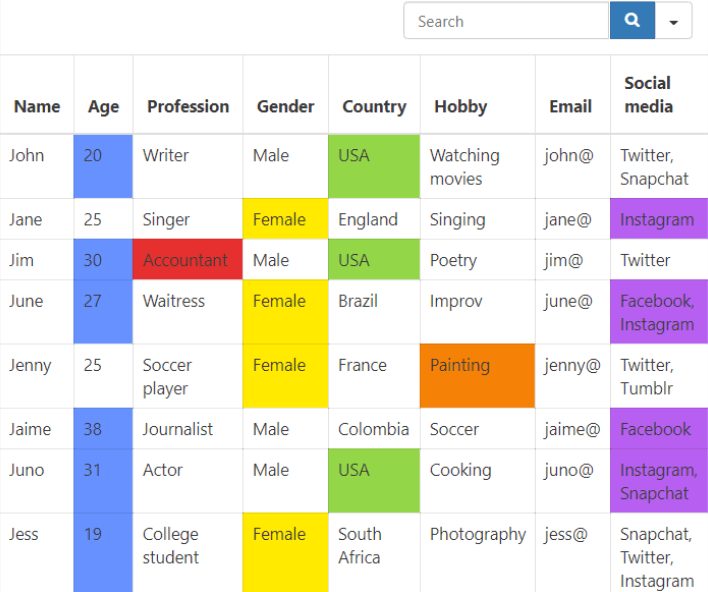 Highlight the table cells you want to pop or change cell/row/column content, CSS class, etc.
Sort/search/filter
If Gutenberg tables were sortable or filterable, it might have been an ideal online table-building option, no matter how basic it looks. But fear not — Ninja Tables gives you custom filter and table sorting flexibility alongside a smart layout!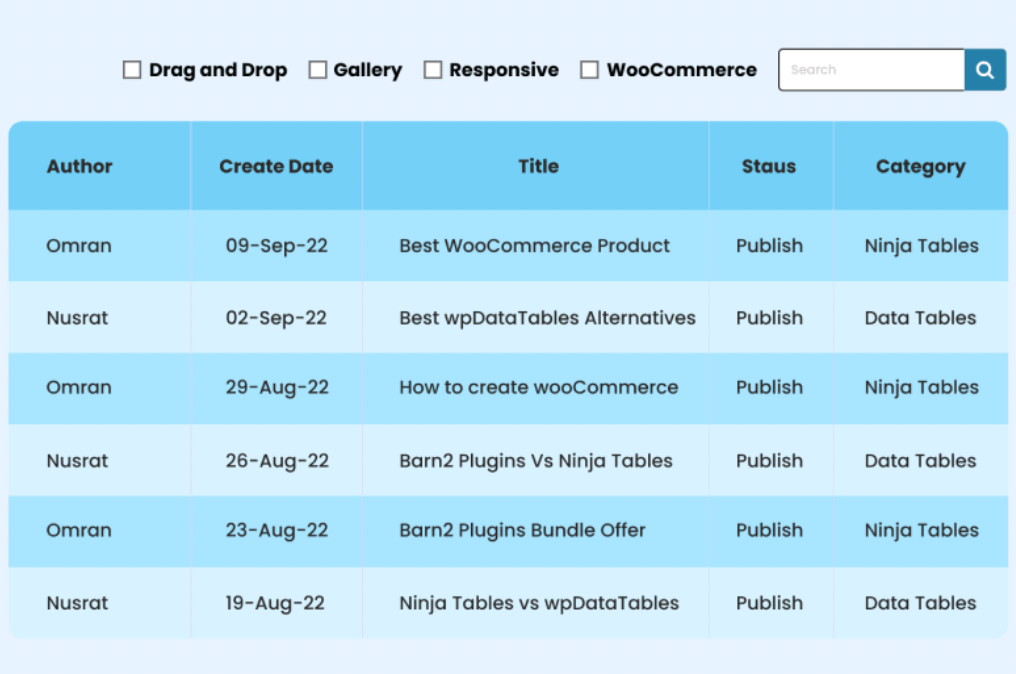 Add custom filters to a table containing a huge load of data and let the visitors filter data to find out what they want. No matter how big the table is, the custom filter will bring the exact data.
Charts
Ninja Tables isn't just your regular table plugin. It's a top-notch tables and charts plugin in the WordPress repository. It's integrated with Ninja Charts, a completely FREE charts plugin, so you can create dynamic charts manually or with Ninja Tables data and make your posts and pages stand out from the rest.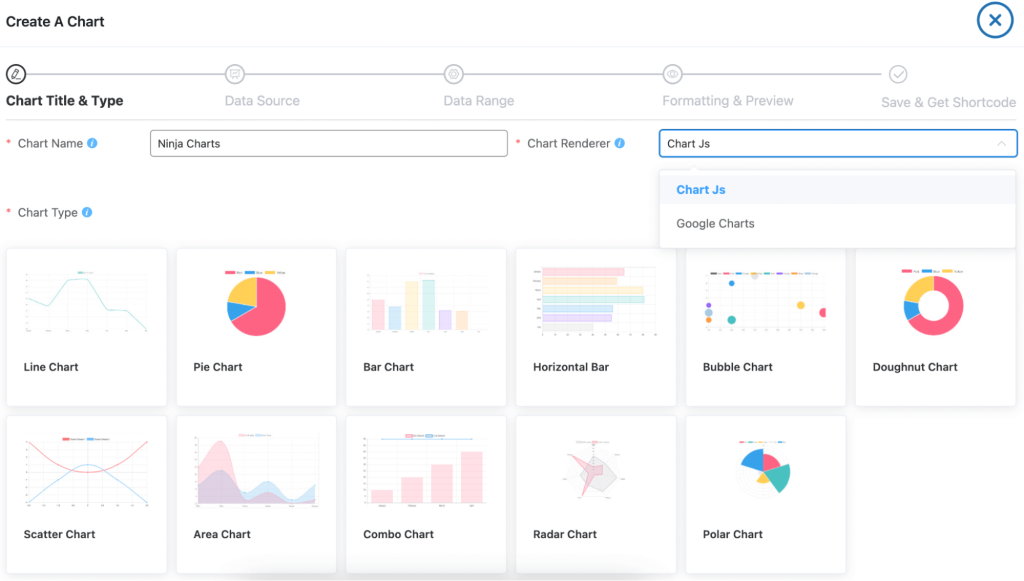 Responsiveness
Online tables must be responsive to all devices because of the different sizes of displays. Ninja Tables is responsive to all screens and also allows "responsive breakpoints." You can hide/show a column in a chosen device.
Use the "stackable table configuration" feature to break down a table vertically and turn rows into separate tables.
Let's stop the feature list here because it will only get longer!
Going beyond quick table creation and giving you perfect customized tables for your website is what Ninja Tables does best. Grab the LTD and never worry about WordPress tables ever!
Wrap-up
Gutenberg tables might be easier, but it lacks many features an online table should have. For example, table design customization, search/filter, Google Sheets and WooCommerce integrations, and many more.
At this point, it's no news that you need WordPress tables to get all these.
We've only summarized a few functions of Ninja Tables and how it helps create fast, smart, and responsive tables for WordPress. This plugin can do wonders for you once you grab it!
Give Ninja Tables a try and see the website traffic increase.