Boost Your Sales with 11+ Must-have WooCommerce Plugins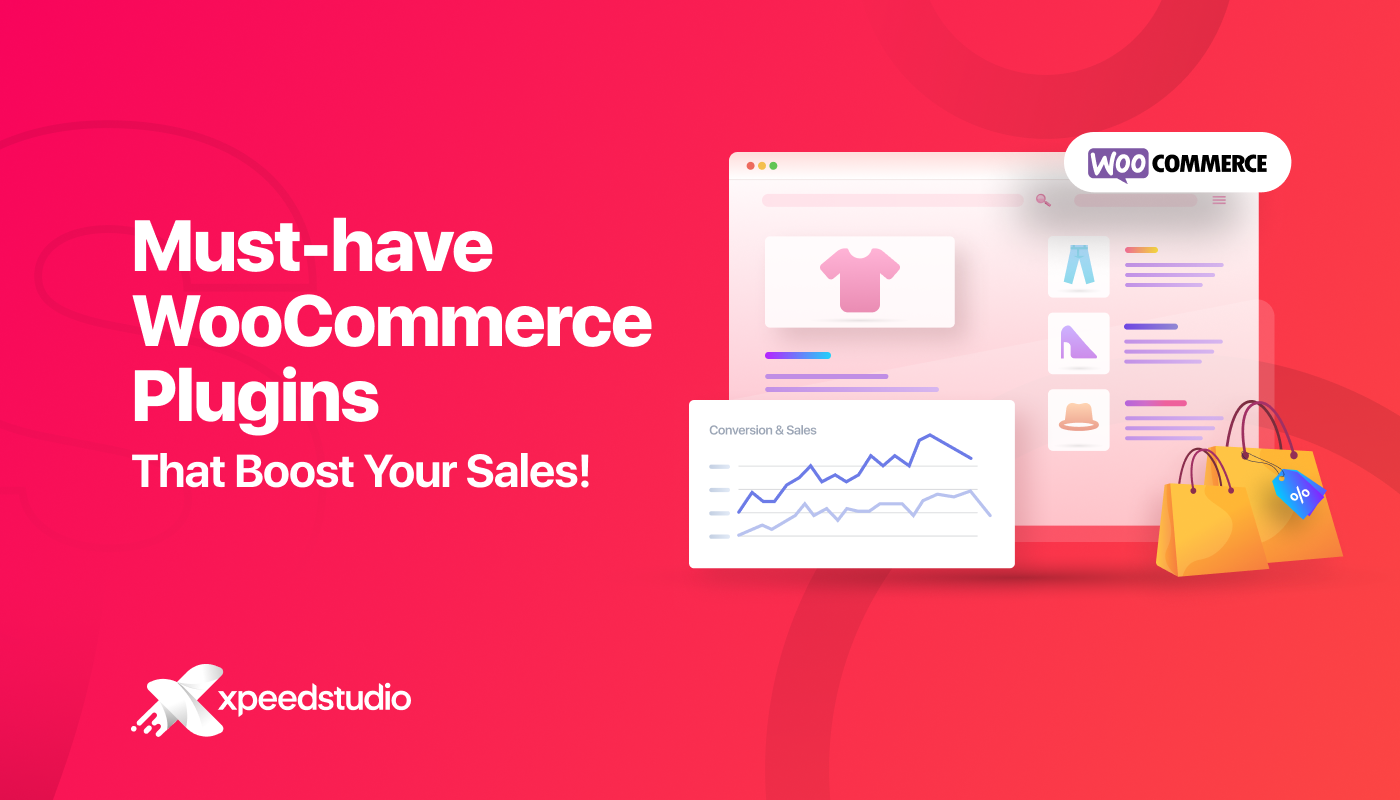 WooCommerce stands as a robust platform in its own right. Even so, it has its limitations (or should I say, a wide range of scopes to branch out)!
To create a comprehensive online store, you'll require assistance from top-notch WooCommerce plugins. Each provides many options to enhance the WooCommerce-based store's features and elevate the conversion in the process.
In this article, we'll introduce you to the 11+ best WordPress WooCommerce plugins that can propel your online business to new heights.
Significance of WooCommerce Plugins for Online Stores
The significance of WooCommerce plugins to online stores cannot be overstated. They serve as the backbone of a thriving e-commerce business, offering a plethora of advantages. These plugins:
Enhance website aesthetics
Strengthen security
Simplify inventory management
Help to reach the target market
Furthermore, these tools empower you to tailor your store according to your unique business requirements. This functionality guarantees sales growth and customer satisfaction.
Key Considerations When Choosing a WooCommerce Plugin
Assess if the plugin aligns with your business objectives and addresses the specific pain point. WooCommerce plugins must have met these factors of consideration:
⤵️ Compatibility and Version Updates:
Check if the plugin works well with your WooCommerce and WordPress versions to avoid problems or conflicts.
Find plugins regularly updated by developers. This guarantees better performance, new features, and security fixes.
⤵️ Features and Customization Options:
Check plugin features to match your store needs, like payment options, inventory, shipping, SEO tools, and analytics.
Ensure the plugin can be personalized to suit your needs. Look for design options, adjustable settings, and integration with other tools.
⤵️ Reviews and Ratings:
Check what other users say about the plugin. Their feedback helps you understand how well it works, if it's reliable, and if users like it.
Look at the ratings and what people say about the plugin. Good ratings and positive comments usually mean the plugin is reliable and works well.
⤵️ Support and Documentation:
Check if the plugin offers reliable customer support. The support that has timely responses to queries related to troubleshooting issues.
Ensure the plugin has well-documented guides, tutorials, and FAQs. These things can help you understand its features and functionalities better.
⤵️ Cost and Licensing:
Know how the plugin is priced—whether it's a one-time payment, a subscription, or a mix of free and paid features. See if the cost fits your budget and is worth the plugin's value.
Review the licensing terms to ensure compliance and understand any restrictions or limitations associated with the plugin.
12 Must-have WooCommerce Plugins
Now, let's delve into a curated list of 19+ must-have WooCommerce plugins that can significantly enhance your online store. Each of these must-have plugins for WooCommerce offers unique features and functionalities that can cater to various aspects of your e-commerce operations.
| | | | |
| --- | --- | --- | --- |
| Plugin | Purpose | Free | Active Installations |
| Shopengine | All-in-one WooCommerce store builder | ✔️ | 30,000+ |
| Booster for WooCommerce | Comprehensive toolkit for enhancing and optimizing the WooCommerce platform. | ❌ (Starts @ $16.99/mo) | 60,000+ |
| Advanced Coupons | Premier coupon code plugin. | ❌ (Starts @ $4.96/mo) | 10,000+ |
| TrustPulse | Ultimate FOMO and social proof notifications plugin. | ❌ (Starts @$5/mo) | 40,000+ |
| Order Delivery Date | Order shipment management and delivery date coordination. | ❌ (Starts @$12.42/mo) | 10,000+ |
| HubSpot CRM for WooCommerce | Customer data management. | ✔️ | 10,000+ |
| PushEngage | Push notification plugin. | ✔️ | 10,000+ |
| WooCommerce Quick View | Quick view pop-up. | ❌ (Starts @$5.33/mo) | 100,000+ |
| YITH WooCommerce Compare | Product comparison. | ❌ (Starts @$6.21/mo) | 200,000+ |
| Track Orders for WooCommerce | Order tracking plugin. | ❌ (Starts @$4.08/mo) | 600+ |
| WooCommerce Waitlist | Alert notification for out-of-stock products. | ❌ (Starts @$4.09/ mo) | 5,000+ |
| Direct Checkout for WooCommerce | Eliminates traditional shopping cart pages. | ✔️ | 80,000+ |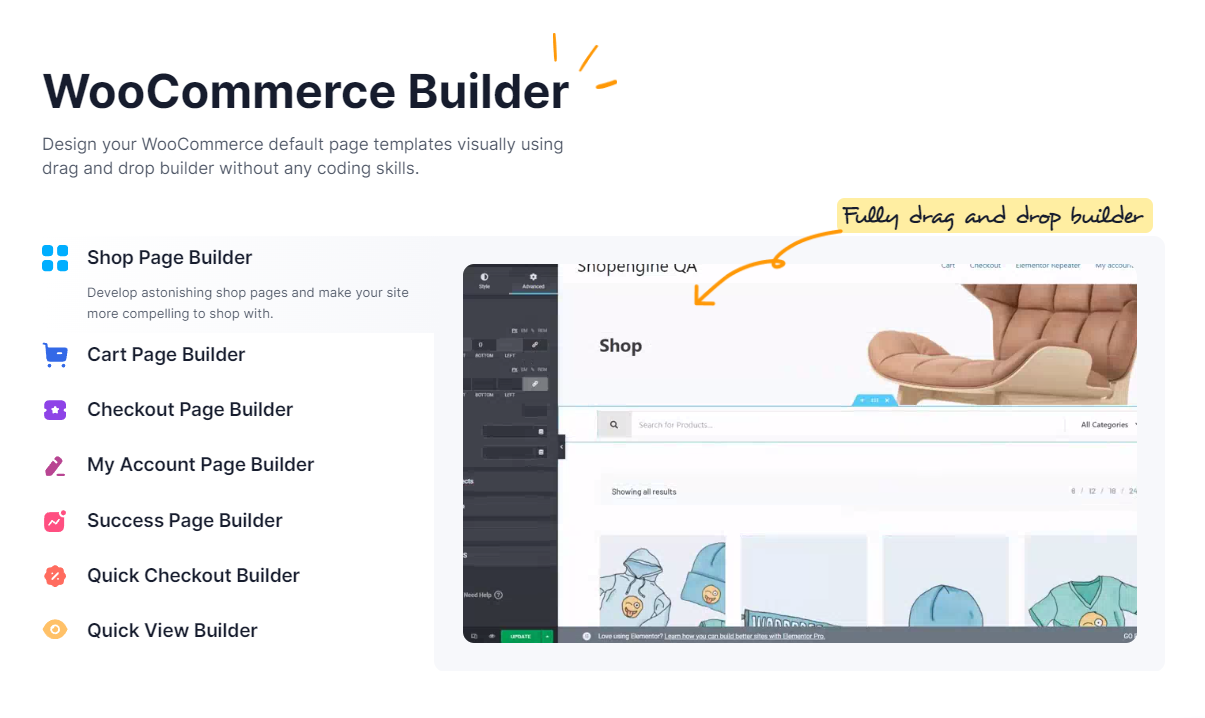 ShopEngine stands out for its ability to enhance performance and speed. These two things are crucial factors in providing a seamless browsing experience for potential customers. Its advanced search and filtering capabilities empower customers to:
Find products swiftly,
Enhance overall shopping experience and
Boosting store's conversions.
Moreover, ShopEngine offers personalization. This allows you to tailor product recommendations based on individual preferences and browsing history. This level of customization can significantly increase cross-selling and upselling opportunities. Mobile optimization is another key advantage. It ensures your online store is accessible and navigable on various devices.
Core Features:
Shop Page Builder: Craft captivating shop pages and enhance your site's shopping appeal.
Cart Page Builder: Create cart pages with upsell, cross-sell functionalities for a better user experience.
Check Out Page Builder: Enhance customer experience with a sleek, appealing checkout page.
My Account Page Builder: Save your time and effort with a variety of my account template options.
Success Page Builder: Including a "Thank You" note demonstrates intuition and respect towards customers.
Quick Check Out Builder: Enable a "Buy Now" button on the product shop page for a quick checkout.
Quick View Builder: Enable your visitors to interact with products using a quick-view pop-up.
With exceptional support and regular updates, ShopEngine is a reliable choice that aligns seamlessly with WooCommerce. Through Shopengine, you can access so many templates, modules, and widgets to build your WooCommerce stores. Visit the comparison to see why Shopengine stands out against strong competitors.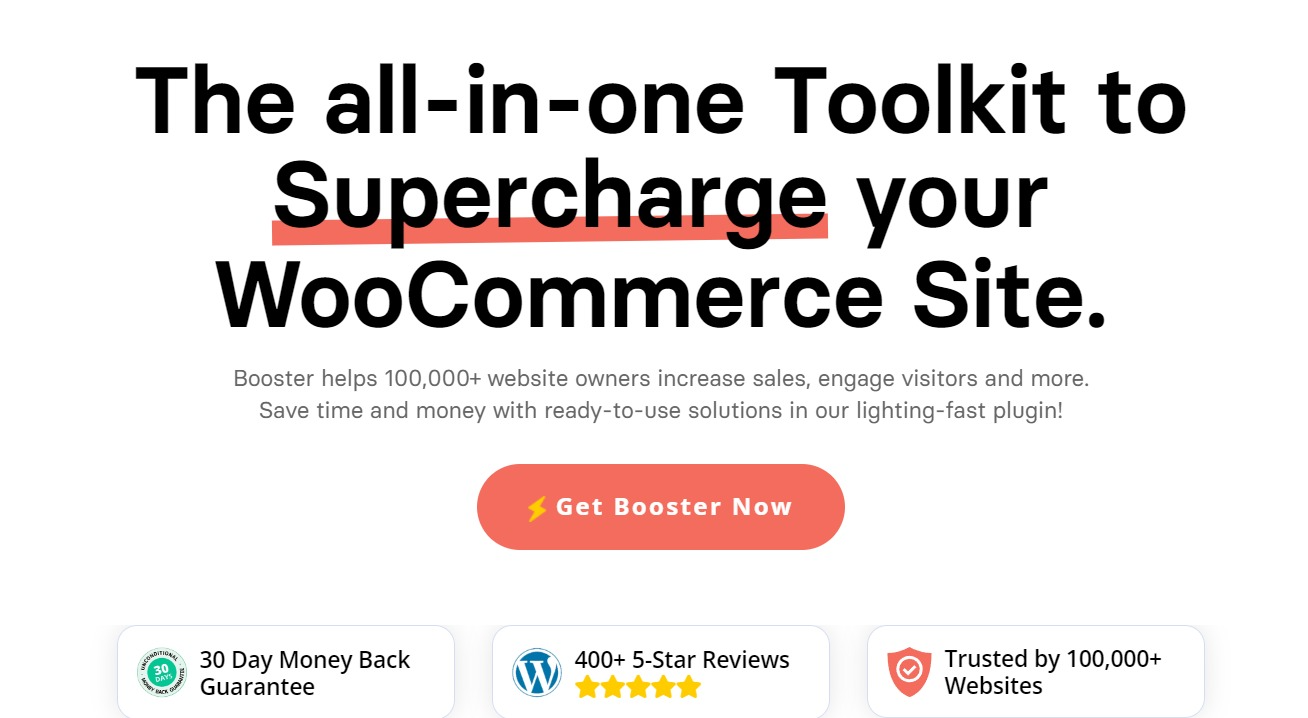 Boost your WooCommerce experience with the versatile capabilities of Booster for WooCommerce. This robust plugin augments your WooCommerce site by incorporating a range of valuable features. The features enhance the overall efficiency of your online store.
Adopting a modular approach akin to Jetpack, this plugin operates as a comprehensive plugin suite. It has an impressive array of over 110+ features to cater to a wide spectrum of needs, including
PDF invoicing,
Packing slips,
Product addons,
Payment gateways, and beyond.
Whether you seek improved invoicing systems, streamlined packing processes, enhanced product offerings, or diversified payment options, this plugin suite has you covered.
👉 👉Check out 5 WooCommerce shop page plugins to improve your store👈👈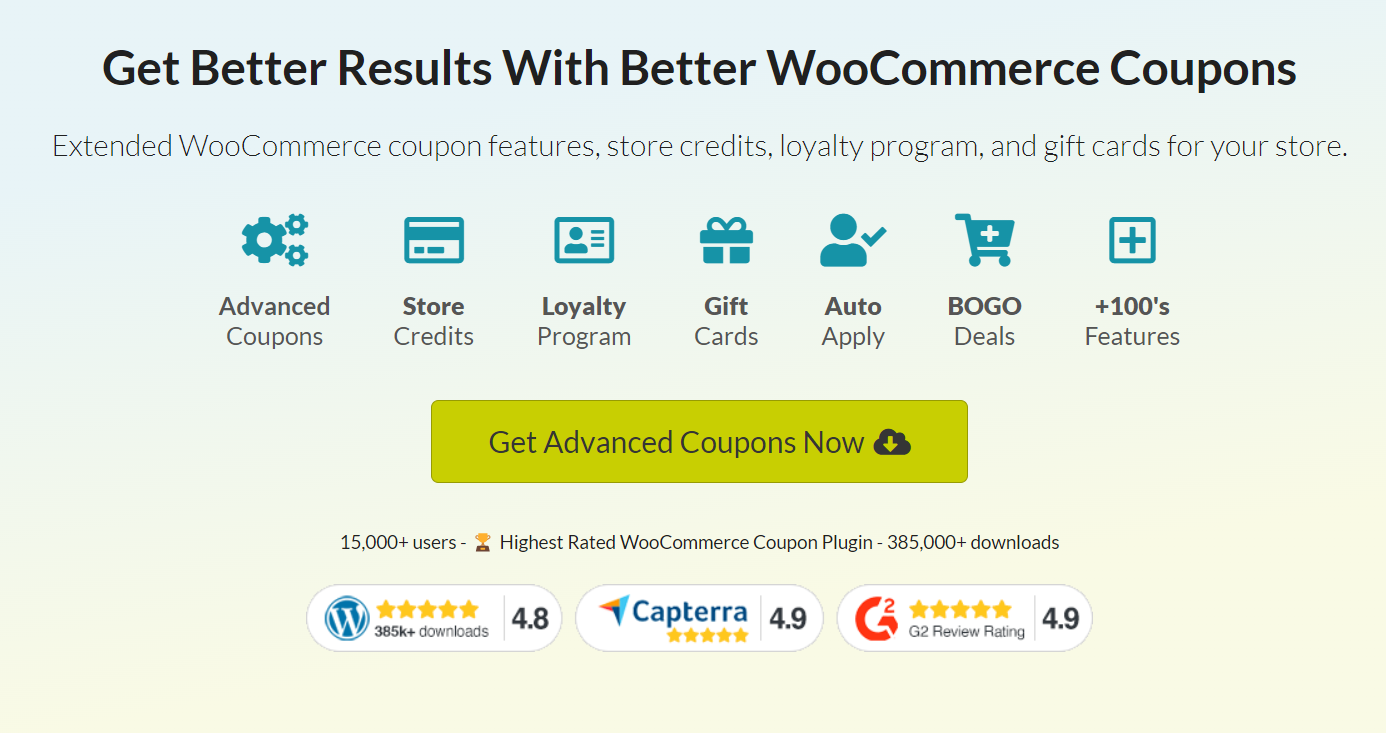 Advanced Coupons stands as the premier coupon code plugin for WooCommerce. It significantly enhances the standard coupon functionality provided by WooCommerce. Also, it enables the creation of more compelling coupon offers.
This plugin integrates with WooCommerce, presenting a wide array of features such as;
BOGO offers (buy one, get one),
Coupon URLs,
Scheduled coupons,
Auto-application of coupons,
Shipping coupons, and
An array of other capabilities.
Notably, it facilitates the setup of cart conditions, empowering you to impose rules that regulate coupon utilization. This strategic feature helps prevent loss of revenue due to misuse or overuse of coupons.
This plugin has an intuitive interface and a powerful tool for elevating sales for your eCommerce store. Its ease of use and robust functionalities make it an indispensable asset for any online retailer.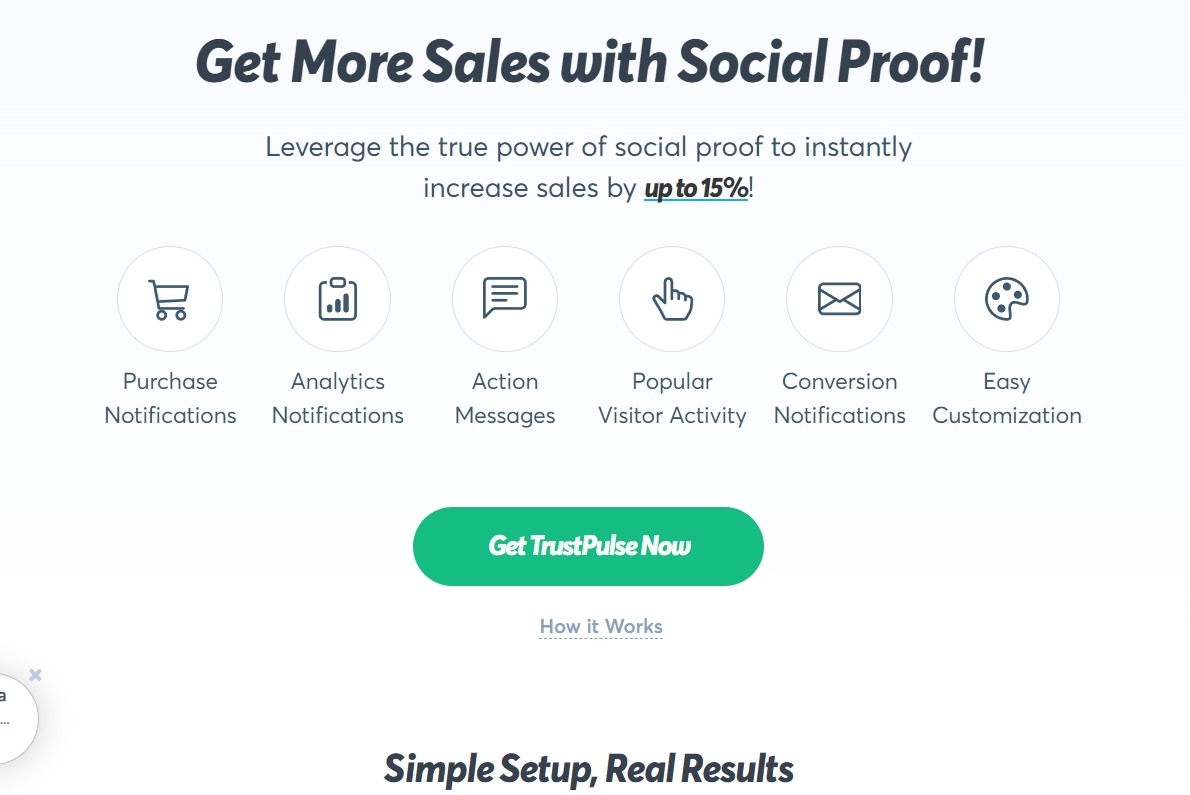 TrustPulse reigns supreme as the ultimate FOMO (Fear of Missing Out) and social proof notifications app. It was designed to propel your conversions and sales to unparalleled heights.
TrustPulse uses the power of social influence. When you add social proof to your website, it creates potential customers, as people tend to follow others' choices. This social proof could be a notification of the recent purchases on your website. Thus, building your visitor's trust and encouraging them to buy.
Ex: "Charlie from the Philippines just made a purchase 5 minutes ago."
TrustPulse simplifies this process remarkably because of the following:
Installation is effortless
Requires no coding experience
Allows seamless badge customization to align with your store's unique color scheme
Strategically, you can target specific pages or products for campaigns, displaying on-fire notifications that showcase the number of users taking action within a given timeframe. For optimal outcomes, deploy various campaigns tailored to customers browsing different products or pages.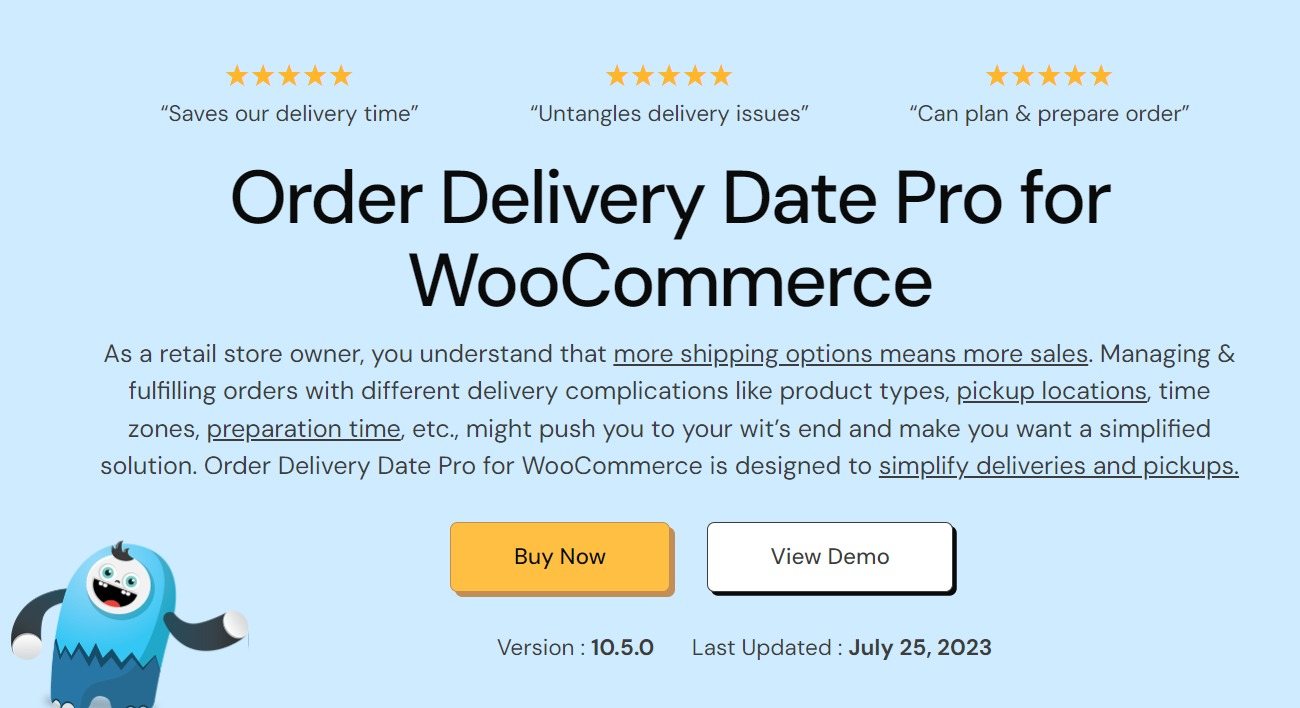 The WooCommerce plugin, Order Delivery Date, offers customers flexibility. The tool allows them to select their desired delivery date and time for their orders.
Its remarkable features streamline the process, including an intuitive admin dashboard. Thus, paving the path for efficient order shipment management and delivery date coordination. Additionally, it provides manageable delivery options and conditional-based date selection, enhancing user experience.
The tool's freemium version offers substantial features. But upgrading to the Pro unlocks a host of additional functionalities. The pro version includes a two-way synchronization feature that integrates order deliveries with Google Calendar in real-time. This version empowers admins to apply filters for streamlined order management.
👉👉 Check out the 7 WooCommerce plugins for multistep checkout 👈👈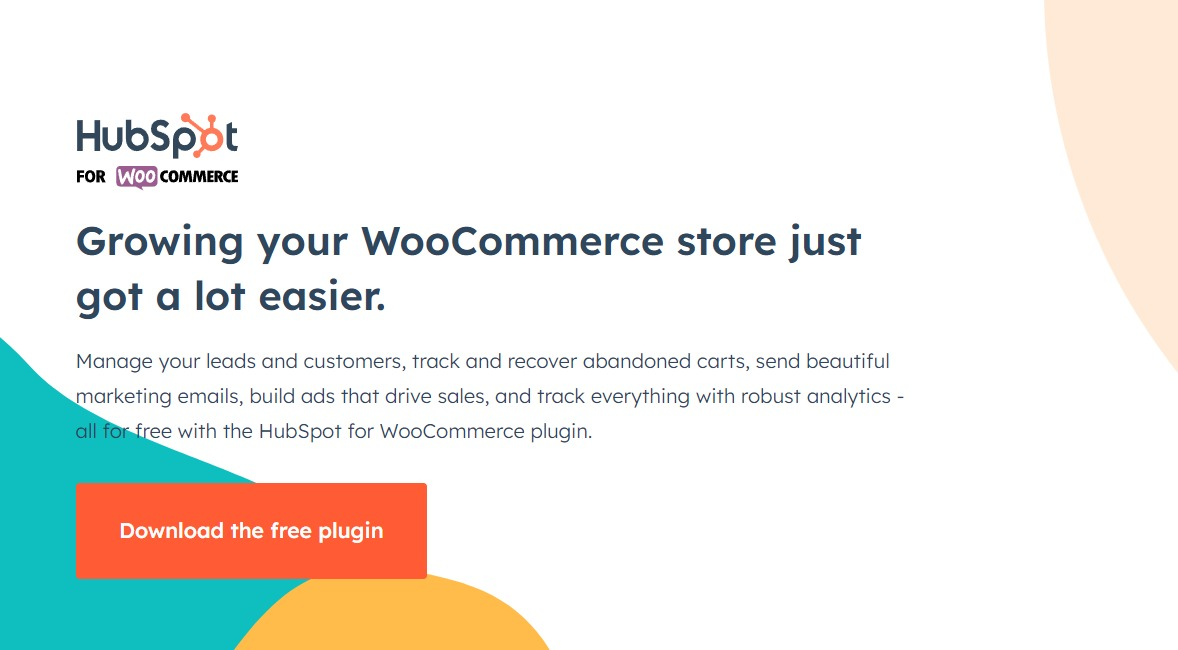 CRM is indispensable for streamlined customer data management and personalized messaging. HubSpot CRM synchronizes customer data, including their information and order history, with HubSpot. This automation not only simplifies customer data management but also incorporates potent features like:
Segmentation
Automated cart abandonment emails
Pre-designed email templates
Comprehensive store analytics data
Furthermore, HubSpot offers robust ad management tools. It enables effortless advertising to both existing customers and potential ones across popular platforms like:
Facebook
Instagram
LinkedIn
Google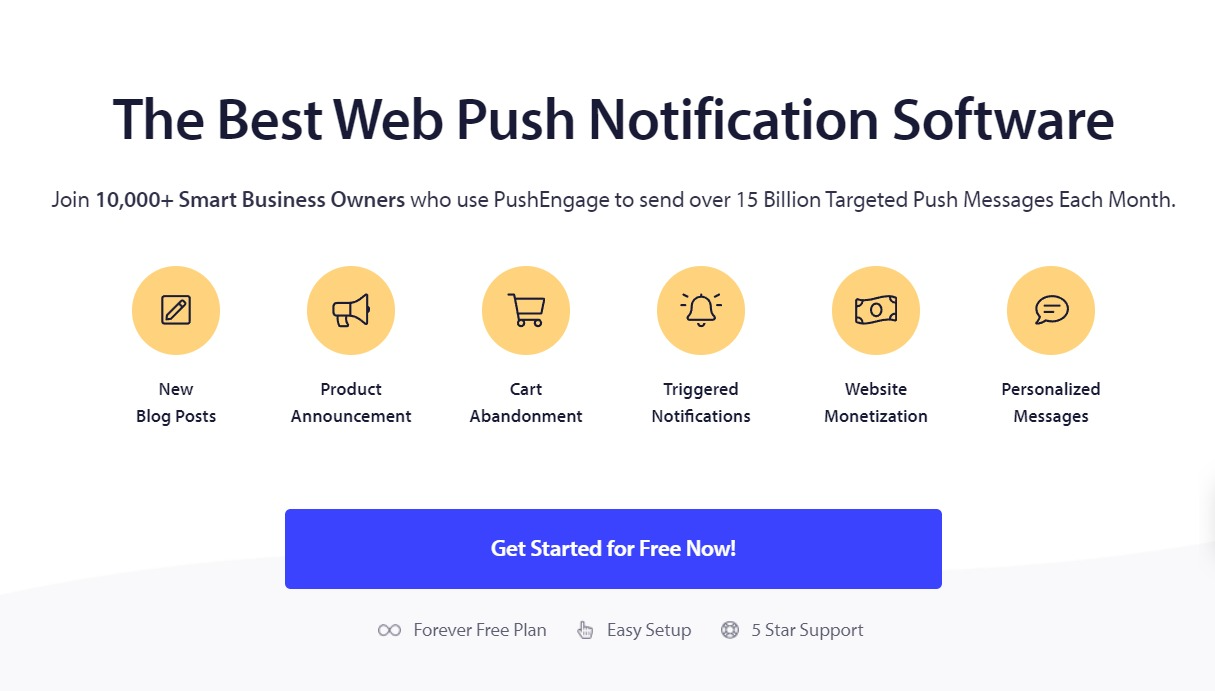 PushEngage stands as a leading push notification software, widely acclaimed in the market for its efficacy. It serves as a vital tool to engage website visitors even after they have navigated away from your site.
With PushEngage, you gain the capability to dispatch push notifications directly to your customers, keeping them informed about:
New products,
Exclusive sales, and
Other important updates.
Moreover, the platform offers automated campaigns tailored for cart abandonment, inventory alerts, and more. Thus, making this plugin as a powerful means to optimize your sales and enhance your overall business performance.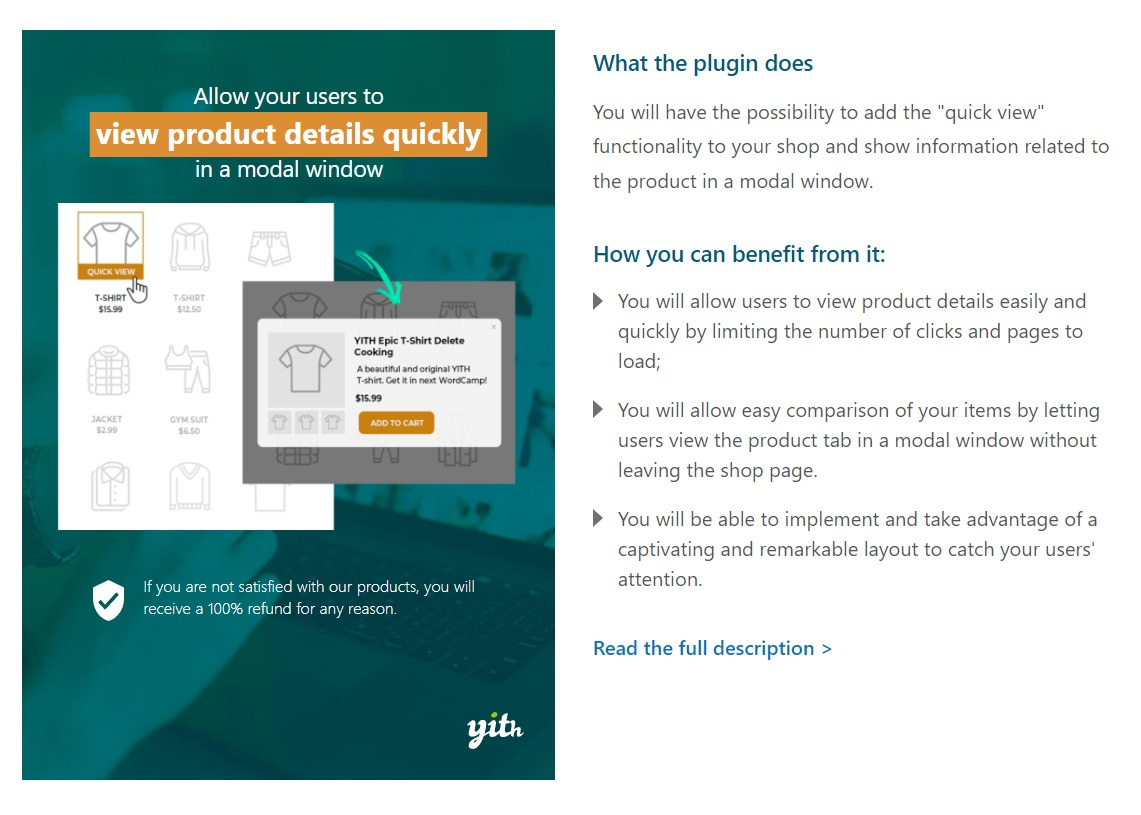 YITH offers a range of WooCommerce plugins that enhance the core functionality of your store. One such plugin, YITH WooCommerce Quick View, introduces a convenient quick view popup, saving your customers from navigating to the product page.
This intuitive popup allows customers to swiftly add items to their cart directly from the popup itself, streamlining the shopping experience. By clicking the "X" to close the module, they can continue shopping. The QuickView feature aims to minimize the steps needed for customers to place desired items into their carts.
However, it's essential to note that it may sometimes lead to a more cluttered and challenging interface. To ensure its effectiveness, it's advisable to conduct thorough testing and gather feedback from customers over a few days before implementing it site-wide.
🏆Take a look at the plugins to customize your WooCommerce product pages🏆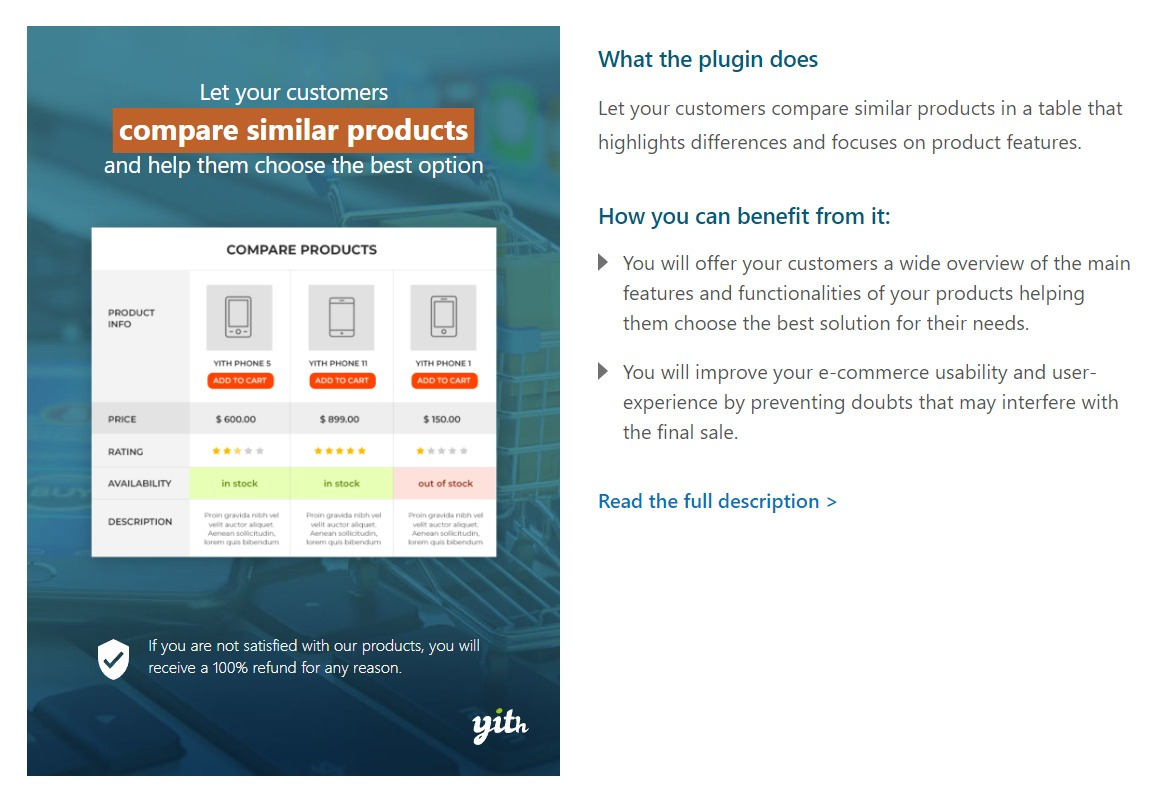 Enhancing your eCommerce sales is achievable by optimizing the shopping experience. This tool plays a pivotal role in achieving this by enabling your shoppers to compare two or more products or services side by side. With this tool, shoppers can decide which one to buy.
Tailoring the comparison table to suit your needs is a breeze with YITH WooCommerce Compare. You have the flexibility to handpick the fields visible to users within the comparison table. Furthermore, this plugin allows you to arrange the fields in your preferred order, ensuring a personalized and user-friendly comparison interface.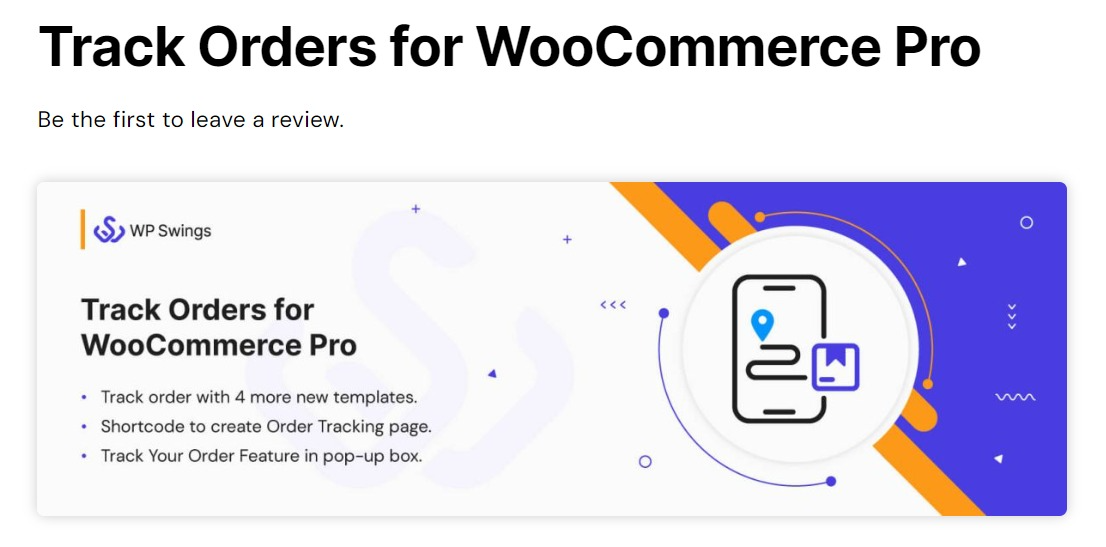 Shipping constitutes an essential aspect of selling physical goods online. Yet it often poses a challenge for customers. Order Tracker addresses this concern by allowing customers to actively track their orders through leading carriers such as;
Through this plugin, customers gain a clear view of their order's status and anticipated arrival. It eradicates any confusion about the delivery progress. Additionally, you have the flexibility to craft custom order statuses. With this tool, you can ensure that your buyers are informed about their expected delivery dates.
What's more? This tool diminishes the volume of inquiries on order statuses, streamlining your operations.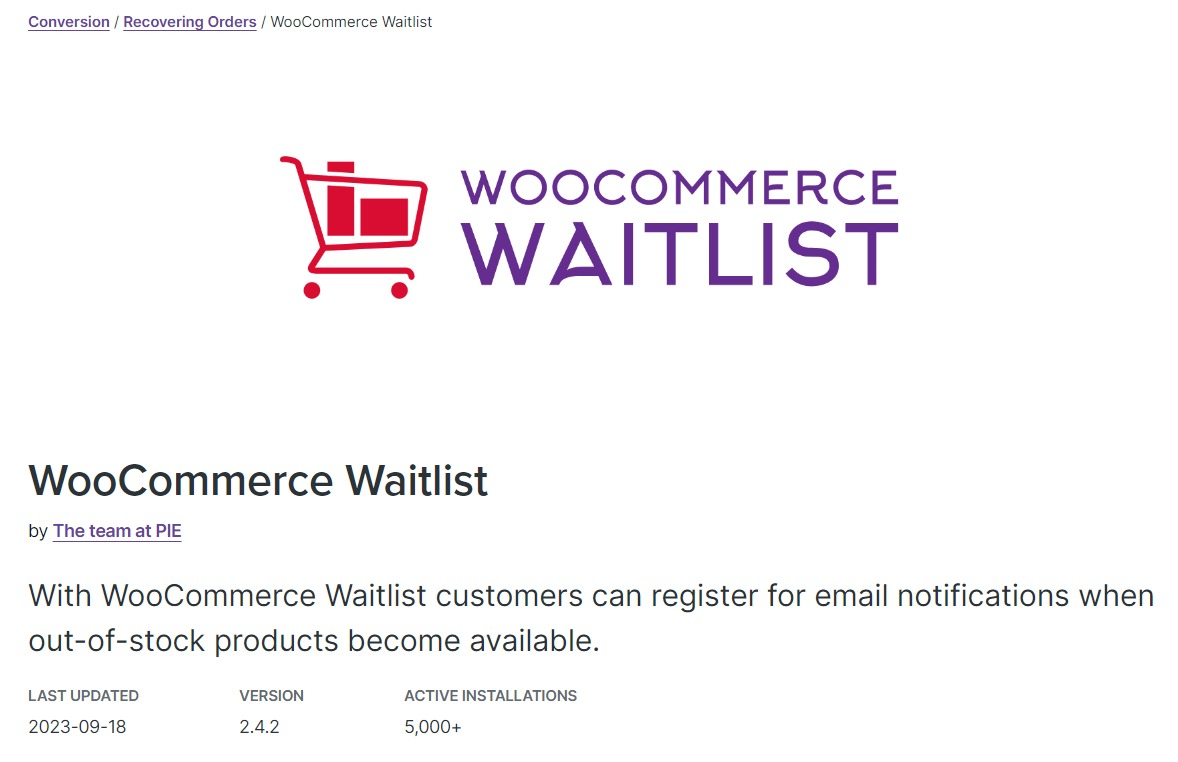 Inventory depletion is an inherent aspect of managing any store. At some point, product stocks are bound to run low or even run out completely.
However, the real challenge lies in the potential loss of sales and customer loyalty. This challenge occurs when a prospective buyer cannot immediately purchase a desired product. Thus, pushing them to explore options with competitors instead.
Implementing a 'waitlist' feature for out-of-stock products is crucial. It allows interested customers to join a waitlist for specific items, receiving alerts once the products are back in stock. This not only boosts sales but also prioritizes customer needs, enhancing satisfaction and loyalty. Overall, a 'waitlist' feature is a valuable tool for inventory management and customer engagement.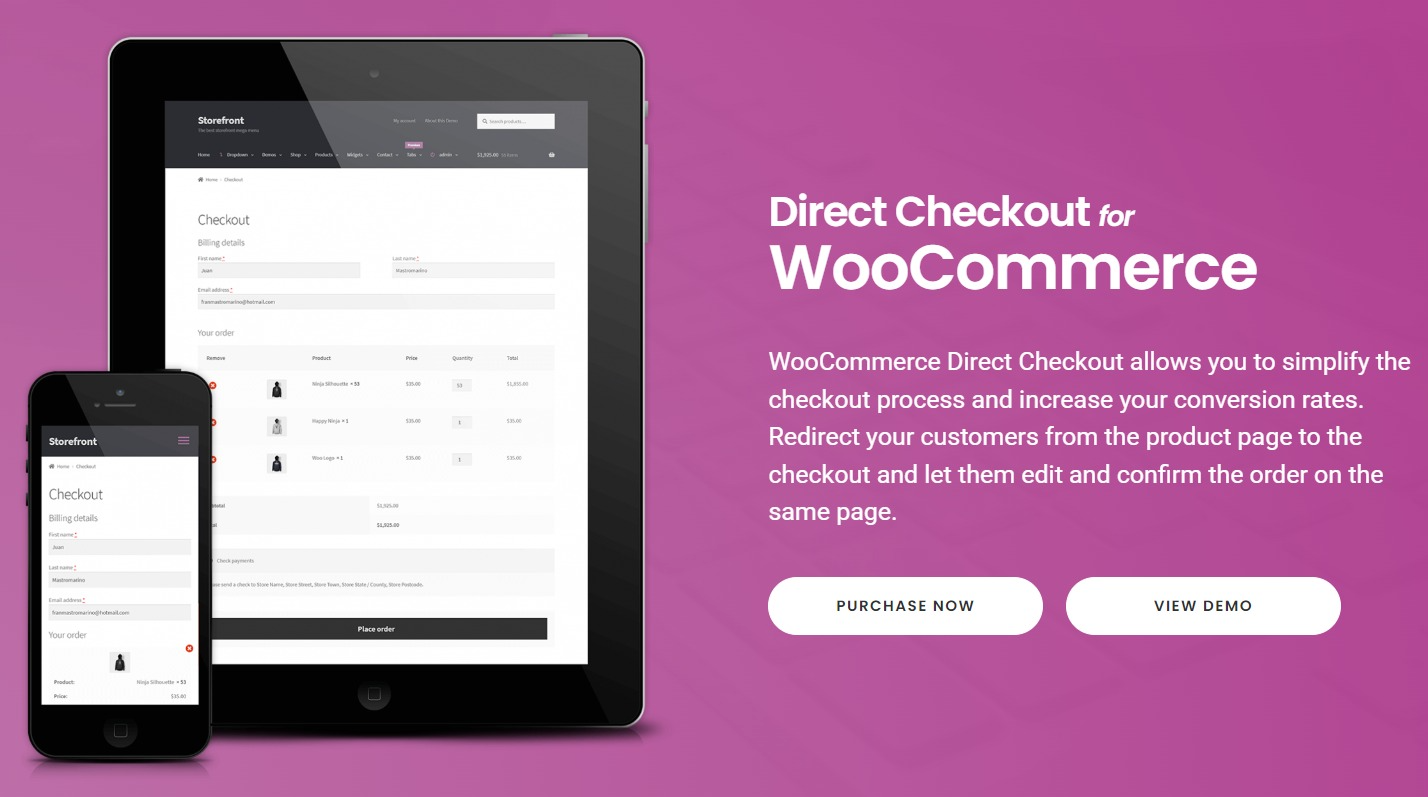 Direct Checkout for WooCommerce serves a distinct and potentially profitable purpose. It completely bypasses the traditional shopping cart page on your WooCommerce site. This tool streamlines the checkout process and provides an expedited route for your customers to reach the payment section.
Simplifying the checkout procedure is an ongoing challenge. While some stores might hesitate to remove the shopping cart, it proves to be a logical choice for others. It's essential to consider that customers can still backtrack if they wish to make any modifications to their order.
This approach can be a tricky one, as some customers may not appreciate being directed straight to the checkout area. However, for others, this level of convenience is appealing. It's a prudent strategy to gather insights from your customers in advance and seek feedback during the rollout phase.
Or, if you want a complete solution… 👇
ShopEngine has Waitlist, Quick Checkout, Product Comparison, Advanced Coupon, and 75+ must-have features for WooCommerce, starting at only $59!
Last Words
Staying ahead requires embracing innovation and utilizing the right tools. WooCommerce plugins translate to increased sales. They provide a gateway to:
Enhanced functionality
Automation
Improved user experiences
Carefully consider your specific needs and integrate the appropriate plugin from the list. This will guarantee a path to boosting your sales and taking your online store to the next level. Among the curated list of must-have plugins for WooCommerce, Shopengine stands out as it serves as an all-in-one plugin.