5 Best WooCommerce Shop Page Plugins to Improve Your Store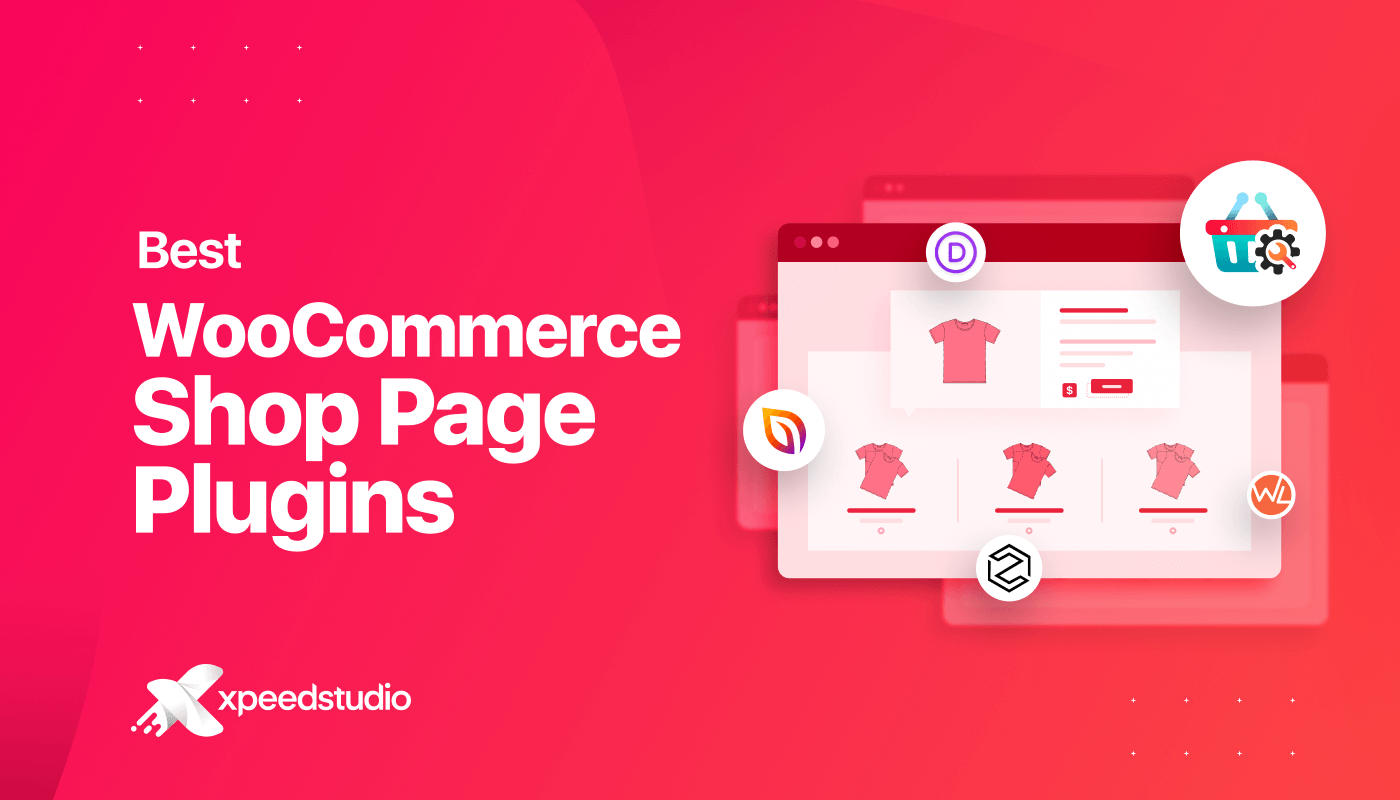 The shop page is one of the main conversion generating pages for any online store. Keeping it simple like other WooCommerce sites won't be good for your business. But a custom WooCommerce shop page can help to increase the conversion. Now to create a customized shop page, you will need to use a WooCommerce plugin that offers vast customization options or else you can also go for WooCommerce themes.
But, without any doubt, WooCommerce plugins are far better than themes because of the limitless editing features. On the other hand, choosing a single WooCommerce plugin can be very tricky and complex for WordPress users.
That's why here I will make this whole process super easy by providing the 5 best WooCommerce shop page plugins for creating a custom shop page along with their key features and quick overview.
Best WooCommerce shop page plugins for your store
Building a well-customized shop page is a challenge for WooCommerce website owners. As every now and then thousands of eCommerce sites are created. You will be surprised to know that the worldwide number of eCommerce websites almost hit 12 to 24 million in 2021.
Now, do you think all these websites have succeeded to reach the top positions in the eCommerce industry? Of course not.
It has been identified that maximum revenue in the eCommerce industry is generated from top eCommerce websites. Here one of the main reasons is not using an optimized and customized shop page. In WordPress, you will find lots of themes and plugins for your WooCommerce store.
But, as I mentioned before, using WooCommerce plugins is far more beneficial than themes. That's why going for a WooCommerce plugin is the best option.
As there are too many WooCommerce builder plugins available in WordPress, picking the best one will be very hard. So, here I have gathered the best 5 WooCommerce plugins for customizing your shop page: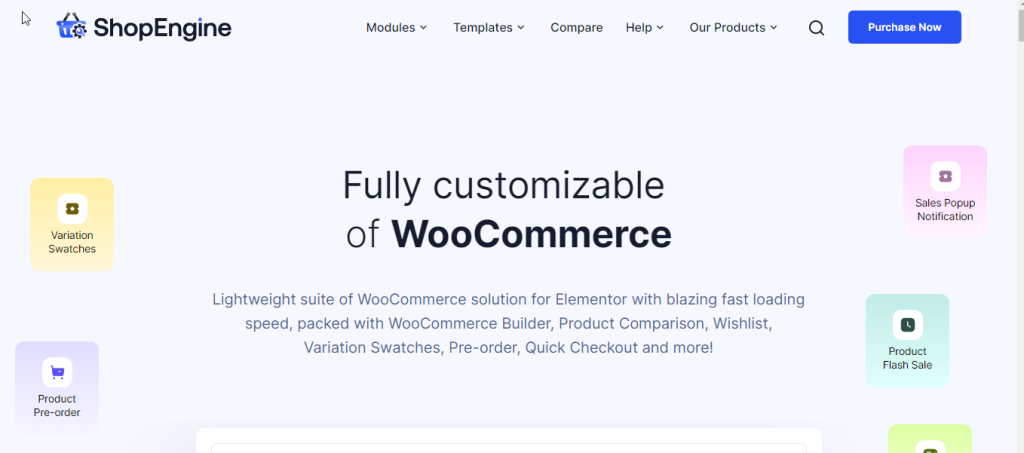 If you are using multiple plugins for different WooCommerce functionalities like pre-order, backorder, variation swatches, etc then using this single plugin, ShopEngine can eliminate the use of multiple plugins. It is also known as the ultimate WooCommerce plugin because of its versatile features. Also, it is a full-fledged WooCommerce solution with user-friendly and fully customizable interface.
ShopEngine has a WooCommerce template builder that will let you can customize WooCommerce product, cart, shop, checkout, and other pages through editing templates or else you can select the pre-made design for these templates. No wonder because of its facilities, it has achieved back-to-back two awards. One is the Template Monster's award and another one is the WP Weekly 2021. That's why you can call it one of the best WooCommerce plugins to customize a shop page.
Features of ShopEngine:
This WooCommerce builder has 15 templates for different WooCommerce pages and all these templates are fully customizable.
Its 14+ modules and 60+ WooCommerce widgets can customize your shop page better than any other plugins.
You can add variations for your WooCommerce products with it.
Conversion rate boosting features like pre-order, backorder, quick view, sales notification, wishlist are also available for ShopEngine users.
Payment can be paid in installments because of its partial payment feature.
It has the option to add size charts to different products and also you can edit the width and height of these size charts.
Fully customized additional checkout field for checkout page.
You can show a sticky fly cart on the shop page for a greater user-experience.
Customers can compare different products on your shop page with the product comparison option.
ShopEngine offers a quick checkout feature with which customers can directly check out from the shop page.
It creates a sense of urgency with the flash sale countdown.
Unbeatable support system.
A Quick overview of ShopEngine:
wordpress.org rating: 4.8
Starting price: $59/ year.
Refund policy: Yes (14 days)
Frequently updated: Yes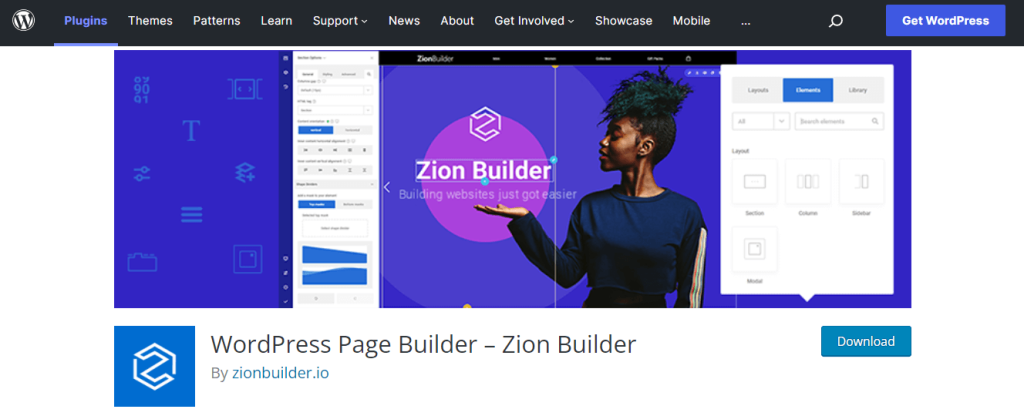 Zion builder is another WooCommerce plugin in WordPress which is claimed as the fastest page builder. Anyone can create eCommerce sites because of its flexible WooCommerce widgets and templates. Through this builder, you can customize the website shop and other pages easily as all the elements offer the same user-friendly interface. Besides, you can customize each element in three tabs such as general, styling, advanced.
No matter who you are, this tool lets you customize your pages without facing any issues. Besides, you will need zero coding knowledge for this WooCommerce plugin. Moreover, this builder offers a vast amount of features for website customization. Let's take a deep look at those features:
Features of Zion Builder:
25 free elements and pre-made templates for building WooCommerce pages.
Element is composed of sub-components that will let you customize more precisely.
Responsive page editing option.
Styling text and background.
The Zion library is enriched with hundreds of pre-built templates.
Easy searchable option.
Different animations and movement control options for elements.
Right-to-left support system.
A Quick Overview of Zion Builder:
wordpress.org rating: 4.8
Starting price: $49/ year.
Refund policy: Yes (30 days)
Frequently updated: Yes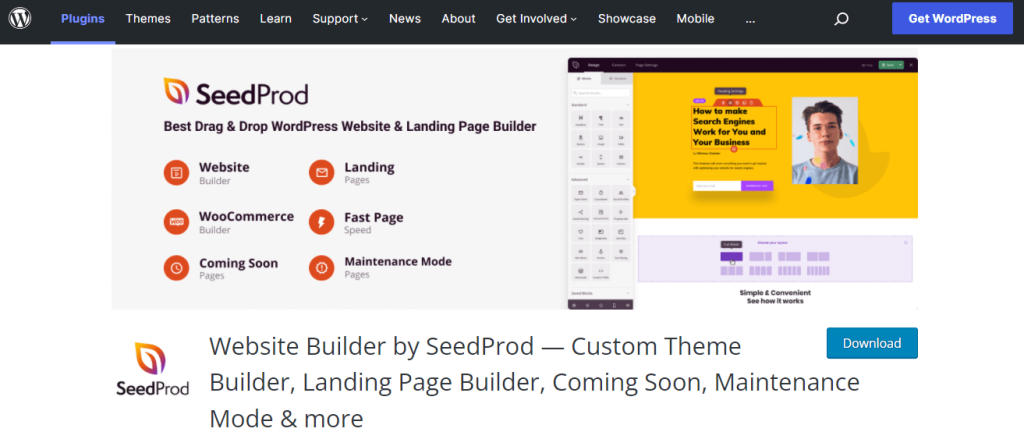 In its initial stage, SeedProd was a landing page builder which allows users to create a page in private by showing the coming soon page to their visitors or customers. After that, they came up with a drag and drop website builder because of the customer demand.
This is a continuously updated website builder which works fine with the new version of WordPress. That means you will get full site editing experience by using this builder. Besides, it has a library full of pre-built templates, themes, blocks, and sections to build an optimized shop page.
Features of SeedProd:
Compatible theme builder that requires no coding.
200+ professional templates, page layouts, and themes for customizing pages.
80+ premium blocks for displaying static and dynamic content.
150+ beautifully designed pre-built templates for different types of landing pages.
It has a draft mood to customize your eCommerce pages in private.
Bloat free code that minimizes loading speed to maximize conversion rate.
Customized coming soon, login, and 404 pages.
15 premium third-party integrations.
Domain mapping to connect your landing pages to another domain name instead of the main one.
A Quick Overview of SeedProd:
wordpress.org rating: 4.9
Starting price: $79/ year.
Refund policy: Yes (14 days)
Frequently updated: Yes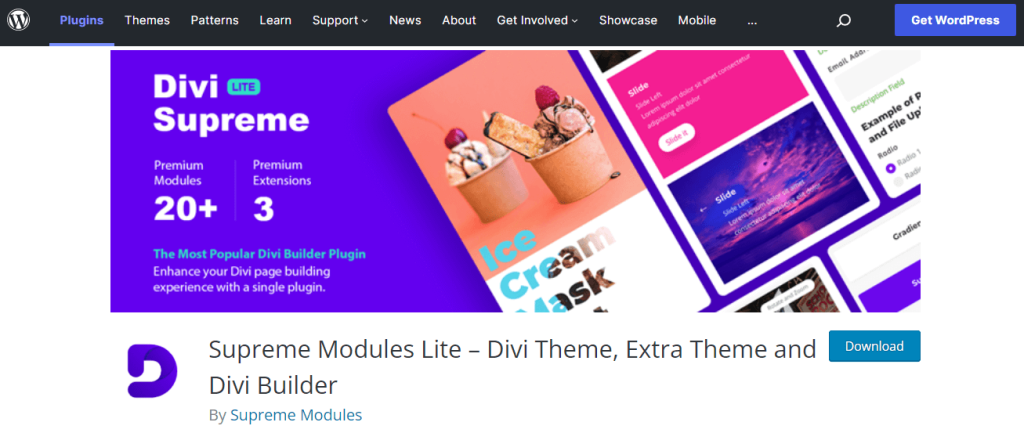 Divi is one of the popular and best WooCommerce shop page plugins that has enhanced the website building experience with its premium modules and features. After using this builder, you don't need to use a separate theme for your website's appearance. Because this will work as both website builder and theme.
Besides, this builder will let you create fully device optimized shop pages with higher loading speeds. Furthermore, lots of styling options are also available in this builder.
Features of Divi Builder:
20+ free and 40+ pro modules.
Library is enriched with pre-built layouts.
It has an option for adding layouts to any files or Divi modules with shortcodes.
Divi templates for designing custom footer, 404, and search no result page.
Shape divider and bulk editing features are available in this builder.
800+ free website design layouts for leveraging website building experience.
A Quick Overview of Divi builder:
wordpress.org rating: 4.8
Starting price: $89/ year.
Refund policy: Yes (30 days)
Frequently updated: Less.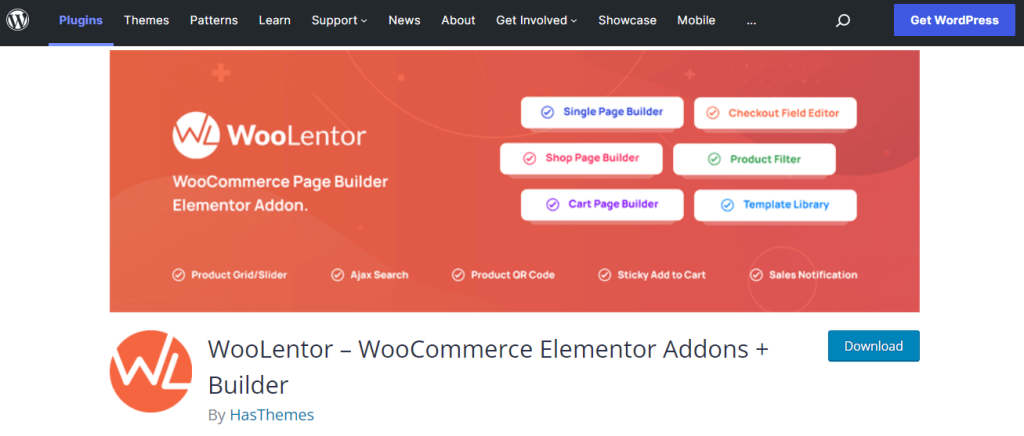 If you are wishing to create a unique page design for your eCommerce store then, WooLentor is a worthy addon to try out. Because this will provide you with all WooCommerce page customization options. Apart from that, you will get lots of widgets and modules which will allow you to create your website pages from scratch.
Moreover, WooLentor will offer you a Shopify style checkout page creating option along with wishlist, product comparison, flash sale countdown, etc. That's why this plugin can be addressed as the WooCommerce checkout plugin for providing checkout page customization features.
Features of WooLentor:
25 free features for building competitive designed WooCommerce pages.
Premium template library.
5 advanced themes for WooCommerce pages.
69 free & pro widgets for page customization.
The pro version offers maximum 2 store setup options.
You will get phone call, TeamViewer, Zoom, Skype support for the premium package.
It has the option to show sticky "Add to cart".
Advanced WooCommerce template builder for pro users.
WooLentor pro will offer you cart, checkout, my account, and thank you page building and customization function.
A Quick Overview of WooLentor:
wordpress.org rating: 4.1
Starting price: $78/ year
Refund Policy: Lots of restrictions apply on refund
Frequently updated: Yes
So, the best WooCommerce shop page plugin is
Now after going through the whole blog, you have found a list of the 5 best WooCommerce plugins. It's time to browse each plugin in the list and choose the suitable plugin based on your requirements. Besides, you can also choose a plugin that is not included in this list.
But, if you want a single WooCommerce plugin for your site to do everything like customizing the shop page, adding pre-order, backorder, product comparison, etc then, ShopEngine is the perfect one. Apart from this, you will get the best user experience and higher loading speed that will boost your conversion rate. So, make up your mind regarding what you want for your site and select one that seems perfect for you.