7 Best WooCommerce Multistep Checkout Plugins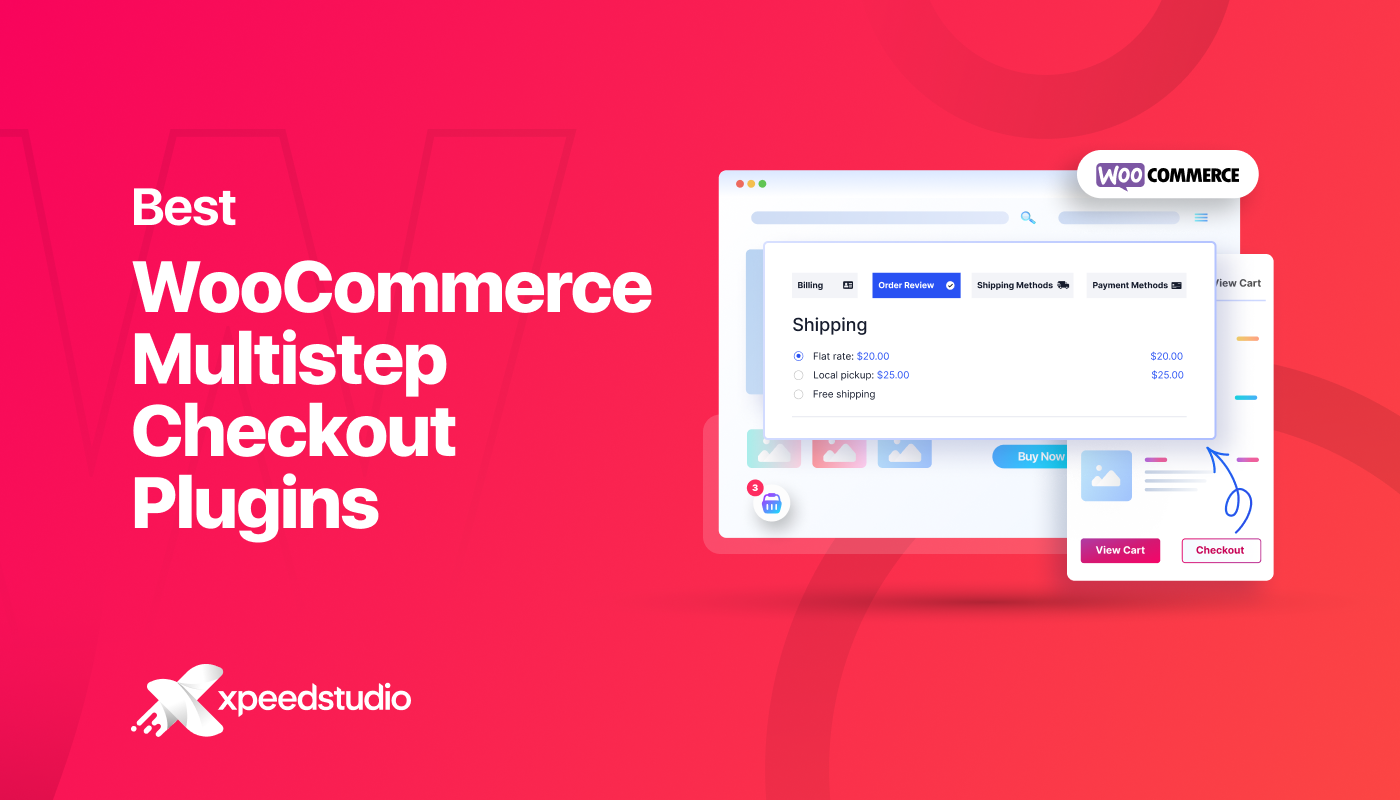 WooCommerce is a flexible and popular choice for small to large eCommerce WordPress websites. However, its default checkout process isn't effective for conversions.
But you want to make sure your visitors complete the purchase, right?
To avoid this, you can break the checkout process into interactive steps. And make it straightforward, fast, and easy so that your visitors turn into customers through the process!
Luckily, there are tools to help you implement a seamless experience for your customers. You don't need to go through a big learning curve or any complicated coding hurdles. For this, you just need to install a multistep checkout plugin.
In today's write-up, we will share some of the best WooCommerce multistep checkout plugins for e-commerce websites.
Let's start things off by answering a basic question.
What is WooCommerce Multistep Checkout Plugin?
Generally, WooCommerce users choose a plugin to replace the default checkout page. And mostly, they tend to opt for a multistep checkout plugin for better optimization. This enables them to split the checkout steps. Even, things become easier when you start with a pre-made layout.
Furthermore, you may need advanced solutions with additional steps or fields to show more information. Or, you may want to disable the shipping step if you don't sell any physical products. Such features are available with a WooCommerce multistep checkout plugin.
Besides, such a plugin is usually packed with enormous customizing features to make the checkout process attractive. You can also deploy Ajax validation to some fields to collect important data. And, there are many more benefits to the multistep Checkout plugin.
Why Should You Use a Multistep Checkout Plugin?
The primary reason for using the WooCommerce checkout plugin is to execute a multi-step checkout process. However, when leveraging a multistep checkout plugin, you get some other related benefits.
Look below for some of the key benefits:
Smoother Customer Experience: There is no better option than multistep checkout while shopping online. This helps you create a clean and consistent look for checkout. Customers will not have to scroll through a long list of items. Instead, they will be able to complete the checkout in multiple steps. And, customers can easily navigate between them.
Personalized Checkout Process: You can add additional fields or steps to show or ask for more information. Thus, you can make the checkout steps understandable and precise. Even, some plugins support combining or separating the checkout steps.
Beautify The Process: Multistep checkout plugins usually come with extensive customizing features. To embellish the checkout steps, you can use text and icons, then customize with the color of your choice. You can also define active and inactive steps. And, there are options to modify the navigation buttons as well.
Boost Your Business Revenue: All in all, a multistep checkout plugin enables your customers to have a smooth checkout process. The intuitive steps will make your customers confident to complete the purchase. Especially, when they can see pictures of their carted products at checkout.
Assists Marketing Campaigns: You can deploy Ajax validation to some fields for collecting essential data insights. Such information will be very useful for your upcoming marketing campaigns.
7 Best WooCommerce Multistep Checkout Plugins
Now we know the benefits of using a multistep checkout plugin for WordPress. Let's look at some plugins that can help you effortlessly implement an efficient multistep checkout process. Here are some of the best WooCommerce multistep checkout plugins.

We're kicking off the list with a multistep checkout module powered by the ShopEngine plugin. It is the most powerful and beginner-friendly tool to personalize your checkout page.
You can modify the heading, login form, billing, order review, shipping methods, and payment options separately. They function as widgets. Thus, you can simply add or eliminate them and define their position.
Further, you can create a perfectly balanced checkout design with your website. Whether you build from scratch or choose a pre-built template, you have plenty of customization for typography, button, form container, label, input, etc.
Plus, you can give the best experience to your customers by adoring the steps with texts & icons and using highly responsive premade layouts.
Key Features
Beginner-friendly user interface.
Kickstart with builder templates.
Separate customization of each step of checkout.
Insert, delete, and, move any checkout steps.
Choose to show or hide any fields.
Extensive customization features.
Insert multiple checkout options into the store.
Responsive and cross-device functionality.
Generate information from customers.
WPML-Compatible
Compatible with all WP themes.
What I like:
I have been using the multistep checkout module by ShopEngine for some while. Other WooCommerce multistep checkout plugins don't let you do much more than split the checkout into multiple steps.
I mean, it will be hard to find one with advantages like customizing the placeholder text or form container and using the "Checkout Form Additional" option to add extra steps. And, ShopEngine does exactly this.
Actually, all features of this plugin are solid to redefine the checkout process in a highly-tailored way. And, I found them really easy to use. For example, the Builder Templates feature gives you an effortless kickstart, activate or deactivate them with an on/off button, and control fields visibility through a single click.
So, if you are just starting out, you should consider this one.
What I don't like:
You can't buy this module individually as it comes under the ShopEngine plugin. And, you have to pay for the full plan. But, it's worth checking out if you get 62+ widgets, 12 modules, 16 templates, and more for your WooCommerce website. So, it isn't a drawback.
Price: There are several bundles to choose from. Check below:
| | | | |
| --- | --- | --- | --- |
| Single at $59 | Unlimited at $299 | Unlimited Lifetime at $599 | 5-in-1 LTD Pack at $3735 |
| 1 year of Support & Updates for 1 website | 1 year of Support & Updates for Unlimited websites | Lifetime Support & Updates for Unlimited Websites | Lifetime Updates & Support |
| 70+ Widgets | Available with all the functionalities of the Sigle pack | Available with all the functionalities of the Unlimited plan | All Premium Features ElementsKit Pro, |
| 20+ Advanced Modules | | | ShopEngine Pro |
| 15+ Templates | | | MetForm Pro |
| Drag & Drop WooCommerce Builder | | | WP Social Pro |
| My Account Layouts | | | WP Ultimate Review Pro |
| Ajax-Filter and Pagination | | | All the premium features |
| Product Comparison | | | |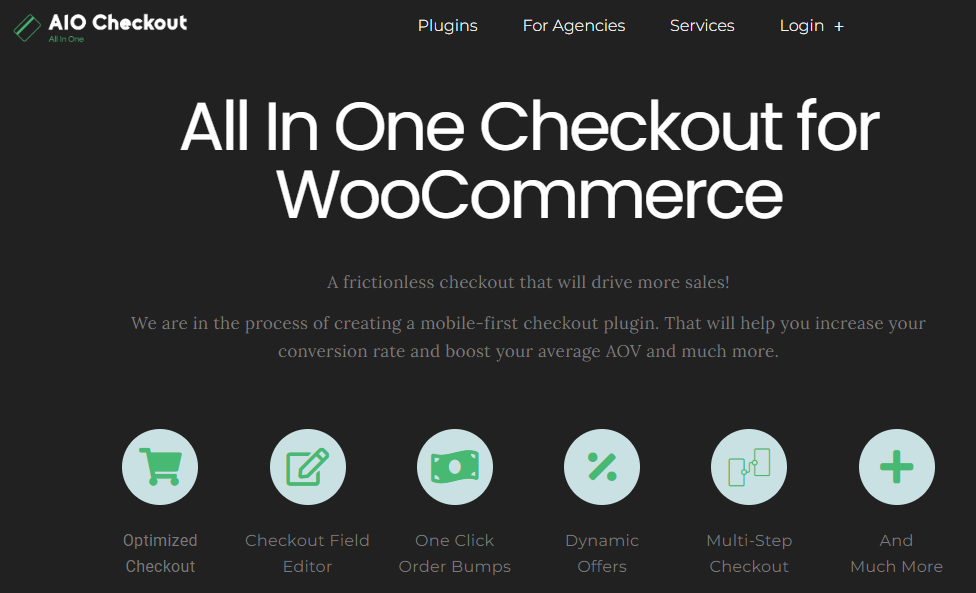 AIO (All In One) Checkout is another simple plugin to split the checkout process. This enables a flexible form builder with huge customization features. You get control for a smooth checkout process where customers only need a few clicks to complete checkout. You can add and delete as many fields as you want from here.
This plugin has much more to do, including generating customer information for future promotions and applying an auto-completing address feature.
Plus, you can encourage customers to buy more by showing relevant products in the checkout process. Also, you can end your customer journey with a thank you page.
Key Features
Visual checkout field builder.
Customize the form fields.
17 different checkout field types.
Display fields according to the user roles.
Show multiple checkout types.
Autocomplete address feature.
Insert a free shipping bar.
Add an urgency countdown timer.
Showcase relevant products.
Mobile-friendly design.
What I like:
There are a couple of unique things about AIO Checkout that appeal to me. For instance, you can add an autocomplete address feature or a free shipping bar and show similar products in the checkout process. You also have features to meet your customer's true intent through autocomplete address feature and display fields according to user roles.
What I don't like:
The biggest drawback I have found in using the AIO checkout plugin is the lack of flexibility to customize the multisteps timeline and navigation buttons. For instance, you can't insert your icon or text into the timeline. If we consider the cost, it should have come with these features.
Price: Here are the pricing plans for AIO Checkout plugins:
| | | |
| --- | --- | --- |
| Basic at $149 | Professional at $199 | All Access at $349 |
| 1 year for 1 Site | 1 Year for 1 site | 1 Year for 1 site |
| Offers in Mini Cart |  Volume Bundling | All 14 Plugins |
| Order Bumps | Product Bundle | Access to Future Plugins |
| Custom checkout page | Product Bundle upsell | Priority Support |
| Extra Checkout Fields | Thank you Page (coming soon) | Everything at the Professional plan |
| Cart Editing | Everything at the Basic plan | |
| Optimized for Mobile | | |
| Access to Templates | | |
| Checkout Takeover | | |
| Skip Add to Cart | | |
| Free Shipping Bar | | |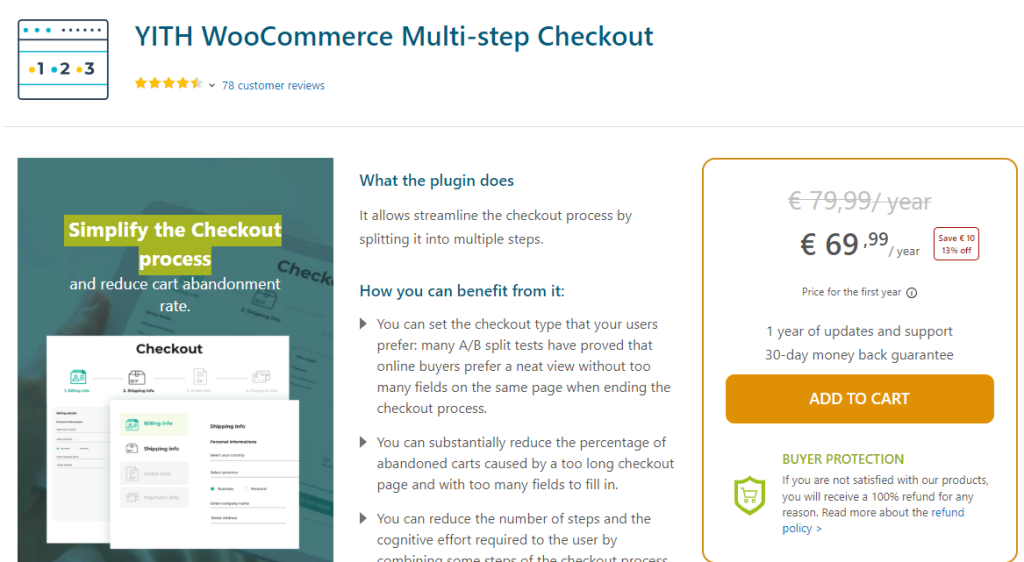 This plugin offers to merge or combine your checkout steps which will help to cut the long checkout process. For example, you can put billing and shipping information together in one step. Also, you can set a custom layout for the mobile visitors.
Further, you can proceed painlessly. It comes with 10 different layouts for the checkout timeline. Besides customizing the colors of each step, you can also edit the label's text.
And, what I like about this plugin is the ability to disable the shipping step feature. This is especially necessary when you do not need to ship the product. It also helps you with implementing validation to each step as well.
Key Features
Five vertical and five horizontal styles of checkout timeline layouts.
Merging multiple checkout steps into one.
Customize the step divider in text-style steps
Control the step transition speed.
Change all types of label text including "Previous" and "Next" buttons.
Allow guests and customers login to the checkout page.
Show or hide navigation buttons and the "Back to cart" button.
Support the "Ajax validation" for mandatory fields.
Select between the icon or number before the step text.
Add custom layouts to mobile.
What I like:
I really like the checkout timeline style with horizontal and vertical styles available with the YITH WooCommerce Multistep Checkout plugin. This leaves me with many options to choose from.
Another good thing is, this plugin allows you to merge multiple checkout steps into one. And, I'd especially like to mention the guest and customer login options on the checkout page. So, if you are looking for something like that, don't skip it.
What I don't like:
I find the YITH WooCommerce Multistep Checkout plugin overly expensive. Even if you find something you need, I would suggest you go for an alternative option.
Price: It costs €69,99 per year. You get one year of updates and support with a 30-days money-back guarantee option on this plan.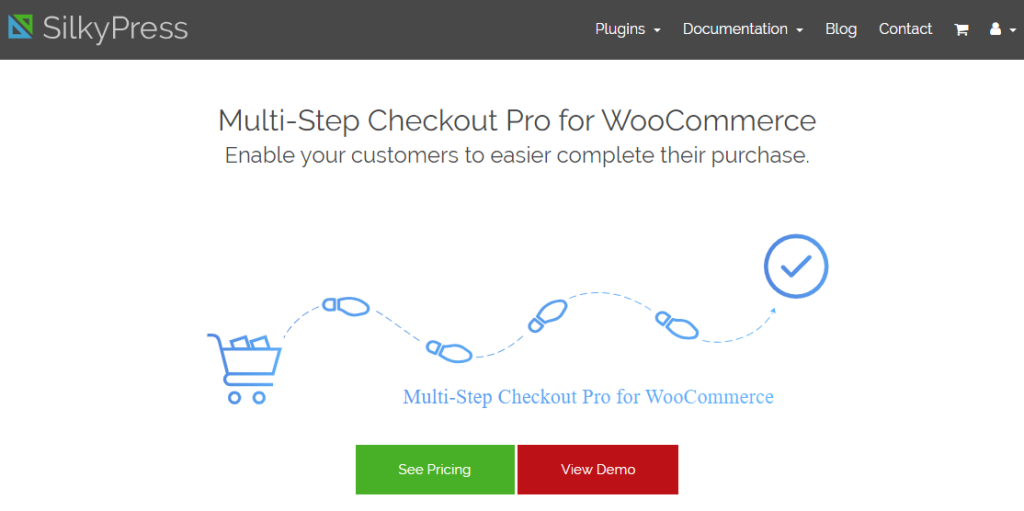 Look no further if you are looking for a useful plugin to display product thumbnail images on the checkout form. Get this plugin to show your customers that they are purchasing the right product.
And, the most highlighted feature of this plugin is "clickable steps" which means you can navigate to any visited step by just clicking on that step. You don't need to use the "Previous" and "Next" buttons.
Additionally, it provides three different layout styles for the checkout steps. Along with changing the color of all display styles, it offers to include a custom step, modify an existing step or delete an existing step.
Key Features
Show product images in the checkout process.
Navigate by clicking on the steps directly.
Add, modify, or delete any steps.
3 different display styles: Default, Material Design, and Breadcrumbs.
Activate "Step-by-Step Verification" and show error messages to visitors.
Create a responsive design for multiple designs.
Add a registration form alongside the login form.
WPML-Compatible.
What I like:
One of the pretty cool features of the Multi-step Checkout Pro For WooCommerce plugin by SilkyPress is the display of product images in the checkout process. Not just me! It should be everyone's favorite.
By showing the image, you can keep your customer hooked to the checkout page. As a result, they are more likely to complete the purchase. And, the checkout will be more interactive as they can navigate by directly clicking the steps.
What I don't like:
I think this plugin is missing a feature that is adding or removing extra steps. This will make this plugin a great choice.
Price: You will find three different pricing plans for this plugin. All packages are available with 5-star support and automatic updates for 1 year. These are:
Personal at $89.90  = 1 Website
Developer at $179.90 = 10 Websites
Big Agency at $364.90 = 50 Websites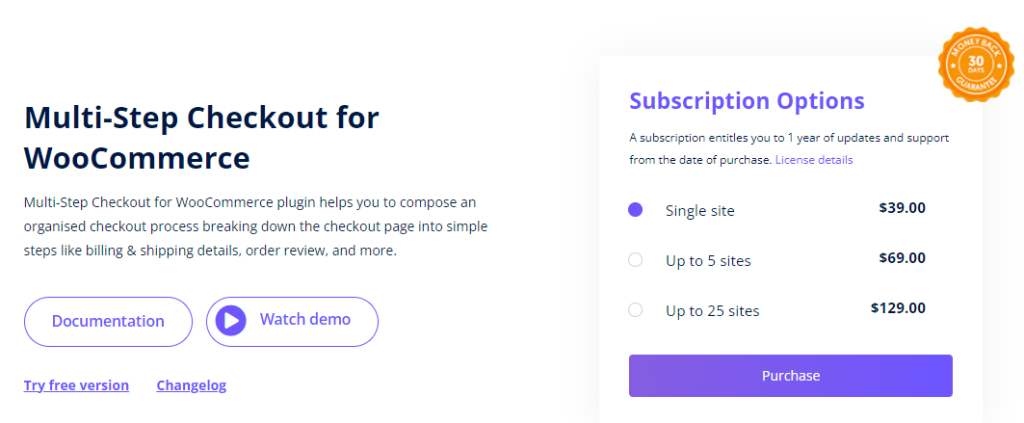 Next, we have the Multistep Checkout plugin for WooCommerce that lets you choose from 14 different multistep layouts for the checkout process. You will get horizontal, vertical, and accordion-type layout styles for the checkout process.
For better personalization, you can add additional checkout steps, position them, and customize their background & text colors. Also, it allows you to combine multiple steps together or separate them as needed.
This plugin is packed with tons of customization features. You can even set different appearances for active and inactive steps. Customers can click on the Cart Details option to view the complete details of their order. This feature helps customers to go further without any hesitation.
Key Features
Add new steps and define their position.
Delete existing or newly added steps.
14 different checkout layouts.
Ensure mobile responsive designs.
Combine and split any checkout steps.
Display login and coupon in the checkout process.
Customize the navigation buttons.
Support Ajax validation for required fields.
Add your own custom content for checkout steps.
Enable or disable any checkout steps.
What I like:
Apart from combining or splitting the checkout steps feature, I really like the active and inactive step customization to make the checkout look even more beautiful. And, having the advantage of displaying login and coupon in the checkout process is a big plus.
What I don't like:
You have to go through a long learning curve to get used to the multistep checkout for the WooCommerce plugin from ThemeHigh.
Price: You get one year of support and updates in three pricing tiers:
Single Site: $39 
Up to 5 sites: $69
Up to 25 sites: $129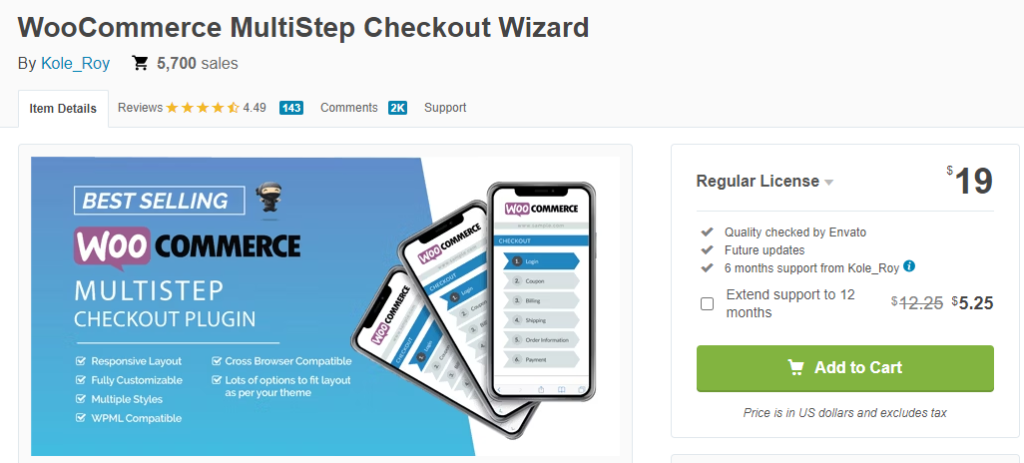 WooCommerce Multistep Wizard is another go-to plugin for creating a multistep checkout process. In particular, I love the price, regular price is only $19. This plugin is designed for someone who is looking for standard features.
You get multiple designs for the checkout steps. So, you can start smoothing the checkout process for your customers soon. This plugin facilitates complete customization of your checkout process to enhance the customer experience.
You get vertical and horizontal orientations for the multistep checkout process. Users from different devices can easily finish their checkout.
Key Features
Responsive Layout
Loads of Customization
Multiple Styles
WPML-Compatible
Vertical Orientation
Horizontal Orientation
Form Validation for each step
Cross-browser validation
Multiple Design
What I like:
If you're on a tight budget and just want a basic plugin, then WooCommerce multistep wizard checkout plugin can be a great choice. And, to be honest, I really like the vertical and horizontal orientation features.
What I don't like:
For lack of some features, it can seem like a low-end plugin. But, I think you have to accept it considering the price.
Price: You need to pay only $19 for the Regular Pack of this plugin. And, there is a $100 Extended package as well.

The final plugin on our list differs slightly from the others. Cartflows WordPress plugin is a cross-functional plugin that helps you do more than just create your multistep checkout process. In addition, it facilitates a sales funnel builder to boost your average order value.
It can be a good option for the multistep checkout process of your WooCommerce website. You can effortlessly give a visually appealing experience with the help of visual builder functionalities. Customers can complete payments quickly without hassle like filling out a form.
Key Features
Different layout options.
Add Custom fields.
Various customizing features.
Real-Time Form Validation
Autocomplete address feature.
Display relevant offers at checkout.
What I like:
In terms of modern checkout page design, the Cartflows WordPress plugin is a suitable option. The funnel builder is an effective addition to this plugin.
What I don't like:
Cartflows is not a dedicated plugin for a multistep checkout process. Although, it gives an opportunity to have one. But, overall you will pay a lot more.
Pricing: It comes with three types of cost plans. As below,
| | | |
| --- | --- | --- |
| CartFlows Starter at $129 | CartFlows Plus at $249 | CartFlows Pro at $449 |
| 1 year for 1 website | 1 Year for 10 website | 1 Year for 30 website |
| Modern Checkout Styles | Dynamic Order Bumps | SureTriggers Pro Automations |
| One Column Checkout | Order Bump Grids | PayPal Payment Gateway |
| Two-Step Checkout | Modern Order Bump Styles | A/B- Split Testing |
| Multistep Checkout | Dynamic One-Click Upsells | Smart Funnel Routing |
| Visual Checkout Field Editor | Smart Funnel Routing | Canvas Mode – Analytics |
| Custom Checkout Fields | Dynamic Upsell Templates | Automation features |
| | Everything at the CartFlows Starter | Everything in the CartFlows Plus |
Things to Consider While Choosing Multistep Checkout Plugin?
Easy to use: You shouldn't waste hours learning a complicated interface. You can start to build your first multistep checkout as soon as you understand how the plugin works. Find something that offers pre-made templates. That way, when you start, you'll find your work is already half done.
Complete Customization: An intuitive checkout process can keep your customers engaged and motivated to complete their purchases. To achieve this, your multistep checkout plugin needs to have extensive customization features, such as beautifying steps with colorful text & icons, displaying active & inactive steps, customizing previous & next buttons, and more.
Additional Steps & Fields: The best checkout plugin for WooCommerce should let you add extra steps and fields. Such a feature will help you to show your relevant information. It would be also good if the plugin enables you to delete or disable the existing steps or fields. Another helpful feature of this type of plugin is to combine or merge checkout steps.
Responsiveness: Mobile-friendly multistep checkout process is a challenging task for non-professional users. You can't compromise on a large mobile audience. Thus keep an extra eye on this factor to avoid serious problems in the future.
Look For Personal Requirements: When selecting a multistep checkout plugin, see if the plugin offers your own needs. Plugin with Ajax validation support will help you to collect valuable data. Moreover, you may prefer to integrate the customer login form into the checkout process. Even, you may want to show your product image or require a autocomplete address feature.
Compatibility: Before making a final decision, you must check the compatibility of the plugin with your theme. And, be aware of any potential conflicts with other plugins on your WooCommerce website.
Wrap Up!
So, now you understand what to look for when choosing a WooCommerce multistep plugin. And, it is quite essential to use when you are running a store website. I think you should take care of every aspect of the checkout process and customize it to keep it relevant to your website. This will help reduce the proportion of customers leaving the checkout in the middle.
For instance, the ShopEngine Multistep checkout module is useful for modifying the checkout area in detail. And, it facilitates a user-friendly interface. Particularly, builder templates make it easy to launch the checkout creation process. While if you want a unique feature like a shipping bar, then you should go for the AIO checkout plugin.
Now, it is your turn! Share with us, which plugin you are going to use in the comment section below.