ShopEngine: The Perfect Plugin to Streamline WooCommerce Pages for Elementor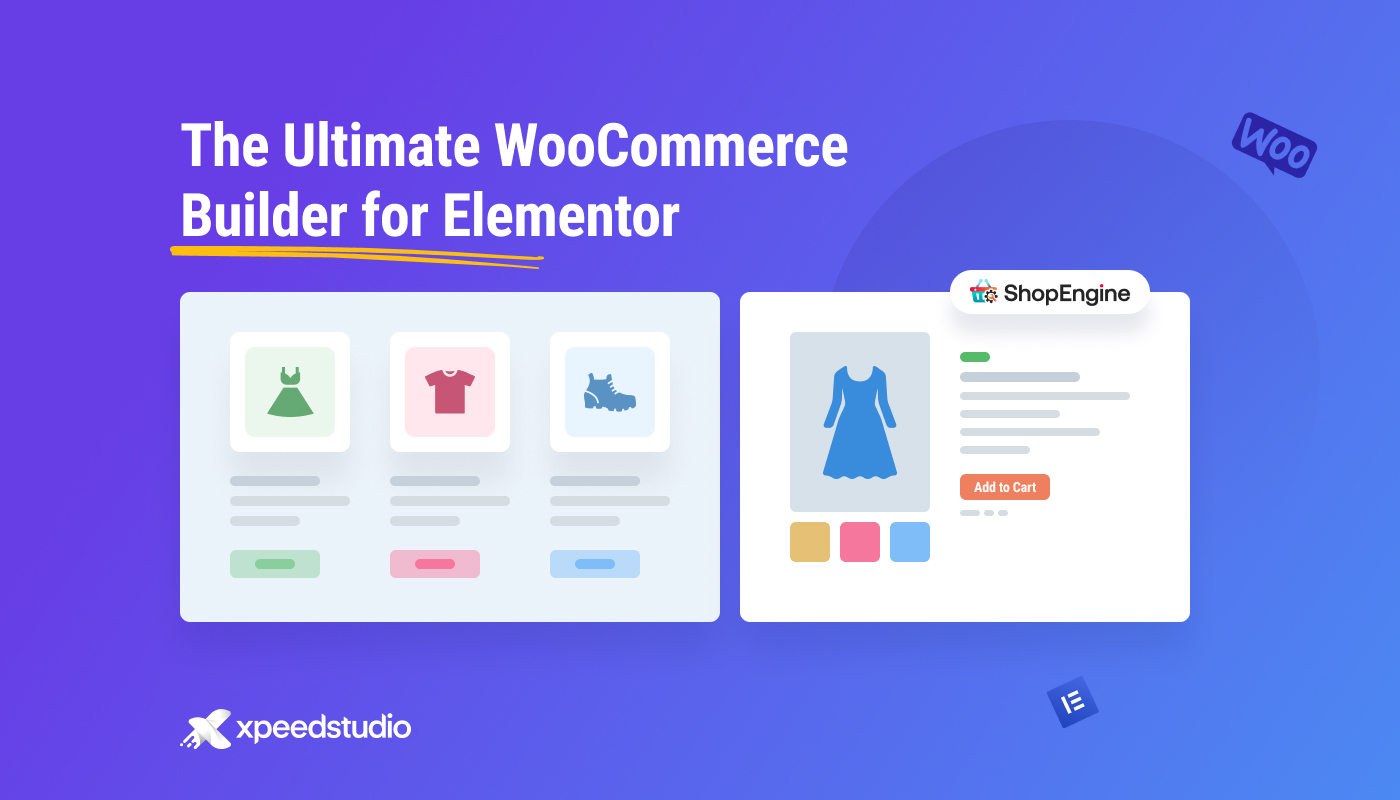 Right at the get-go, you must be itching to know about ShopEngine. How can it streamline WooCoommerce pages for Elementor, right? Just hang on! I will throw light on ShopEngine shortly. But before that, you need to make out how WooCommerce operates standalone with Elementor. 
That will ease your perception of how ShopEngine can optimize WooCommerce pages for Elementor. These pages no doubt include a single page, shop page, product page, cart page, checkout page, my account page, and so on.
WooCommerce assists you in building an eCommerce site for your online business in WordPress. It comes with some fascinating features, ideal for your online store. The plugin is fully customizable letting you make necessary tweaks of different elements.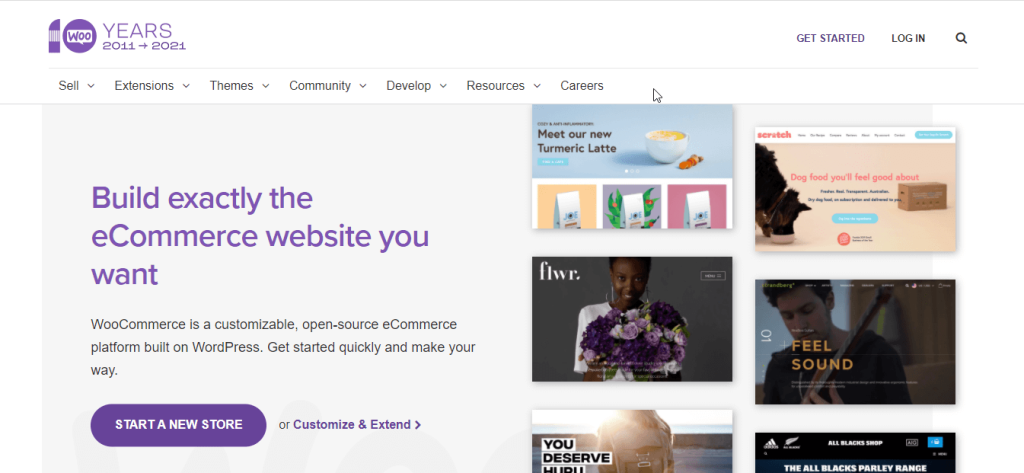 You may be wondering if WooCommerce is providing a comprehensive solution, why do I need Elementor? Well, Woocommerce and Elementor both serve different purposes. WooCommerce helps you with things like order & inventory management, setting shipping & payment options, sales tax, and so on.
Elementor, however, aids you in page building for your WooCommerce site. So, what comes under page building? Well, a page consists of many different parts and elements including header, footer, image, video, button, icon, image gallery, image carousel, testimonial, and so on.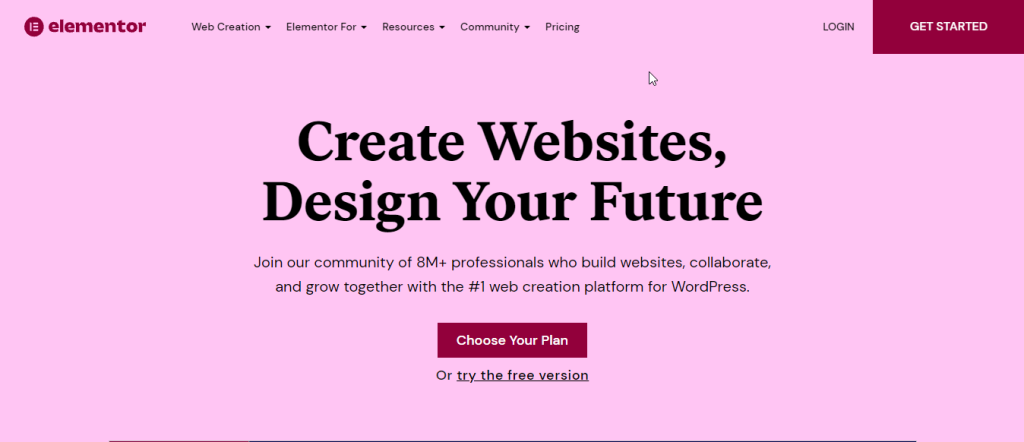 So, with Elementor, you can design your WooCommerce shop page adding all these essential elements.
Now, I believe it will be super easy for you to grasp the functions of ShopEngine. At the outset, I would like to clarify why we developed a plugin called ShopEngine for the WooCommerce pages for Elementor. To reply, I will present a few stats and you will automatically perceive the reason we targeted WooCommerce pages for Elementor.

As per the data of Builtwith Trends, 4,414,537 live websites exist as of now that leverage WooCommerce for their sites. Apart from that, the plugin has 5+ million active installations till now as displayed in WordPress.org.
An Overview of ShopEngine:
So, what ShopEngine is basically and why should you deploy it? ShopEngine is an Elementor WooCommerce builder. ShopEngine provides a holistic solution for your WooCommerce pages for Elementor. With only WooCommerce, you can do certain customizations but they are limited. 
If you wish to design your pages at your heart's content, you have to leverage distinct addons which is an extra hassle. ShopEngine stands out from them. The plugin comes with both free and premium features (ShopEngine Pro Released!!!) giving you an optimum user experience.
Why is ShopEngine perfect for streamlining WooCommerce pages for Elementor? Hold on!!! We will see it going forward….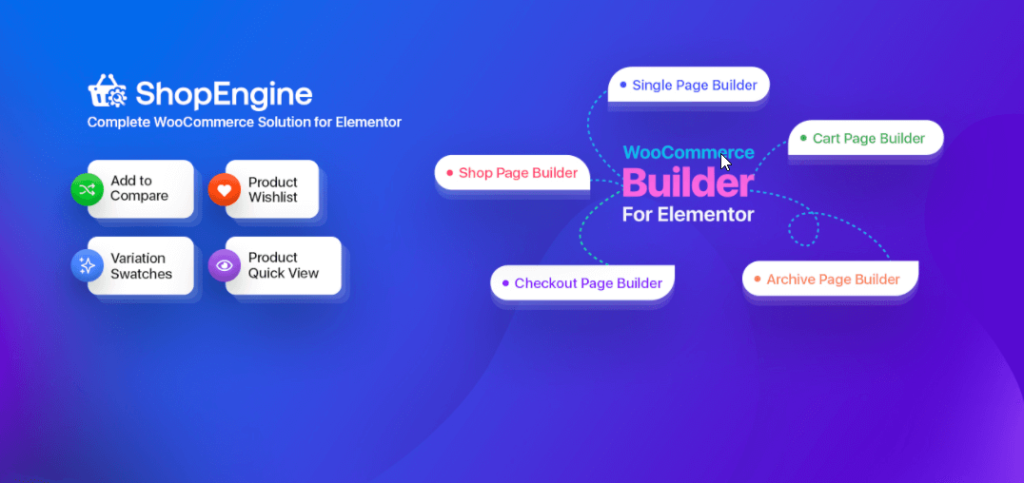 Drawbacks in Separate Addons or Extensions:
Leveraging separate addons or extensions causes extra issues. What are they? Just take a look below-
Multiple addons will overload your site, thus slowing down the site
Each addon will be charged separately, thus costing you too much!
All the extensions you have to manage distinctly, creating a chance of goofing up everything!
Lastly, time is super precious and you can't afford to invest time for each of the extensions.
So, would you like to encounter all these fatal drawbacks to elevate the functionalities of your site? No doubt, you wouldn't. That's why, we have come up with ShopEngine, your one-stop solution for Elementor WooCommerce builder.
The plugin boasts some eye-soothing features that you would fancy using while customizing your product, cart, and checkout pages. Whether it's modules, widgets, or other premium features, each of them comes in ShopEngine considering what you crave on your site.
ShopEngine Pro features 62+ customizable widgets, 12 handy modules, 16 useful templates, and so on.
Now, let me dilate upon some of the key modules and features of ShopEngine to persuade you why ShopEngine is worth trying.
Quick View Module- Let your Clients Take a Quick Look at Products: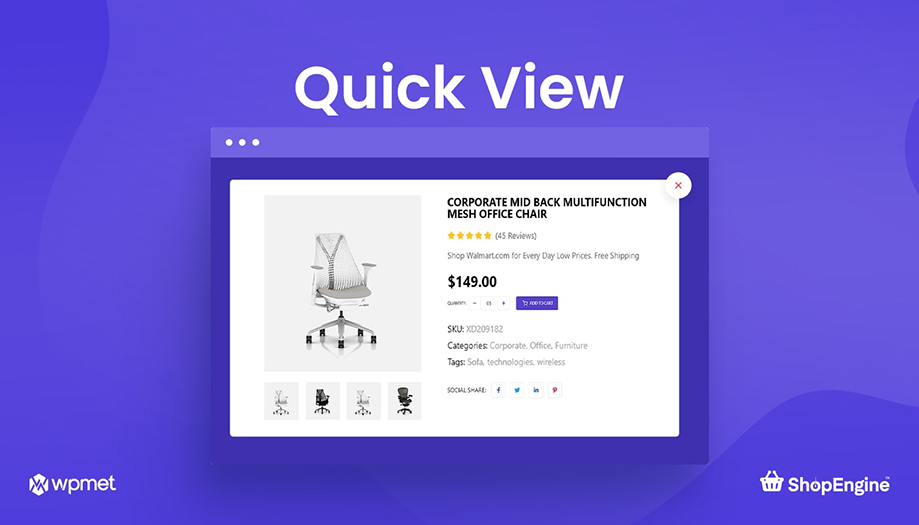 Once a buyer visits a store, what does he look for at the outset? It's his/her desired product, right? No matter whether it's an online store or an offline one, the desired product is what he/she hunts for after entering the store.
Bearing that in mind, we have incorporated the Quick view module in our WooCommerce solution provider.
The module will help you to display all the key product info including product image, product price, product reviews, Add to Cart button, social media icons, etc.

Variation Swatches Module– Let your Clients Pick Options: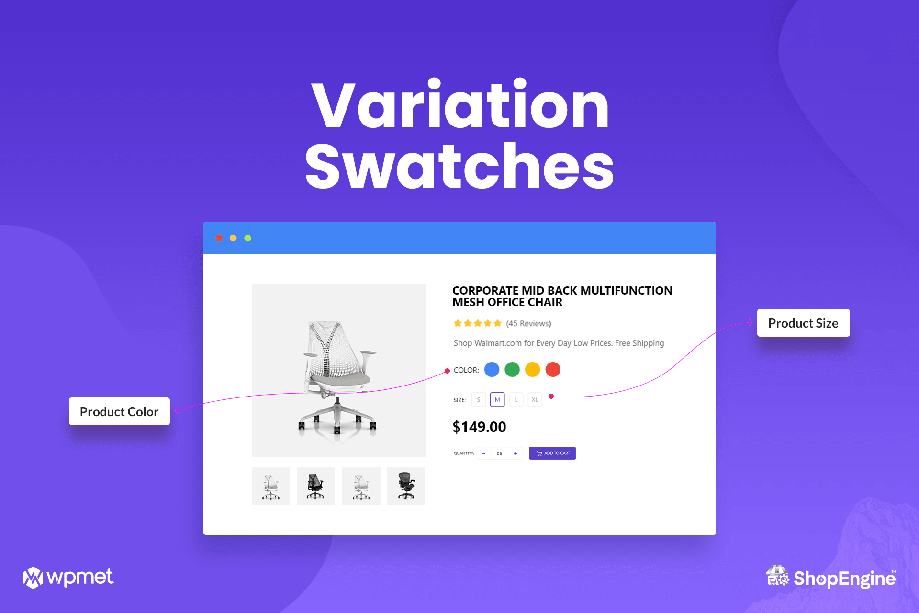 Clients always fancy variations, don't they? After they visit your online store, they just don't snap up a product in a flash. Rather, they take their time and hunt for products with different colors, sizes, and other variations. So, it's crucial that you have those options to satisfy your clients.

To help you out, we have integrated the variation swatches module in our WooCommerce builder. With our variation swatches module, you can display products in different colors, sizes, and images. This will elevate your customers' satisfaction level and increase the chances of sales.
Wishlist Module- Let your Clients Choose Products for Future Purchase: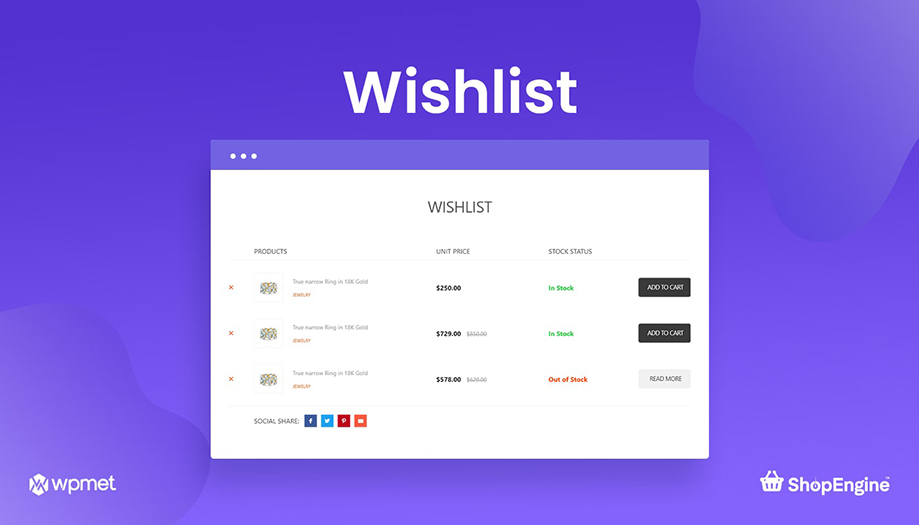 Many times, buyers after visiting your store may not buy their desired products. It can be due to a limited budget. Oftentimes, they may buy their planned products but they may wish to buy additional products. But due to the deficit of money, they may wish to buy later. So, you need a way out of that, right?
No worries!!! We have the solution for you as ShopEngine features the wishlist module. With this module, you can enable your customers to add products to their carts for future purchases. They can also view the status of the products whether they are in stock or not and save them in their carts.
Product Comparison Module: Let your Clients Compare Products: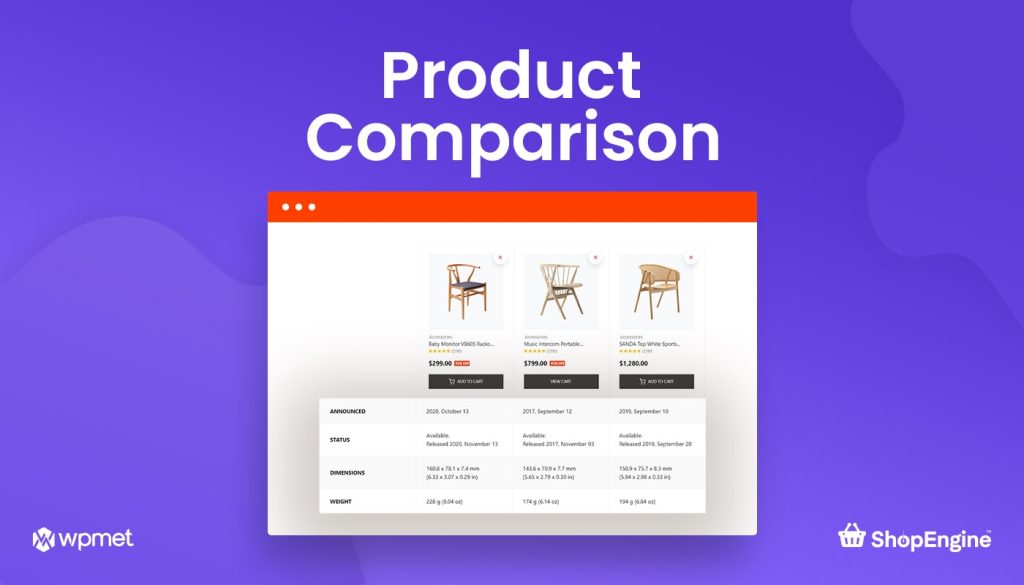 Clients are super smart and they do many calculations before picking up any product. They fancy comparing similar products before deciding to buy one. But in most cases, websites don't have built-in options to let them compare products which forces them to open products in new tabs.
But in our product, we have kept the point in mind. We have added the product comparison module that will let your clients contrast products viewing them side-by-side. They can compare product price, dimension, weight, shipping features, and whatnot. Moreover, you will get 8 more widgets in ShopEngine Pro to customize your website pages.
Is that all? Nope, leveraging ShopEngine you can receive many more benefits. What are they? Just take a look-
Additional Advantages that ShopEngine Offer Compared to Others:
I wouldn't outrightly claim ShopEngine is the best. Rather, I would present to you how ShopEngine stands out from other similar addons and extensions. So, you can decide if it's worth trying or not!
Get a Stellar Design of your Site: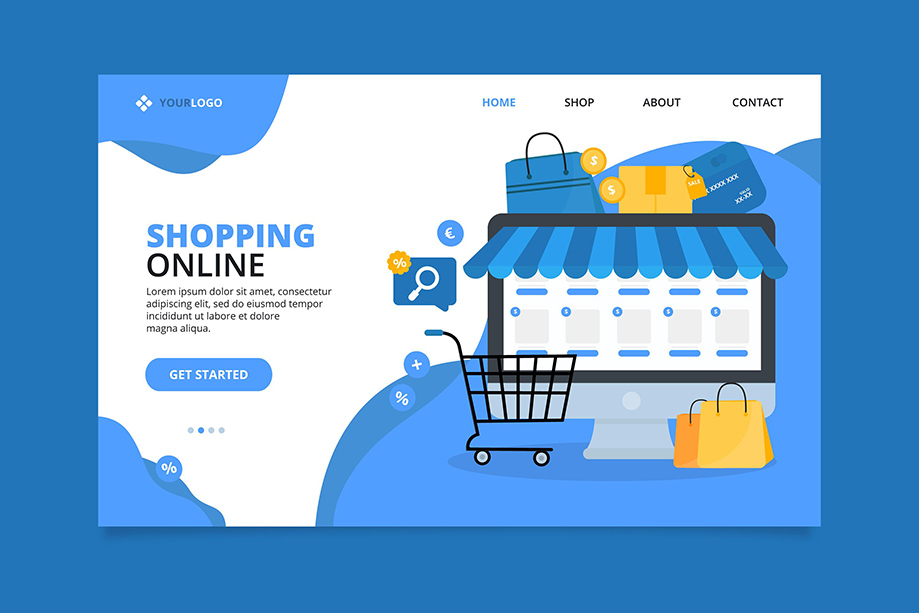 When you are selling products online, having a catchy site design is essential. You have no way to brush this point aside in this competitive era of business. A shopper's main goal is to buy products from your store but he/she looks at your online store's layout as well.
When someone else is offering a magnificent design of his online store, buyers will automatically prioritize that seller. Because it improves user experience and animates the buyers.
So, for the convenience of your business, ShopEngine offers you options to turn your site into an elegant one. You can add stylish image boxes, sidebar, buttons, icons, and many more.
Ensure an Improved User Experience: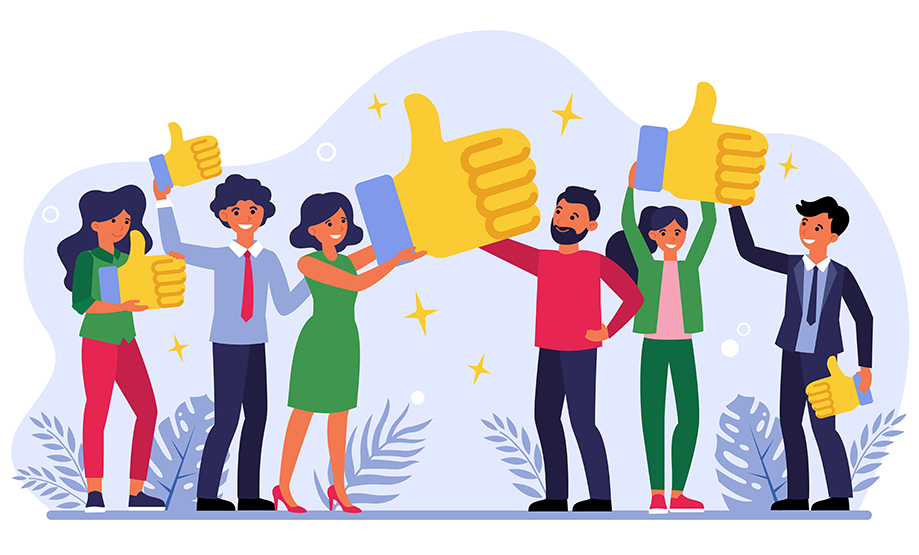 As an eCommerce business entrepreneur, you are surely aware of the customer-first approach. You always want to give your customers a smooth user experience after they land on your site. But that too with providing all the essentials for their purchase.
ShopEngine is all that you need to improve the user experience. The plugin is lightweight and swift, preventing slow-down of your site. It's programmed in such a way that your site loads depending on the number of widgets you use, speeding up your site.
Get an Array of Customization Options: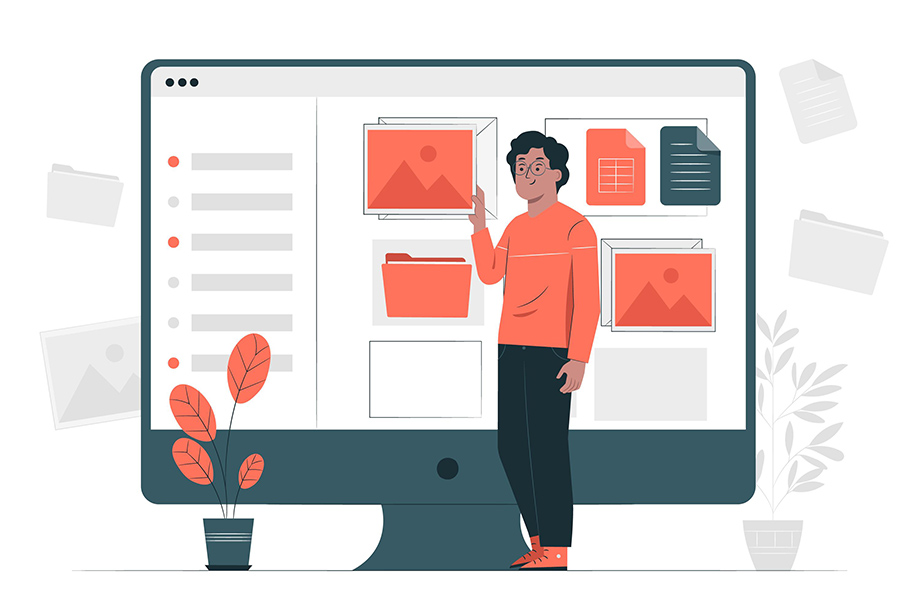 Different people have different mindsets. Everyone doesn't enjoy the same color, size, pattern, and design of a site. You wouldn't like to see a dull site or even show it to your customers in an unflattering way.
To bring life to your site, we have enabled bottomless customization options with our widgets and modules. You can tweak different parameters to bring out a stunning design and layout of your WooCommerce site.
Ease the Steps of Shopping for your Buyers: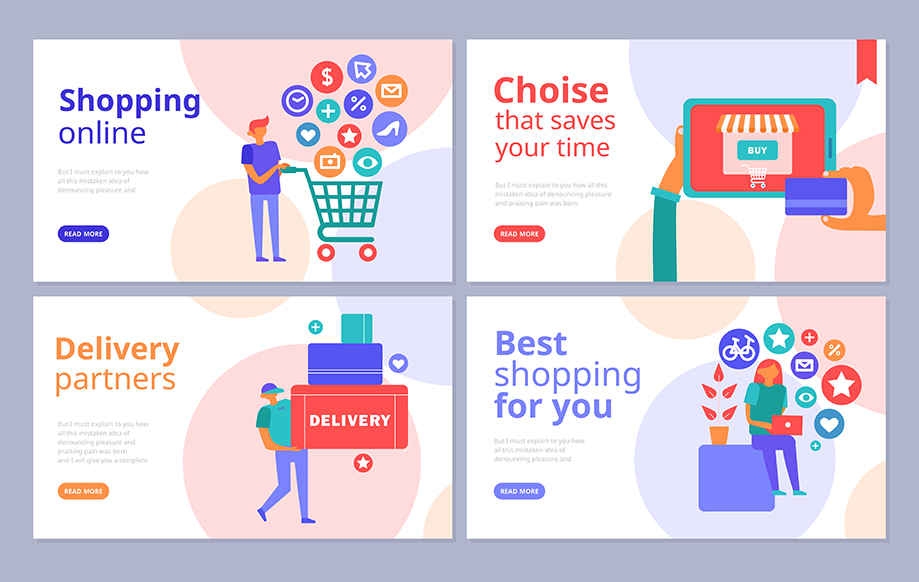 Your buyers always wish for a smooth shopping experience. Right from landing on the site till they make the purchases, the entire process they want to be hassle-free. To turn your shopping site into a user-friendly one, ShopEngine can do wonders!
With ShopEngine, you can add useful widgets like product price, product description, related products, the checkout form, the add to cart button, and whatnot. This will not only improve the look of your site but also provide your clients with a peachy shopping journey.
Enjoy Continuous Update and Timely Support: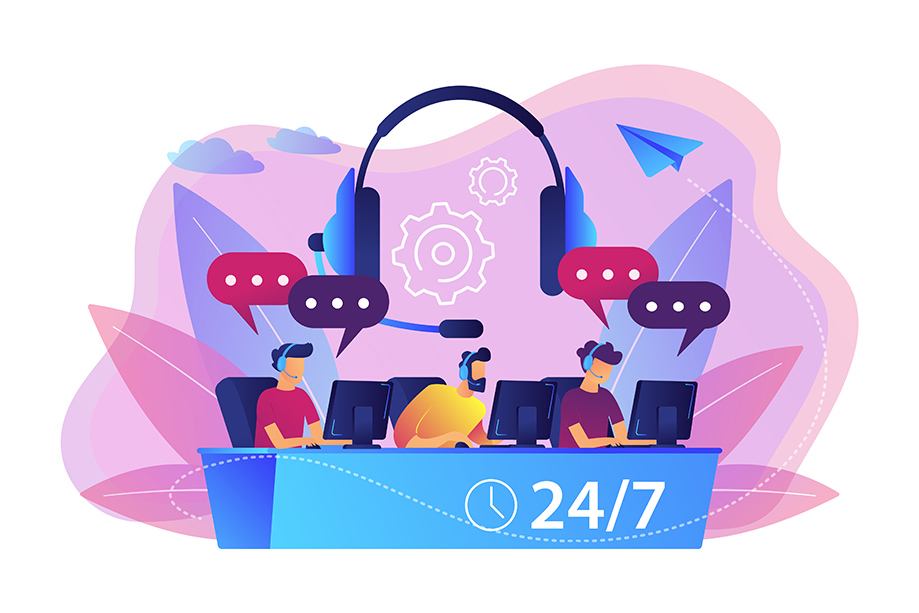 Plugins are pieces of software and they often show up with unwanted bugs. But customers can't pick up any plugin if it's buggy. That's why we have a team of adroit developers who regularly update ShopEngine and relentlessly work to fix undesired bugs.
We also have a customer support team who is regularly active to help you out. Any issue you face while using ShopEngine, our support team will resolve and guide you to avail of the product in the best possible way.
ShopEngine 50+ Widgets:
I talked about key modules and other killer features of ShopEngine. But your knowledge about ShopEngine will remain incomplete if I don't introduce you to the widgets of ShopEngine.
Let's take a quick look at the widgets of ShopEngine from the gif below.
ShopEngine Widgets at a Glance: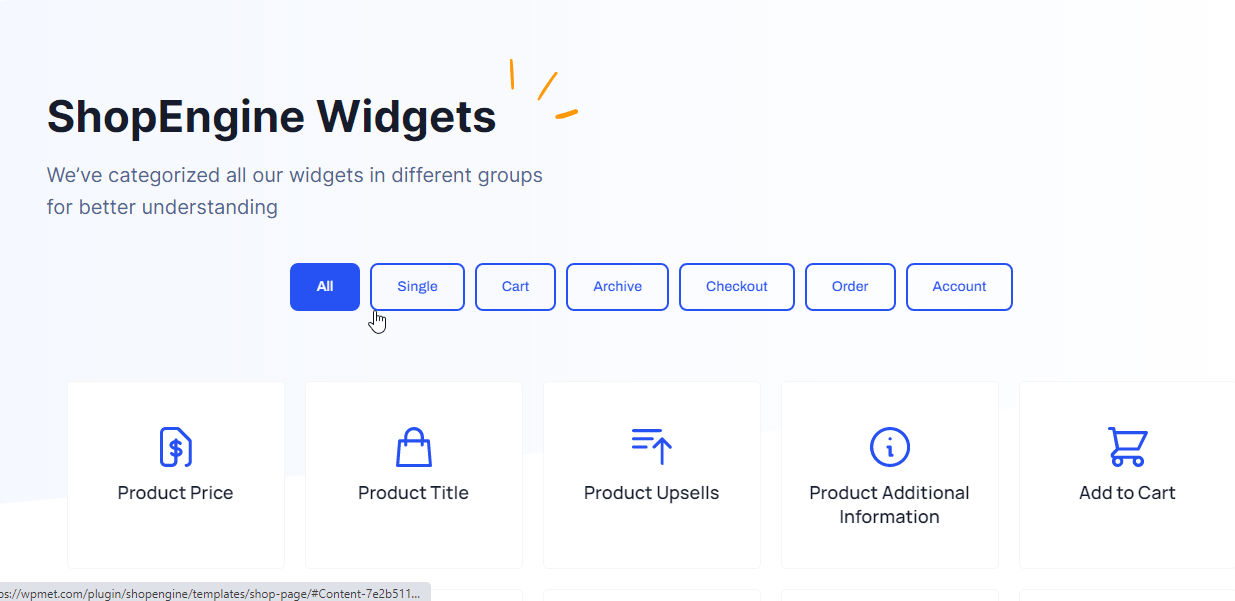 Over to you
So, are you ready to take advantage of ShopEngine, the best Elementor WooCommerce builder to streamline WooCommerce pages? If you want your store to have all the essential functionalities that your customers ask for, ShopEngine is the go-to plugin for your WooCommerce pages for Elementor.
On top of that, ShopEngine keeps your site smooth and swift improving the user experience. This automatically scales up the chances of sales and conversions. And that's your primary goal definitely for the WooCommerce pages for Elementor.
Besides, ShopEngine Pro is out now. You can deploy many premium modules as well as widgets with the pro version and improve your user experience. So, grab the opportunity!