Top 5 WordPress Comparison Table Plugins in 2023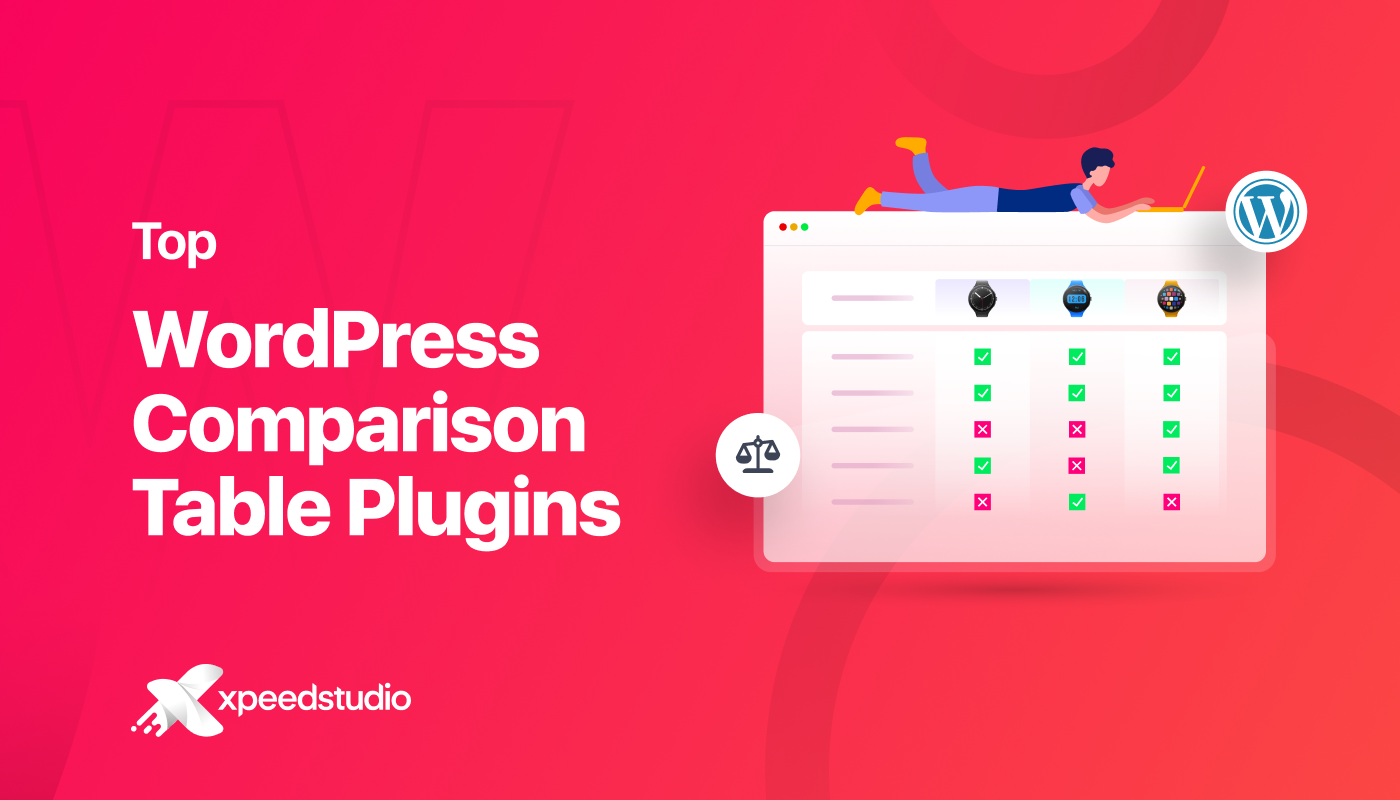 In the world of web design and content creation, there's a timeless quest for simplifying complex information and presenting it in an engaging, user-friendly manner. And that's where Comparison Table Plugins step into the spotlight.
However, creating comparison tables within WordPress can be challenging. Despite the introduction of a basic Table block in the Gutenberg editor by WordPress 5.0, its capabilities are limited to adding text to the table.
Fortunately, various WordPress Comparison Table Plugins are readily available. These plugins offer a user-friendly solution, allowing you to integrate attractive comparison tables effortlessly into your WordPress posts or pages.
Top WordPress Comparison Table Plugins
To assist you in crafting an exceptional comparison table in WordPress, we've compiled a list of the best 5 plugins. Regardless of your budget or the purpose behind needing a comparison table, we assure you that this list holds something valuable for you.
Plugin
Price
Support
Ratings
ElementsKit
➡️ w/ free plan
➡️ Starts at $3.25/mo.
Data and WooCommerce Product 
4.9/5
TablePress
➡️ w/ free plan
➡️ Starts at $2.58/mo.
Data
5/5
AffiliateX
➡️ w/ free plan
➡️ Starts at $4.08/mo.
WooCommerce Product
4.4/5
WP Table Builder
Starts at $4.08/mo.
WooCommerce Product and Pricing
4.8/5
Ninja Tables
Starts at $4.17/mo.
Data and WooCommerce Product
4.6/5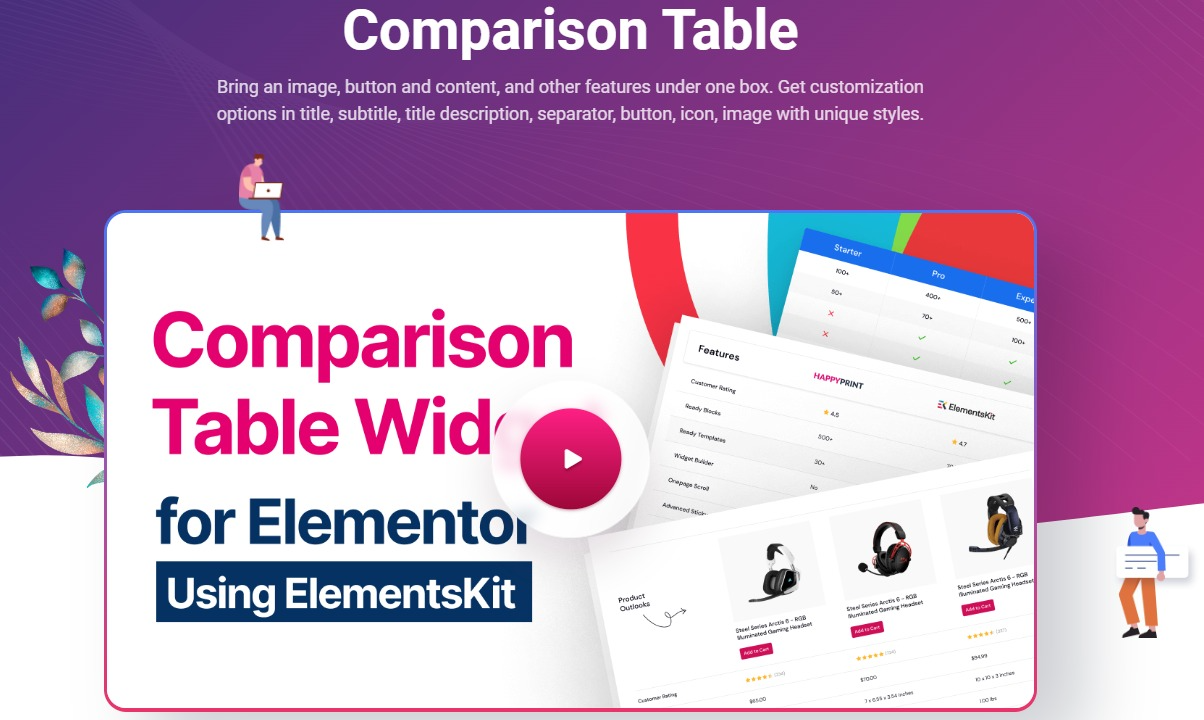 ElementsKit's Comparison Table Widget is your ultimate solution for bringing together images, buttons, content, and other features in a single, neatly designed box. With a wide array of customization options for titles, subtitles, title descriptions, separators, buttons, icons, and images, you can create a unique and eye-catching layout for your comparison tables.
This powerful widget not only streamlines your content presentation but also enhances the user experience on your website or blog. By providing a visually appealing and structured way to compare different options, your readers are more likely to spend time engaging with your content, making it a valuable addition to your digital toolkit.
When readers can easily compare various choices, they become more engaged with your content and are likely to return for more in the future. This not only improves your website's search engine rankings but also broadens your content's visibility to a wider audience.
Features:
Comparison table widget allows you to compare products, data, product features, and so on.
Present your asynchronous data visually to improve the user experience and usability.
Comparison table widget consists of various beautiful layouts that enable you to present data according to your style.
Allows you to compare similar items, presenting their differences to help your costumes with their choice.
Helps you structure your content logically, making it simpler for readers to grasp distinctions among various choices.
👀👀Have a look at our listed best WordPress table plugins in 2023👀👀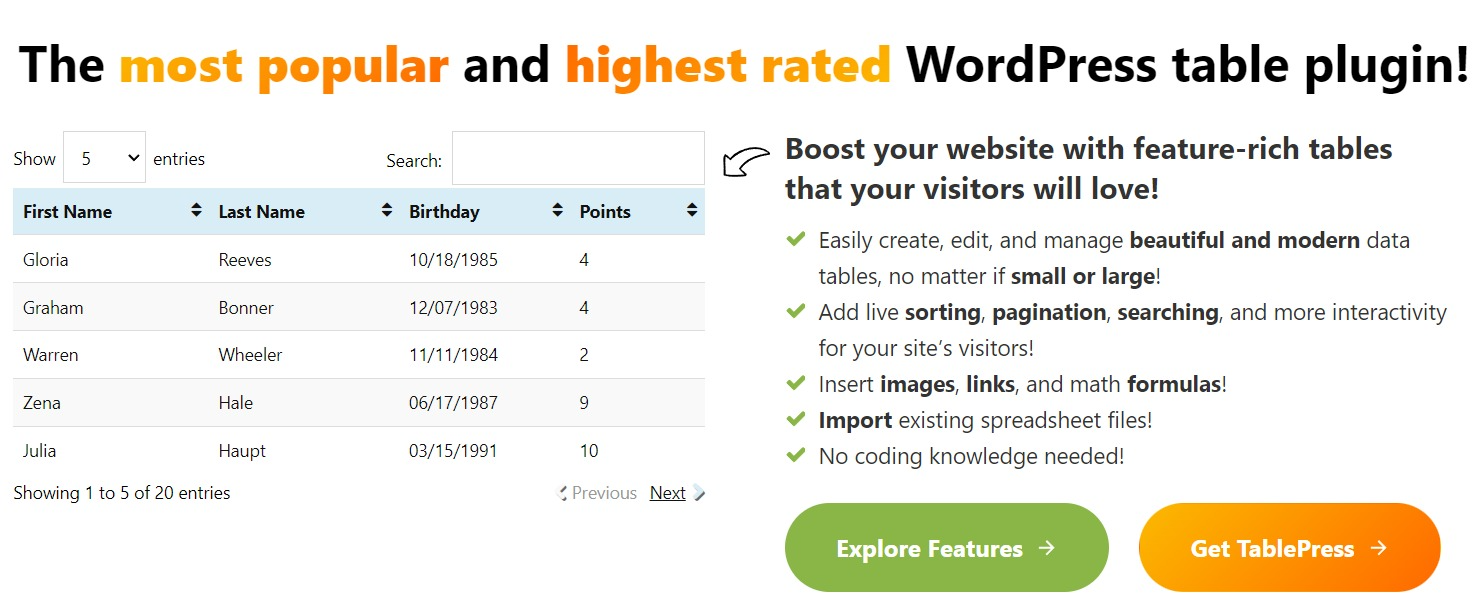 TablePress stands as the go-to WordPress plugin for creating tables, favored by an impressive user base exceeding half a million websites. Its popularity was because of its wide array of features for creating and managing attractive tables. This formidable plugin empowers you to seamlessly integrate tables into various sections of your website, including pages, posts, or even text widgets!
With a user-friendly and familiar interface resembling a spreadsheet, modifying the table content is a breeze. You can effortlessly sort, filter, and paginate the table using its management pane.
Features:
Seamlessly integrate with various WordPress themes and plugins, ensuring smooth operation and compatibility.
Enable users to sort, filter, and paginate the table data for better navigation and information retrieval.
Easily import tables from various formats such as Excel, CSV, JSON, and HTML. Exporting tables for backup purposes is also straightforward.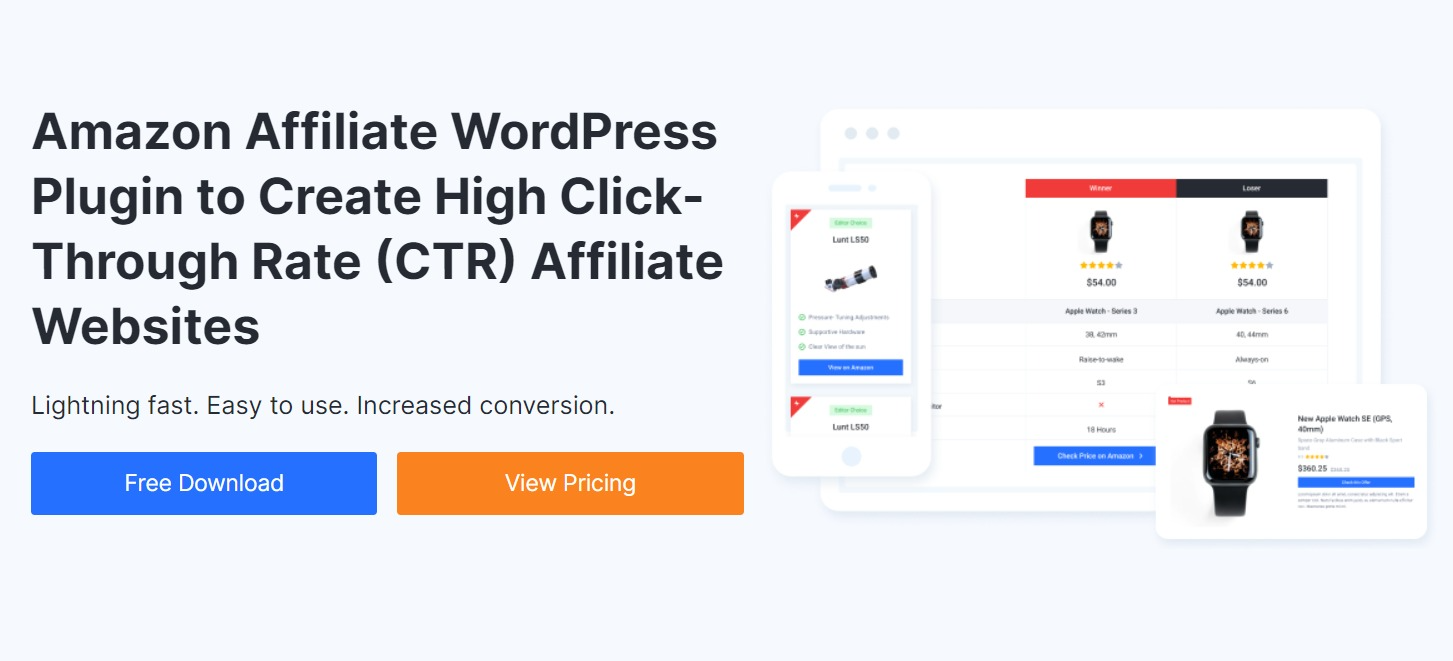 AffiliateX stands as one of the ultimate tools for crafting appealing and informative comparison tables for products. It was tailored to boost conversion rates and facilitate the swift creation of high Click-Through Rate (CTR) affiliate blogs.
Moreover, the premium version of this WordPress plugin introduces Versus Line blocks. This block enables precise specification comparisons between two products. You can modify each block's appearance with a live preview, granting you exceptional control. Notably, it excels in not slowing down your website, and enhancing performance.
The tool was equipped with an intuitive interface, customizable templates, and real-time previews. It is an essential asset to affiliate marketing elevating your business to new heights.
Features:
Effortlessly create comprehensive product comparison tables with an easy-to-use interface.
Ensures lightning-fast loading times, optimizing website performance without compromising speed.
Provides a wide range of customization options and layout flexibility. This allows users to tailor the appearance of each block to specific preferences with a live preview.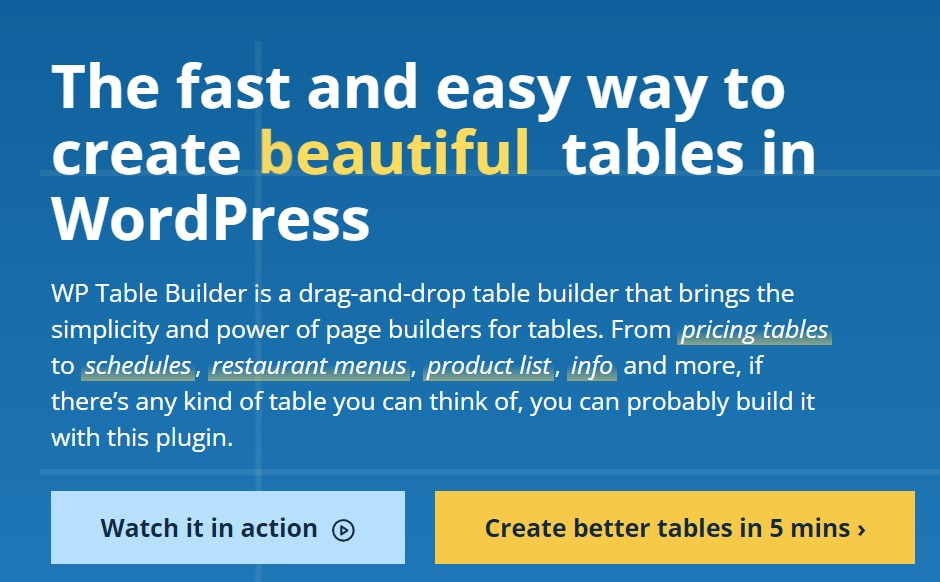 WP Table Builder is a user-friendly WordPress plugin for creating attractive tables with a simple drag-and-drop interface. Tailor your tables to various needs, including product comparisons, pricing details, lists, and more.
Additionally, WP Table Builder offers a paid add-on that elevates the whole table-building experience intuitively.
This add-on comes with 5 advanced elements:
Circular Rating
Icon
Ribbon
Styled List
Icon Text
A remarkable feature of the paid add-on is its pre-built tables. It allows you to choose a prebuilt table and simply replace the existing data instead of starting from scratch. Moreover, you can save time by storing your custom-designed tables as prebuilt table templates.
Features:
Quickly insert your comparison tables anywhere on your WordPress site using table shortcodes, providing seamless integration and accessibility.
Offers Cell Management Mode to add or remove rows and columns, as well as split or merge cells for precise table structuring.
Ensure your comparison tables look great on any device, with a fully responsive design enhancing user experience.
Access a variety of elements, including Text, Image, List, Button, Star Rating, Custom HTML, and Shortcode each customizable to suit your comparison needs.
👉👉Take a look at our curated best WordPress pricing table plugins👈👈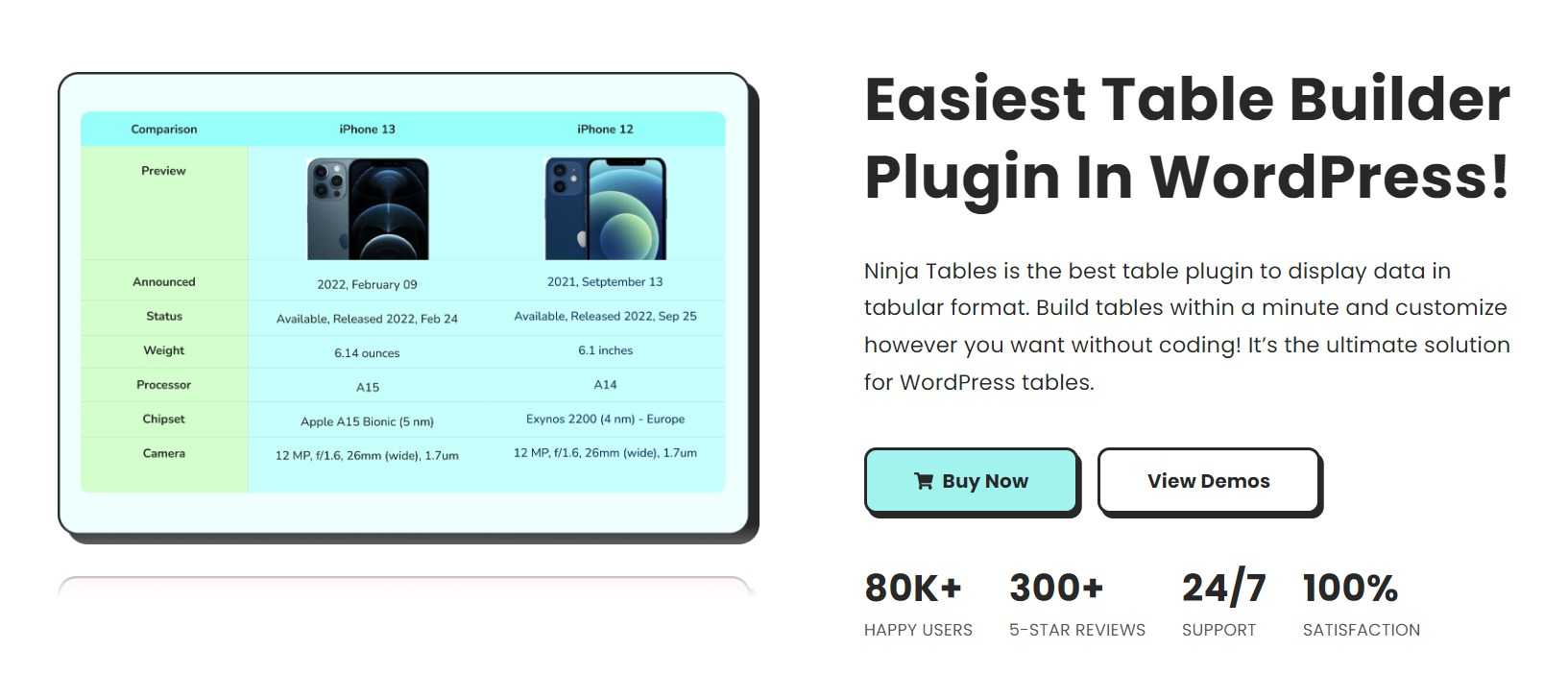 Ninja Tables is a leading WordPress plugin to create tables with ease. It offers a user-friendly drag-and-drop table builder for effortless column and row arrangement. Its media support feature enables seamless integration of images and various data within tables.
The plugin boasts extensive customization and styling options, including the ability to color code columns and rows for enhanced organization. These options significantly improve the user experience. Moreover, Ninja Tables ensures responsive tables, optimizing display on all screen sizes. It allows users to have an impeccable viewing experience across different devices.
Features:
Ensures your comparison tables are search engine friendly to maximize online visibility.
Access the three most popular CSS libraries, offering unlimited color schemes and styling options for your tables.
Easily import tables from other plugins like TablePress and securely backup tables in CSV or JSON formats, ensuring data safety and flexibility.
Synchronize with Google Sheets and retrieve data entries to populate a table.
🤔🤔🤔Which one is better for WordPress tables? Gutenberg or Table Plugins?
Factors to Consider When Selecting the Comparison Table Plugin
Here are the factors to consider when selecting a comparison table plugin:
➡️ Ease of Use and Interface:
Look for a plugin with an intuitive and user-friendly interface. It will help you create and manage comparison tables without a steep learning curve.
➡️ Customization Options:
Ensure the plugin provides a range of customization options. This allows you to tailor the design, colors, fonts, and layout to match your website's branding and style.
➡️ Responsive Design:
Responsiveness makes sure your comparison tables display properly and function well on various devices, including mobile phones and tablets.
➡️ Integration with Data Sources:
Check if the plugin can seamlessly integrate with data sources like Amazon or other platforms. This enables effortless pull and update of product information for accurate comparisons.
➡️ Media Support:
Choose a plugin that allows you to incorporate images and multimedia elements within the comparison table.
➡️ SEO Optimization:
Look for a plugin that offers SEO-friendly features. This feature enables search engines to crawl and index your comparison tables effectively, enhancing visibility.
➡️ Compatibility and Integration:
Ensure the plugin is compatible with your WordPress version and other essential plugins you use. Also, check if it integrates well with page builders or other tools you may utilize.
➡️ Customer Support and Documentation:
Consider the availability of reliable customer support and comprehensive documentation for the plugin. Responsive support is crucial for troubleshooting and understanding the plugin's features.
➡️ Cost and Licensing:
Evaluate the pricing structure, including whether it's a one-time purchase, subscription, or freemium model. Consider your budget and choose a licensing option that suits your needs.
➡️ Reviews and Ratings:
Read user reviews and ratings to understand the experiences of other users with the plugin. This can provide valuable insights into the plugin's strengths and weaknesses.
For all-in-one solution, trust ElementsKit….
✅85 widgets
✅15+ modules
✅35+ fully customizable ready pages for WordPress
✅500+ trendy blocks for elegant website customization
and so on………………………..

What are you waiting for???
Final Notes
Comparison table plugins in WordPress indeed make presenting complex information user-friendly. However, selecting the right plugin can be challenging due to the variety of options.
When making your choice, keep in mind:
Ease of use
Customization options
Responsiveness
Media support
SEO features
Integration and compatibility
Support
Cost
User reviews
Regardless of the plugin you select, I'm confident you'll get excellent outcomes.
Best of luck with your selection!