ElementsKit Elementor Addon- A Stellar Journey to Hit 1 million+ User Milestone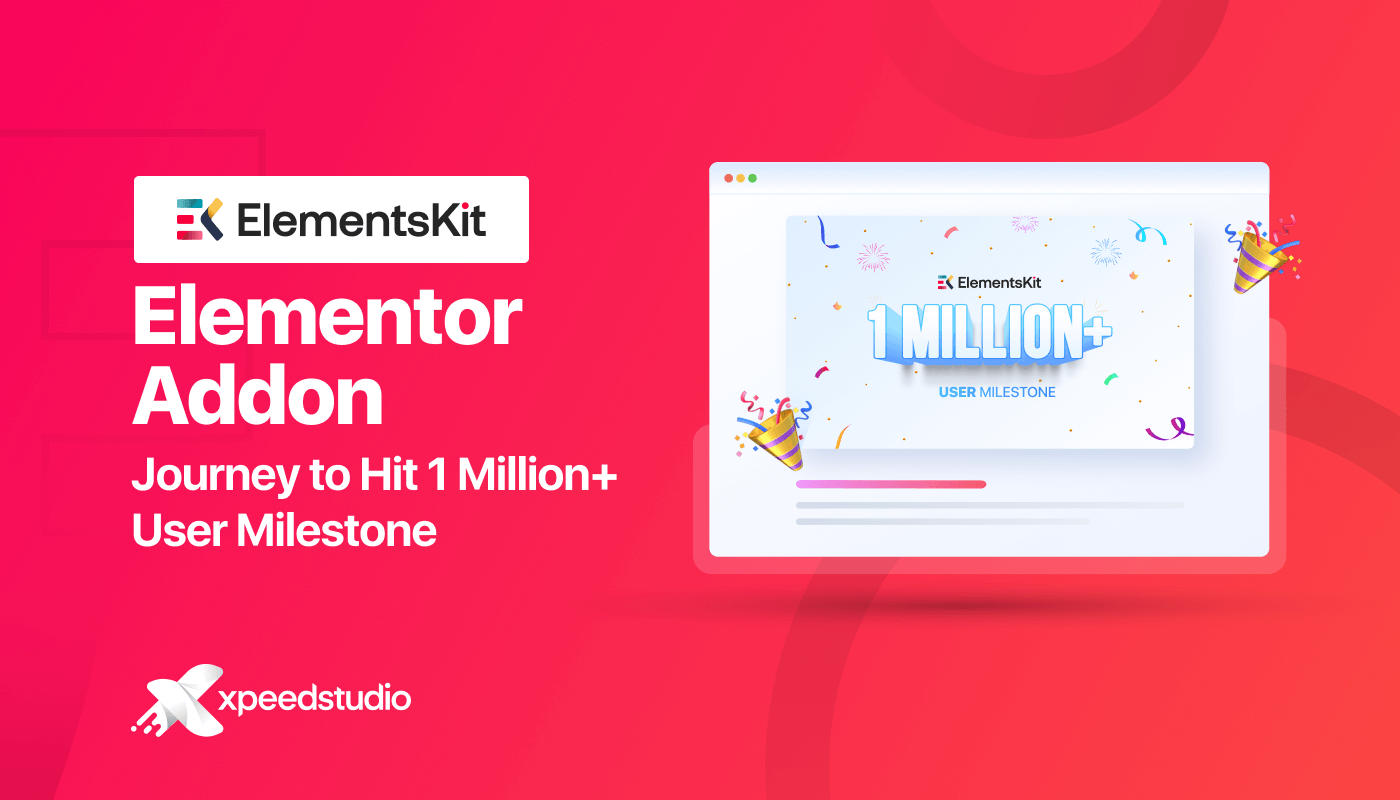 ElementsKit, your favorite Elementor addon notched up 1 million users over six months back. The good thing is that it continued to attract WordPress users since hitting the much-awaited landmark of 1 million users. But the journey to reach 1M users wasn't a cakewalk for the ElementsKit Elementor addon.
Ever since the Elementor addon was released, the team ElementsKit put an all-out effort into establishing the product globally. Right from the design and development teams to the marketing and support teams, all of them aimed to make ElementsKit stand out to its users.
In this write-up, I will show how ElementsKit achieved 1 million active installations periodically, right after its launch.
I will cover the important updates, key feature additions, and major bug fixes alongside the other effective activities we carried out in that period, contributing to ElementsKit's incredible achievements. But before that, let me give you an overview of ElementsKit.
ElementsKit- An All-in-one Addon for Elementor:
A versatile Elementor addon, ElementsKit enhances the features and functionalities of Elementor to build your WordPress web pages seamlessly.
The Elementor addon comes with useful features, including 13+ comprehensive modules, 85+ easy-to-use widgets, and stellar templates to give you an optimum page-building experience.
Some of the stand-out features of the ElementsKit Elementor addon include the mega menu builder, header and footer builder, widget builder, advanced parallax, conditional content, and image masking.
ElementsKit- A Quick Journey to 1M+ Active Installations: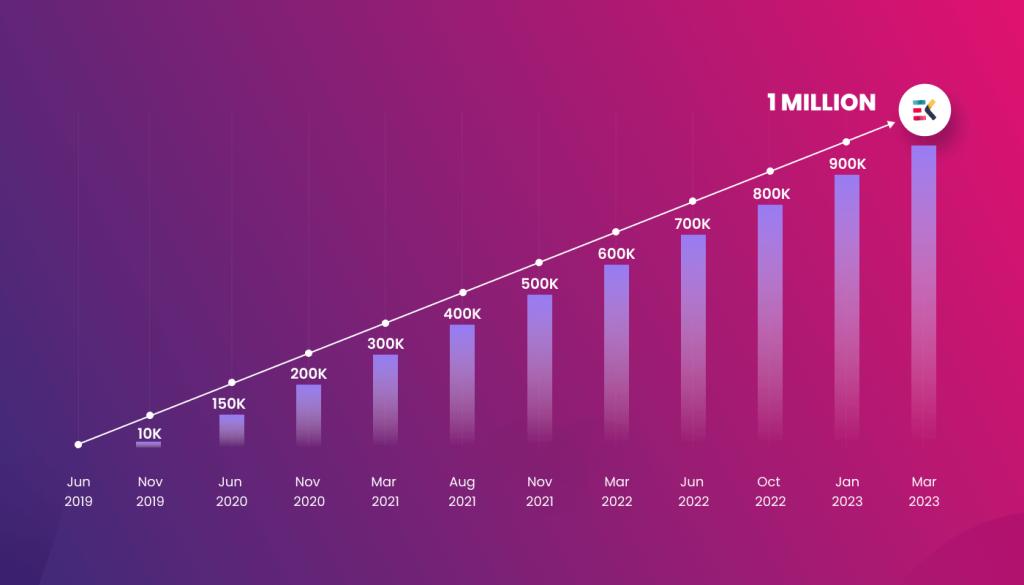 ElementsKit Elementor addon kicked off its journey back in June 2019 with only a handful of users. The initial journey wasn't smooth for us. We had to encounter hurdles, difficulties, and challenges to develop the product. All our team members had to work hard persistently over the years.
After the launch, it took ElementsKit only five months to hit the 10K user mark which was a massive achievement for us at that time. As time progressed, our Elementor page builder gained more traction globally and hit the 200K mark within a year.
The success didn't stall there, ElementsKit continued to attract WordPress users from across the globe. In November 2021, ElementsKit notched up 500K active users, a proud moment for the ElementsKit family.
However, we have always been a bunch of ambitious peeps! We weren't the folks to be satisfied with half a million active users. We were thinking about the dream figure "1M" and started chasing it right away.
We began to upgrade the product, incorporate new problem-solving features, fix bugs, and deal with all other underlying issues. We also carried out necessary marketing activities. And that paid off for us!
By leaps and bounds, ElementsKit hit 600K, 700K, 800K, 900K, and finally the long-awaited figure of 1M in 2023.
It took ElementsKit less than 4 years to hit the 1M active installations milestone, and now it has over 1M+ active users worldwide. Thanks to all the dedicated users of ElementsKit for their relentless support of the Elementor plugin.
The Most Popular Features of ElementsKit:
ElementsKit Elementor addon comes with scores of useful features that upgrade your Elementor web pages. However, some of these features make the product stand out from others.
ElementsKit's Header and footer builder lets you build your Elementor page header and footer sections crisply and catchily. It comes with a wealth of ready templates that you can choose from and leverage for your header and footer sections.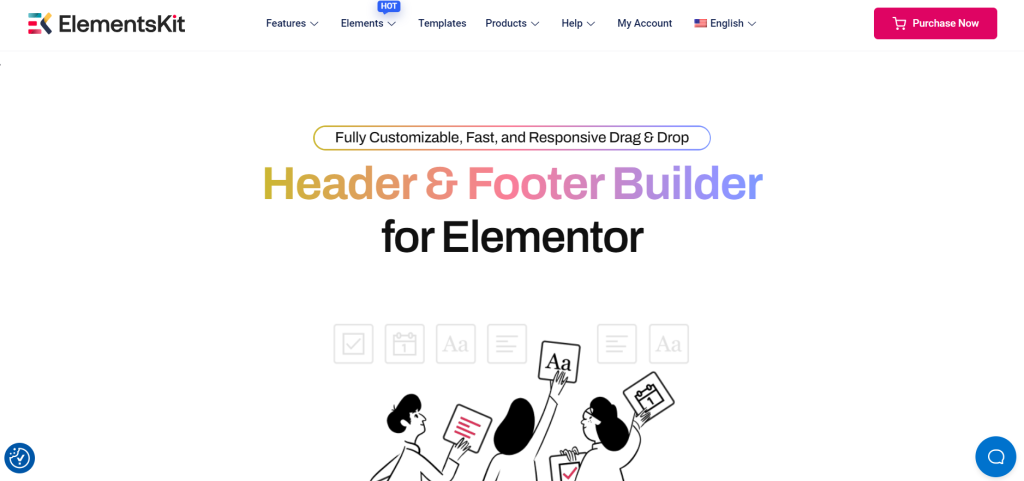 To place a header and footer on your WordPress website, you have to visit the template section page of ElementsKit and insert your preferred templates right away.
Mega Menu Builder:
Another user-favorite feature of the ElementsKit Elementor addon is its mega menu builder. With the mega menu builder, you can build different types of mega menus, including vertical and horizontal ones in a flash.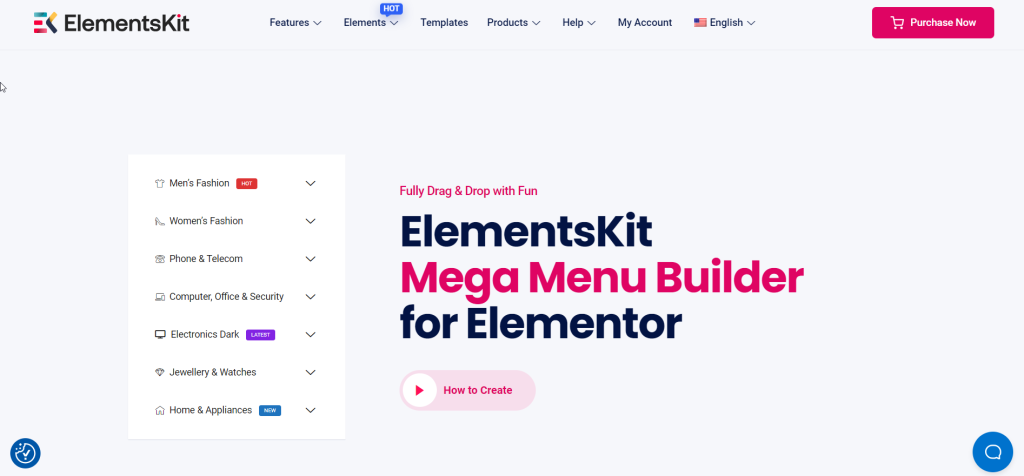 Additionally, ElementsKit offers tons of templates for adding mega menus in ElementsKit. Just like the header and footer builder, it's a cakewalk to insert mega menu templates in your WordPress website.
Conditional Content:
With the conditional content feature of ElementsKit, you can control your content visibility by employing a range of conditions. The conditions can apply based on section, column, widget, login status, user role, platform, operating system, browser, date, time, etc.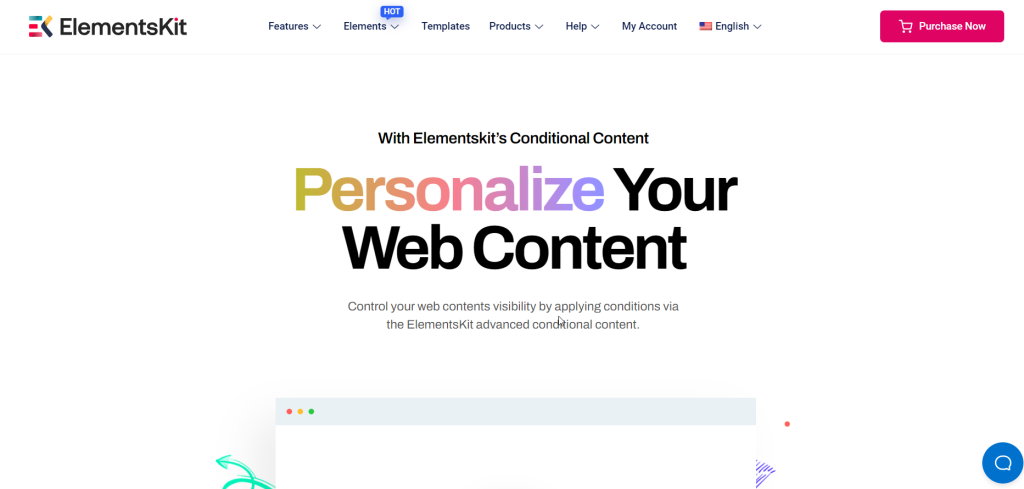 For example, if you send cold emails to publicize your upcoming event, you can choose to show particular event details based on the locations of recipients.
Advanced Sticky:
To help you grip your website's visitors and clients, the ElementsKit Elementor addon offers an advanced sticky feature, letting you keep an area of your website sticky or static.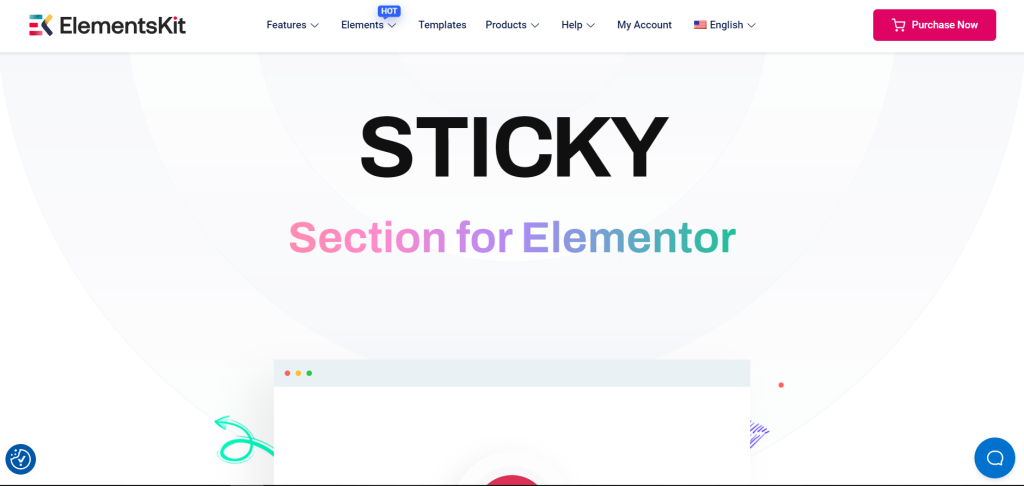 For example, for Halloween, Black Friday, Christmas, or any other special occasion, you can make use of the advanced sticky feature to show your offer or discount banner in a static position on your website.
This besides hooking the visitors to your display items helps you boost the conversions and revenues of your business.
Advanced Parallax:
The Parallax effect of ElementsKit is another standout feature that will let you showcase a unique and catchy look to their websites.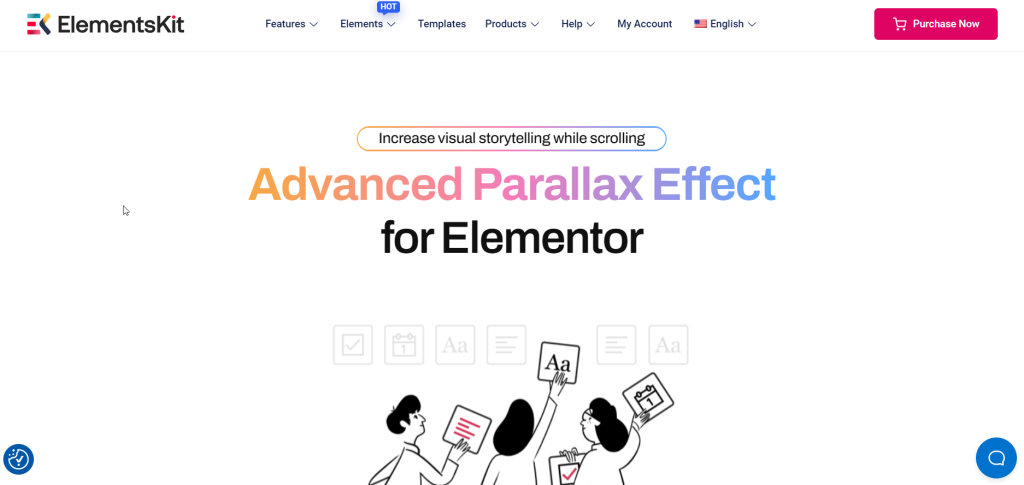 The feature makes your website's background elements move slowly compared to the foreground elements. Consequently, you can display background elements longer than the foreground ones.
Image Masking:
With ElementsKit's image masking feature, you can now provide a whole lot of shapes to your images. This will help you add extra appeal to the images of your site and blow away the visitors.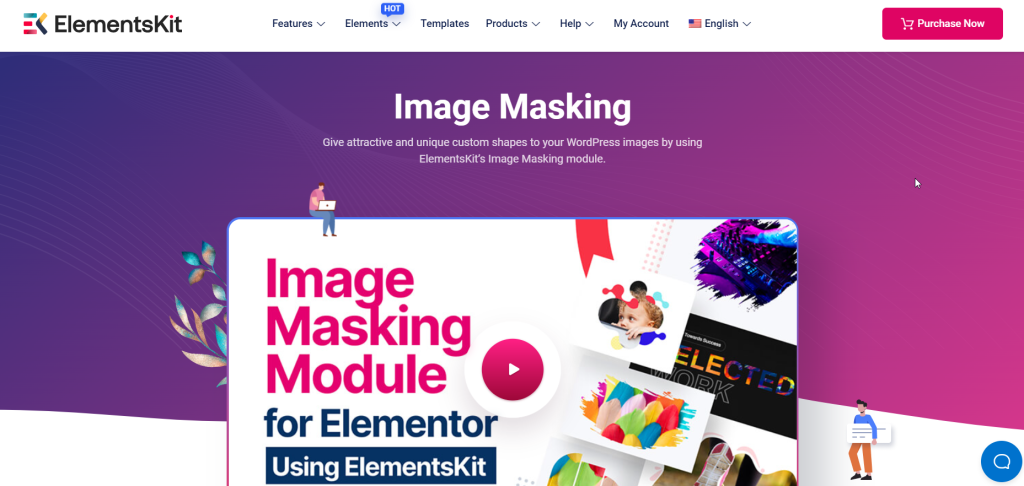 For example, if you have a square-shaped image, you can turn the image into a rough shape, giving the image a catchy look.
Ready Section and Pages:
Another mind-blowing feature of ElementsKit is its template library. The template library contains 500+ fetching pre-built section and page templates, letting you build your site easily. Not only that, you can entirely customize these sections and page templates however you wish.
What Makes ElementsKit So Special?
ElementsKit stands out from other Elementor addons by ensuring users have the optimum experience while using the product.
It offers limitless customization options like adding custom tabs, that let you build a personalized website.
ElementsKit is sought after for its quick and optimized performance.
The Elementor addon regularly adds new, on-demand, and useful features to resolve the users' pain points.
The addon ensures a seamless user experience by offering a simple workflow.
The ElementsKit team regularly fixes bugs to ensure your website remains up-to-date and runs smoothly.
What's Next For ElementsKit?
We are a team of thirsty people looking to achieve more and more. This unquenchable thirst for "more" has been our key to success. We look forward to hitting 2M, 3M, 5M users, and more in the future for ElementsKit.
And we have design, development, marketing, and support teams that are all set to take on the challenge to make that happen. In addition, we have a "Changelog" page for ElementsKit where we regularly share news & updates of ElementsKit's new features releases, bug fixing, etc to keep the thriving over time.
We also take into account the ideas and suggestions shared by our valued clients to maximize ElementsKit's performance and ease of use.
ElementsKit- Striving Always for Excellence:
ElementsKit, often cited as the best Elementor addon by its user base, keeps on thriving every day by having a new bunch of WordPress users. Many of these users opt for the paid plans once they have a satisfactory experience with the addon.
The rapid user acquisition of ElementsKit is a testament to its continuous growth and flourish. We are optimistic that your support for ElementsKit will continue and we will be sharing news of more milestones in the days to come!