8 Best WordPress Table Plugins In 2023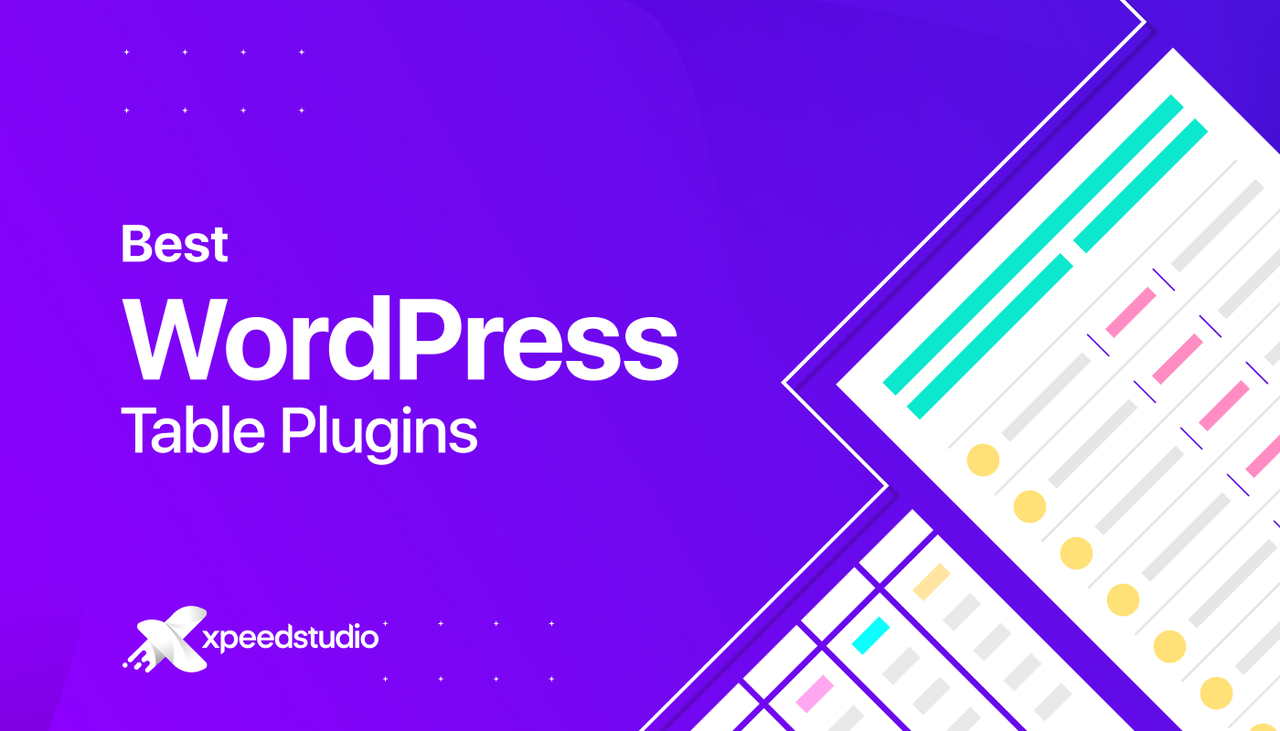 Using a WordPress table plugin is the best way to show data in a structured way without any coding. Whether it is a comparison between multiple items or just showing some information, WordPress table plugins make it really convenient.
Several WordPress table plugins are now available in the market with different features. When you are trying to pick the best WordPress table plugin, it becomes confusing.
Which plugin would suit your needs depends on the features of the plugin and the layout of the plugin. The good thing is, some WordPress plugins come with versatile table features and customization options.
In this post, I am going to introduce you to the 8 best WordPress table plugins that are easy to use.
Top 8 WordPress table plugins for 2022
I have made the list after vigorous research and checked the essential features for each plugin. So, go through the list and choose yours.
ElementsKit is the ultimate Elementor addons to integrate all possible features to a WordPress website. If you are looking for the best WordPress table plugin with versatile features, must go for this. One of the coolest features of ElementsKit is its table builder for WordPress. Unlike conventional WordPress table plugins, you will get three different styles to insert a table in WordPress.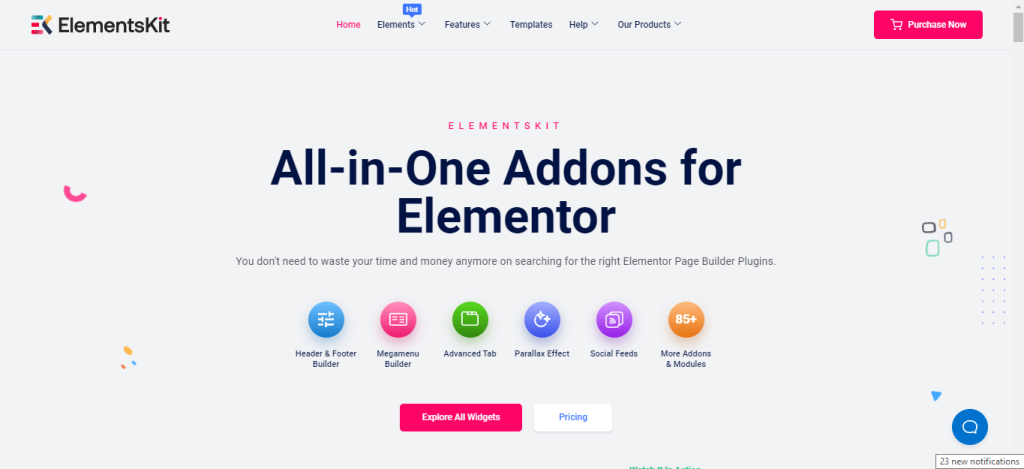 In the ElementsKit plugin dashboard, if you search for 'table', you will see three different table widgets – Table, TablePress, and Pricing table. Multiple table options make it easy to create the table without much customization. You will get everything ready for the table layout. Whether you are looking for the best pricing table plugin for WordPress or a comparison table, ElementsKit is an ideal choice.
The best part is, any table you create with the ElementsKit plugin, will be responsive and SEO friendly. The most common issue people often find with the table plugin is slow loading. But ElementsKit has solved this problem.
Whether you have expertise in WordPress or you are just a beginner, it will be easy for you to design stunning WordPress tables. Besides integrating table for WordPress pages, you can also design SaaS websites, Portfolio websites, mega menu for the website, team member page, and more. Everything you do will need just dragging and dropping the relevant widgets.
Key features
Multiple table options to save time
Hassle free integration of table data
Responsive layout to match all device sizes
WordPress custom table without coding knowledge
Drag and drop customization to save time
If you are looking for a dedicated WordPress table plugin for free, TablePress is a great option. The plugin is developed to show a variety of data in a table without coding. Whether it is a normal comparison or a list of products and features, you can do that with TablePress.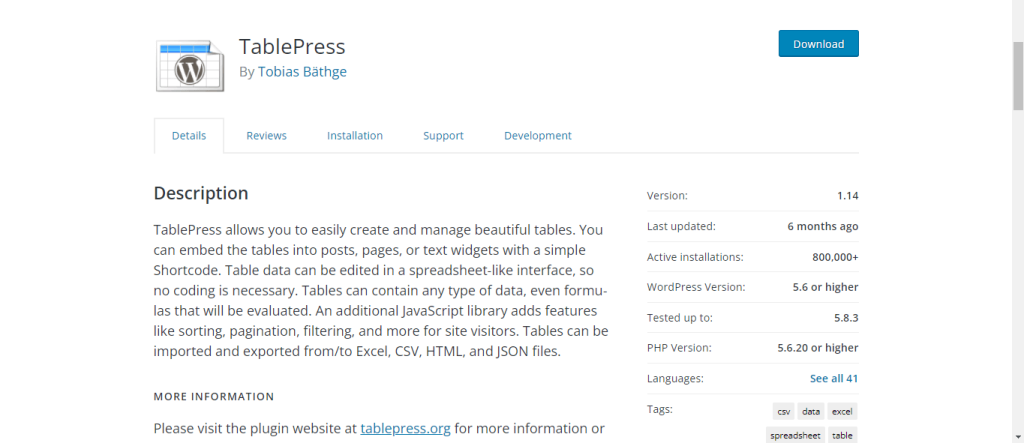 The table that is created with TablePress could contain any kind of data; even formulated data that will be evaluated. The plugin features an additional JavaScript library. It adds options like pagination, sorting, filtering, etc. options for the users. The filtering option helps a lot to the end-users to sort out data.
When creating a new table, you can directly import data for the table from your local drive. It could be CSV, Excel, HTML, and JSON files. Similarly, when the data is available in the table, you can export it.
Key features
Allows for customization with custom CSS
Options to add a variety of filters for the table
It is a 100% free table plugin for WordPress
You can edit the table data as same as CSV files
Suitable to add the table in any section of a WordPress website
If you have zero knowledge of coding but you want to create a custom table for WordPress, the WP Table Builder will help. It is so easy to use that anyone can create a custom table for WordPress.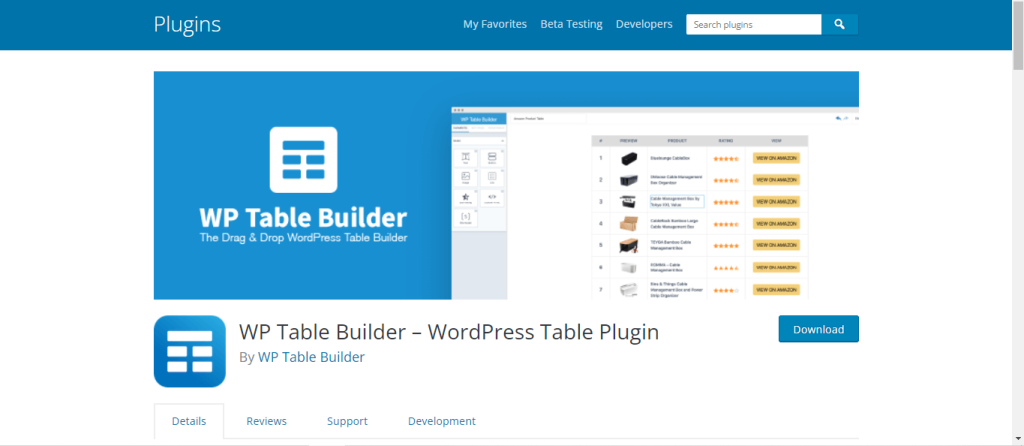 The table you create using this plugin will be responsive. All the tables will fit any device regardless of the display size. The plugin is mostly suitable for comparison tables, list tables, and pricing tables.
Showing detailed comparisons for multiple products becomes easy with this plugin. Or, you might also show a list of products with all the detailed information in different rows and columns of the table.
For the tables, users can input text, images, star rating, custom HTML, etc. as data. The available elements come with customization options to get the perfect look. For the tables, you can even generate shortcodes and integrate them anywhere on your WordPress website.
Key features
Responsive layout to fits all devices
Features cell management mode for flawless customization
Drag and drop elements to customize the table
Suitable to show any kind of data including images and HTML
Import table data in CSV and XML format
Sometimes a WordPress table plugin can slow down the entire page. Ninja Tables will help you to get rid of the issue. This plugin is developed with minimal coding that helps to load faster. You will enjoy 100+ table styles in this single plugin.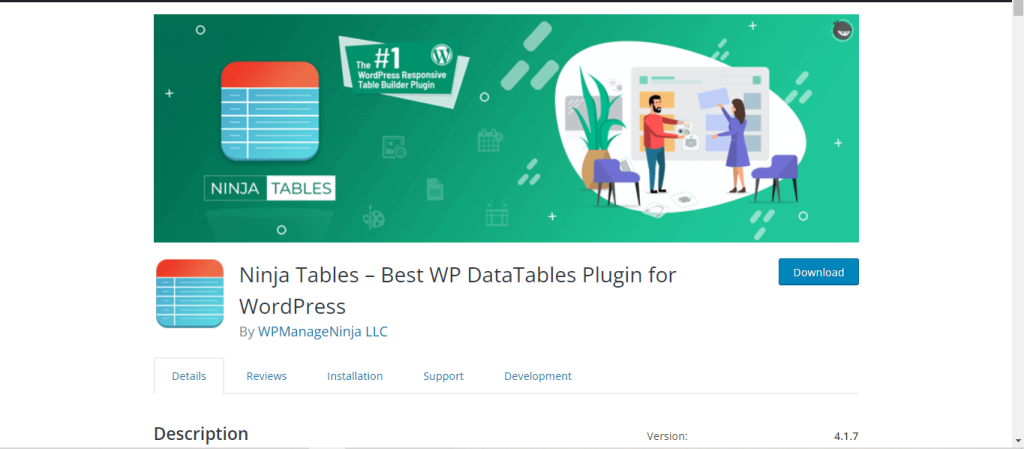 Ninja Tables has both free and premium options. But the free option has so many features that you can create different types of tables with less effort. From the list of table styles, you can choose single line cells, bordered table, table inverse, fixed layout, and more.
Whichever kind of table you create with the Ninja Tables plugin, it will ensure fast loading speed. Tables that are created with this plugin will be responsive to fit all devices.
If you are already using the TablePress plugin or Ultimate Tables plugin, you can import the data directly in Ninja Tables.
Key features
Allows to create searchable data table at ease
Versatile table layouts and styles
Allows to add team member table with images
Fast loading speed and responsive layout
Supports creating WooCommerce product tables with drag and drop functionality
If you have the budget for WordPress custom table plugins, you can check the League table plugin. It is a versatile table plugin for WordPress where you can create any kind of table without having technical knowledge.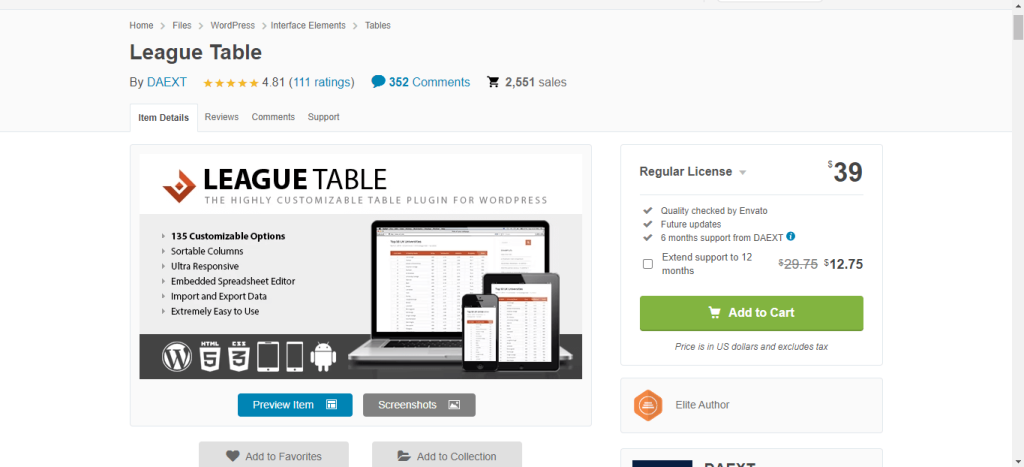 While I am saying it is a versatile table plugin, I literally mean it. You can generate almost any table that you can imagine. All the data that are given in the table will be sortable. When visitors are seeing the table, they can sort the data according to their preferences. It is, however, needed to enable from the back end and easy to do.
Unlike conventional WordPress table plugins, you can create weather reports, point tables, weather reports, a list of data, data with images, and more. The plugin allows inserting the table for posts, pages, or any other section of a WordPress website.
Key features
Allows to import data from excel sheets
Customize anything for the table – height, width, border, etc.
Change text colors, add links, images, or any other WordPress supported data
The plugin has formula based table inserting option
Stunning and attractive responsive tables
If you want to create a table or chart table quickly in WordPress, wpDataTables is an ideal solution. The plugin allows importing data from Excel, CSV, PHP, JSON, XML, and other WordPress-supported data.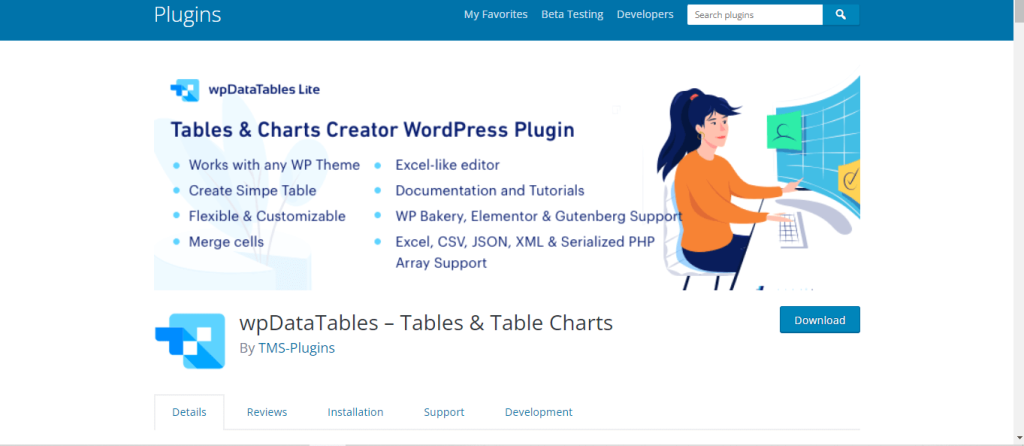 It is so simple to create a new table for WordPress using this plugin. Before you create the table, give the column number and row number, and it will be created. Now insert the data in your preferred format. You can then customize the table height, width, border, text, color, and more.
If you have a good sense of user experience, it will be easy to create a stunning table with this plugin within minutes. The wpDataTables plugin supports creating the table in posts, pages, or anywhere you wish.
There are both free and premium versions of this plugin. You can, however, enjoy tons of features in the free version. If you are seeking more customization, go for the pro package.
Key features
Doesn't have any complicated steps
Supports importing data in a wide range of formats
Easy to create a chart, comparison, list, etc. by dragging and dropping
Responsive design to fit any device regardless of the display size
If you are looking for the best WordPress pricing table plugin that is free, Pricing Table by Supsystic is a good option. The plugin allows users to integrate tables with the templates. You don't even need to understand what codes are needed for a WordPress table. Once you select a template, you can do unlimited customization.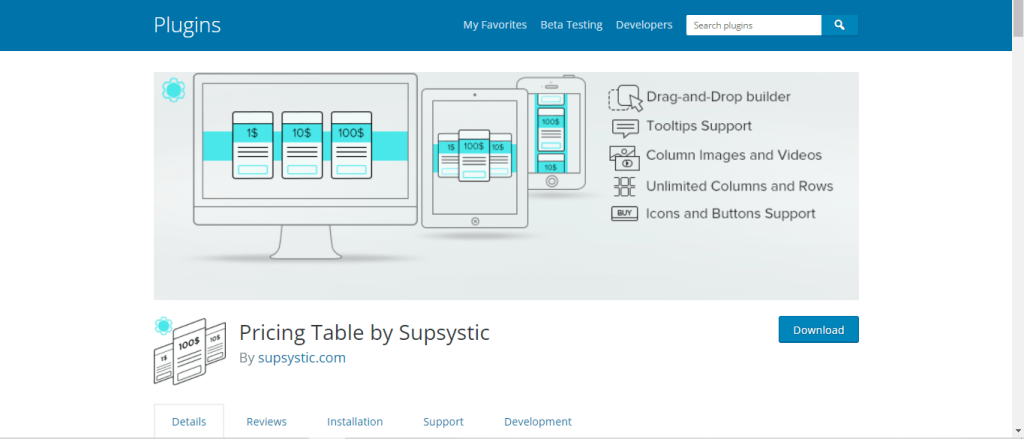 This plugin provides a complete solution for any kind of pricing table integration in WordPress. Whether you want text data, images, or videos, you can easily do that. Add unlimited rows and columns for the table without slowing down the website.
Any table that you design for WordPress will be responsive and fit the display regardless of the device. You can also add additional effects like hover animation.
It allows table import and export options. You can import the table data for WordPress and end-users can export the table data from your website.
Though the primary goal of the plugin is creating a pricing table, you can also show a comparison between products, detailed information for products or features, and more.
Key features
Easy to customize fonts, header, layout, etc.
Change background colors for the table data
Place the pricing both on the top and bottom
Drag and drop builder to avoid coding
Hover animation for the pricing tables
If you are looking for a WordPress table plugin that lets you edit your table from Google Sheets – Sheets to WP Table is the perfect solution. Every change you make on the connected spreadsheet updates the WordPress table automatically.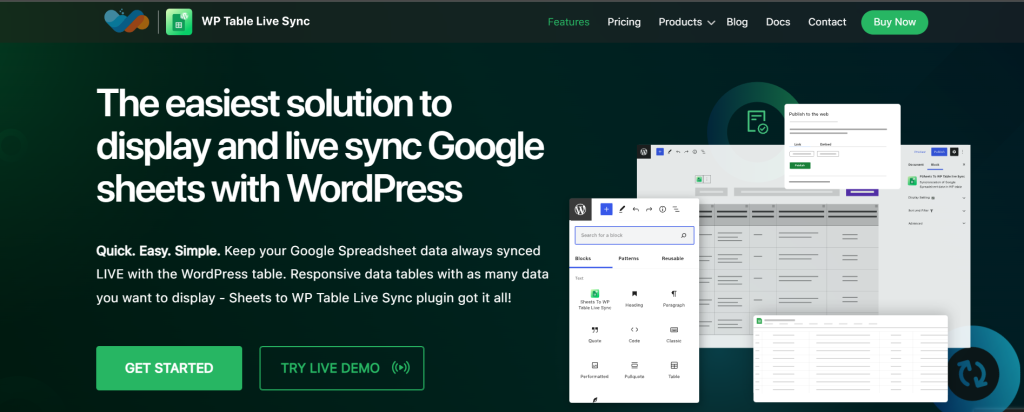 Tables made with Sheet to WP Table Live Sync are responsive and look great on any device. With auto-generated shortcodes, you can place the table anywhere on your website. In addition, exporting tables via CSV, Excel, PDF, and JSON is super easy on this plugin.
Key features
Supports live data sync from Google Sheets to WordPress
Supports Elementor widget and Gutenberg block
Plenty of pre-built table styles to create stylish tables with ease
Custom CSS included for in-depth table customization
Include asynchronous loading feature for improved website loading time
What to consider for the best WordPress table plugin?
If you are going to install a new WordPress table plugin, consider the following things to avoid any issues –
Drag and drop feature
The main goal of using a WordPress table plugin is avoiding doing code, right? So, whichever table plugin you consider, should have the option to design the table just by dragging and dropping the features. The drag and drop option will allow you to integrate the table within no time.
Responsive design
Nowadays, there is a wide variation of devices. Different devices have different sizes of displays, which sometimes cause big trouble. Responsive design solves this problem by keeping the table suitable for all device sizes. It adopts the display size and gives the perfect view of the table. Your selected table plugin should have responsive design features.
Ready templates
WordPress table plugins used to have a drag and drop option to design the table. But having pre-made templates is even better in terms of saving time. You can just choose a template for the table and give it the look you want.
Versatile features
The table plugin you are using should have versatile features. Why? Let's say you are using a WordPress pricing table plugin, but you need a comparison table as well. In that case, you will have to install another WordPress plugin, which will make the website slow. But if the same table plugin comes with versatile features, you will be able to integrate all kinds of tables with the same plugin.
Which WordPress custom table plugin do I recommend?
Though here I have recommended the top 7 WordPress table plugins, if you ask for the best one, I would suggest the ElementsKit plugin. Besides designing WordPress tables, you can also design an entire website just using ElementsKit. So, there won't be any need for any other plugin to design a website. Users can do everything just by dragging and dropping the related widgets.
Frequently asked questions about WordPress table plugin
Still, have some queries regarding the best WordPress table plugins? Then read the following questions and answers.
Which is the best WordPress pricing table plugin?
If you want to enjoy versatile features, ElementsKit is the best WordPress pricing table. ElementsKit comes with an individual pricing table widget that makes it easy to integrate any kind of pricing data.
How to insert a table in WordPress?
You can insert a table in WordPress directly on the selected page by using a WordPress table plugin.
How do I insert a table in WordPress without a plugin?
WordPress has a default table block that you can insert without any plugin. In the Gutenberg editor, you can simply search for a table and insert it. However, the default WordPress table doesn't have many customization options.
Can I add videos to the WordPress table?
Yes, you can if the table plugin comes with a video option.
Wrap Up
Now that you have a list of the best WordPress table plugins, you can select any that matches your requirements. However, I strongly recommend you to follow the guidelines that I have shared above. That will help you in your buying decision.