Top Elementor Content Ticker Plugins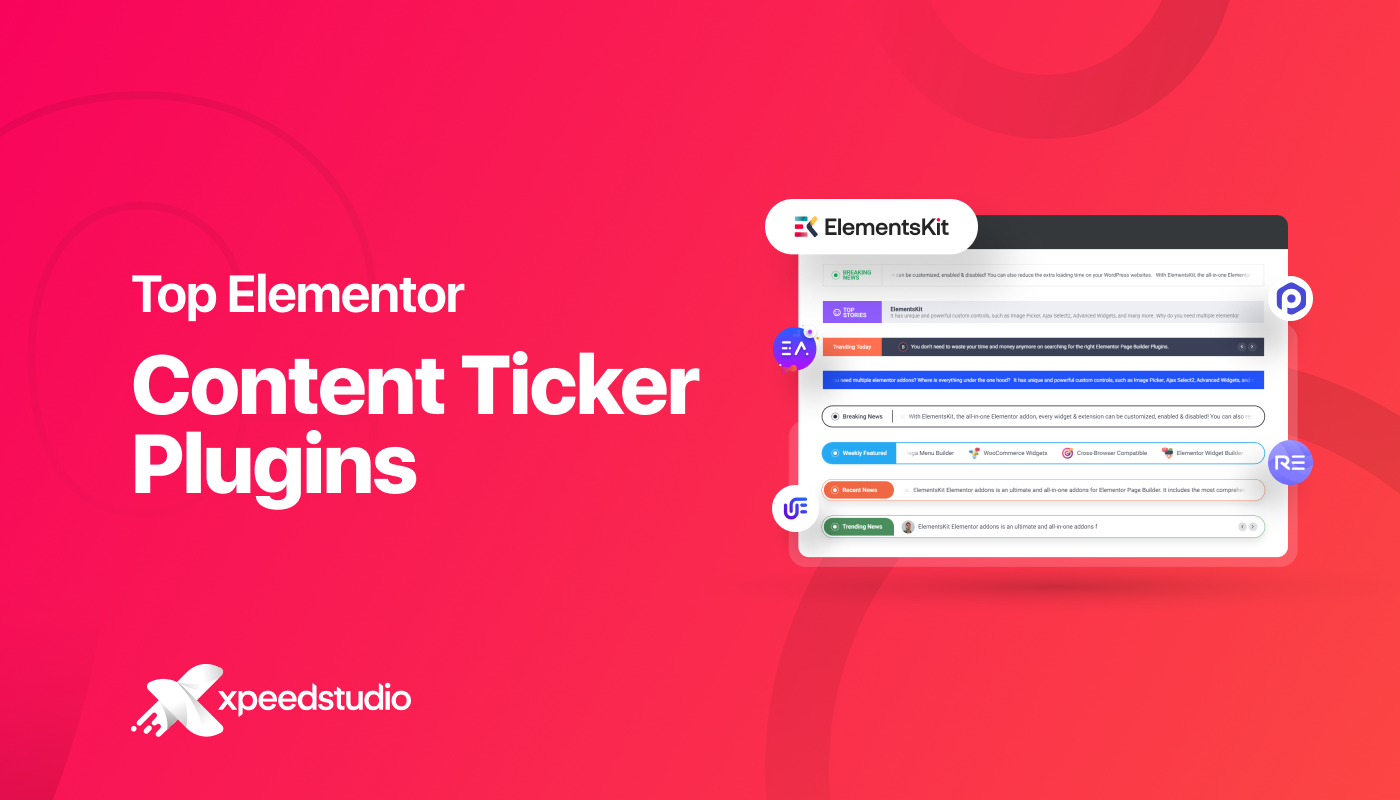 If you are running an elementor site, then there are some really good content ticker plugins for you. These plugins enhance the design of your website. We are going to discuss these versatile content ticker for elementor builder. These plugins consist of attractive design options for you.
By picking the top plugin among them, you can customize the look of your content ticker in any way you want. So, let's dive in! 🔎
What is Content Ticker?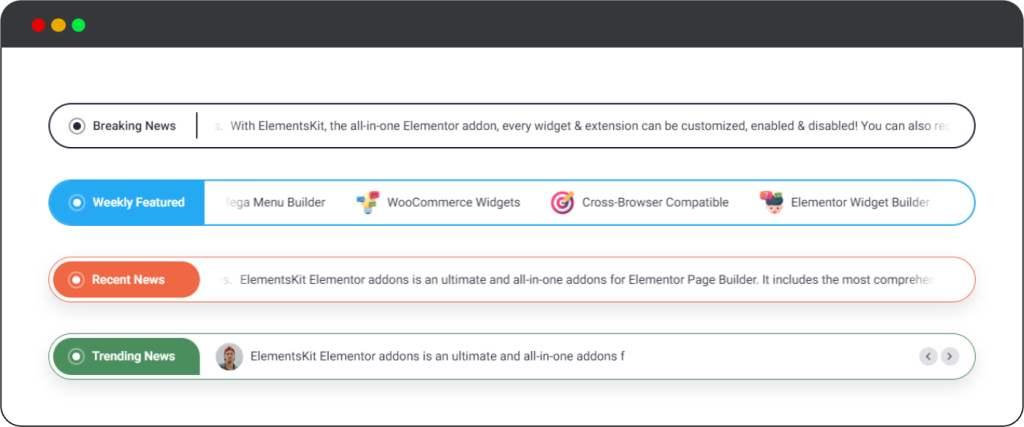 A content ticker is a digital tool or feature that displays real-time or updated content in a scrolling or looping manner, similar to a ticker tape. It is often used on websites, social media platforms, or digital displays to showcase news headlines, stock prices, sports scores, or other dynamic information. 
On Elementor, content tickers are used as widgets from addon plugins that show scrolling lists of items such as news headlines, any particular offer, customized content, etc.
These plugins work by taking items and making them into a content ticker. Users can navigate the content ticker using the arrows.
To showcase news or events in a stylish way on your website, a content ticker is extremely beneficial.
How to Choose the Best Content Ticker Plugin
You may find different content ticker plugins available on the online market.
But are they all worth it ❓
Let's learn the qualities of the best content ticker plugin in elementor —
✔️ The best content ticker plugin is easy to install and use.
✔️ It should be well-documented.
✔️ It should have all the necessary personalized styling options.
✔️ It is always quick and updated with features.
✔️ The plugin must provide professional looks even during experiments.
Top Elementor Content Ticker Plugins
Content tickers for Elementor Builder are one of the most demanding plugins today. You can find this widget in many popular plugins. Let's check some top plugins for you –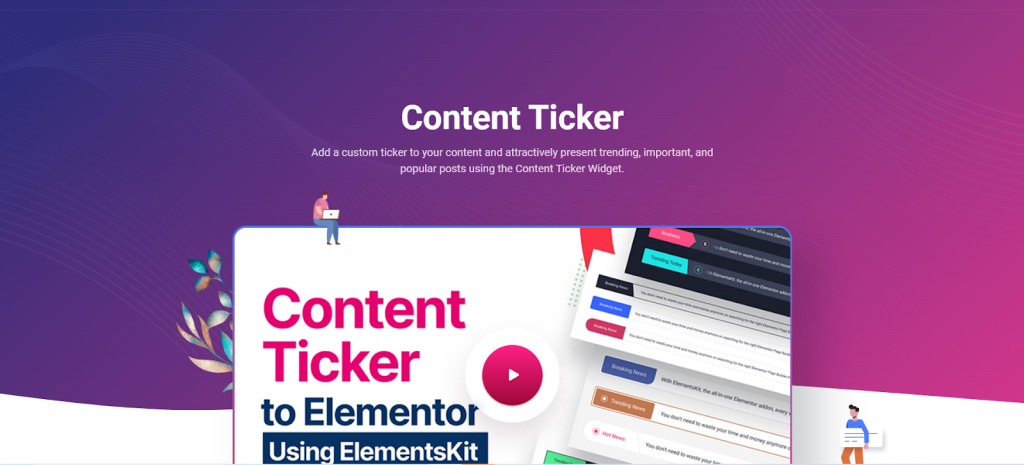 ElementsKit is the best package solution for elementor page builder. The Content Ticker widget is one of the excellent additions to this plugin. It is a simple drag-and-drop widget. You can design a content ticker to your content to show any important or trendy news easily.
ElementsKit Content Ticker for elementor widget has a user-friendly interface. The widget is included in the ElementsKit pro version. You will enjoy working with all the premium features of this fine version. The widget offers customization options like various layouts, borders, animations, and other design options. So, with this standard widget, you can attractively display content tickers within minutes.
Pricing
ElementsKit starts the price at $39 for its users. It consists of 1 site, 70+ Addons, 500+ Ready Blocks, 25+ Ready Home Pages, and many more. Also, there are several payment packages available – agency, yearly, lifetime, and bundle. These packages offer Lifetime Unlimited, Yearly Unlimited, Personal, along with different yearly and LTD Packs.
Why ElementsKit Content Ticker Widget?
Elementor developers are very fond of ElementsKit Addons today. The content ticker widget is one of the latest additions of ElementsKit.
👉 With flexibility and rich features the content ticker widget can give a stunning look to your special content.
👉 The widget has all the latest features.
👉 Documentation is available with all instructions.
👉 With the most reasonable price, you can avail of the top-quality widget without thinking twice.
Improvement Scopes
ElementsKit should try to keep the content ticker widget with the lite version. It serves well with some really excellent features but is only available in the pro version.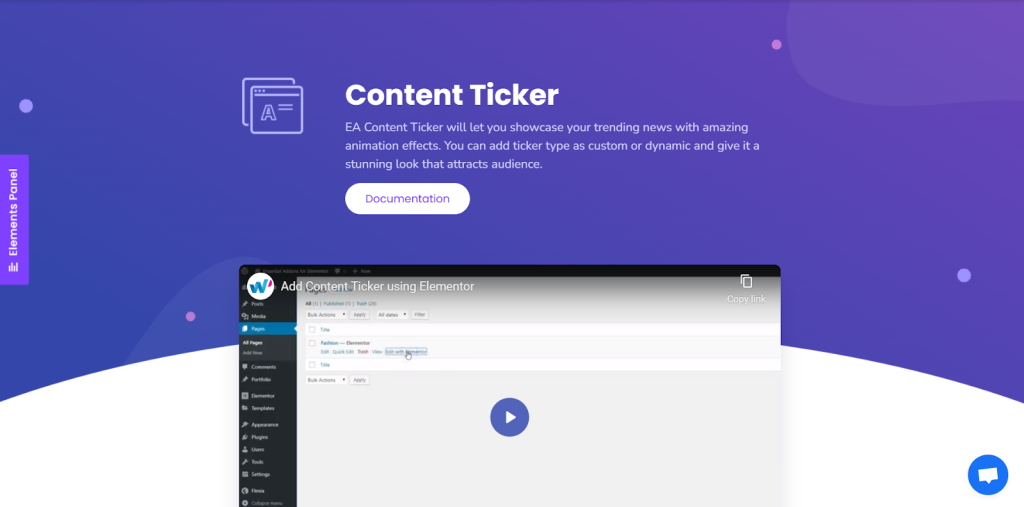 EA Content Ticker by Essential Addons is a widget that will let you beautifully showcase all your newsworthy content. The widget can assist to design any trending updates with amazing styles and effects.
Usually, the widget uses slider and ticker effects to customize any content to look attractive. You can choose the ticker type as custom or dynamic. The other features include navigation arrow modification, responsive designs, animation effects, etc.
Pricing
EA Content Ticker is available in the free version of Essential Addons. However, the plugin offers premium plans from $79. You can also check these packages to enjoy other elements and extensions.
Why Essential Addons Content Ticker Widget?
👉 EA Content Ticker has resourceful features.
👉 The widget is free.
👉 It is fast and using guidelines are available.
Improvement Scopes
The widget should become more intuitive with premium features. Also, in terms of the paid plans, the plugin is comparatively expensive.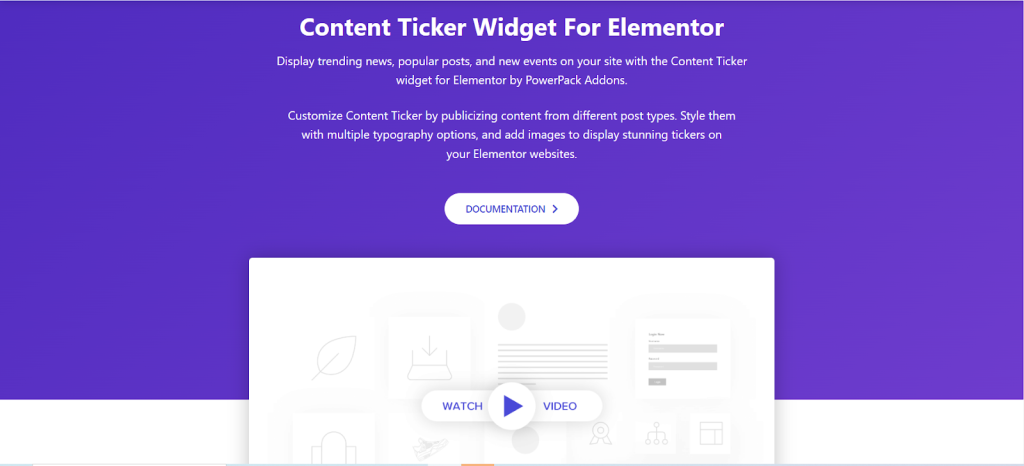 PowerPack Addons presents Content Ticker widget. This is another handy tool to show breaking news, popular posts, or events on your elementor site. It has maintained all the standards of a good content ticker in Elementor.
With the widget, you can announce different posts in a noticeable way. Besides many design options, the widget allows you to present posts from multiple sources, various link options, create custom content, add images, etc. in your Elementor websites.
Pricing
PowerPack's paid plans start at $49. However, the content ticker widget is one of the lite features of the plugin. If you are interested in exploring the pro features, you can look into the paid options.
Why PowerPack Addons Content Ticker Widget?
👉 The widget is fast and professional.
👉 It doesn't require any cost.
👉 Simple to understand and use.
Improvement Scopes
The plugin should work to bring more premium features. For example: this content ticker widget doesn't have any option to change the header direction.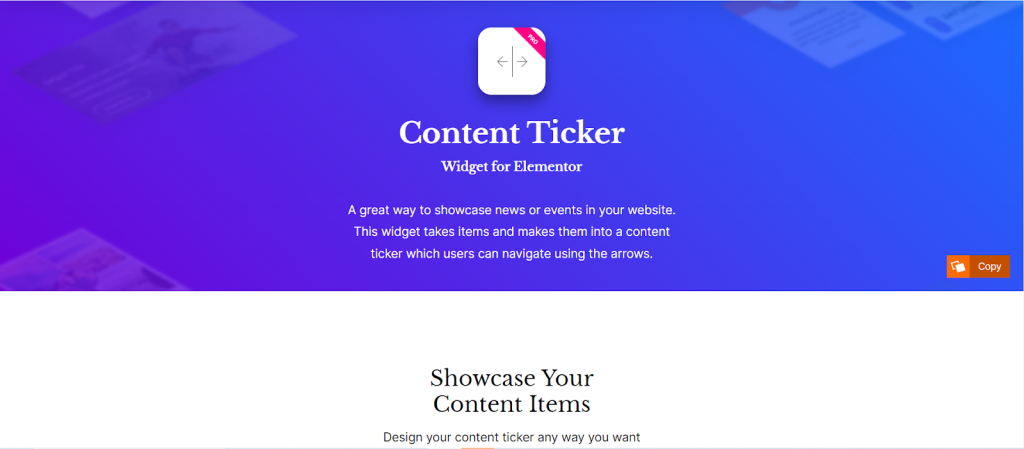 We have got one more great widget for your elementor site to arrange top updates and display them uniquely. This content ticker widget is powered by Unlimited Elements. Designing your content ticker based on your choices is easy now.
The content ticker widget takes items and converts them into a visually stunning content ticker. The available styling options include labeling styles, setting animations, speed, size, and more.
Pricing
Unlimited Elements offers the content ticker widget as a pro widget. The plugin's paid plans start at $49. It comes with yearly 1 site, 100+ Page Templates, 20 Backgrounds, etc. There are also business and professional packages available with many facilities for yearly and lifetime purchasers.
Why Unlimited Elements Addons Content Ticker Widget?
👉 The widget is fast and professional.
👉 It doesn't require any cost.
👉 Simple to understand and use.
Improvement Scopes
Unlimited Elements' content ticker widget has no documentation. For both beginners and experts, clear documentation helps to understand a tool easily.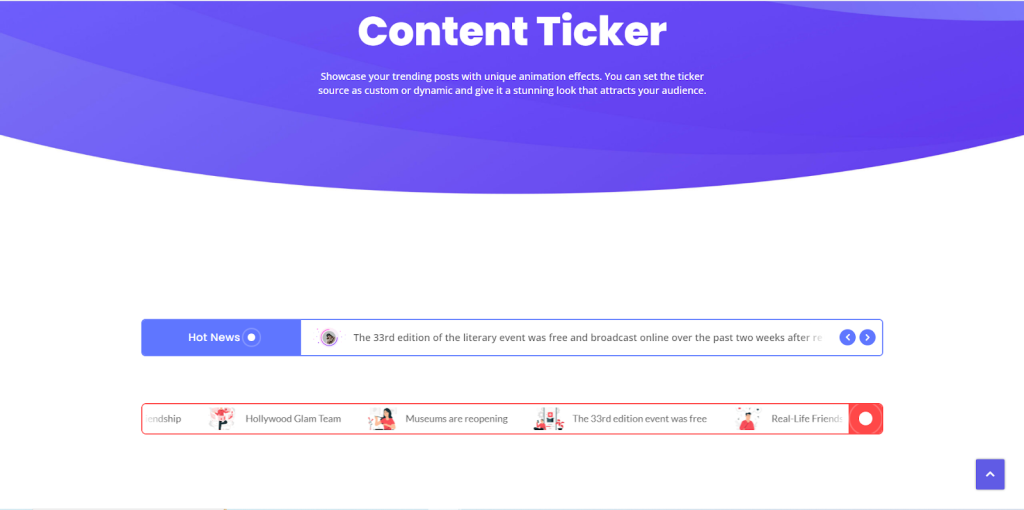 We are adding this last widget to the list which is from Royal Addons. To grab your audience's interest, Royal Elementor Addons has made its content ticker with lots of essential features.
The widget helps you set out trending content with various attractive animation effects. You can use it to give the website a unique look that takes hold of people's attention. You will enjoy working with the styling and customizing options.
Pricing
The widget is available both in the lite and pro versions of the plugin. To work with the advanced content ticker, you have to pay at least $29 yearly for one site. There are also other yearly and lifetime plans available for multiple sites.
Why Royal Elementor Addons Content Ticker Widget?
👉 Serves standardly for both less and advanced demands
👉 UI is user friendly
👉 Cost is reasonable
Improvement Scopes
You cannot design custom posts with the lite version. It is available in the Royal Elementor Addons PRO version. Also, there is no documentation of the content ticker widget.
Finishing Words
All in all, the Top Content Ticker for Elementor is a great choice if you want to add a dynamic and attractive feature to your website. This is a quick and effortless way that takes your website to the next level.
We have listed the best plugins for you that consist of powerful features and customization options. Check the plugins carefully and select your one. Choose the plugin that ensures that your content ticker will look great on any device or platform.