Best Elementor Image Masking Tools for WordPress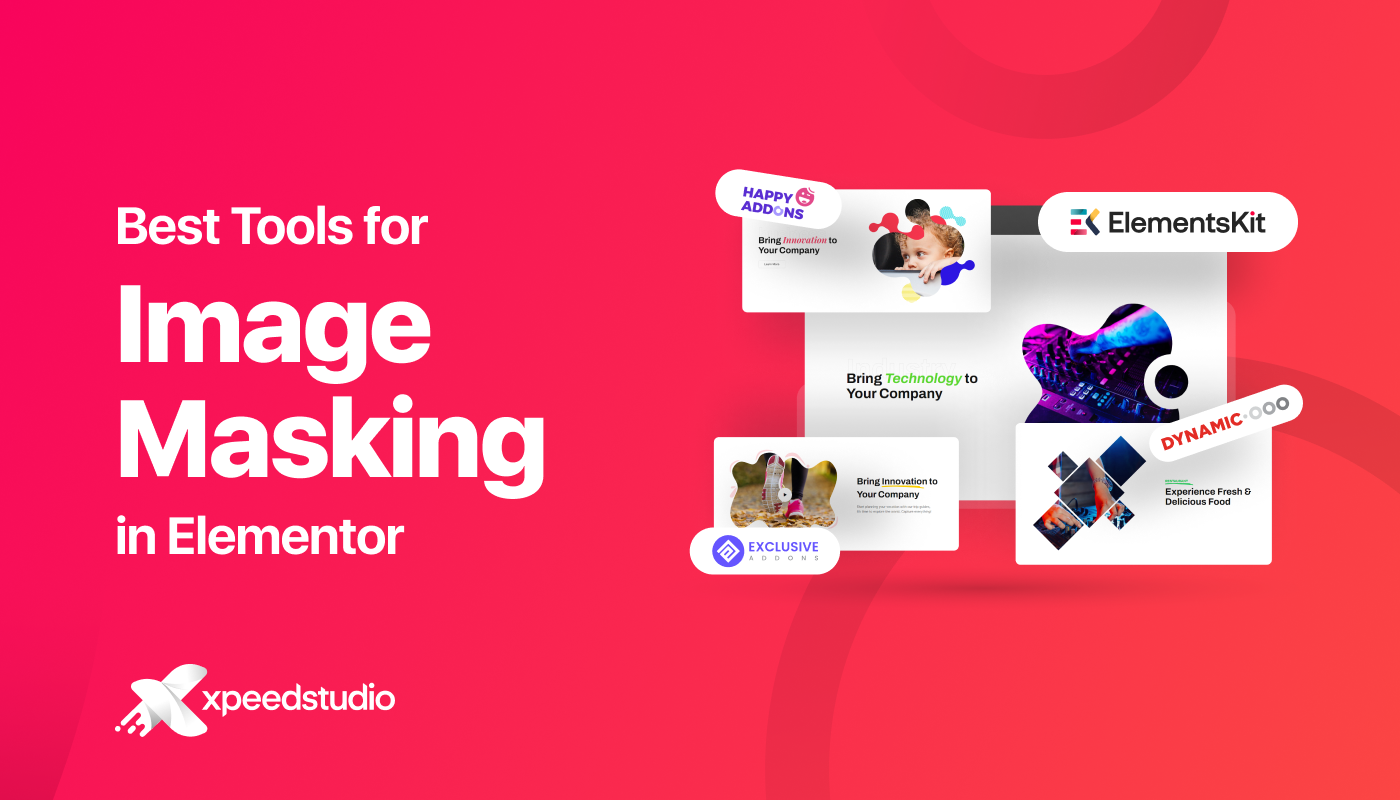 Image masking in WordPress is quickly becoming a go-to technique for web designers to create unique images and visuals. It captures the attention of users and can be used in all sorts of design projects.
Getting the most out of this design trend in WordPress requires an understanding of how to effectively use it. In this article, we'll discuss the best image masking tools for using it on the Elementor website and why it's important. I Hope the guideline will help you to get the maximum visual impact from your designs. So, if you're looking for the top image masking features and the ways to utilize them in WordPress, you have come to the right place!
What are the Qualities of a WordPress Image Masking Tool
Image masking is important and also an efficient way to make your WordPress website faster, more efficient, and more engaging. Before knowing about image masking plugins, you must know about the useful aspects of image masking tools. Let's see such qualities and benefits of an image masking tool –
Enhanced Image Quality: Image masking is a powerful way used to improve the quality of an image. A good tool can smooth out any imperfections in the image and make it look more professional.
Improved SEO Performance: A standard image masking tool can also help with SEO performance by improving the quality of the images on your website. This makes them appear higher in search engine rankings, resulting in more site visibility and clicks.
Easy to Add: Image masking plugins don't require any coding skills! It must be easy to use and hold simple yet effective features. All you need to do is select the images and upload them to WordPress, and then apply the masking effect with a few clicks.
Multi-Purpose: Image masking can be used for a variety of purposes, such as creating thumbnails, backgrounds, slideshows, banners, and more. So, a modern tool makes it a great way for creating visually appealing web pages.
Cost Effective: Image masking is a cost-effective option for improving the quality of your images without spending time and money on a graphic designer. Of course, the perfect image masking tool should also be available at a reasonable price.
Read about the top WordPress feedback form plugins to create in your WordPress site!
👉 Check this here

Popular Tools for Image Masking
Masking images is an interesting way to change the WordPress site's look. Let's learn about the top 5 image masking tools below to help you do the task –
ElementsKit is a compact addon for Elementor Page Builder. It comes with unique and influential custom controls. ElementsKit image masking module is one of the amazing tools to blow your mind.
Certainly, showcasing web images with various shapes and angles makes the whole website attractive. ElementsKit image masking module gives magical touches to website pictures. If you think the image styles are regular and become quite boring then this tool is for you. Now you can beautify your WordPress images by giving attractive shapes using this latest masking module. You will get a complete native feel working with the module.
Some Main Features of the ElementsKit Image Masking Module
ElementsKit image masking module has 12+ pre-made shapes.
It is responsive and customizable.
It has got a comprehensive set of features.
The amazing fact is, the SEO-friendly widget is highly compatible with all browsers.
You can use shapes in SVG, and PNG format with the module.
This flexible module is also compatible with other plugins and widgets.
For your Elementor website, Exclusive Addons is a modern and elegant-looking Image Mask widget. It presents you with various uncommon customizable options based on your needs. So, you can now convert dull traditionally-shaped photos into creative and fancy ones.
Installing the Exclusive Addons widget on your elementor website is a straightforward process. It is a drag-and-drop widget that permits you to explore styling choices to make the photos look best. Also, by using this widget you can also give new looks to your existing pages.
Some Main Features of Exclusive Addons Image Mask Widget
The Exclusive Addons Image Mask widget for Elementor is highly compatible with all contemporary browsers.
It has 60+ pre-made models, all are responsive and customizable. 
The  widget is compatible with other widgets and supports different types of image formats.
You can also create your own shapes with this widget and get much more flexibility with it.
You can transform your images into exciting custom shapes for the Elementor website. with the Image Masking Feature of Happy Addons Pro. For UI designers who spend time on photoshop or other image editing tools, this feature is a great choice to make creative custom-shaped images
The feature installation is simple and you can utilize it on any new or old page. For uncommon looks, it will allow you to experiment with various shapes and styles.
Some Main Features of Happy Addons Image Masking
Happy Addons Image Masking offers lots of SVG and PNG custom shapes.
If you don't find a suitable shape in the pre-made SVG shapes, you can upload your own SVG shapes.
The feature is applicable for some specific widgets, such as Card Widget, Info Box, Promo Box, Team Member, Image, and Image Box.

It is an interesting and useful solution for web photos. You can apply the clipping mask technique with the widget in Elementor WordPress Page Builder. The Masker widget helps to apply a mask to a specific part of your chosen image. It is simple to use yet fun to work with while giving the images some wonderful looks.
To set up the widget you need to get the license from CodeCanyon. Activation of the plugin is easy in your WordPress dashboard. It is a drag-and-drop widget that shows three tabs – content, style, and advanced to customize the web pictures. You need to try each specific group of settings and apply them according to your demands.
Some Main Features of Masker Widget
The widget consists of 30+ preset image masks.
It offers to use custom shapes in SVG format.
It is fully customizable and responsive. 
The widget goes with all browsers and WordPress themes built on Elementor. 
Advanced masking extension by Dynamic is the latest feature that helps you to be more creative with your web photos. It offers modern features and adjustable options to style unique images. It is customizable and gives a professional look to traditional photos.
You have to upload and activate Dynamic content on your WordPress site. Like any other standard masking tool it is also flexible and enjoyable to work with.
Some Main Features of Advanced Masking
You can control the mask creation process with this feature on the – image, image box, and video widgets.
There are options to choose IMAGE mask, custom mask, or pre-defined CSS clip paths. Clip paths basically generate parametric shapes based on coordinates.
The widget supports PNG and custom SVG file formats.

Closing Words
Image masking is an important part of web design for WordPress users. As we have discussed in the article, masking helps to capture attention, create unique visuals, and enhance the user experience. The Elementor image masking tools are great for WordPress users to create stunning visuals for their projects. With this guide, you'll be able to master the technique of masking images. Selecting the best tool will help you to create stunning visuals for your project.
🤔 Do you know what tactics to use for enhancing social proof to achieve a top conversion rate? 👉 Read here