7 Best Audio Player Plugins For Elementor in 2023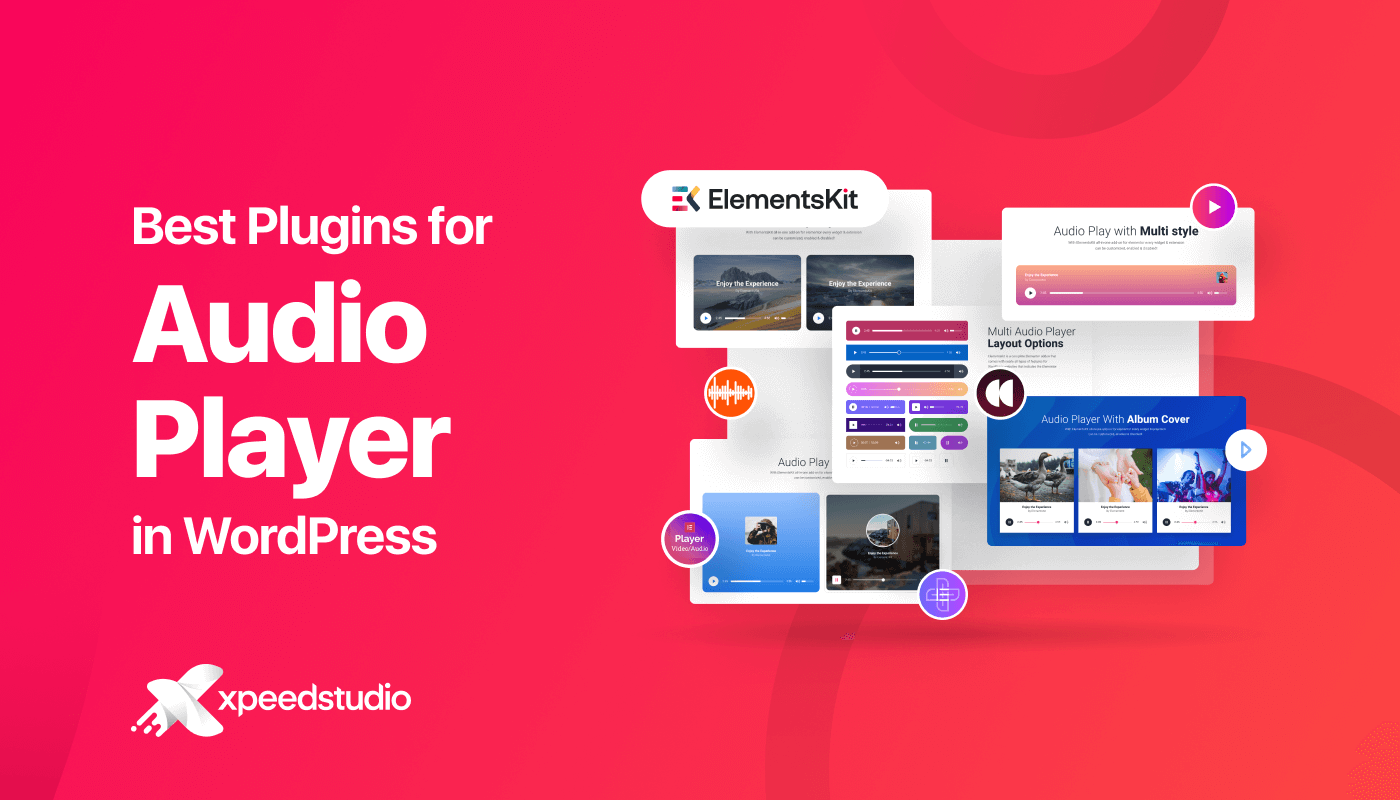 Want to upload audio files to your WordPress website? Using an audio player plugin is the best (and the easiest) way to upload and showcase audio files, music, or podcast on any webpage or post.
But what are the best audio players?
Well, choosing an audio player for the Elementor will be a reliable choice. As a result, you can customize the layout and add/delete the elements of the audio player using Elementor.
In this write-up, I will share the considerations to choose an audio player plugin as well as share the 7 best audio plugins for Elementor.
Using these, you can embed and display a gallery of audio files on your website and also customize them as per your needs.
Without any further ado, let's dive into it.
5 Key Considerations for Choosing the Best Audio Player Plugins For Elementor
When you choose an audio player for Elementor, you should be concerned about the following 5 key factors: 
1. Drag and Drop Feature
As the audio player plugin will use Elementor, so, all elements and widgets must have the drag-and-drop feature. As a result, you can easily customize and rearrange the elements so you can create a custom audio player.
Besides, make sure, uploading, embedding, and controlling all features can navigate easily.
2. Multiple Ready Templates
After that, it will be great if the audio player plugin has multiple ready templates. For example, you will get 6 ready templates in the ElementsKit audio player widget. As a result, you can choose any of them rather than choosing only one template.
Also, all elements are customizable, so you can rearrange, add or remove elements and customize them based on your preference.
3. Responsive Design
Next, make sure the layout and elements of audio player plugins are fully responsive for pc, tab, and mobile phones.
Otherwise, you and the other visitors will get a broken view and can't navigate the features properly.
4. Support System
Considering the support system of audio player plugins is also crucial. From installation to integration, you may need support for any issues.
So, make sure, you have chosen a plugin that has a consistent and reliable support system.
5. Price
Finally, consider the price point. Almost, all plugins have free and pro versions. When purchasing, make sure the pro features are actually needed and worth its price point.

7 Best Audio Player Plugins For Elementor – Top Rated
ElementsKit is an Elementor addon that comes with 85+ widgets including a dynamic audio player widget. In this widget, you will get 6 fully readymade and functional templates to embed music in your website.
Besides, these ElementsKit Audio player templates are completely compatible with Elementor. So you can customize them in whatever you want. And the best part is, you don't need to install so many plugins, you will get all the necessary features and operation controls in ElementsKit.
Just need to install and activate this plugin, and you will get multiple audio player templates in the category section. Then, drag and drop the preferable template into the page just like the elements of Elementor.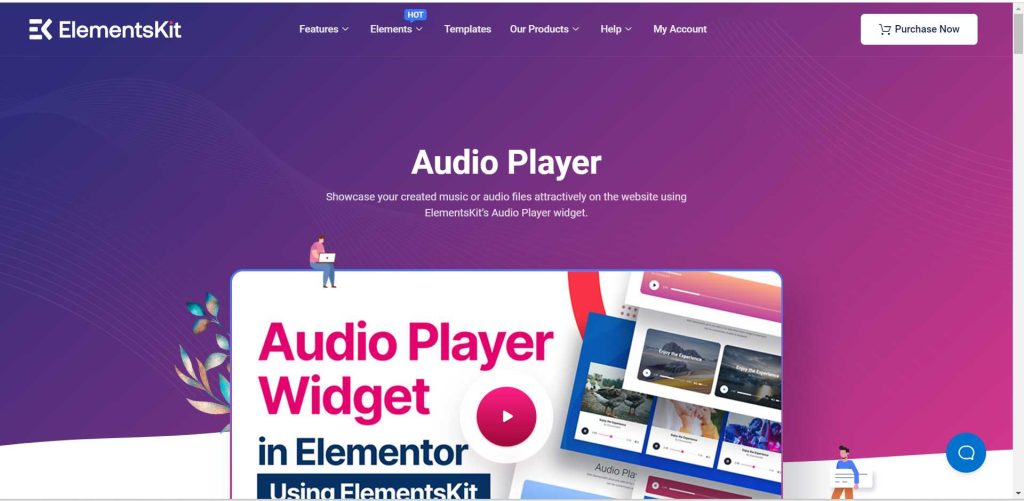 Key Features
Upload audio files via the WordPress media library
Embed audio files with URLs
Autoplay option
Loop and mute options
Play and pause control
Volume control
Display total duration
Show the playtime
Customize the layout
Customize the audio player background image
Add custom color to the layout
Pros
Cons
✅Multiple audio control options
✅Fully customizable
✅User-friendly and easy to navigate
❌Needs more customization options
Our Take
All templates of ElementsKit Audio Player are designed with a minimal, compact, and sleek layout. And, they contain all necessary features and functionalities- no unnecessary features are here. As a result, you can upload audio and showcase your music to the world more efficiently.
Besides, all of the elements are fully customizable. You can also add Elementor elements with this audio player. Similarly, you can insert another widget of ElementsKit with this audio player for more customization.
👉👉 Learn more – How to add an audio player to WordPress Website
In addition, ElementsKit offers fast and consistent customer support for your queries about the integration process.
Whether you are a beginner or a pro user, this audio player is a complete solution for your WordPress websites to upload unlimited audio files.
Next, introducing the Music player for Elementor which is fully compatible with Elementor, Gutenberg blocks, and the shortcode widget.
You will get tons of features and control settings including a playlist of unlimited songs, creating new albums, dynamic controls bar, a custom cover image, etc.
And, impressively, this audio player doesn't require any extra configuration. You just need to create a new page or open an existing one with Elementor and then drag and drop this audio player widget.
So far, this audio player is professionally designed to integrate music and audio into your WordPress website stylishly and flexibly.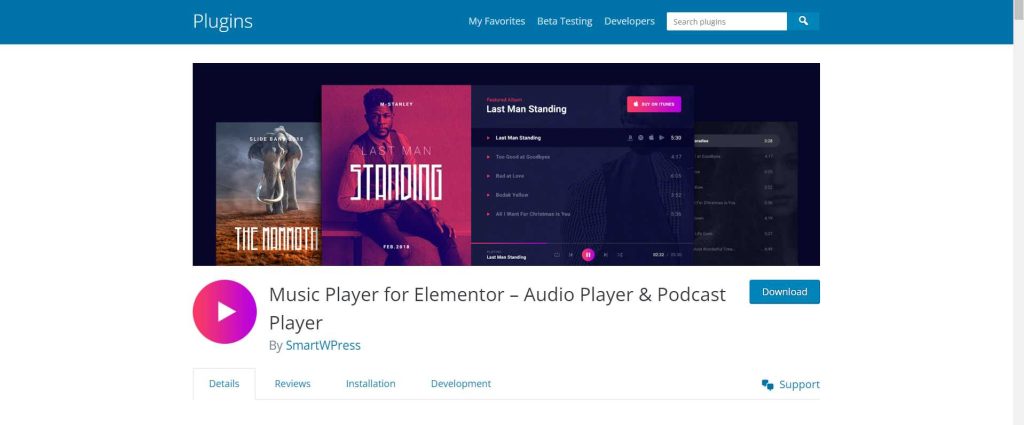 Key Features
Two audio player widgets
Playlist for unlimited songs
Add a custom purchase link
Add album title, album promo message, and promo text
Customize the entire player background and color
Import premium player templates (Pro)
Link each song for Spotify, Amazon Music (Pro)
Repeat and shuffle the button (Pro)
Cart option for WooCommerce integration (Pro)
Pros
Cons
✅Fully Elementor compatible
✅Easy integration
✅Flexible design
❌Most of the customization settings are in the premium version
Our Take
Music Player for Elementor is best for its flexible customization options and easy integration system.
With its elegant, clean, and user-friendly design and functionalities, this audio player can be a great way to showcase your music samples to the world.
Besides, it can be a perfect way to promote music in digital product stores, and eCommerce sites and sell your music.
This time, presenting the Plus toolkit for Elementor. It has 120+ widgets which are fully customizable with Elementor. Among them, the audio player widget offers you to create a simple yet intuitive design with all the essential functionalities.
You can upload single audio files to the WordPress website page, post, or custom post, create playlists and control its other properties.

Key Features
Upload audio files
Embad audio files using URL
Create playlist
Single-player or Playlist based
Various player style
Customize the player layout, background, and color
Pros
Cons
✅Freedom to define the tracks
✅Offers unlimited customization options
✅Fully cross-browser compatible
❌Free version is not available
Our Take
If you want an all-in-one solution for your WordPress website and are ready to invest in a pro audio player, you can choose this Plus toolkit's audio player widget for Elementor. Its SEO-friendly and A/B-tested design will keep your website fast and dynamic.
Besides, you don't need to code even a single line, installation is also simple. Also, this audio player widget is compatible with almost all WordPress themes including Astra, OceanWP, GeneratePress, Neve, Blocksy, etc.
Moreover, it is cross-browser compatible. So, whatever the theme or browser is, you can perfectly integrate this audio player widget. Overall, you will get the freedom to innovate as well as showcase music files on your site.
The next pick is CP Media Player which is one of the best audio player plugins for Elementor. You can publish audio files, create a playlist and set download options for the visitors.
Besides Elementor, you can use it with the Gutenberg editor and classic WordPress editor. This media player also supports video files. Plus, it is supported by almost all browsers including Chrome, Firefox, Edge, Opera, Safari, etc.
The best part of this media player — it is fully responsive to mobile phones e.g. iPhone, iPad, and android devices.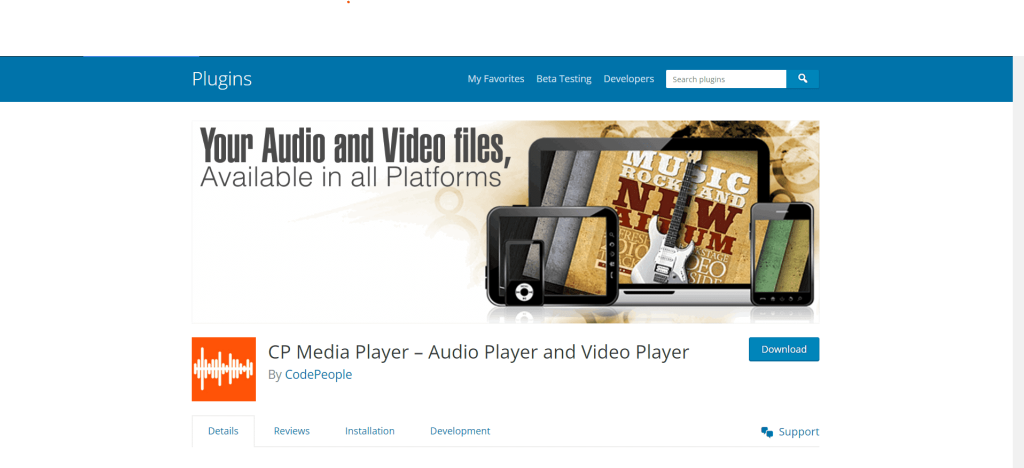 Key Features
Support unlimited audio files
Unlimited video players
Includes only one skin
Create playlist
Access to all published documentation
Create unlimited playlists (Pro)
Includes all player skins (Pro)
Audio files without watermark (Pro)
Sell files from the player (Pro)
Pros
Cons
✅Technical Support for 60 Days
✅Support both audio & videos
✅All devices and browsers compatible
❌Need more options to create a custom player
Our Take
You can choose CP Media Player if you need to showcase audio and video both files on your WordPress website.
It supports MP4, M4A, OGG, WebM, MP3, WAV, and WebSRT subtitle files. So, visitors can enjoy both audio and video from your website.
Also, as you are using one plugin for both tasks, it will keep your website fast, lightweight, and more responsive.
Despite a few limitations, it can be a great choice for your WordPress website to display and sell your digital media resources (audio, video).
✨✨Want to create dynamic tables on your WordPress website?
👉👉Check these 8 Best WordPress Table Plugins In 2023
MP3 Audio Player by Sonaar is another reliable solution for music, podcast, and beat makers. It is compatible with Elementor, block editor, Gutenberg, and shortcode widgets. Besides, you can use Javascript API for advanced actions.
Also, you can create unlimited albums, playlists, and podcasts for your WordPress websites. Simply install and activate the plugin and you will be ready to insert MP3 files in a new page, WC product page, or custom post.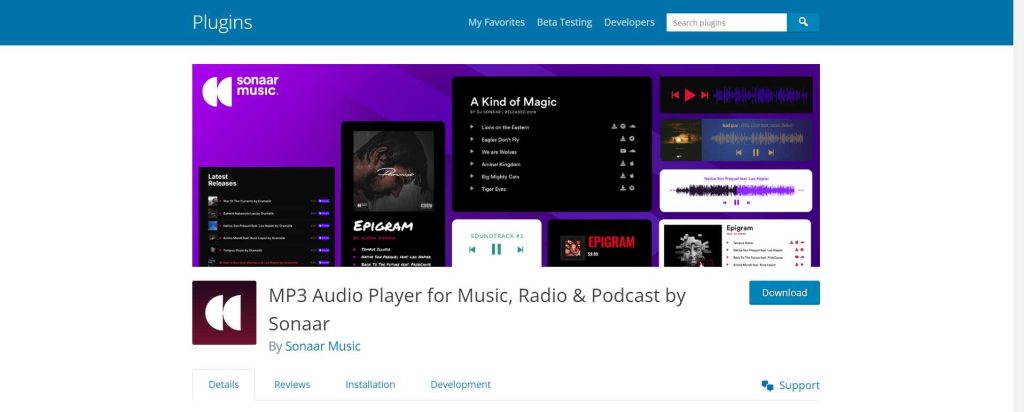 Key Features
Upload audio tracks
Add download button
Sell Music file
Import any podcasts
Super-nice-looking waveform progress bar
Full Support for WooCommerce (Pro)
Music Licenses & Contracts (Pro)
Add popup lightbox option (Pro)
15 seconds / 30 seconds episode skip button (Pro)
Filter and Top Played Tracks (Pro)
70+ styling options (Pro)
Pros
Cons
✅Can build a large music catalog
✅Support various podcasts Feeds
✅Highly customizable
❌Shortcode is not provided for Shoutcast streams
Our Take
If you want to showcase as well as sell beats and music in the WooCommerce store, MP3 Audio Player by Sonaar will be a great solution for you. It is customizable as well as SEO-friendly.
With all the necessary features for music and podcast, it supports almost all popular streaming platforms (e.g. Icecast, Libsyn, Stitcher Amazon S3). Besides, you will get active support for both FREE and pro versions.
This time, I am presenting a Media Player addons for Elementor which comes with 10 Media player widgets.
HTML5 Audio Player
Advanced Audio player
Advanced Audio Playlist Player
HTML5 Video Player
Youtube Video Player
Vimeo Video Player
Art Player
FLV player
Advanced Video player
Advanced Video Playlist Player
All of these widgets are compatible with Elementor and fully customizable. You can simply drag and drop the widgets to insert them into pages or posts.
Overall, it's a complete package to integrate any audio, or video files into your WordPress website more efficiently.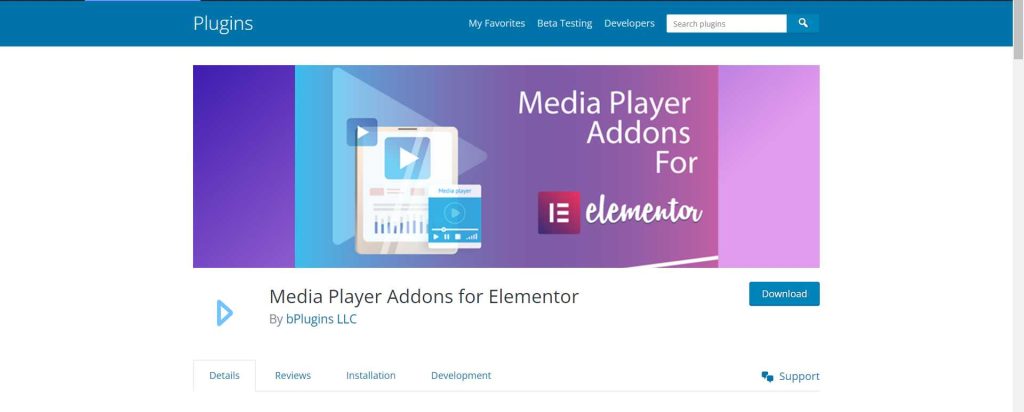 Key Features
Completely customizable
Plyr.io, VideoJS, etc media players included
Supports live streaming (e.g. HTTP, Dash, HLS)
Create Playlists of videos and audio
Embed and create a playlist for unlimited audio and video
Supports .mp3, .mp4, AVI, .mov, .m3u8, .ogg, .webM, .m3u, etc. media files
Supports picture-in-picture mode
Support multiple caption tracks/subtitles
Fully mobile device responsive
Pros
Cons
✅Supports various media files
✅Fully customizable
✅Supports live streaming
❌May seem complicated to beginners
Our Take
Media Player Addons for Elementor is a complete package for WordPress websites to embed audio and video files. You just need to install and activate the add-ons to get started to add this add-on post, page, widget areas as well as template files.
Besides, it has impressive features and functionalities to enhance the user experience effectively.
So, if you need an all-in-one solution to display all of the media files, this Media Player Addons for Elementor can be a reliable partner for your WordPress sites.
Last but not least, AZ video and audio player for Elementor is another great option to embed and play your audio files. As it's an add-on, you will get 7+ widgets as well as can play video files too.
Besides, this addon supports all kinds of audio and video file types. Plus, you will get various features and functionalities. Also, you customize the media player layouts, playlists, custom links, and other elements.

Key Features
Upload audio files or audio link
Autoplay
Audio loop
Display time as Countdown
Seek Time
Customize player colors
Supports picture-in-picture mode
Enable/Disable control labels
Change seek time length
Initial volume option
Pros
Cons
✅Responsive for all devices
✅Compatible with any WordPress theme
✅20+ styling options for customization
❌Need more layout customization options
Our Take
As the previous addon is quite complicated for beginners, but this one is simple and easier to integrate and navigate. Also, if you want to embed and showcase your videos, you can do that using this Elemetor-compatible addon. Besides, it will support YouTube, Vimeo, and HTML5 video sources.
It's also very lightweight and can be used with any WordPress theme. And, you can see the responsive layout on any device whether it's pc or a mobile phone.
FAQs
Which one is the Best Audio Player Plugin for Elementor?
Considering all factors and over 900,000+ active users, the ElementsKit Audio Player widget is the best for Elementor. It comes with 6 different templates with all the necessary features and functionalities. Besides, all elements are editable with Elementor and compatible with WordPress themes.
How Do I Add a Media Player Widget with Elementor?
To add a media player with Elementor, you can search for the widget and then drag and drop it inside the block of the page/post. Or, you can use the shortcode widget to add a media player to your website.
What Audio Files Does WordPress Accept?
WordPress uses an HTML5 player and it will support MP3, OGG, and WAV audio files.
Final Words
Time to wrap up!
Here, I have tried to provide an overall idea about the 7 best audio plugins for Elementor. They all have won features, pros, and cons. And, among all of them, the ElementsKit audio player widget won my vote.
Besides, I have mentioned the considering factors you should follow when choosing an audio player. Hopefully, now you can choose the best one as per your requirements.
If you have any queries or suggestions, don't hesitate to comment below.
Thanks for reading. Stay tuned!