8 Best Ai-Powered One-Click Blog Generators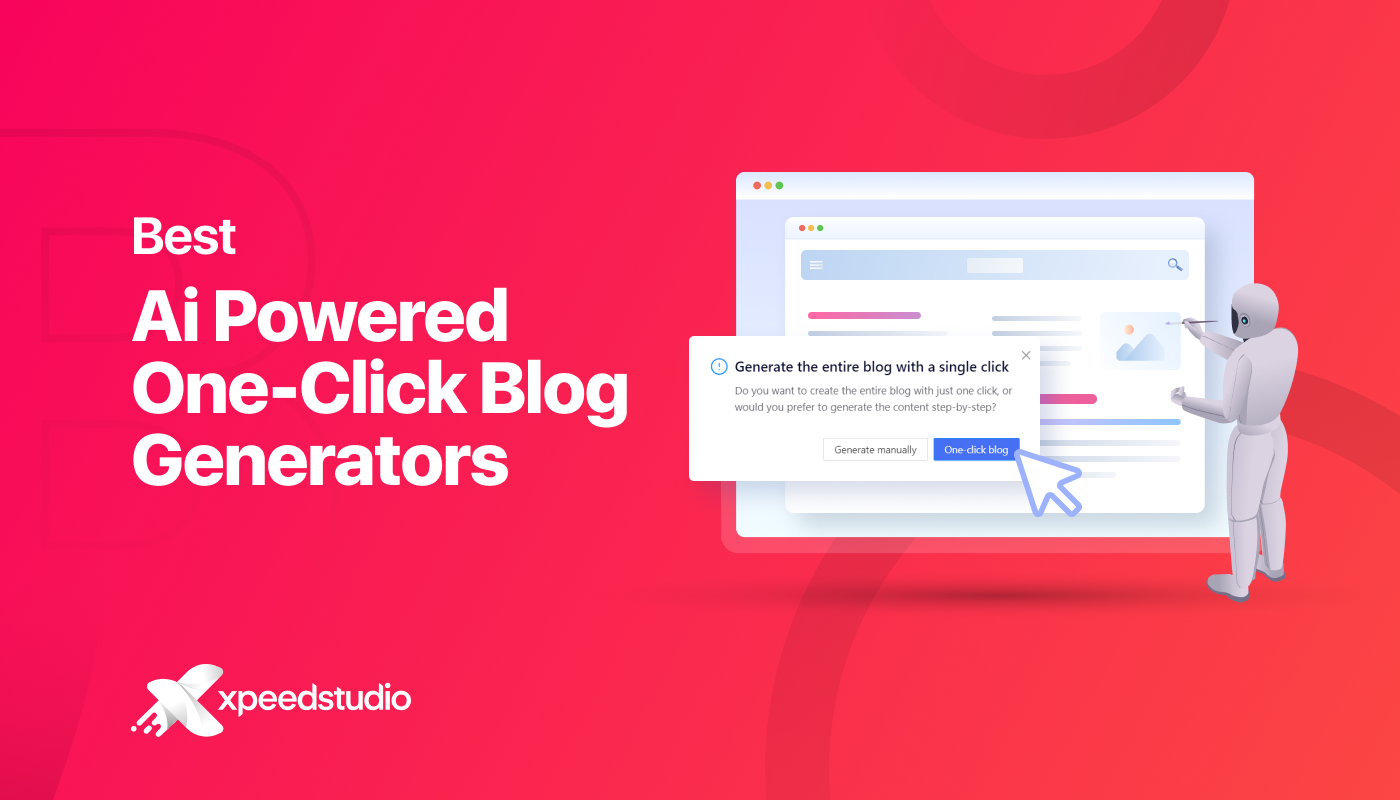 Write long-form blog articles that rank on Google… 20x faster!
Is this possible? This may sound unbelievable, but yes, it's true.
If you are a blogger or content creator with a hectic schedule, creating long-form content is easy without compromising quality or sacrificing your time. It is through the advent of Ai-powered one-click blog generators.
Overview of the Ai-powered One-click Blog Generator
Content creation remains a cornerstone of a successful online presence. Ai-powered solutions have emerged as invaluable tools for those who strive to keep up with the demand for fresh and engaging content. Among these, the Ai-powered one-click blog post generators have garnered considerable attention.
This article dives into the essence of these innovative tools. Exploring how they work and why they have become a go-to choice for content creators.
How does a one-click blog generator work?
The beauty of Ai-powered one-click blog generators lies in their simplicity, with complex algorithms behind a user-friendly interface. These generators are designed to streamline the content creation process. They eliminate the time-consuming and often arduous task of writing from scratch.
Ai can even analyze a given topic or keyword and produce coherent, insightful, and grammatically accurate content with just a single click.
The process involves multiple layers of natural language processing and machine learning. Upon inputting the desired topic, Ai —
💡 dissects the context,
💡 comprehends the nuances, and
💡 draws from vast databases of information.
It then constructs sentences, paragraphs, and entire articles that mimic human writing styles while ensuring factual accuracy. These generators are not limited to specific subjects, making them versatile tools for a wide array of industries.
Why choose a one-click blog generator?
With so many Ai tools available on the market today, not all offer this one-click blog feature. Let's have a quick glimpse at why you should consider Ai one one-click blog post generator.
➡️ Time efficiency:
Choosing an Ai one-click blog generator saves time. Regular content making takes a lot of time for research, writing, and editing. But with Ai, a good article can be made in minutes, letting creators concentrate on other important things.
➡️ Consistency:
Sticking to a regular posting schedule is crucial online. But, making good content all the time is hard. Ai-powered generators help by producing well-written articles consistently. This lets creators follow their schedules without lowering quality.
➡️ Diverse perspectives:
Ai blog generators can offer different viewpoints in one article. They can analyze a topic from many angles, making the content better and giving readers a complete view of the subject.
➡️ Reduced writer's block:
Even the most seasoned writers encounter writer's block. One-click blog generators serve as creative catalysts, offering inspiration and ideas when words seem elusive.
➡️ Keyword optimization:
SEO plays a crucial role in online visibility. Ai-powered generators can seamlessly incorporate keywords, enhancing the article's search engine ranking and boosting its discoverability.
➡️ Time for creativity:
By delegating the writing process to Ai, content creators free up mental space to focus on creativity, strategy, and ideation—areas where human ingenuity shines.
➡️ Risk-free editing:
Generated content serves as a foundation that creators can edit and refine. This minimizes the risk of errors while preserving the creative essence of the content.
8 Best One-Click Blog Generators in the Market
We've found 8 Ai writing tools that will let you experience how to write a blog post with one click. Through this article, we're confident that you will find the best Ai that meets your requirements.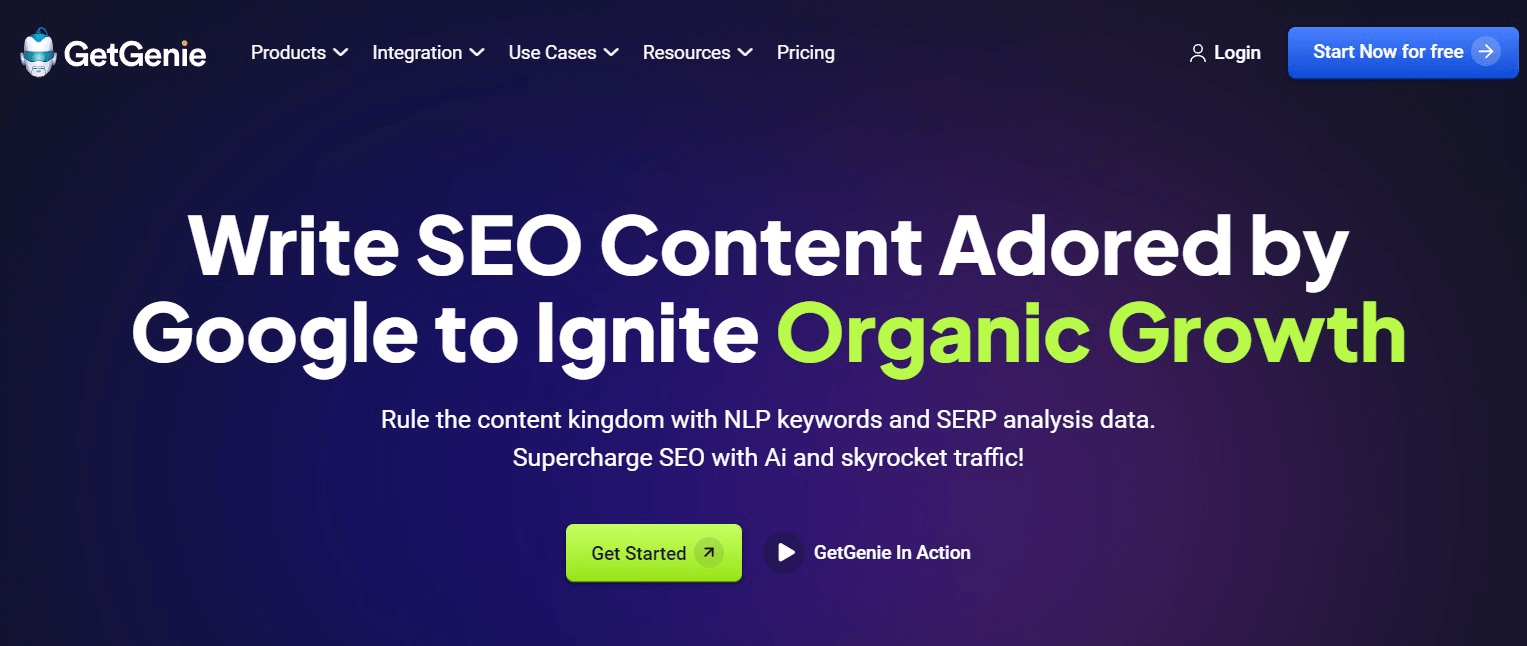 GetGenie is actually a plugin for WordPress and SaaS. You can use it to create and handle long-form content for websites and online places with Ai.
GetGenie is your personal Ai assistant that allows you to write and rank 20x faster. One of its remarkable features is the one-click blog feature, where you can create a complete blog post ready to be published straight on your website. You can utilize this feature by selecting the Blog Wizard template. You just need to enter your seed keyword, adjust the settings including creativity level and the number of results so you will have options later on, and generate the title, intro, and outline.
Then, you will be prompted to choose One-click blog. Its output is surely SEO-optimized because GetGenie has SEO features that eliminate anxiety about its SERP ranking.
Here is GetGenie's short demo of how to generate a complete blog with Ai: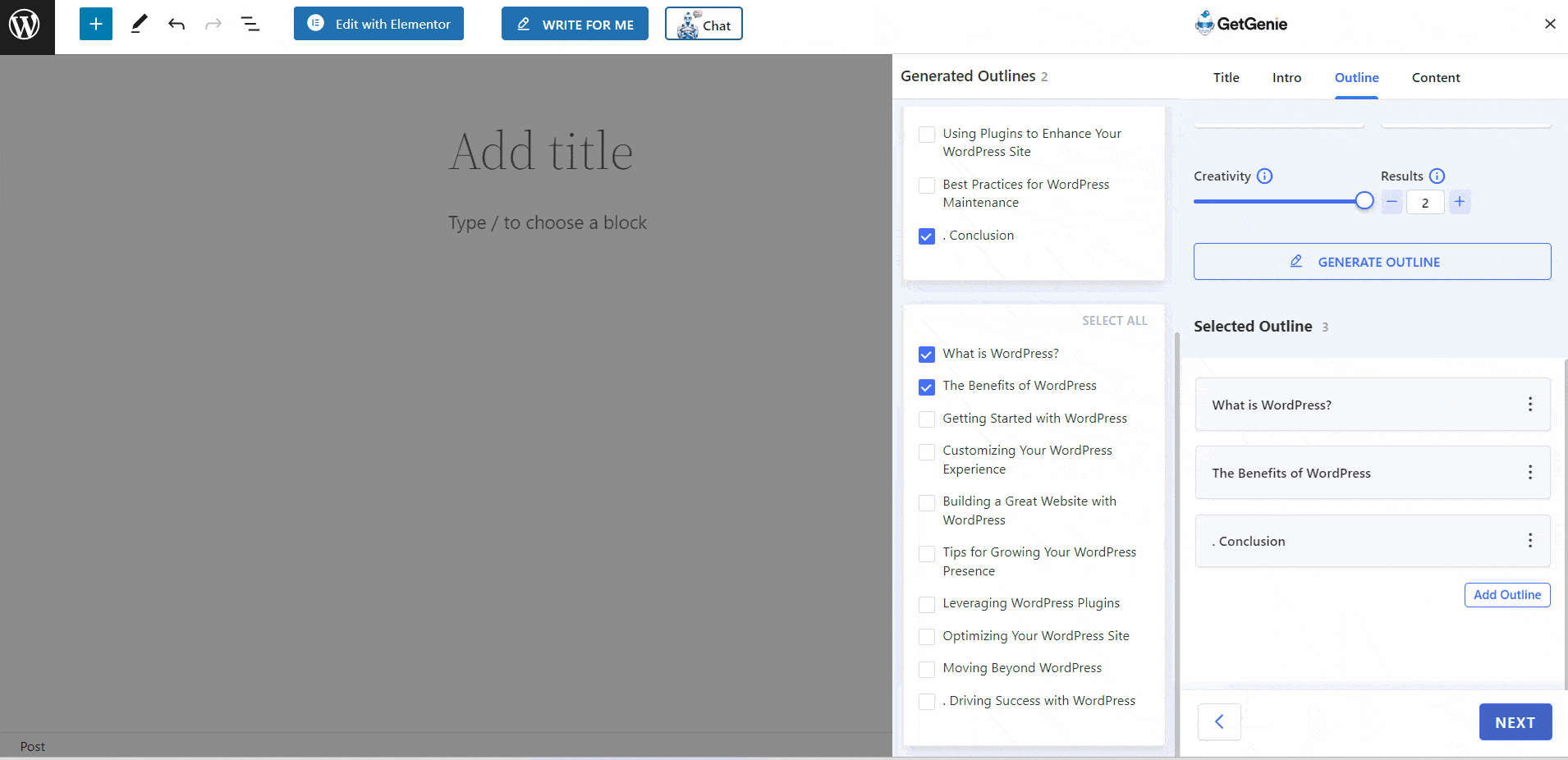 Other Key Features:
Access to 37+ Ai writing templates including, Blog and WooCommerce Wizards
Supports 33+ languages in content creation
Integration to WordPress and Saas
GenieChat Chatbot which has the integration of the API of ChatGPT models.
SEO features include:

SEO Keyword Analysis
NLP Keyword Suggestions
Competitor Analysis
Related Questions
Content Score
SERP Visualizer
Head-to-Head Analysis
Pricing:
Starter: Free
Inclusions:
1 Website
Unlimited Users
2,500 AI Writing Words Per Month
10 SEO Keyword Analysis Per Month
5 Competitor SERP Analysis Per Month
37+ AI Templates
WordPress Blog Wizard
WooCommerce Product Wizard
GenieChat – Ai Chatbot
One-click Blog Generator
Elementor Builder Support
Writer: $19 Per month
Pro: $49 Per month
Agency: $99 Per month


GoCharlie.ai is an intelligent tool for writers who want to improve their website's visibility and teams that create content. It uses Ai and language technology to help you make blog posts that are great for SEO.
With its advanced Ai writer and language skills, GoCharlie.ai can help you write a blog post that works well for SEO. You can use it to make different kinds of content, like pictures, blogs, and more than 60 types of marketing content.
It also lets you create pictures and art for your blog and change your content to fit on YouTube and other social media.
Key Features:
Craft Ai-generated art using keyword cues
Content generation with one-click
Access templates for social media posts
Transform YouTube videos into written blog articles
Plan product descriptions
Use a robust text editing tool
Pricing:
Free: 10-day Free trial
Freelancer: $39 Per Month
Professional: $99 Per Month
Teams: $299 Per Month
Enterprise: Customized Pricing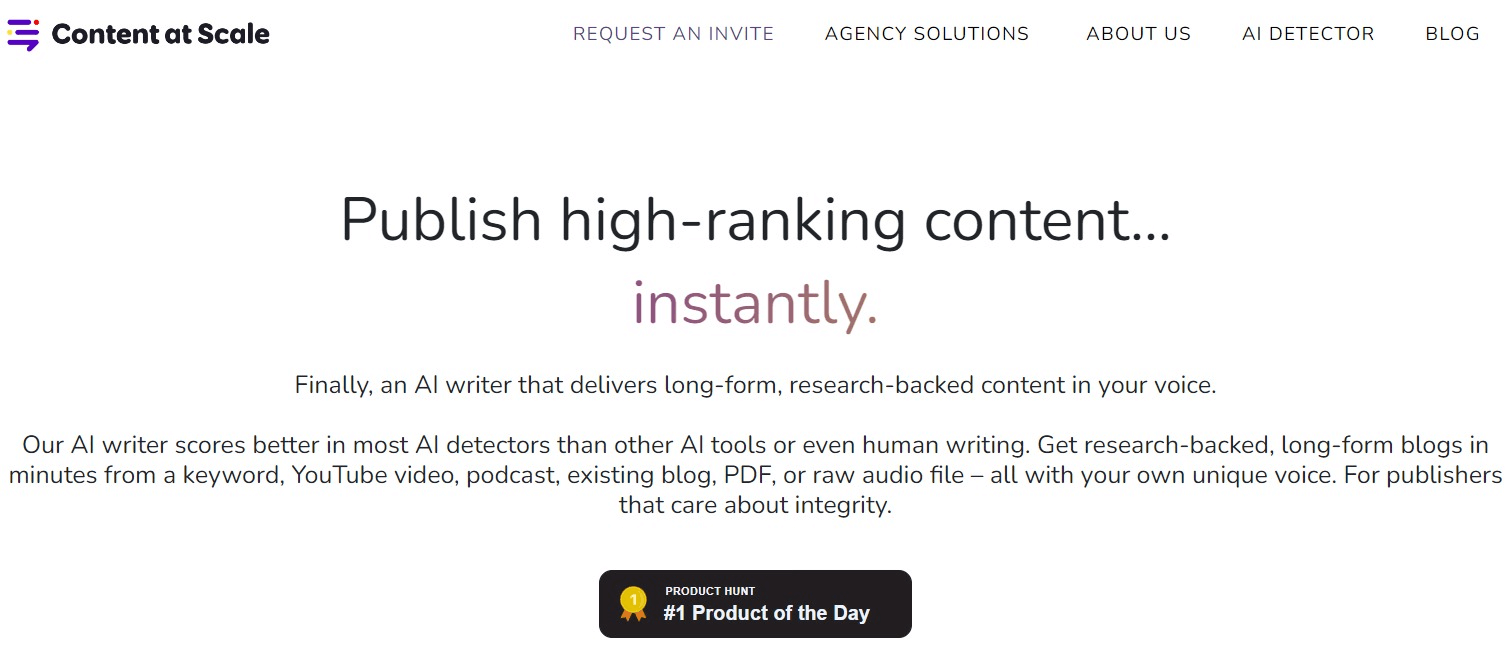 ContentAtScale is a handy tool for writers who want to create long articles. It's great for bloggers and SEO experts.
You can use it to make big articles and decide how many words you want. So, it's incredible for full-time SEO pros and small bloggers who want to make writing easier.
The tool also has an intelligent Ai that checks if the writing is good.
Key Features:
Receive content summaries
One-click content generation
Change and revise the blog post structure as needed.
Directly publish to WordPress.
Generate a table of contents and various social media cues.
Includes an integrated plagiarism checker
Establish distinct projects for various websites.
Produce articles in under 5 minutes.
Get an approximate character count for each article.
Pricing:
Solo: $31.25 per post — $250/mo. (8 Blog Posts)
Starter: $25 per post — $500/mo. (20 Blog Posts)
Scaling: $20 per post — $1,000/mo. (50 Blog Posts)
Agency: $15 per post — $1,500/mo. (100 Blog Posts)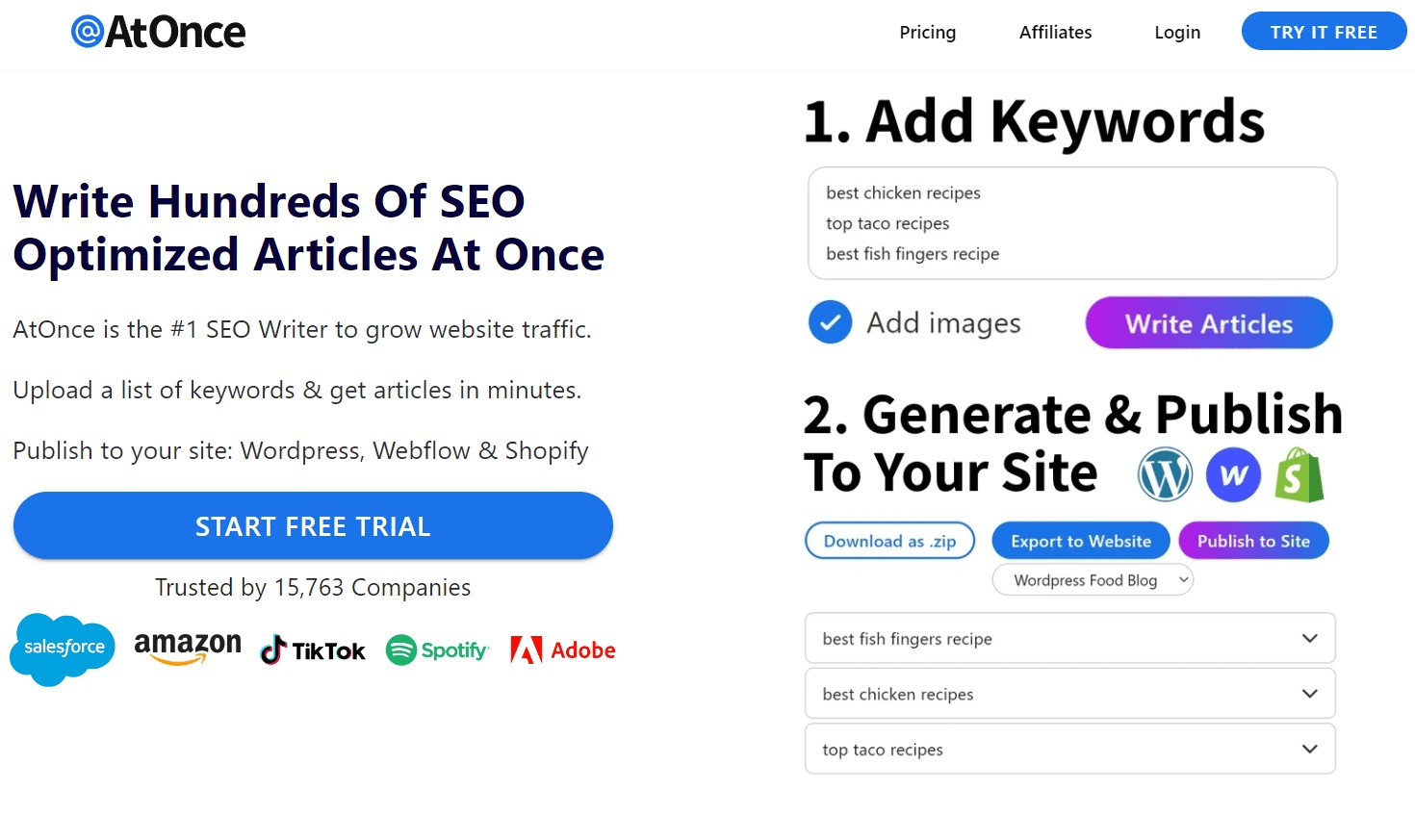 AtOnce is an Ai writer tool that makes blogs and pictures using smart Ai tools. If you're stuck with writing a lot or need help when you can't think of words, AtOnce is the Ai tool to make good stuff that Ai checks.
Beyond creating Ai-written blogs, AtOnce is also handy for generating content for social media posts. It also crafts persuasive sales copy for landing pages.
Key Features:
Get precise word counts and language insights using their advanced prediction model
Blog post creation with one-click
Craft articles optimized for SEO
Generate attention-grabbing Twitter threads to go with your blog posts
Suitable for any blogging niche, including YMYL (Your Money or Your Life)
Create AI-generated artwork and images to enhance your articles
Access templates for crafting marketing copy
Pricing:
Free: 5-Day Free Trial With 30k Words
Silver: $99 Per month
Gold: $279 Per month
Diamond: $599 Per month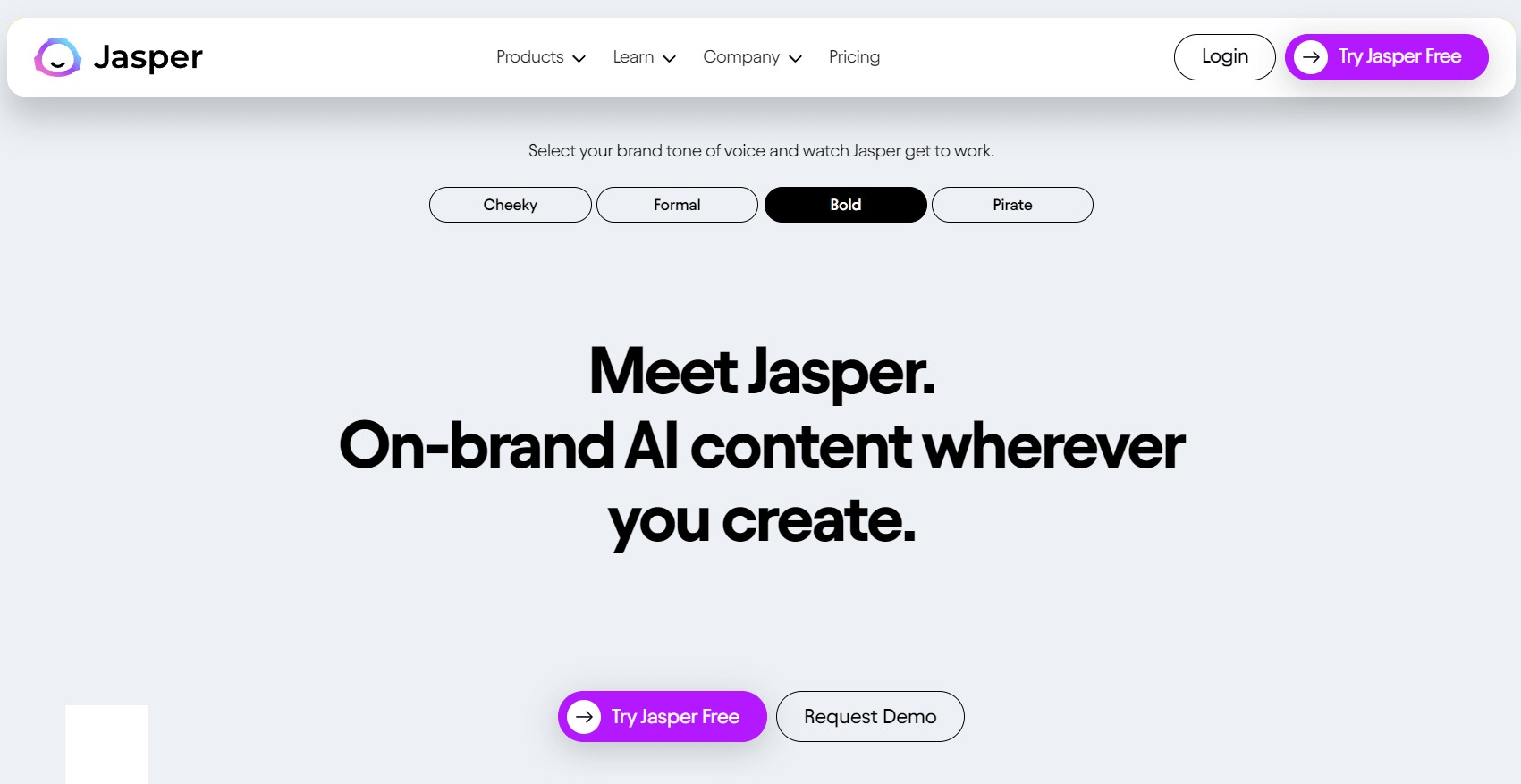 Jasper Ai is a writing assistant that uses super-smart Ai to help you make top-notch articles and content quickly and easily.
By giving it just one topic, Jasper Ai looks at it and creates a well-written post that's almost ready to share. And it works well with Surfer SEO to help you make content that's perfect for search engines.
Key Features:
Different Templates to Boost SEO
One-click blog writing
Easy Text Creation with Commands and Prompts
Creative Content Ideas Generation
Quick Ai Art Creation
Smooth Connection with Surfer SEO
Refresh Old Content with the Paragraph Generator Template
Works with Google Docs and Chrome Extension
Pricing:
Free: 7-day Free trial
Creator: $49 Per month
Teams: $125 Per month
Business: Customized Pricing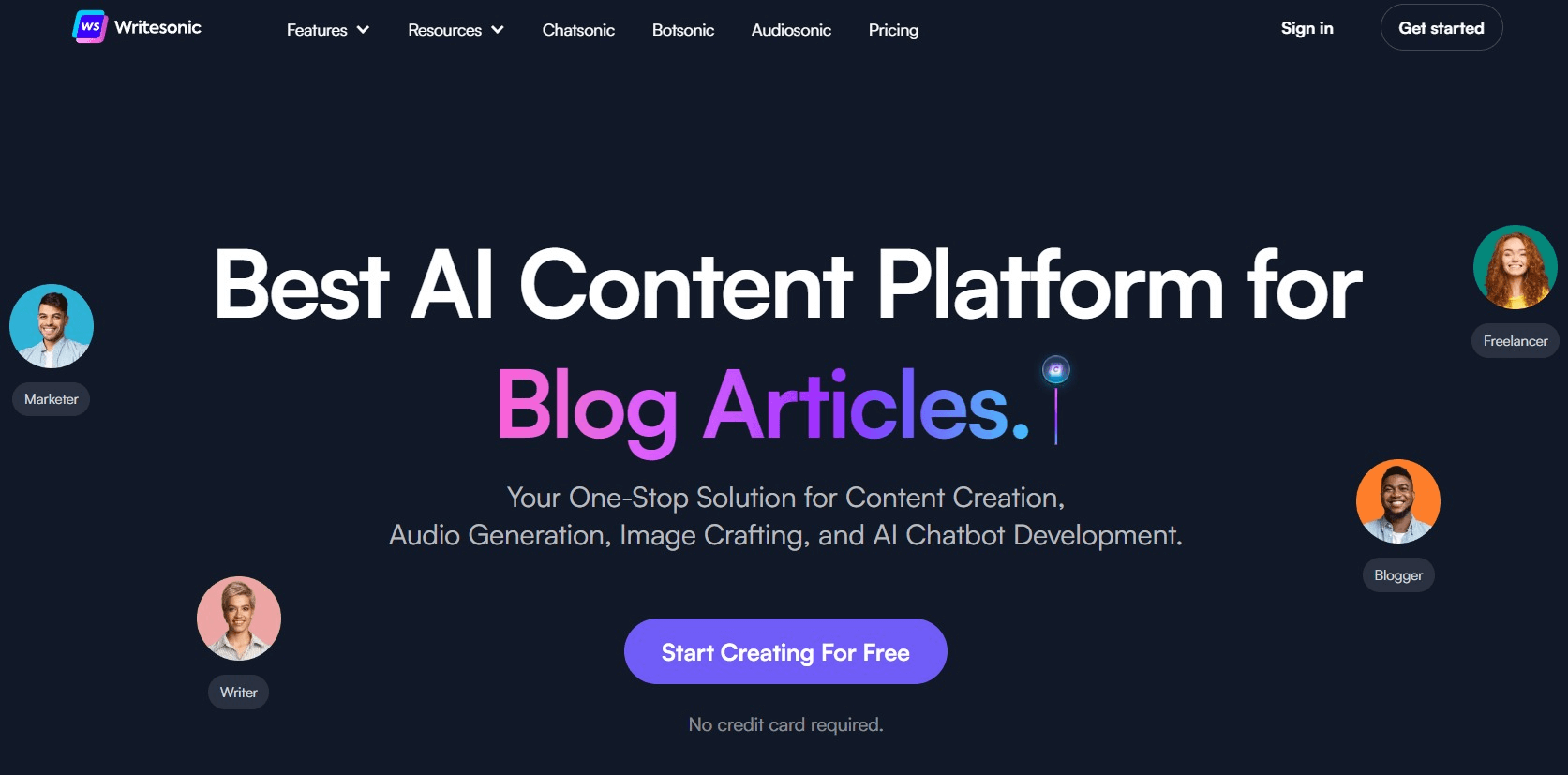 Writesonic is a smart tool that uses Ai to help you make great content way faster than doing it yourself. It reads what's already written and makes more stuff that makes sense.
You can use it to quickly create content for blogs, press releases, reviews, and more. It also has lots of different templates to fit different jobs and readers.
Key Features:
Easy content rewriting
Generate article with 1 click
Instant story creation
Make product descriptions for lists
Get ideas for list articles
Control with voice commands
Use Ai writing templates
Works with ChatGPT
Ai makes images
Connects with Copyscape plagiarism checker
Links up with WordPress
Pricing:
Free Trial: 10,000 words Per month
Unlimited: $20 Per month
Business: $19 Per month
Enterprise: Customized Pricing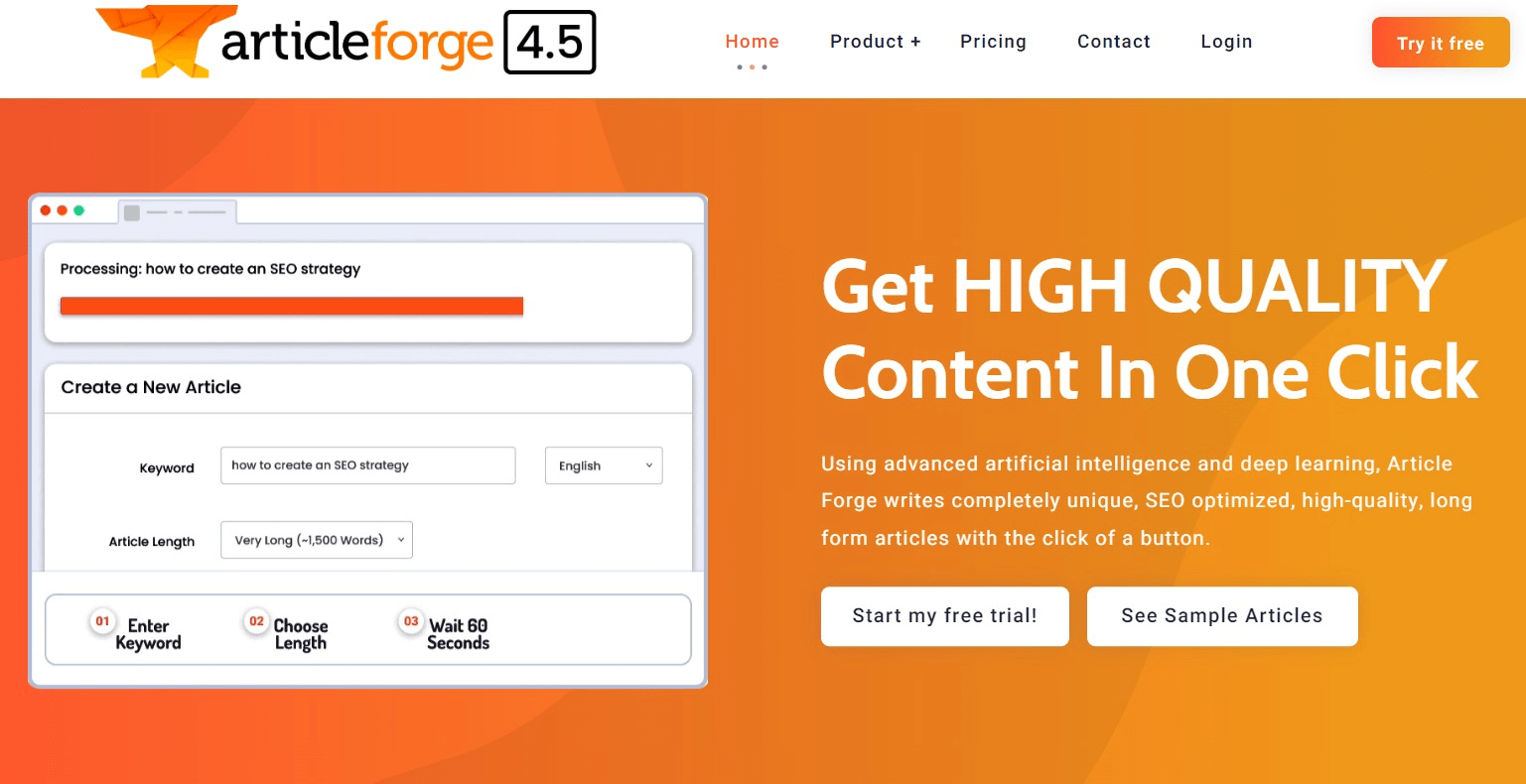 Article Forge is a tool that uses Ai to assist users in making lengthy content. It employs natural language processing to study existing text and create related articles.
Moreover, Article Forge provides various templates so users can adjust their content for specific tasks. Its user-friendly interface makes editing articles a breeze with simple drag-and-drop actions. Additionally, the automated optimization tool enhances your text using SEO-friendly keywords.
Key Features:
Craft articles for SEO success
One-click blog generator
Make content in many languages
Automatically include links, videos, and pictures
Post scheduler
Save articles in HTML, TXT, and PDF formats
Integrates with third-party platforms
Pricing:
Free: 5-Day Free Trial
Starts from: $27 per month
Business: Customized Pricing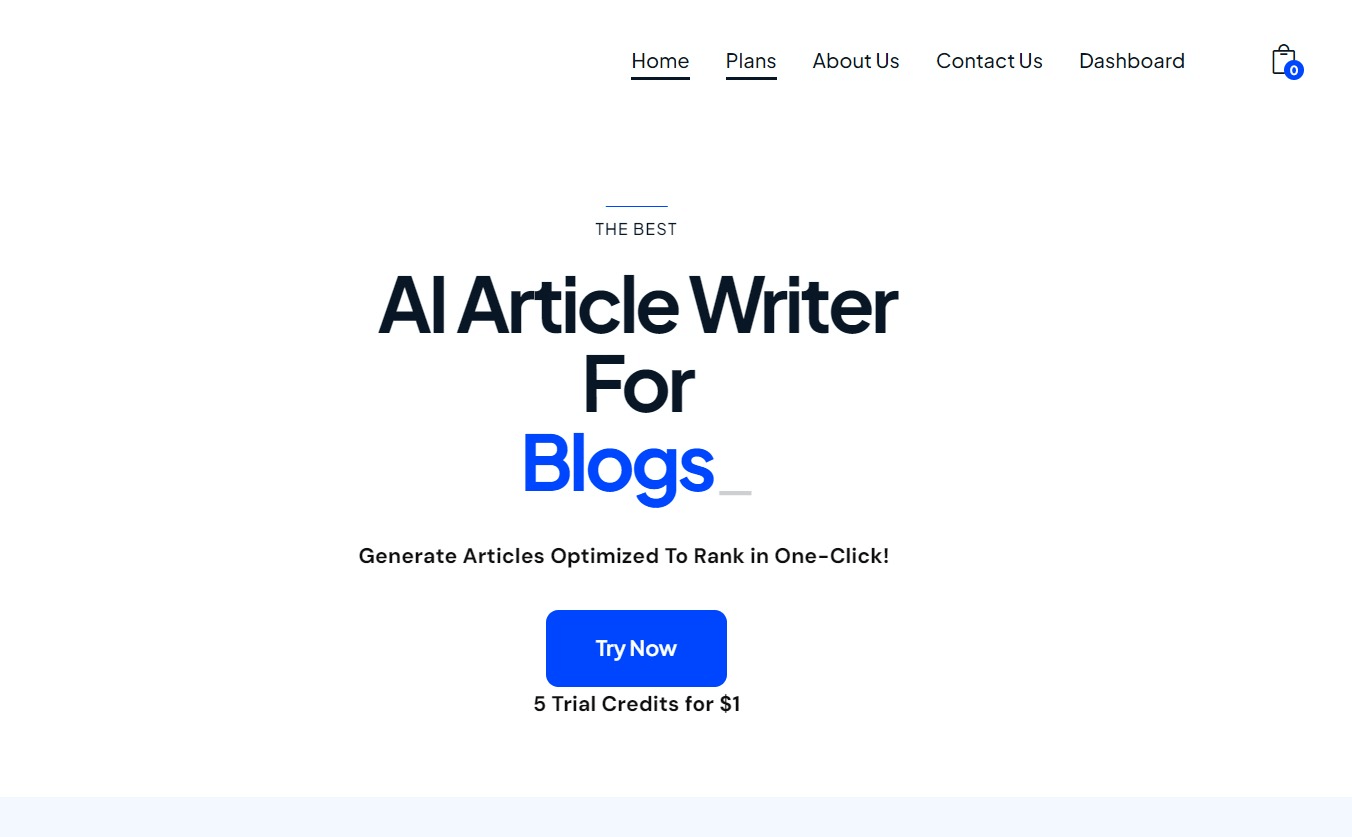 Autoblogging.ai is a tool that lets bloggers and content makers create excellent content for their websites, blogs, and social media.
Autoblogging.ai utilizes a blend of OpenAI's GPT 3, 3.5, and 4 models to produce well-structured, in-depth, and readable articles.
Key Features:
Create Bulk Articles
Write Lengthy Amazon Reviews with One Click
Delivers the Article in HTML Format
Pricing:
Regular – $399
Standard – $799
Premium – $1999
Comprehensive Comparison on Ai One-click Blog Generators
Tool
Ease of Use
Feature
Strength
Limitation
GetGenie
Easy
Keyword-based generation
GetGenie specializes in generating engaging human-like and conversational content for a natural user experience.
Limited Customization:
This restriction makes it difficult to properly customize content to distinctive brand voices or specific requirements.
GoCharlie.Ai
Easy
Multiple content types
GoCharlie.ai excels in aiding writers and content teams to create SEO-optimized content for various formats and adaptability across online platforms.
Complex Customization: The complex customization of GoCharlie.Ai may require a learning curve, thus making it more difficult for beginners to use.
ContentAtScale
Moderate
SEO optimization, plagiarism check
ContentAtScale efficiently scales content production across various niches and industries, ideal for content marketing strategies.
Learning Curve:
ContentAtScale might have a learning curve due to its extensive features and customization options, requiring users to invest more effort in understanding its capabilities.
AtOnce
Easy
Keyword and niche-specific
AtOnce delivers real-time content creation for timely and responsive needs like news updates and personalized recommendations.
Limited Output Variety:
AtOnce may not suit users seeking a wide range of content categories due to its niche focus, which can limit content variety.
Jasper Ai
Easy
Short and long-form content
Jasper Ai is great at generating unique and captivating content ideas, perfect for marketing, storytelling, and branding in creative fields.
Limited Customization: Jasper Ai offers few customization choices, which could cause content to deviate slightly from highly specific brand guidelines.
Writesonic
Easy
Multiple content types
Writesonic excels with its easy-to-use interface and customizable content generation, enabling users to tailor output to their specific requirements.
Moderate Output Quality: Writesonic offers various content types, but the quality may differ, so users may need to review and revise it.
Article Forge
Easy
Automated research and writing
Article Forge excels at generating diverse content, making it a valuable tool for boosting website SEO.
Limited Human Touch: Despite using automated writing and research processes, Article Forge's content might not have the subtle human touch that comes with manually selected content.
Autoblogging.ai
Moderate
Ai-assisted content creation
Autoblogging.ai simplifies content posting for bloggers and website owners, saving time and ensuring a regular schedule.
Limited Creativity: This restriction hinders from producing content that resonates emotionally with readers.
View these additional resources for your advantage: ⬇️⬇️
10 Best WordPress SEO Plugins for your Online Visibility
Your Ultimate WordPress Ai Writer Tool for Great Blogging
13 Best Ai SEO Tools for Publishers
Key Considerations When Selecting a One-click Blog Generator
1. Algorithm Sophistication and Customization
Explore its algorithm's sophistication. Its capacity to grasp context, interpret nuances, and provide cohesive narratives greatly affects content quality. Choose a tool with an intricate algorithm that can also be adjusted to your needs. Customization lets you keep your brand's voice and style, ensuring the content fits your strategy perfectly.
2. Content Relevance and Accuracy
A robust one-click blog generator can go through large amounts of data and create content that connects with your intended readers. Whether it's specialized words, recent trends, or deep analysis, the tool's ability to offer precise and current information is essential. Accuracy not only builds your credibility but also builds trust with your audience.
3. SEO Integration and Optimization
SEO integration is a pivotal consideration. Opt for a one-click blog generator seamlessly incorporating relevant keywords, meta descriptions, and structured data. By doing so, you enhance the discoverability of your content across search engines, driving organic traffic to your platform. The ability to optimize your content for search engines should be a fundamental feature of any competent generator.
4. Diverse Content Formats
Content diversity fuels audience engagement. Look for a one-click blog generator that isn't confined to a single format. The ability to generate blog posts, articles, infographics, and even social media snippets widens your content arsenal. Different platforms demand different content structures, and a versatile generator equips you to captivate your audience across various channels.
5. User-Friendly Interface and Accessibility
Technology should simplify, not complicate. A user-friendly interface is crucial, allowing even non-tech users to use the generator effortlessly. It should be accessible via web or mobile apps, so content creation isn't limited by location or device. The interface's intuitive design ensures a smooth content creation process.
6. Support and Updates
Choose a one-click blog generator with a helpful support team. Whether you face technical issues or need optimization guidance, quick assistance keeps your content creation on track. Also, frequent updates show the tool's dedication to staying current with industry progress.
7. Price and Value
Consider the cost of the one-click blog generator and evaluate it against the value it provides. Some are free blog post generators, but with limited capabilities. Check out their tiered pricing plans with varying features and limits. Factor in your budget and the benefits you gain from each pricing tier. It's essential to strike a balance between affordability and features that align with your content goals.
Frequently Asked Questions (FAQ)
Question: What kinds of material can be produced by Ai writing tools?
Answer: The use of Ai-written content can generate a wide range of content formats. Whitepapers, landing pages, blog posts, and articles are some examples. The topics you can talk about span a wide variety.
Question: Is it recommended to use Ai for blog posts?
Answer: Yes, but make sure to check and make any necessary changes to the Ai writing tool's output. Ensuring your work is original, free of plagiarism, and hidden from Ai content detection systems requires doing this.
Question: Are Ai content generators trustworthy?
Answer: Yes, you should trust a well-regarded Ai writer from a respectable business. If you're concerned about how your data is used, always check the privacy policies. Before publishing, make sure the content is accurate and original. The majority of Ai tools check for this.
Question: How much does artificial intelligence cost? Tools for writing?
Answer: The price of Ai tools varies. While more sophisticated ones can cost tens or even hundreds of dollars for each item, basic ones may cost a few cents per article. The cost is influenced by the complexity and work required to design the tool. You can also look at the precise prices of some of the above-mentioned tools.
Question: Which one-click blog generator is most compatible with SEO?
Answer: The greatest one-click blog generator for increasing SEO is GetGenie. With only one click, GetGenie can create a whole blog article that is optimized for SEO. GetGenie is also packed with tools that improve your content and make it more SEO-friendly.
Question: Will artificial intelligence writers replace content writers?
Answer: It's unclear whether Ai will completely replace content writers. Although Ai is improving, it still cannot match the quality and involvement of some writers. Besides, Google hasn't yet approved anything created by Ai.
Final Thoughts
Ai-powered one-click blog generators are leading the way in changing content creation. These tools boost efficiency and creativity, serving modern content creators across different fields. These generators show us what content creation's future could be—where innovation and convenience blend smoothly.
Keep in mind that, though Ai generators provide great help, a human touch is vital to fine-tune and personalize the generated content, making sure it matches your brand voice and values.