WordPress Ai Writer — The Ultimate Tool for Blogging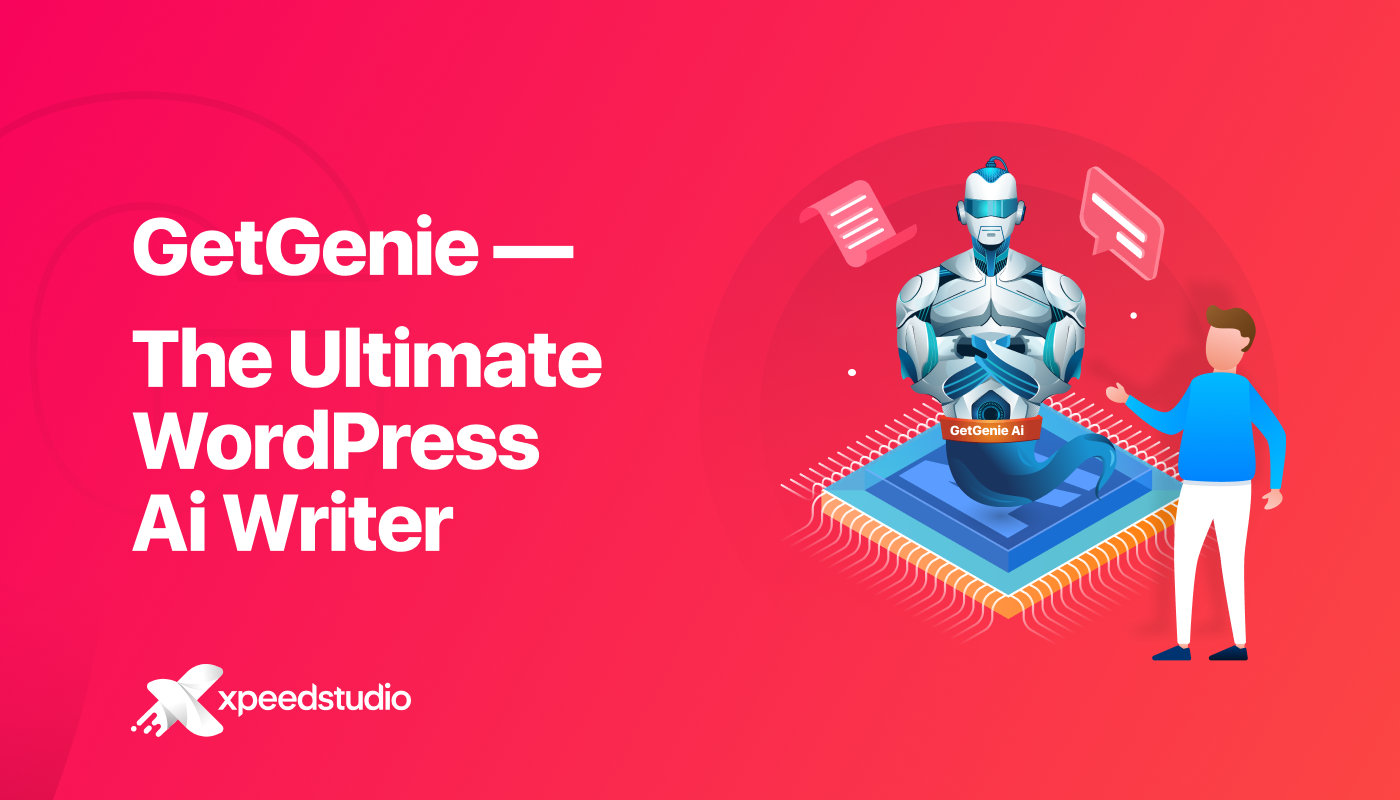 Who could have imagined that one day, artificial intelligence could write content that is human-like? Well, it is not a dream or an imagination; it is the reality.
In this blog post, I am going to introduce you to the best WordPress Ai writer that can almost automate blogging.
What is it? It is the GetGenie Ai writing tool — the all-in-one solution for Ai based writing!
What else?
You will learn how to write like a pro and make Ai generated content more powerful.
So, let's dive in…
GetGenie — Ai Writer for WordPress
GetGenie is an advanced Ai content writing tool that makes creating and optimizing content easy. It effortlessly generates high-quality articles, blog posts, and more.
One standout feature of GetGenie is its integrated SEO functionality, which helps users optimize content for better search engine visibility and rankings. By analyzing keywords, trends, and competitors, GetGenie provides valuable insights and recommendations.
Another great feature of GetGenie is its content scoring system. This system assesses readability, tone, and quality; while also offering feedback for improvement.
With its user-friendly interface, GetGenie streamlines the writing process for professionals and businesses. This one-of-a-kind WordPress Ai writer empowers content creators to produce exceptional, engaging, and search engine-friendly content that drives results.
How to write blogs with Ai writer in a few simple steps
Writing a blog with GetGenie is incredibly easy.
There are two ways to get started: using the WordPress plugin or the web editor.
Here are the steps you need to follow to write with the WordPress Ai writer —
Step 1: Start with blog wizard
Regardless of the method you choose, you will find a dedicated Ai-powered workflow called 'Blog Wizard' for writing a new blog. Simply select this template to begin.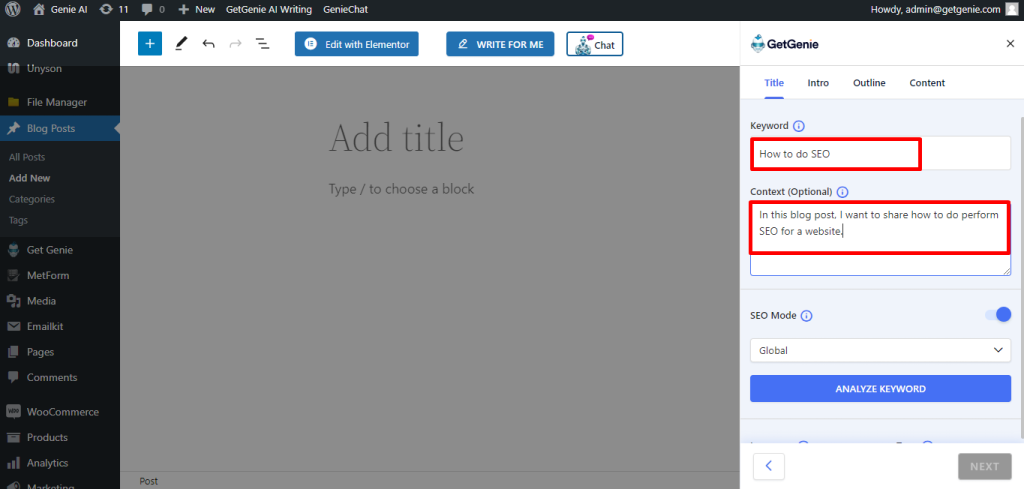 You will find the template in your tool's dashboard. Choose the template and you will find various fields where you can provide instructions.
Step 2: Choose the secondary keywords
Start by entering your focus keyword and providing some context for the blog, allowing the Ai to understand your goal. Next, you can analyze the keywords and generate a title for the content.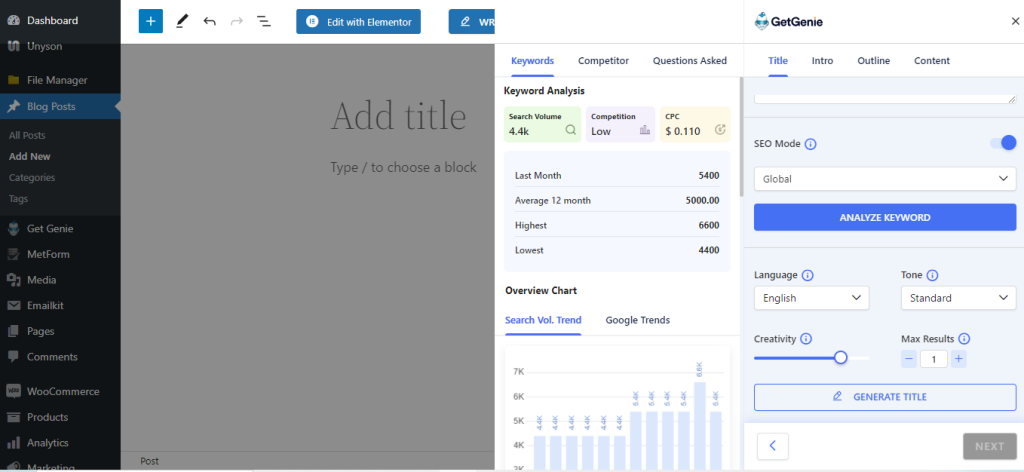 The keywords will give you the perfect idea to identify how you should write the content.
Sep 3: Start writing the blog
The keyword details will give you an idea of what to cover within the content. Furthermore, if you fetch data from competitors, GetGenie will provide additional insights to help you surpass them.
Now, it's time to generate an introduction for your content and analyze your competitors. Based on the analyzed data, you can build a custom content outline.
The great thing is that you can generate multiple results for each step, allowing you to come up with unique ideas.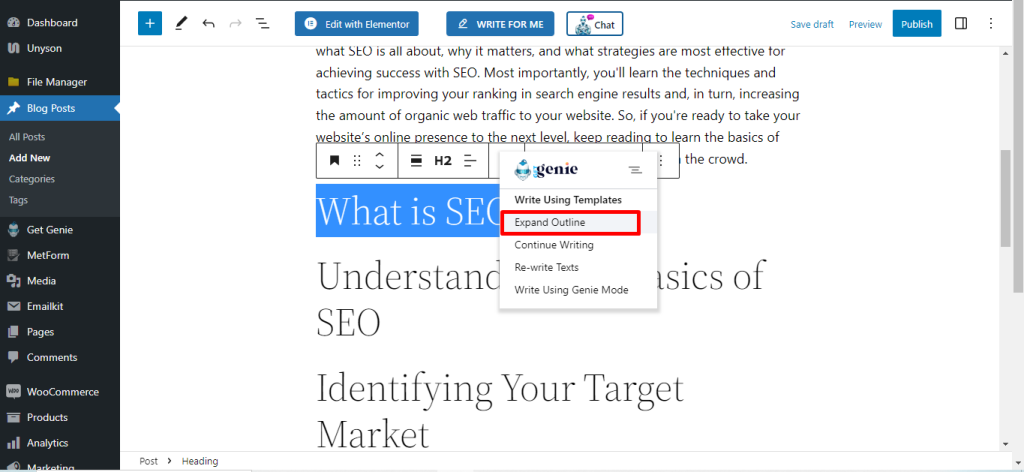 Once you've finalized the content outline, you'll have two options for writing the actual content. You can either expand the outline and generate a blog with a single click, which is ideal if you want to combine multiple results and write in a unique style. Alternatively, if you're short on time and need to generate content in bulk, you can choose the one-click blog generating template.
Step 4: Optimize the content
GetGenie gives the suggestions to improve the content along with NLP keywords. Check the content score to find out what you are missing in the content.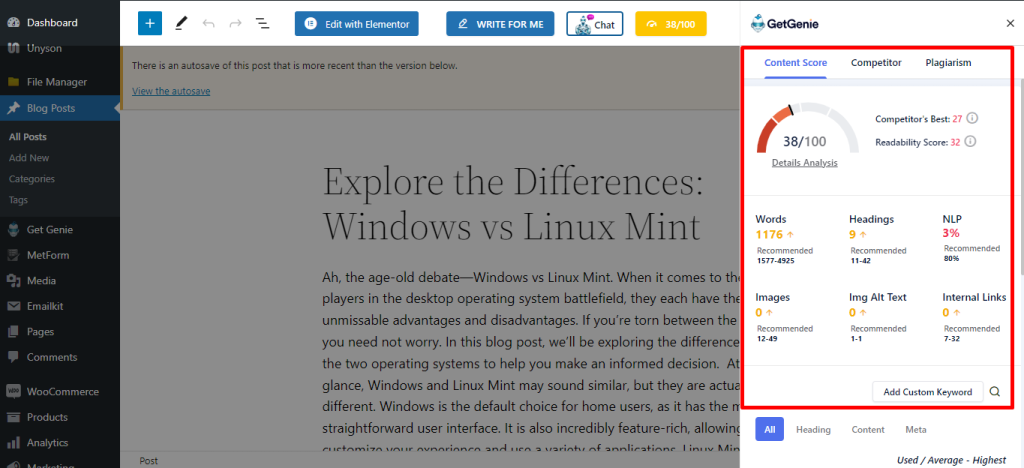 Now optimize your content based on the suggestions and you will see the score is increased. Try to reach at least 70 while improving the content score.
What else can you do with GetGenie?
In addition to writing content, GetGenie can be used for crafting marketing copies, ad copies, social media copies, product descriptions, and more.
For each type of writing, there are templates available that make the task easier. Even for copywriting, GetGenie offers different copywriting frameworks within the template.
Therefore, once you start using GetGenie, you can rely on it as your all-in-one solution. It eliminates the need for any other tools or resources.
Frequently asked questions
Here are some additional queries that will help you to understand the whole process. Go through the following questions and get more information.
Can I make money with an Ai writer?
There are several ways for earning money with Ai writers. If you're in the blogging industry, you have the opportunity to monetize your content by placing ads from ad networks or promoting products through affiliate networks.
Additionally, Ai writers can assist you in providing services like copywriting, email writing, product description writing, and more, expanding the range of possibilities for generating revenue.
Does Ai content rank?
Yes, content that is written with Ai can easily rank on the SERP. The thing you need to do is maintain the content quality and add enough value for the readers.
How to avoid plagiarism with Ai?
Artificial intelligence typically collects information from various sources and organizes it into a structured format. However, this process can sometimes result in potential plagiarism issues. To prevent plagiarism, it is advisable to engage in manual editing for optimal results. Additionally, you can utilize GetGenie's integrated system to check for plagiarism and ensure the originality of your content.
Does Ai content need human touch?
Although not essential, it's advisable to fact-check manually and prioritize a user-friendly content format for optimal results.
How long does it take to rank an Ai generated content?
Ranking Ai-generated content depends on the keyword, content quality, and ranking factors. Provide enough value to readers and analyze competitors using GetGenie's feature for better results.
Final Words
With WordPress Ai writers, generating content in bulk becomes incredibly easy. By adding a manual touch to the generated content and humanizing it, you increase your chances of staying ahead of others.
Start using GetGenie Ai and benefit from its advanced features to automate your blogging business.