Top 8 WordPress Review Plugins to Boost Online Credibility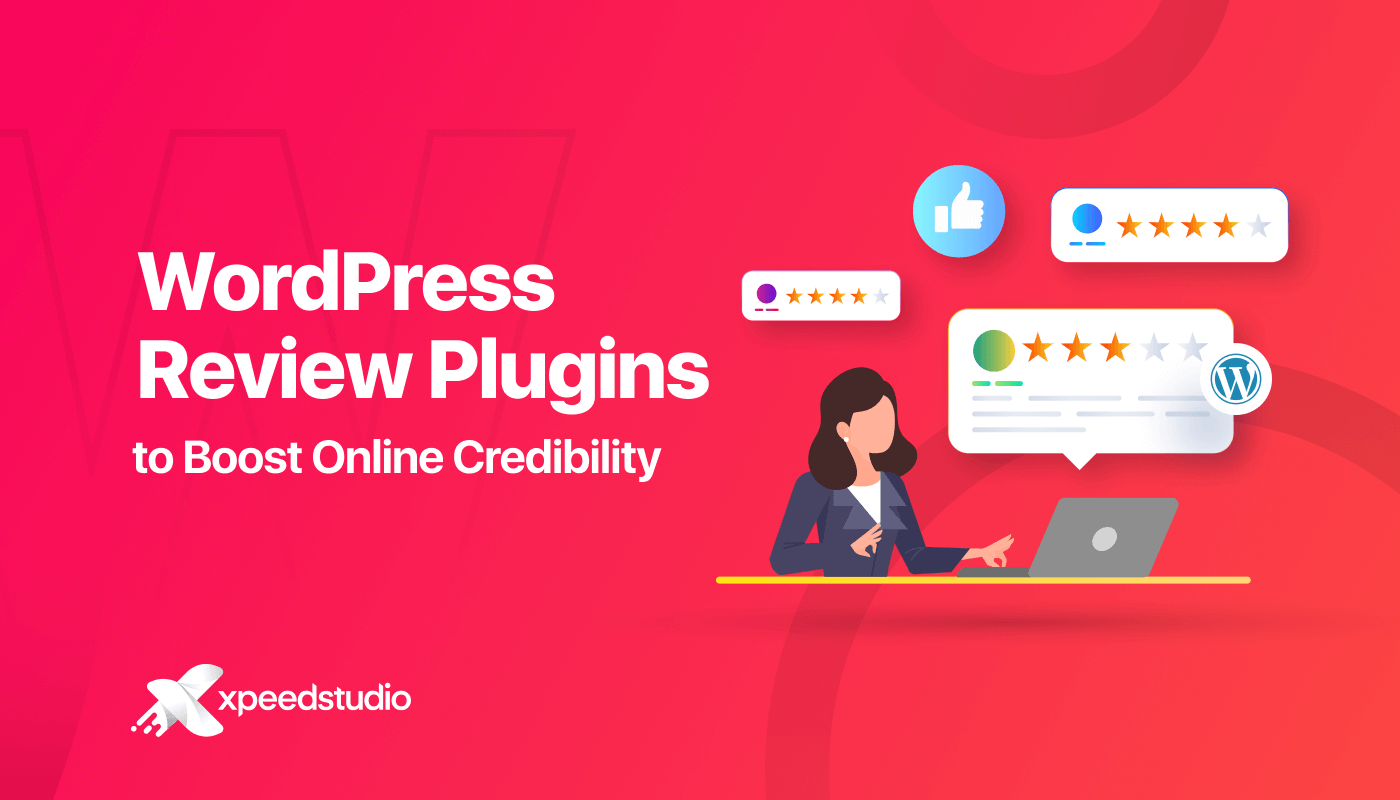 Online credibility is vital for the success of any business or website. Positive reviews from satisfied customers or visitors can impact the perception of future ones. Through the advent of WordPress review plugins, showcasing customer feedback has become possible and easy.
This blog post will explore the best WordPress review plugins to boost your reputation and credibility. We've got you covered, from understanding how they work to exploring their benefits and factors for selection!
How a WordPress Review Plugin Works
The review plugins are user-friendly tools that allow website owners to gather and display customer reviews. These plugins integrate seamlessly into your WordPress website. They offer various features to manage and showcase reviews effectively.
Typically, the process includes:
➡️ Installation and Activation
After selecting the review plugin that suits your needs, please install and activate it on your WordPress site. Most plugins are available in the WordPress repository and can be installed through the admin dashboard.
➡️ Configuring Settings
After the activation, customize the plugin settings to match your preferences. You can customize review submission forms, rating systems, and display options.
➡️ Collecting Reviews
Customers can leave reviews through the review submission form on your website. The plugin will store these reviews in the database for future use.
➡️ Moderation and Approval
To maintain the quality of reviews, you can moderate them before they appear on your website. It prevents the display of spam and inappropriate content.
➡️ Displaying Reviews
The plugin provides various options to showcase reviews. Display them on specific pages/sidebar widgets or create dedicated review pages.
Benefits of Using WordPress Review Plugin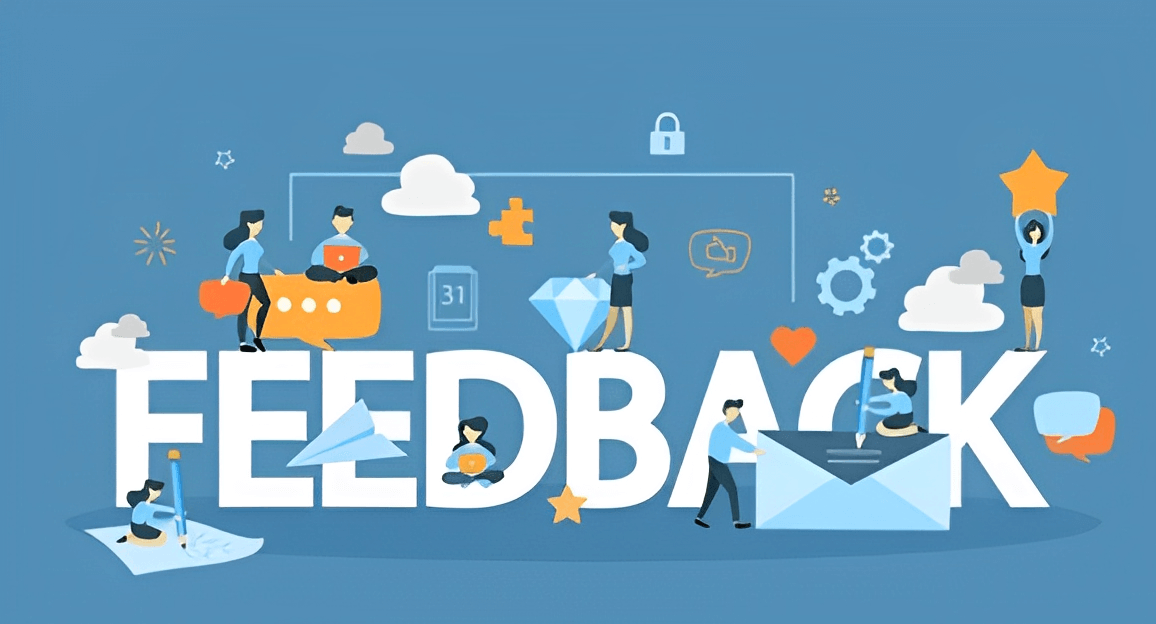 Review plugins in WordPress offer many benefits for businesses, bloggers, and e-commerce websites. Some of the key advantages include:
💡 Enhanced Credibility
Displaying authentic reviews builds trust and credibility among potential customers. Positive reviews act as social proof. It assures visitors of the quality of your products or services.
💡 Improved SEO
User-generated content, such as reviews, can improve your website's SEO. Reviews add fresh and relevant content. Active user engagement boosts the favor of websites by search engines.
💡 Customer Feedback
Reviews provide valuable insights into customer experiences. It allows you to identify strengths and areas for improvement. This feedback helps you deliver better products and services.
💡 Increased Conversions
Positive reviews can impact buying decisions. They act as persuasive testimonials that encourage visitors to convert into customers.
💡 Competitive Advantage
Displaying customer reviews sets your website apart from competitors. Potential customers are more inclined to select a business with positive reviews than those with little or no feedback.
🤔 Are you searching for a WordPress Plugin for SEO to maximize your online visibility? We have listed 10 plugins for you to choose from.
Recommended Review Plugins
There are several review plugins available in the market nowadays. Each offers its unique features to meet your specific needs. Our list includes plugins with excellent features and free accessibility.
Here are 8 top-rated plugins known for functionality and ease of use. Let's explore how they gained popularity and find your best review WordPress plugin from the list! 👇👇👇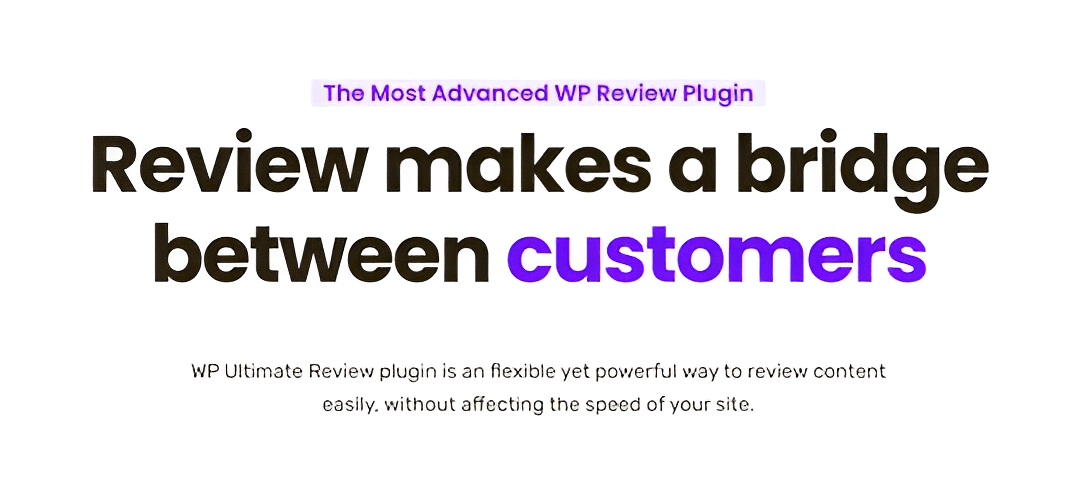 WP Ultimate Review is a powerful and feature-rich WordPress plugin that brings a robust review solution to your website while ensuring optimal site speed. With its intuitive design and seamless integration, the plugin enhances user interaction on your blog post, page, and product, fostering a vibrant community of engaged users.
Furthermore, the plugin is likely to provide customizable review options, allowing you to define specific criteria and rating systems for user submissions. This level of flexibility ensures that the review section seamlessly blends with your website's aesthetics and aligns with your unique needs and preferences.
Key Features:
👍 Over 9 input & graph styles, allowing for customization and a visually appealing presentation.
👍 Users can provide an overview or summary of their reviews along with a rating, giving potential readers a quick glance at the overall sentiment.
👍 Both users and authors have the ability to leave reviews, enabling a diverse range of perspectives and feedback.
👍 The system implements Google reCaptcha spam protection, ensuring the authenticity of the submitted reviews.
👍 Reviews can be restricted to registered users only, enhancing security and accountability in the review process.
👍 Integration with various content types, including posts, pages, products, and custom post types (CPTs), making it versatile and compatible with different website setups.
👍 The system sends notifications to both administrators and authors when new reviews are submitted, allowing for prompt responses or moderation.
👍 Users can provide reviews based on single or multiple criteria, depending on the complexity of the reviewing process.
👍 A shortcode is available to display the average rating of a product or content, providing a quick overview of its overall rating.
10,000+ active installations & compatible with your version of WordPress.
WP Ultimate Review plugin is the best choice if:
👉 You are looking for a plugin that does not affect your site speed.
👉 You are looking for a plugin that prevents spam submission, securing the authenticity of the reviews on your website.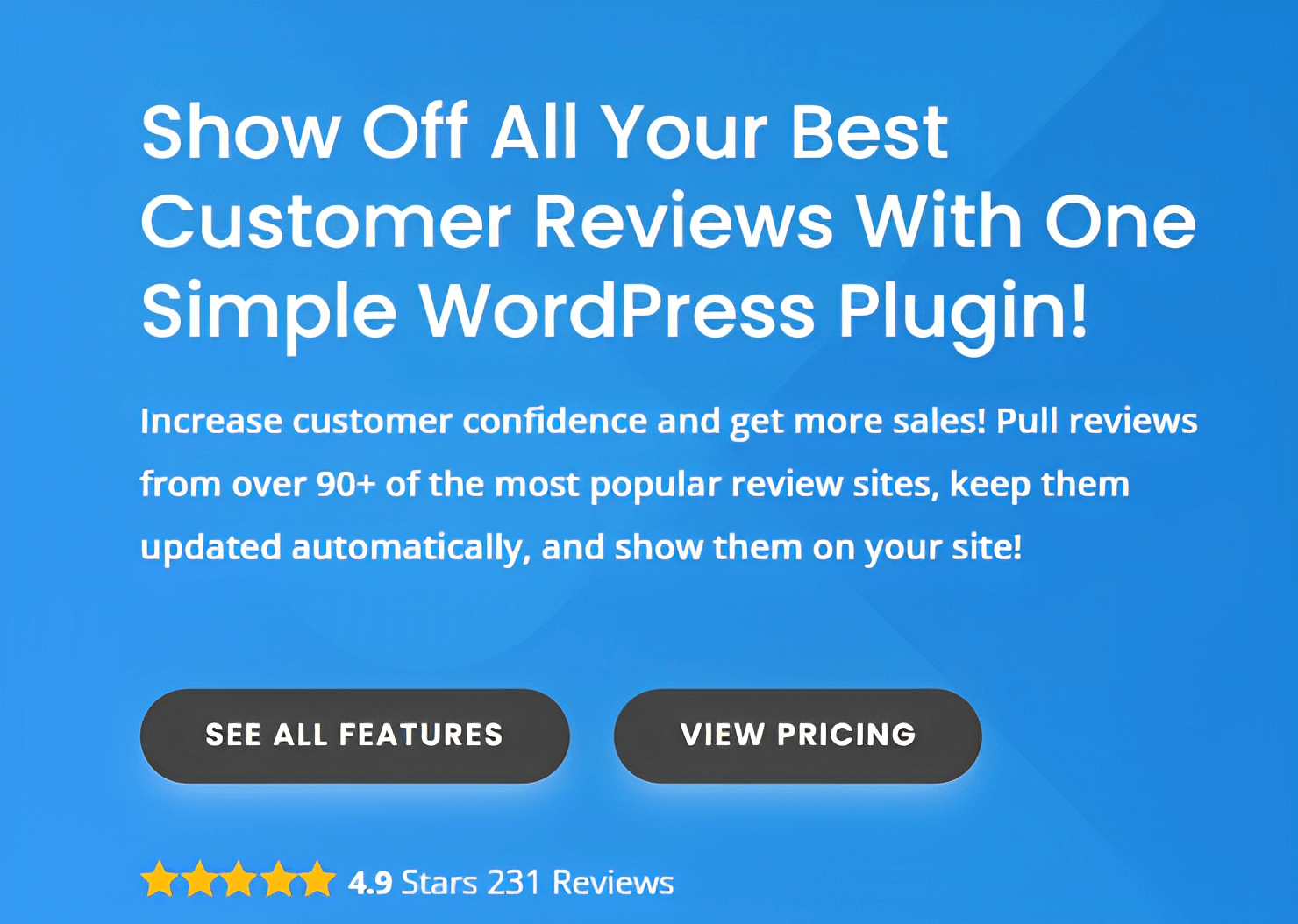 With this tool, you can showcase Facebook reviews in a slider format using shortcodes. Additionally, the plugin allows searching for positive comments about your business on Twitter and also presents comments in review format on your website. You have complete control over the number of reviews you wish to display.
Key Features:
👍 Integrates Facebook reviews into the WordPress site and presents in an engaging slider format.
👍 Use simple shortcodes to showcase reviews in various sections of the website. It optimizes the display of valuable customer feedback.
👍 Customizable review sliders ensure they blend with the website's design and branding.
10,000+ active installations and compatible with your version of WordPress.
WP Review Slider is the best choice if:
👉 You incorporate a Facebook page to gather reviews to enhance your website's credibility.
👉 You want to showcase valuable customer opinions.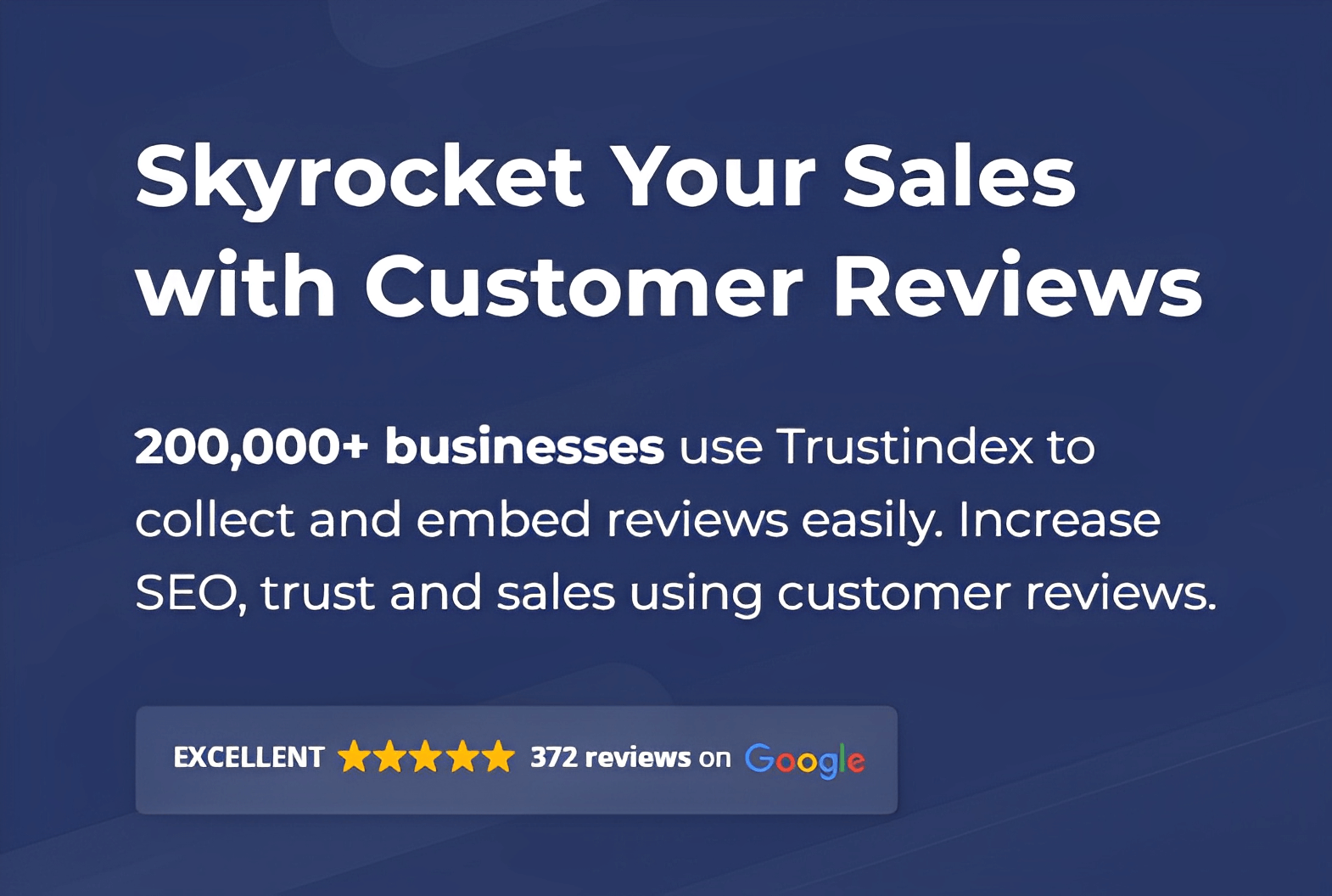 This plugin is a straightforward and efficient design to integrate Google Reviews into your website. With its widgets, you can showcase up to ten Google reviews. It gives you the flexibility to choose which ones to display.
The plugin ensures optimal performance by importing review data into your WordPress database. It gives you faster loading times. Additionally, the inclusion of shortcodes further enhances the plugin's versatility. That makes it one of the top choices for integrating Google reviews on WordPress websites.
Key Features:
👍 Display Google reviews within your WordPress site.
👍 Choose between widgets or shortcodes for review display.
👍 Showcase up to ten reviews and customize which ones to feature.
200,000+ active installations and compatible with your version of WordPress.
Widgets for Google Reviews is the best choice if:
👉 You use Google My Business to gather valuable reviews for your business. Enjoy the seamless integration of authentic customer feedback.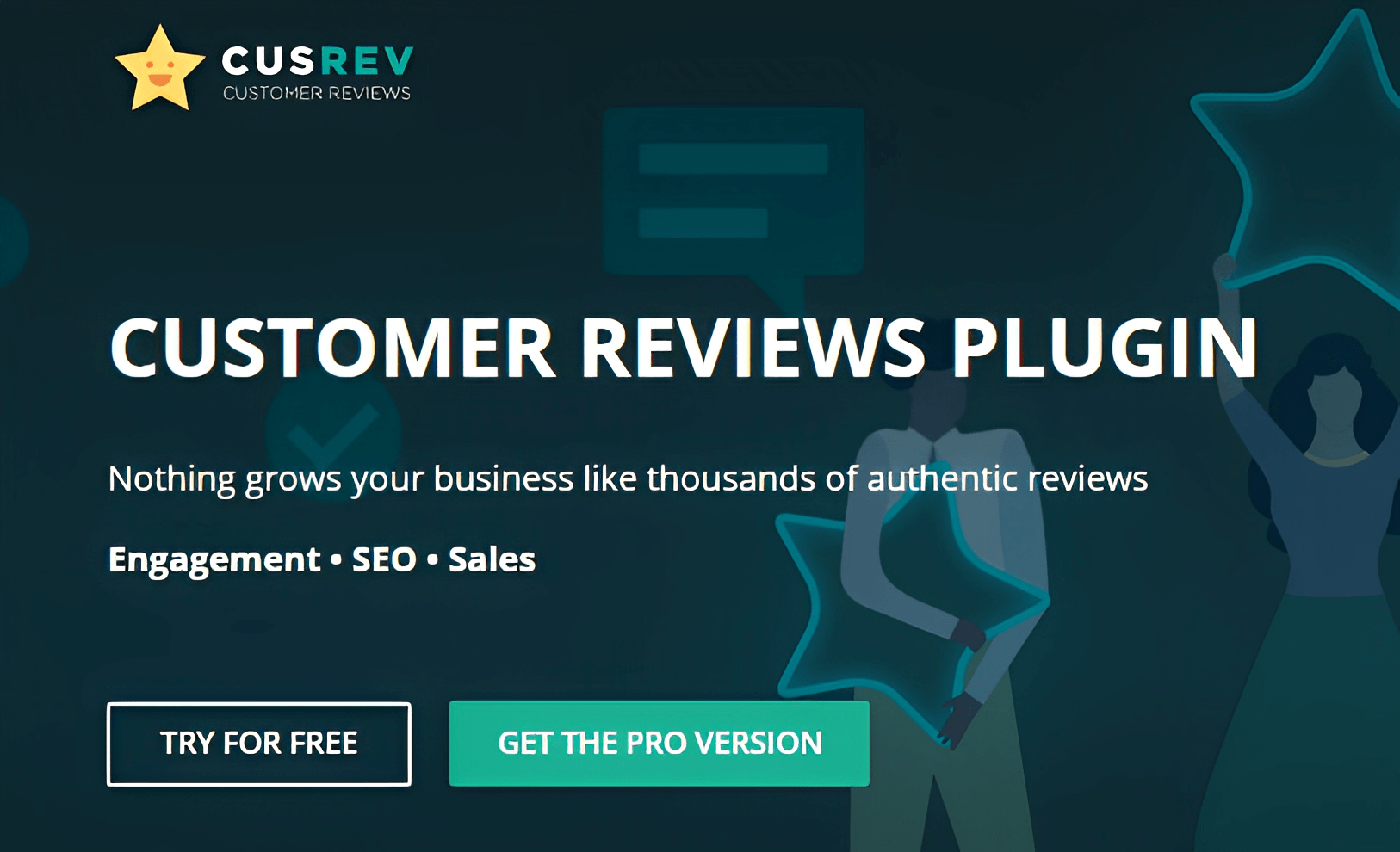 Customer Reviews for WooCommerce is an exceptional plugin to gather valuable feedback for WooCommerce store products. You can choose automatic approval or manual review before publishing submissions on your site.
This review plugin empowers customers to include images, ratings, and reviews with their feedback. To enhance customer experience, potential buyers can filter and search for specific comments. It ensures they find the precise information they seek.
Moreover, this plugin will allow you to offer discounts to your customers in exchange of reviews or feedback through its WooCommerce coupon system.
Key Features:
👍 Choose between manual or automatic review approval.
👍 Enable customers to filter and search for relevant reviews.
👍 Offer attractive discounts in exchange for valuable reviews.
👍 Freedom to set up a question-and-answer section in product pages for enhanced customer engagement.
👍 Optimized review forms for mobile devices.
60,000+ active installations.
Customer Reviews for WooCommerce is the best choice if:
👉 You should allow users to upload images alongside their reviews.
👉 You want to encourage users to inquire about your products through a simple platform.
👉 You are looking for a plugin that gives you freedom to set up a question-and-answer section.
👁️👁️👁️Discover the best WordPress Price Menu Plugin from our top picks that can drive more sales to your WooCommerce Store.

Real Testimonials is an exceptional review collection plugin empowering valuable feedback gathering. Feedback includes images, ratings, names, and the user's job or position. With a shortcode generator, you control which reviews to showcase and where they appear on your website.
Real Testimonials offers pre-built layouts and styles that align with your site's aesthetics. It has slider functionality which is customizable to your preference. It also has options to set autoplay, enable infinite loops, and more.
Key Features:
👍 Gather comprehensive reviews featuring images, ratings, and job titles.
👍 Create personalized review sections using the shortcode generator.
👍 Select from a variety of layout styles to suit your preferences.
👍 Utilize the dynamic slider feature for an engaging testimonial showcase.
40,000+ active installations.
Real Testimonials is the best choice if:
👉 You desire a review plugin that integrates a customizable slider option
👉 You want to enhance the appeal and impact of your testimonials.

Starfish Reviews generates customer review prompts for platforms like Facebook, Google, and Twitter. You can create customized funnel pages with text and links. These can be shared with your customers on social media platforms and websites. Customers can share their reviews on your specified sites after completing the field.
Key Features:
👍 Tailored funnel pages that captivate and elicit feedback from discerning customers.
👍 Various ways of posting user reviews.
👍 A panoramic review dashboard measuring customer satisfaction levels
100+ active installations.
Starfish Reviews is the best choice if:
👉 You desire to give your customers various options to pen their thoughts through reviews.
👉 You want to send your review page link through emails or texts and embed it anywhere.
👉 You wish to have control over where and how you use reviews to grow your brand and boost your profits.

Strong Testimonials allows personalized review submission forms with customizable fields. Its built-in editor provides control over displayed testimonials and their order. Strong Testimonials boasts shortcode and widget options and various pre-designed review styles.
Key Features:
👍 Display testimonials in formats like form, static grid, slideshow, and more.
👍 Choose from various templates, including default, card, elegant, minimalist, etc.
👍 Add customer details like full name, company website, video, star ratings, etc.
👍 Assign testimonials to specific post types.
👍 Collect testimonials from customers with customized forms.
100,000+ active installations and compatible with your version of WordPress.
Strong Testimonials is the best choice if:
👉 You seek a plugin with contemporary styles for presenting user reviews.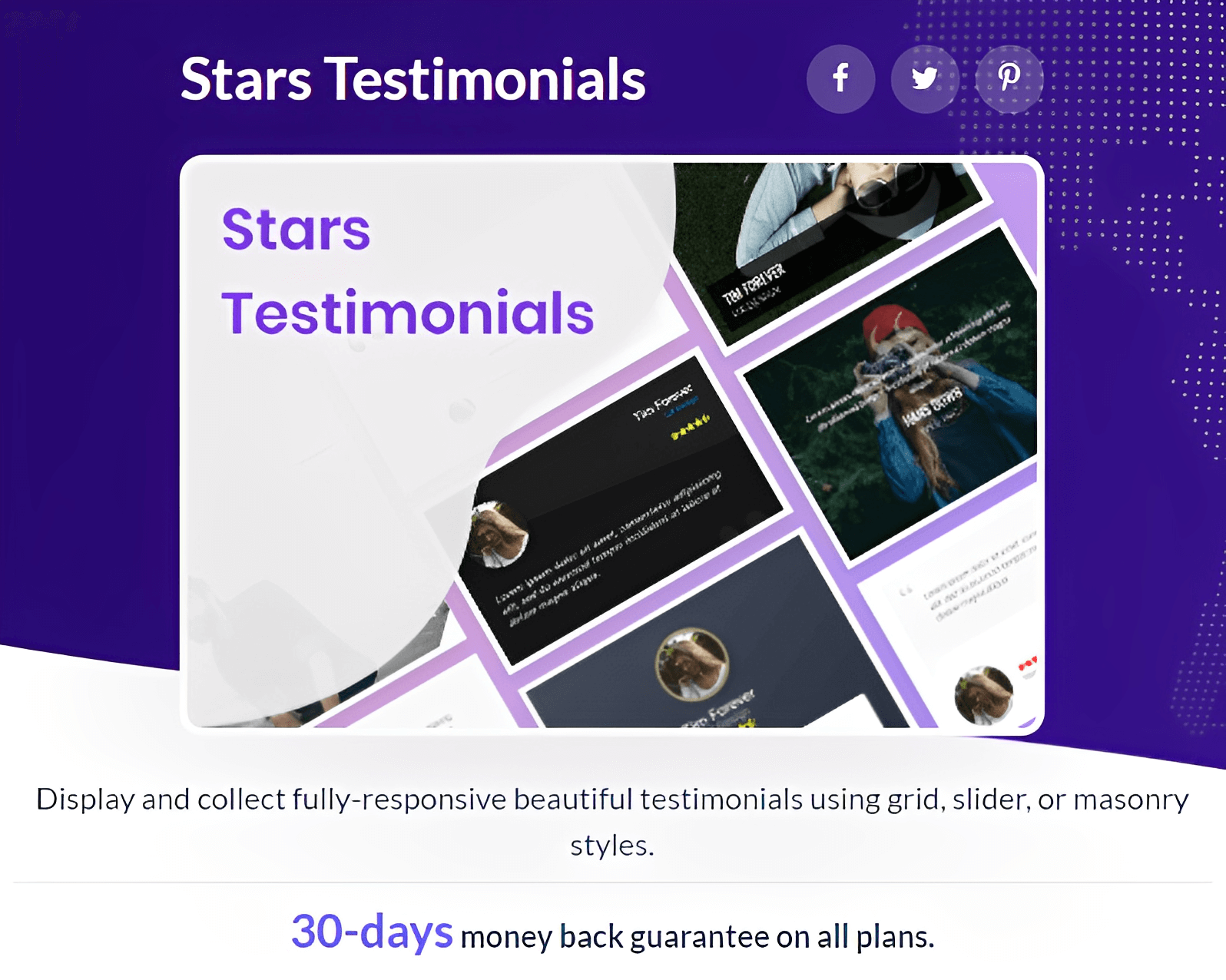 Stars Testimonials, an exceptional review plugin that seamlessly integrates with popular page builders like Divi. This powerful tool empowers you to craft compelling testimonials and reviews complete with star ratings and optional user pictures. You can effortlessly position individual reviews anywhere on your website, utilizing shortcodes or your preferred page builder.
Key Features:
👍 Craft engaging reviews with star ratings and user pictures effortlessly.
👍 Seamlessly position testimonials using shortcodes or your favorite page builders.
👍 Create personalized widgets with multiple testimonials, offering the choice of slider or grid format.
👍 Customizable testimonial widgets to match your website's unique vibe.
2,000+ active installations and compatible with your version of WordPress.
Stars Testimonials is your best option if:
👉 You desire a review plugin that seamlessly integrates with page builders like Divi.
Pricing Plan Comparison
Before deciding on a review plugin, thoroughly test the options listed here. The good news is that each plugin on our list is considered a free review plugin for WordPress, enabling you to try them out before committing.
| Plugin | Free | Pro (Starting Price) |
| --- | --- | --- |
| WP Ultimate Review | 🗸 | $26/year |
| WP Review Slider | 🗸 | $29/year |
| Widgets for Google Reviews | 🗸 | $65/year |
| Customer Reviews for WooCommerce | 🗸 | $49/year |
| Real Testimonials | 🗸 | $49/year |
| Starfish Reviews | 🗸 | $444/year |
| Strong Testimonials  | 🗸 | $28.51/year |
| Stars Testimonials | 🗸 | $25/year |
Factors to Consider When Choosing a WordPress Review Plugin
Choosing the best WordPress review plugin helps in seamless and effective review management.
Consider the following factors before making choosing your WordPress review plugin:
✔️ Features
Assess the features the plugin offers and ensure they align with your requirements. Look for customizable review forms, rating systems, moderation options, and review display formats.
Some standard features of the best WordPress review plugins include:
👍 Star Ratings
Users can rate items using star ratings, providing visual feedback on the quality of products or content.
👍 Comment Reviews
Users can leave written reviews or comments sharing their experiences and opinions about the item.
👍 Custom Review Criteria
Some plugins allow website owners to set custom review criteria, such as design, performance, usability, etc.
👍 Review Widgets
You can add review widgets to sidebars or other website sections to display recent or top-rated reviews.
👍 Moderation
Website owners can moderate and approve reviews before they appear on the website. It can prevent spam or inappropriate content.
👍 Review Sorting and Filtering
Users can sort and filter reviews based on different criteria. It includes the most recent, highest rating, etc.
👍 Review Schema
Some plugins support schema markup. It helps search engines understand and display review data.
✔️ Ease of Use
Opt for a user-friendly plugin that is easy to set up and configure. A simple interface will save you time and reduce the learning curve.
✔️ Compatibility
Ensure the plugin's compatibility with your WordPress version and other plugins. Incompatibilities could lead to performance issues.
✔️ Support and Updates
Choose a plugin that receives regular updates and offers prompt customer support. Regular updates ensure compatibility with the latest WordPress versions and security patches.
🥇 Don't miss the chance to know the Fancy Animated Text Plugins for your WordPress Site.🥇
Final Thought on WordPress Review Plugins
Implementing a WordPress review plugin is a strategic move that can boost your online credibility. You can gain a favorable impression and build trust with your audience by showcasing positive customer feedback.
Remember to choose a plugin that:

aligns with your specific needs
offers user-friendly features
and enhances user experience
Consider our WP Ultimate Review plugin, and you'll know why it is worth trying!