Unveiling the Best: Free Ai Copywriters Worth Trying in 2023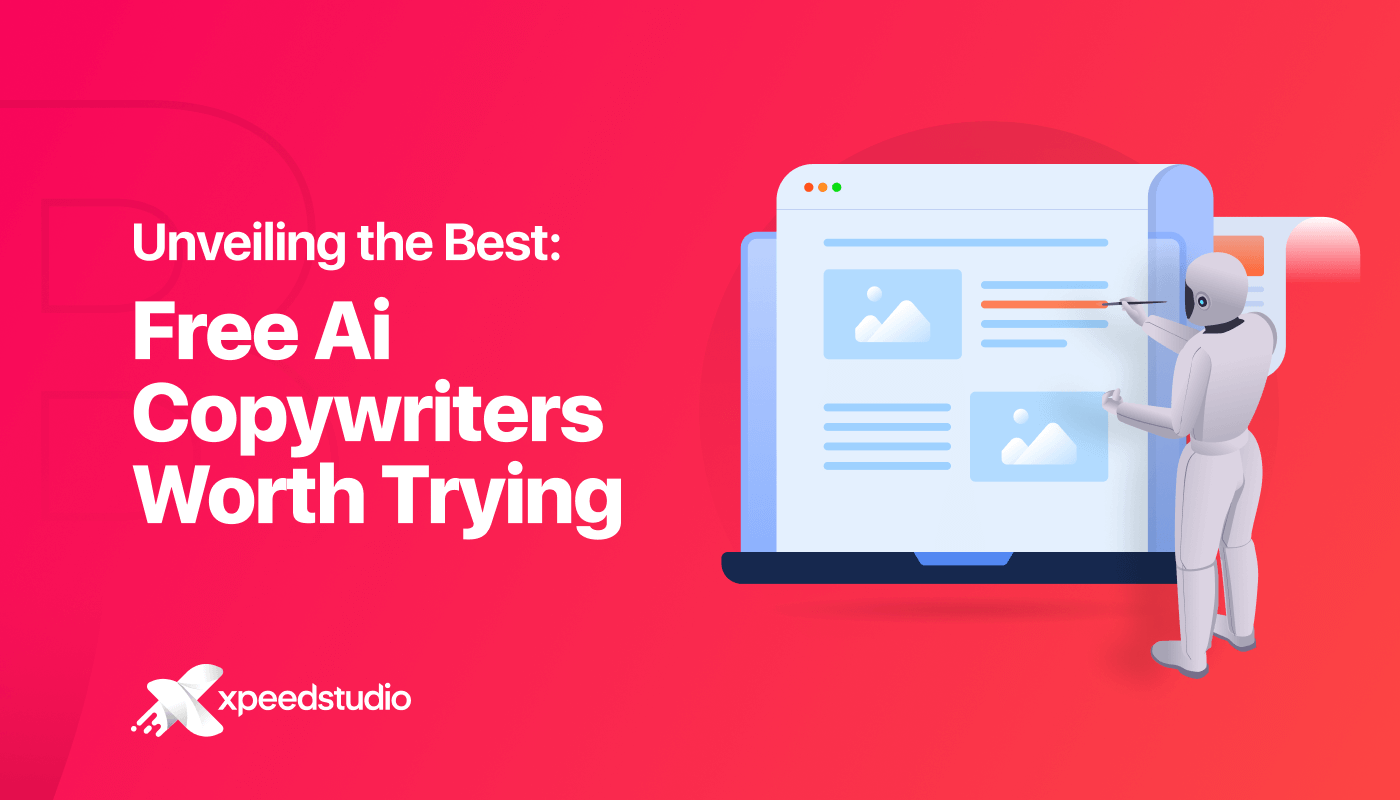 As a copywriter, the pressure to deliver captivating and engaging copy is constant. But writer's block, needing more inspiration, and/or time constraints can turn the writing process into a more daunting uphill battle. Fear not; a range of the best Ai copywriter free of charge, have won this battle!
Yet, like any tool, the true power of Ai copywriters lies not in its own capabilities but in the hands of users. Mastering these tools requires understanding their functionalities and employing Ai and human intelligence.
In this article, we will share our top picks for the best free Ai copywriters in 2023, a must-try. When we say free, we are talking about their free version. We are confident that you can find your gem on the list.
Understanding Ai Copywriter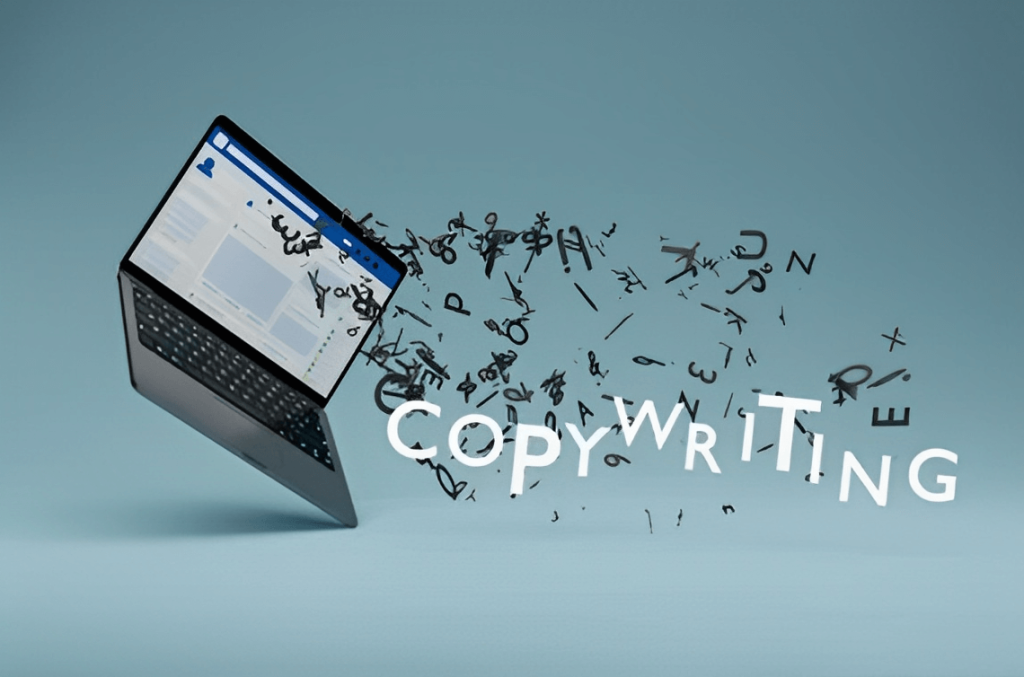 With so many free Ai copywriting software programs on the market, selecting the perfect one can also be confusing! No worries; we will present our top pick of the best free copywriting Ai tools along with their features so you can determine which is the best for you. Before that, let us define what Ai copywriting is, how it works, and what it does.
What is Ai Copywriting?
Ai copywriting uses artificial intelligence technologies, such as natural language processing and machine learning algorithms to create written content. It enables users to generate engaging and persuasive copy without extensive manual effort.
Ai copywriters offer a wide range of capabilities, including the creation of;
✅ Blog posts,
✅ Product descriptions,
✅ Social media captions.
They can generate catchy headlines and compelling calls to action. They even provide suggestions for improving existing content. They can automate repetitive tasks, which saves time and effort while maintaining quality.
How Does an Ai Copywriter Work?
An Ai copywriting tool analyzes vast amounts of data and learns from existing content. Its result generates original text based on the provided prompts or parameters. With its algorithms, the Ai-based copywriter can mimic human writing styles and adapt to different tones and formats.
Five Popular Free Ai Copywriting Tools
It's crucial to test the features and limitations of Ai copywriting tools to meet the unique needs of each writing project. Here, we have identified the 5 best Ai copywriter free of charge in no particular order.
Though these tools can be used for free, they have limitations when serving their purpose. In this section, we will walk you through the features that are offered for free.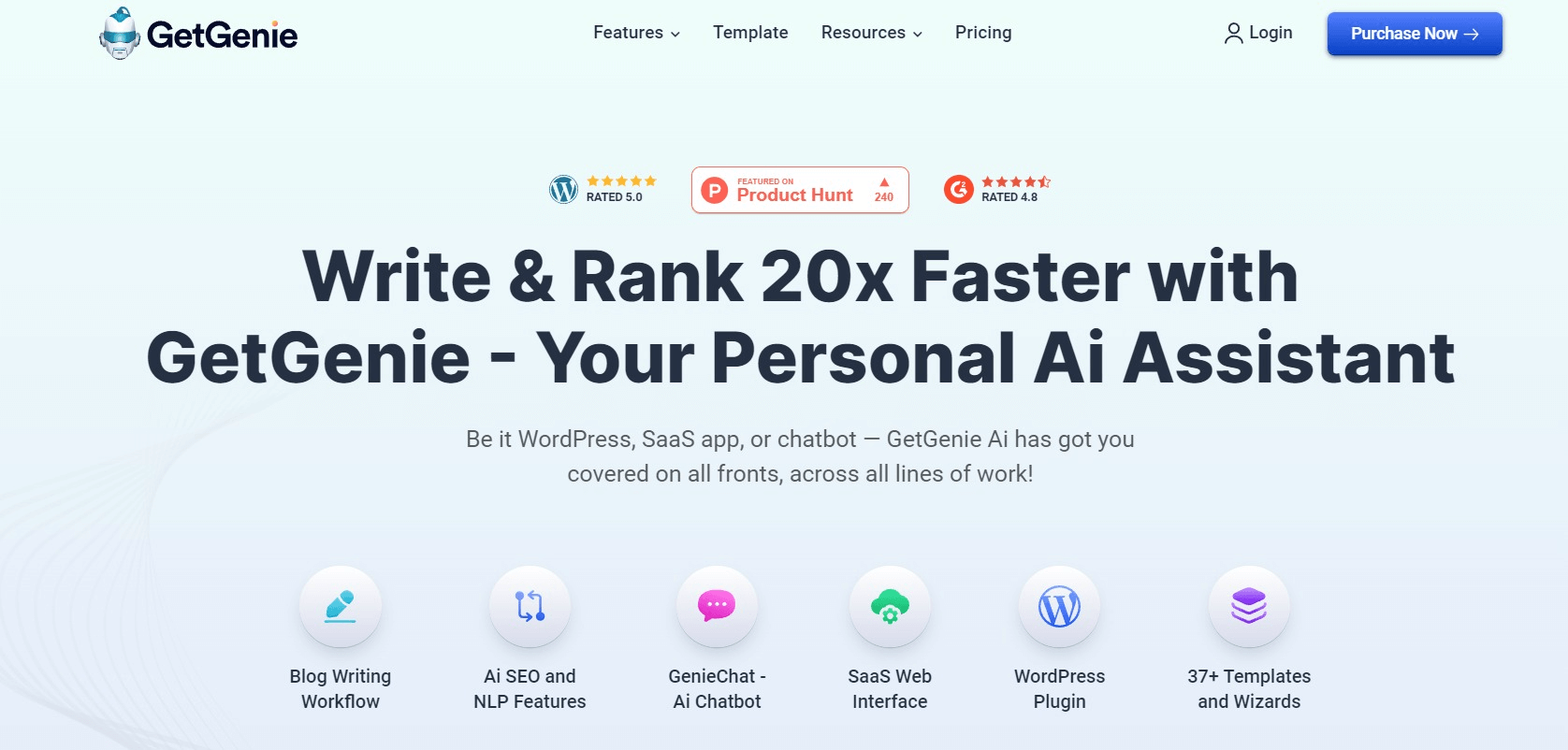 GetGenie is an advanced Ai content writer ready to assist you with all your copywriting needs. GetGenie is one of the best free copywriting Ai tools that empowers you with comprehensive content analysis capabilities for content generation. This copywriting Ai assistant can accommodate as many users as you want to work with and collaborate on your website.
Key Features of the Free Plan:
🔥 Available for both WordPress and SaaS
GetGenie is integrated with WordPress and SaaS. By installing GetGenie as your WordPress plugin, you can leverage its features as a writing assistant. Additionally, GetGenie is also available as a SaaS solution. With the SaaS option, you can access GetGenie's AI-powered writing capabilities through a web-based interface, eliminating the need for specific platform integrations.
🔥 37+ Ai templates and workflows
You can access more than 37+ readily available templates powered by the Ai magic of GetGenie to make your copywriting so easy.
🔥 Blog writing wizard
This feature allows you to write an entire blog post and make it SEO-optimized within minutes.
🔥 Built-in SEO features
GetGenie has a built-in SEO features including:
💡Keyword Research – GetGenie can provide you the Search Volume, Competition, and CPC of any keyword. You will also find search trends and google trends graphs. Along with these, you will also get to know the related keywords with CPC and search volume.
💡Head-to-Head Comparison – This AI tool helps you to do an H2H comparison with the targeted SERP competitors. This is a technique to compare top contents based on a list of keywords powered by NLP.
💡SERP Visualizer – GetGenie offers a SERP visualizer that enables you to visualize detailed data of your competitors. This feature empowers you to stay one step ahead in the competitive landscape.
💡Competitor Analysis – With this feature, you can find the list of top-ranked blogs/ webpages for a specific keyword. The information you will find with the competitor feature include Rank, Words, Heading (number of heading), and Images (number of images).
🔥 GenieChat – Ai Chatbot
GetGene's Ai chatbot allows you to chat with the experts to answer all your queries. This Ai Chatbot has over 22 human-like personalities.
🔥 One-click blog generator
With this feature, you can instantly generate blog posts in seconds and make them SERP-ready.
🔥 WooCommerce product wizard
This feature offers you conversion-friendly and SEO-optimized content for your WooCommerce store's product pages. This feature helps you generate the product title, long and short descriptions.
🔥 Elementor, Bricks, and Oxygen Builder Support
This feature allows you to generate your website content and landing page copies with ease and in considerably less time, even inside the Elementor editor.
🔥 Genie Mode
GetGenie Mode is quick and creative to generate your content without difficulties. The only goal of its creation by AI experts was to help content creators produce SEO-optimized articles. By simply entering a command in the "Context" box, you can have your AI generated content.
🔥 Premium Support
GetGenie has an amazing support team that is always ready to resolve all your queries and issues, ensuring a smooth GetGenie's journey.
Limitation of the Free Plan:
😟 GetGenie only allows 1500 Ai-written words per month for free.
😟 Only provides 10 credits per month for SEO keyword analysis and 5 credits for competitor SERP analysis. These free credits might not be sufficient if you are doing the processes on a regular basis.
😟 It is limited to 1 website per free subscription.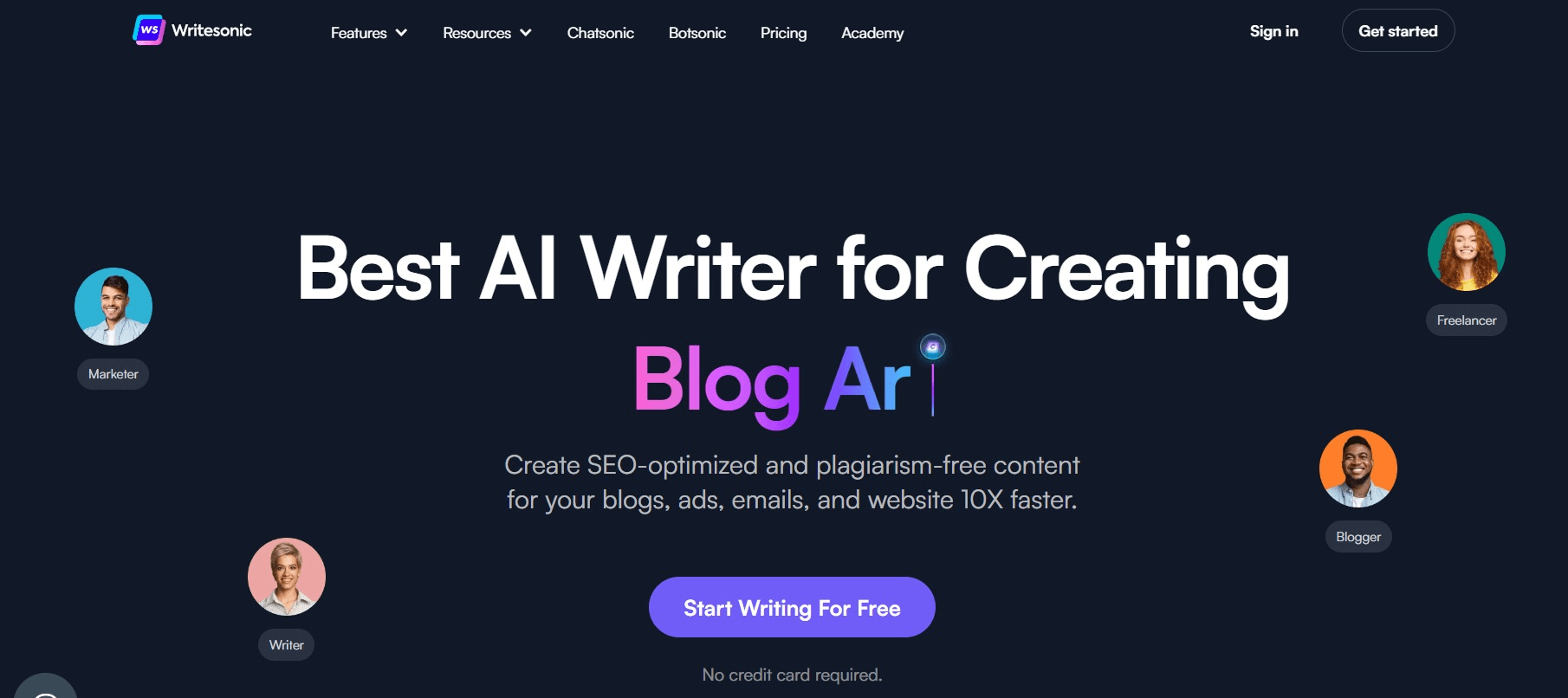 Writesonic Ai is an innovative copywriting software that employs Ai to generate content. It can generate over 100 content types. From captivating blog introductions to comprehensive outlines, complete articles, and an array of short-form content, Writesonic covers it all. Additionally, every month, this AI tool adds 2,500 free words to the free plan, so you'll have additional words to utilize.
Key Features of the Free Plan:
🔥 Ai Article and Blog Writer
With Writesonic, you can create long-form content. It allows you to make changes and tailor your post to your preferences. Be it in a factual blog, within your brand voice, or if you are emulating a competitor's copy without plagiarizing it.
🔥 100+ Ai Templates
You can access more than 100+ readily-available templates to do your copywriting with convenience.
🔥 25+ Languages
Writesonic Ai supports content generation, including Chatsonic, Botsonic, and landing page generation, in more than 25 languages, which breaks the language barrier.
🔥 Chatsonic & Botsonic
Chatsonic and Botsonic are both ChatGPT-driven Ai chatbots that transform customer experience and engagement to another level. Chatsonic is designed to be used specifically on the Opera browser, providing quick access to related information, generating AI images, creating content, summarizing web pages, and rephrasing or expanding text.
On the other hand, Botsonic is a more general chatbot builder that allows users to create custom chatbots using their own data and integrate them into their websites.
🔥 Landing Page Generator
This Ai writing assistant helps generate a landing page that drives more traffic and a higher conversion rate by just entering the product/service name and description.
🔥 Zapier Integration
The integration with Zapier allows Writesonic to connect to over 5000+ apps to automate work between Writesonic and other apps without having to code.
🔥 Sonic Editor
This feature is a Google Docs-like editor. It allows you to expand a short piece of content or generate a complete piece of content from your title and a short introduction or opening by utilizing the tool's "Write with Ai" functionality.
🔥 1-Click WordPress Export
This feature allows you to easily export WordPress website content with just one click. It is a convenient tool for copywriting purposes, as it simplifies the process of transferring or backing up WordPress content.
Limitation of the Free Plan:
😟 Allows only 1 user per account.
😟 Writesonic limits only to one-time 10,000 words without any time limit.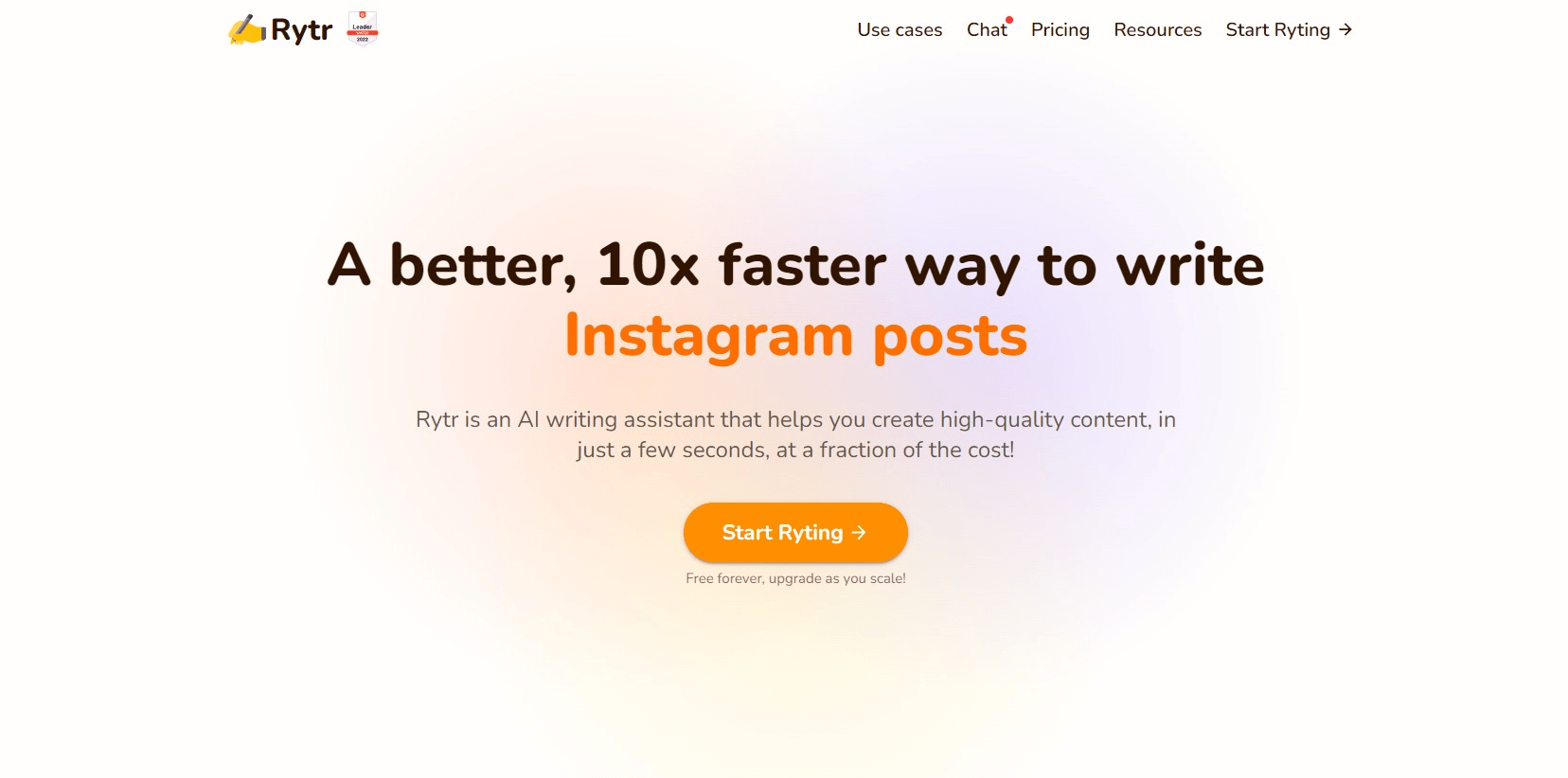 Rytr is a tool designed to generate copies with minimal editing, regardless of your skill level. Its intuitive interface and straightforward prompts cater to beginners. Its advanced algorithms and natural language processing guarantee refined and professional output.
Features of the Free Plan:
🔥 Versatile Content Generation Options
Rytr allows users to request content creation on a wide range of topics. Whether you need outlines or blog posts, Rytr can generate the text you need. It caters to various forms of written content.
🔥 Built-in Plagiarism Checker
Rytr has a built-in plagiarism checker powered by Copyscape that tests the uniqueness of the generated content.
🔥 Multilingual Support
Unlike many Ai writing tools limited to English, Rytr breaks barriers by supporting many languages. With over 30 languages available, including French, German, and more, you can broaden your writing horizons. You can generate content in diverse linguistic contexts.
🔥 Access 40+ use-cases
This Ai copywriting tool offers over 40 use cases, including Copywriting Frameworks such as AiDA and PAS. This wide range of use-case access is one of the remarkable features of this tool.
🔥 Access 20+ tones
Another remarkable feature of Rytr is its access to over 20 tones to choose from to add some personality to your content.
🔥 Access to the premium community
Rytr has an amazing support team that is always ready to resolve all your queries and issues.
Limitation of the Free Plan:
😟 Rytr's free version is only limited to 10K characters (1800 words approx.) per month, which cannot meet the purpose if you are regularly doing copywriting.
😟 This tool can only generate up to 5 images per month. This might not be ideal if you are looking for a free copywriting assistant that generates more images than the allowed number.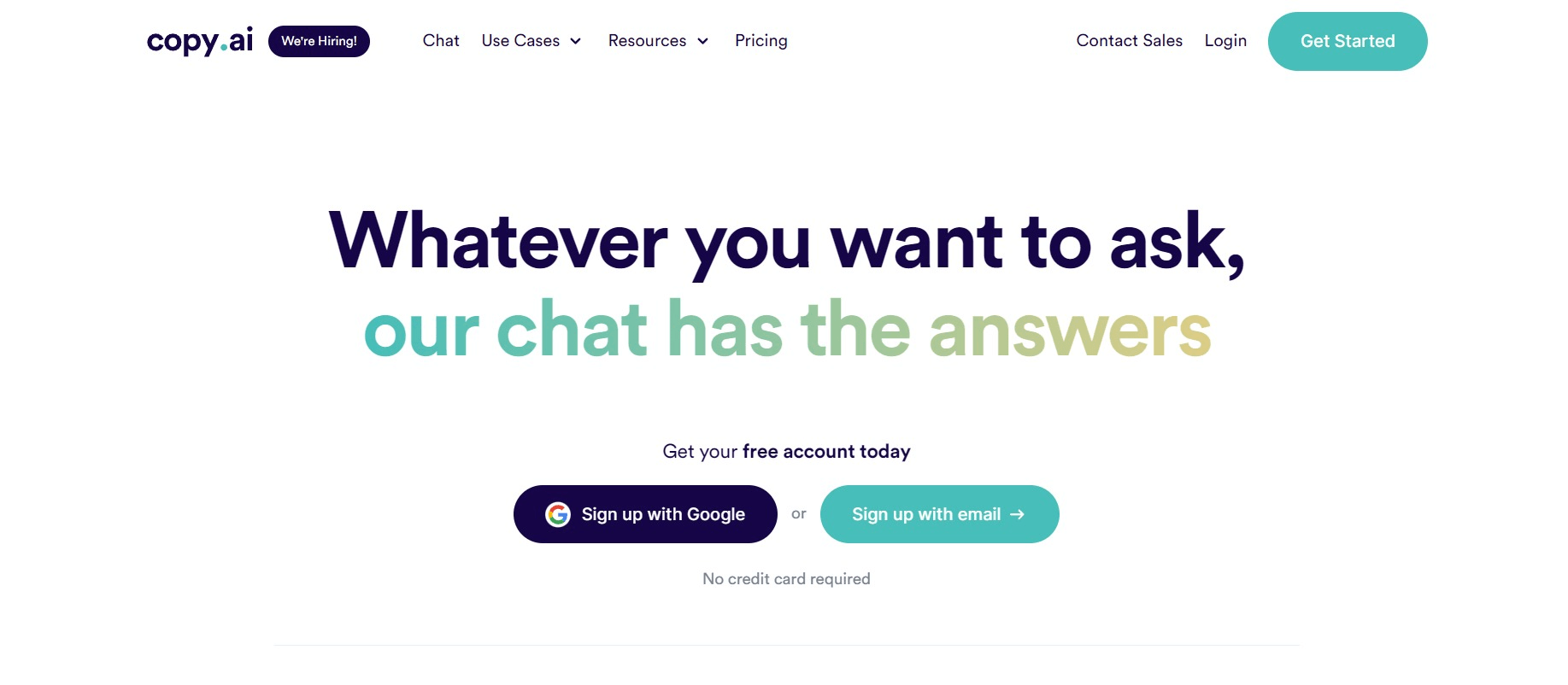 Copy.ai is a powerful tool designed to generate content based on your ideas and preferences. Copy.ai generates an outline, headlines, sections, and more by inputting your desired content concepts. This automatic process eliminates the need for significant time or effort on your part. Copy.ai requires enough information from you to start the content creation process.
Key Features of the Free Plan:
🔥 Chat by Copy.ai
With Copy.ai's Chat feature, you can do the following:
👉 Summarize LinkedIn profiles into bullet points, allowing you to learn more about your target audience.
👉 Find common interests and have a better shot at engagement.
👉 Write a detailed content brief for a single keyword.
👉 Summarize YouTube videos into bullet points.
👉 Personalized cold emails from LinkedIn URLs
🔥 90+ copywriting tools and templates
One of the standout features of Copy.ai is its extensive collection of templates. It also provides templates for digital ad copy, social media content, Facebook headlines, and more.
🔥 Unlimited Projects
This copywriting assistant enables you to work on as many projects as you want, with customization options.
🔥 Blog Wizard tool
This feature ensures optimized content generation. It enables you to command the tool to expand and regenerate content. It saves you 80% of your time creating content by just entering the title of your blog and keywords and setting up the tone and goal of your blog.
Limitation of the Free Plan:
😟 Copy.ai limits you to only 2000 words per month, which might not be sufficient if you are doing copywriting on a regular basis.
😟 The tool only supports 1 language (English).
😟 Does not permit access to the newest features.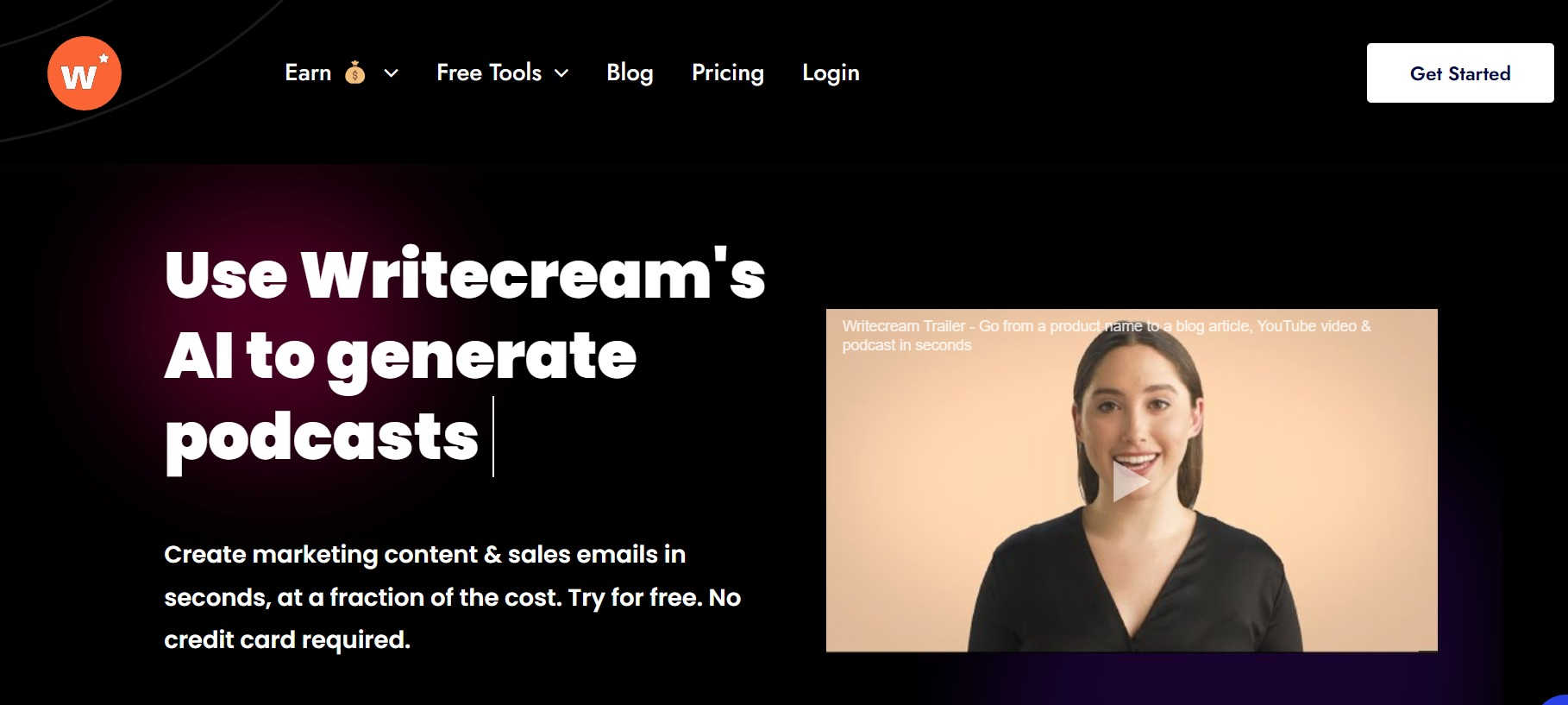 Writecream sets itself apart from other Ai writers in the list by offering support for mobile devices. With Writecream, you have the convenience of downloading their app on both iOS and Android platforms. What's more, they provide a generous free-forever plan, allowing you to generate Ai text at no cost.
Key Features of the Free Plan:
🔥 Website headlines
Writecream allows you to create compelling headlines and marketing copy for your website or ads.
🔥 Brand/Product descriptions
The tool can generate an attractive product description by just typing your product name and a brief description.
🔥 eCommerce Product descriptions
You can easily create descriptions for your eCommerce products using Ai.
🔥 Compelling Bullet Points
Enables you to generate bullet points to promote your product by inserting your product or brand with a brief description.
🔥 Headline Generation
This tool generates a headline that summarizes your content. Paste your copy into the text box or type in a URL, and you can have your headline within a few minutes.
🔥 Plagiarism Checker
The tool ensures your content is free from plagiarism as it has a built-in plagiarism checker.
🔥 Command Mode
You can command Writesonic to write or compose what you desire.
Limitations of the Free Plan:
😟 Limited only to 20 credits or less than 40,000 characters (10,000 words approx.). Here is the breakdown:
20 icebreakers
2 long articles (5,000 words each)
4 short articles (1,000 words each)
4 podcasts
4 YouTube voice-overs
😟 Allows 2,000 characters for duplicate checking at a time.
😟 Doesn't show what portion of the article is plagiarized.
How to Choose the Right Ai Tool for Copywriting
Selecting the perfect Ai copywriting tool depends on your business's needs. Consider the following factors as you check your options for choosing the best Ai copywriter:
✔️ SEO
Does the software test content readability and provide suggested secondary keywords? Look for an Ai copywriter that incorporates SEO best practices.
✔️ Ease of Use
Opt for a user-friendly option with a simple interface to maximize time-saving benefits.
✔️ Plagiarism Detection
Verify if the tool includes a reliable plagiarism checker due to Ai copywriting limitations.
✔️ Integration
Check if the tool integrates with third-party apps such as Google Docs, WordPress, and Microsoft Word for a seamless workflow.
✔️ Export Options
Confirm that you can export the generated text to various formats, like documents and spreadsheets; or better, if it's available on your CMS/web publishing platform.
What are the Ai Copywriter's Best Practices?
✔️ Define clear objectives.
Before utilizing an Ai copywriting tool, define your objectives and desired outcomes. You need to define the intention of your copy. Either driving conversions, increasing engagement, or educating your audience. With a clear direction, you can better tailor the Ai-generated content to meet your goals.
✔️ Provide clear instructions.
Provide detailed instructions to guide the Ai's output. Specify the tone, style, and desired length of the copy. If there are specific keywords or key phrases to include, communicate them.
✔️ Review and edit generated content.
Review and edit the generated copy before publishing or sharing it. Ensure the content is accurate, error-free, and aligned with your brand's guidelines and values. Human intervention is essential for adding a personal touch and injecting creativity into the copy.
✔️ Fact-check the result.
It is crucial to exercise caution to prevent the dissemination of inaccurate information. False information can have severe repercussions for your reputation and credibility.
✔️ Maintain consistency.
Establish consistent tone, style, and messaging guidelines for all content, including Ai-generated copy. This ensures that all your content, whether created by humans or Ai, reflects a cohesive and recognizable brand image.
✔️ Use Ai as a tool, not a replacement.
Use Ai as a resource to generate ideas, inspire, and automate specific tasks rather than to write for you. Combine Ai strengths with your abilities to create engaging, authentic content for your audience.
✔️ Continuously train and adapt
Update and refine the training data to align with your evolving brand voice and audience preferences. Track Ai tool output, analyze performance, and adjust as needed to enhance the quality and relevance of generated content.
✔️️ Stay informed about Ai advancements.
Stay updated on Ai copywriting advancements to leverage new features for better content creation. Learn and explore to stay at the forefront of Ai-driven content creation.
Final Thoughts on Ai Copywriter
Indeed, the 5 best Ai copywriters free of charge have exceptional features that can meet your requirements. Mastering these tools requires understanding their functionalities and combining Ai and human intelligence.
Stop worrying that these free Ai copywriting assistants will replace you in the coming years. Human copywriters still have the upper hand and will always be needed to fully utilize the purpose of these tools.
We hope that this article helps you select the best free Ai copywriting assistant. So, explore the possibilities, test the tools, and find your gem among the best free Ai copywriting tools available and worth trying in 2023.