8 Best‌ ‌Team‌ ‌Section‌ ‌Plugins ‌For‌ ‌WordPress‌ In 2023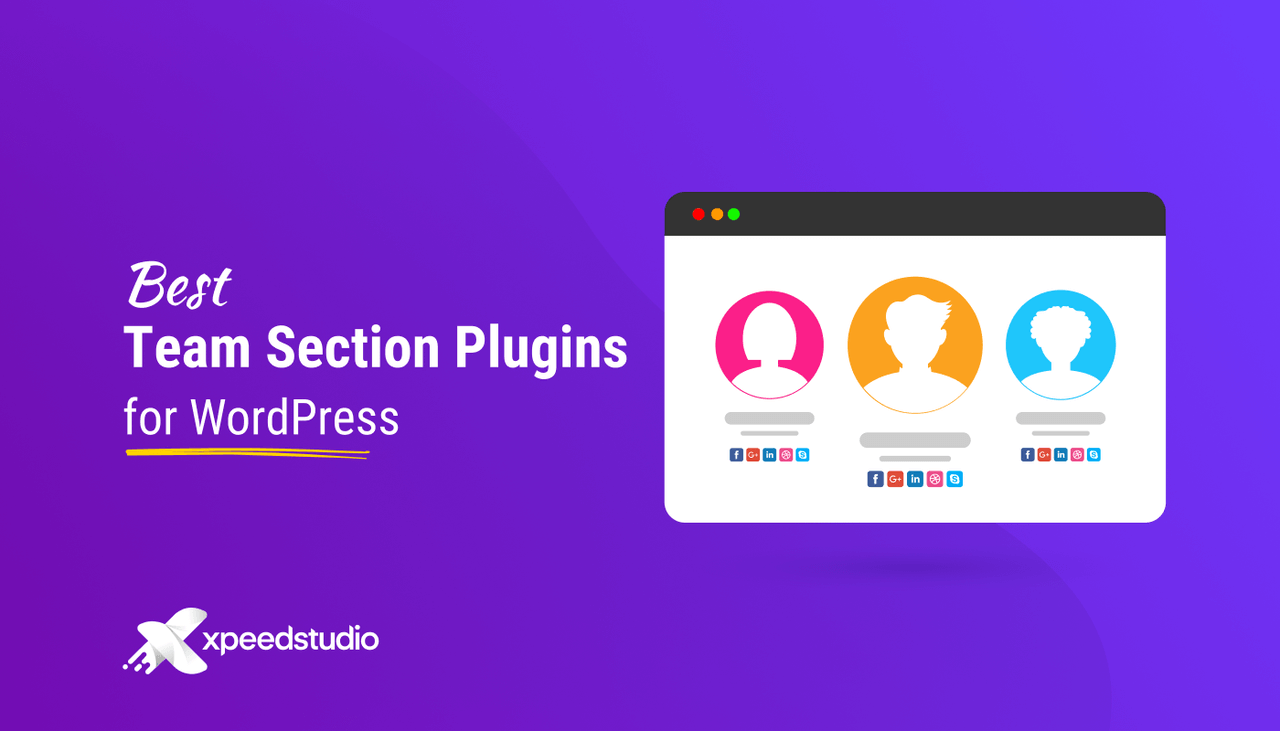 Are you looking for the Best WordPress Team Section Plugins?
A team member section elevates your brand's credibility by showing clients the team that works on the product/service they are going to purchase. A company can not run on its own and a faceless company is not the ideal way to go if you are looking to gain customers' trust.
Showing the team section in the WordPress website has never been easier, thanks to all the wonderful team member plugins available for WordPress. But which one should you pick?
To make your life easy, I have listed the 8 best team‌ ‌member plugins ‌for‌ ‌WordPress‌ ‌ with their key features and prices. Keep reading to find out the details…
Best WordPress team member plugins
In this list, you will find both free and premium WordPress team member plugins. Let's go through one by one so you get an idea about each of the mentioned plugins and choose the one that caters to your need:
1.ElementsKit (Team Member Widget)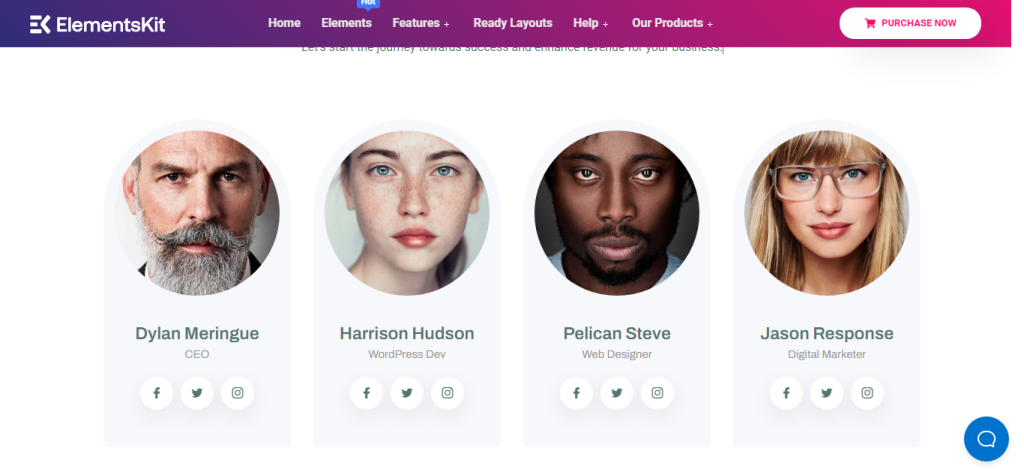 If you are looking for a plugin that lets you create a modern-looking team member section without any hassle then ElementsKit is your team member plugin. The Team Member Widget By ElementsKit provides all the settings you may require to build a personalized team member section in your WordPress website. You can create an unlimited team using this plugin.
Since ElementsKit is an addon for Elementor, you can build your team section just by drag and drop using this plugin. Besides, an unlimited team can easily make your team section responsive on multiple devices like tab, mobile, etc using this plugin. You can also add different types of animation such as fading, zooming, etc to your WordPress team members section to make it look more appealing.
In case you are looking for a shorter way than drag and drop to build your team section, this Elementor team member plugin can do that too. This plugin comes with 24+ premade team sections which you can just use by importing within a few clicks. The modal popup view of ElementsKit team section where one can click and see the team section in a popup.
Key features of team member widget (ElementsKit):
Compatible with Elementor page builder
Extremely easy to use drag and drop WordPress team member plugin
You can add member image, member name, member Position, show description, etc.
Options to add multiple social profiles, and options to edit the color, background color, etc of the labels and links.
You can use social media icons from the Icon library or upload custom SVG images.
Options to display Team sections on the modal popup on click so one can see single team member info in a more visually attractive way.
Image style settings include image size, box-shadow, border size, background type, and many more.
Color and Margin Bottom position for Name, positions, and description.
Social icon style options include a display, decoration, border, icon size, etc.
You also set different style settings for the name, position, description of the popup team section.
Custom style option for the close icon.
Provides a Mask option as part of advanced settings. You get six types of shape options for the mask which you can apply to the profile image.
24×7 support team
Price:
The team widget of ElementsKit comes with the free version. You can also opt for the pro version of all the advanced features of ElementsKit. The pro version costs around $31 for a single website.
2.TeamPress – Team Showcase plugin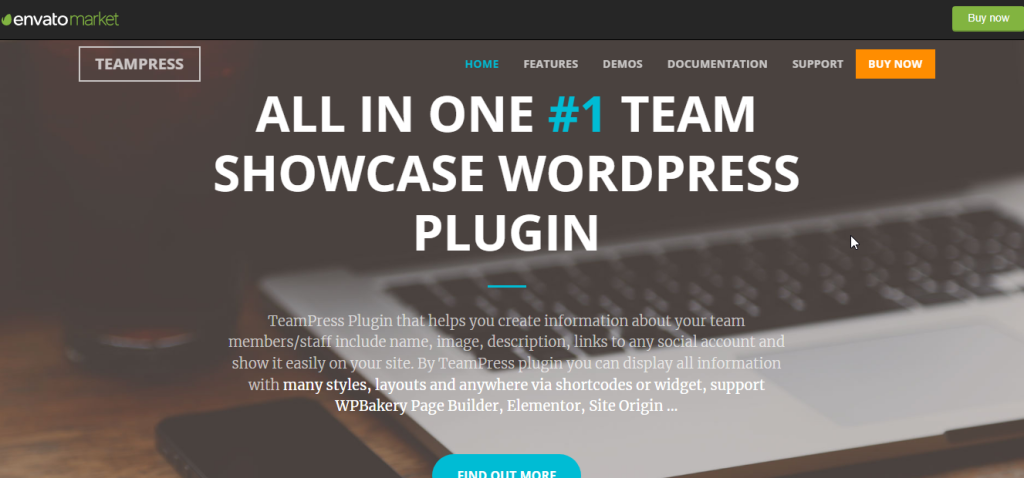 This is a team member WordPress plugin that provides various ways to showcase your team section. Along with the beautiful design, this plugin also comes with an Ajax filter which makes the section interactive without loading the whole page which ensures a great user experience.
TeamPress comes with 60+ premade popups, collapse modal, filters, etc. Moreover, this plugin is compatible with popular page builders which include WPBakery Page Builder, Elementor, etc.
Can add team member name, image, description, and social links.
Provides 60+ unique layouts
You can use shortcode to display the team section anywhere on the website.
Grid shortcode with 30+ style, list shortcode with 3 styles, table shortcode with 2 styles, and carousel shortcode with 30+ styles
Unlimited color and font size options
You can show your content with Lightbox, Modal, and Collapse
Price:
$27 – includes 6 months support
3.Team Member Widget (Essential Addon)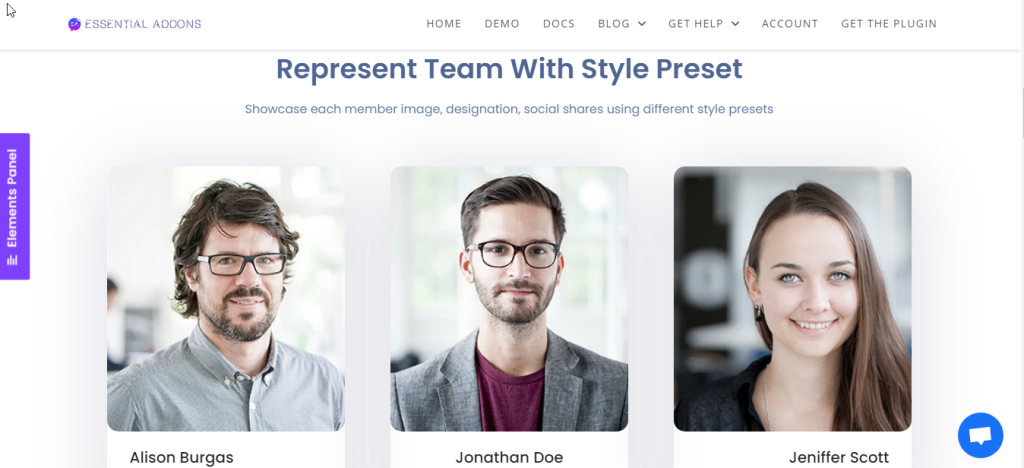 The essential addon is another great WordPress team members plugin for Elementor users. This plugin works great in displaying your team members in an interactive manner.
This is an efficient add-on for Elementor that gives you the ability to create a team member section that is fully responsive. Not just responsiveness, you also get to customize each and every subsection of a team member section with this Elementor team member plugin.
Key features of Team Member Widget By Essential Addon:
Drag and drop plugin
Compatible with Elementor
Can add team member names, images, descriptions, and social profiles.
Style options such as overlay, background color, alignment, etc for each team section.
Social profile style settings such as icon size, icon settings, icon color, etc.
Can make the team member profile image display as Rounded Avatar
You also get 5 preset layout styles which include Simple, Overlay, Centered, Circle & Social on Bottom Style
Price:
The team widget is included in the free version of the Essential addon. The premium plugin costs around $31.98 for a single website.
4.Team Pro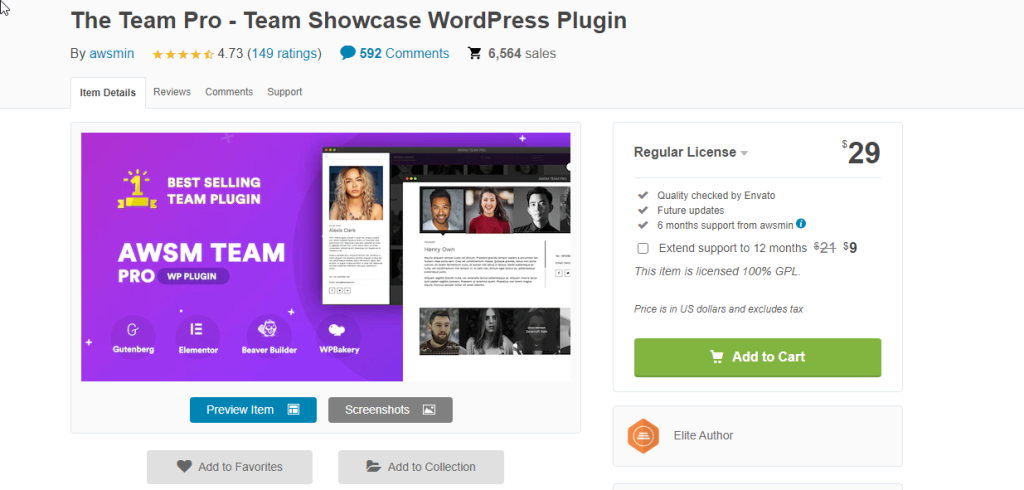 Team Pro is a versatile team member WordPress plugin that comes with a range of unique presets and styles. This is a very popular plugin with many positive reviews on WordPress.org. The options of rare unique presets are what makes this one of the best WordPress team member plugins.
While you can customize different options of the preset settings of team pro team sections, you can also add custom CSS if you want to. You also get a visual composer feature so you can very easily insert team sections.
Key features of Team Pro:
Comes with 8 different preset like Drawer, Modal – Modal lightbox with next/previous navigation, Slide-In, Grid, Circles, Cards, List, and Table
Mobile responsive
Supports page builders like Gutenberg, WPBakery, Elementor, and BeaverBuilder
Documentations are detailed
Visual Composer Element to insert teams in an easy way.
Price:
$29 includes 12 months of support.
5.Team Member Widget By Premium Addon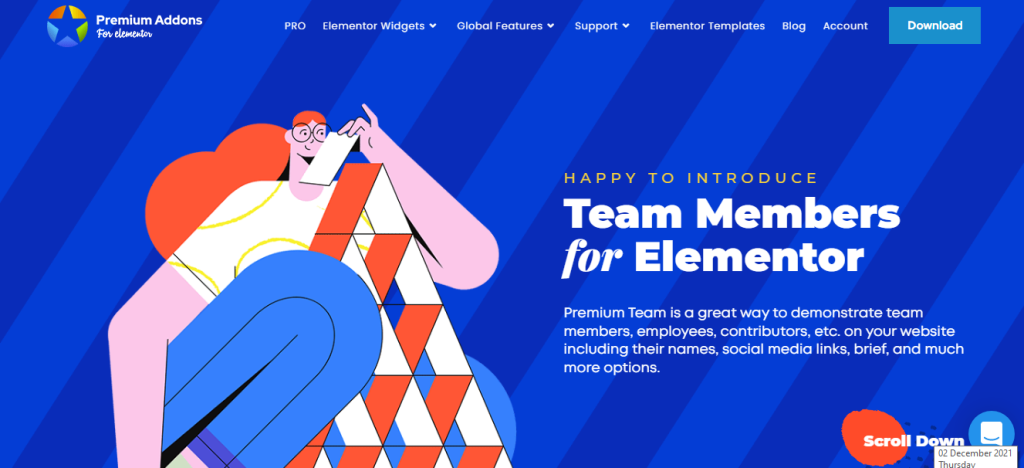 If you are looking for an advanced Elementor based on WordPress team members plugin that enables you to build a modern-looking team section, then you can also go for a premium addon. This WordPress plugin proves the option to customize single.
You get three different styles options to design your team member section. Along with premade styles, you also get lots of customization options to team section a personal touch.
Key features of Team Member Widget By Premium Addon:
You can add title, description, image, social icon to your team section.
Animation effects such as zoom in, zoom out, scale, grayscale, etc.
You can choose to make all the team section heights the same or not.
Can add popular social media icons like Facebook, Twitter, Linkedin, Google+, etc.
You can also show multiple team members in a carousel.
Filter option for images such as Blur, Brightness, Contrast, Saturation, and Hue, etc.
Style settings for social icons include size, color, hover color, etc.
Price:
The team widget comes with the free version of ElementsKit. For more features, you can opt for the Premium version which costs $29/single website.
6.Team Members Pro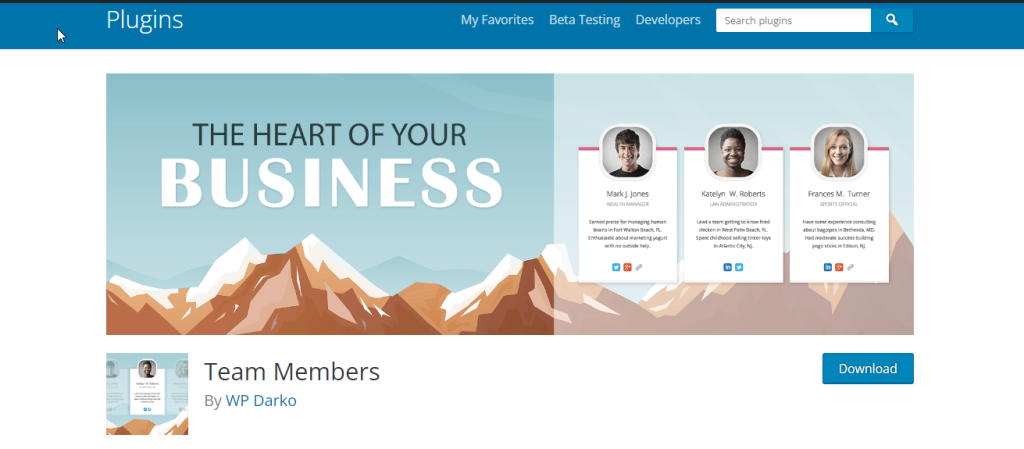 With the Team Members WordPress plugin, you can very quickly add members to your team section, add pictures, positions, bios, social links, and reorder them at any time you want.
This plugin comes with five fields for the team section along with additional settings. Moreover, you can add a team section with a shortcode using this WordPress plugin.
If you are looking for a simple team member plugin for your WordPress website, you can opt for this one. This is one of the best free WordPress team member plugins you can find.
Key features of Team Members:
Team section fields include firstname, lastname, description/bio, photo, and social links
You can choose the number of members to show per line.
With the pro version, you can add new pictures on hover.
Add more info reveal box
Easily export and import members from one team to another
Price:
This plugin has both free and pro versions. The Pro version costs $19/Year for a single website.
7.Employee Spotlight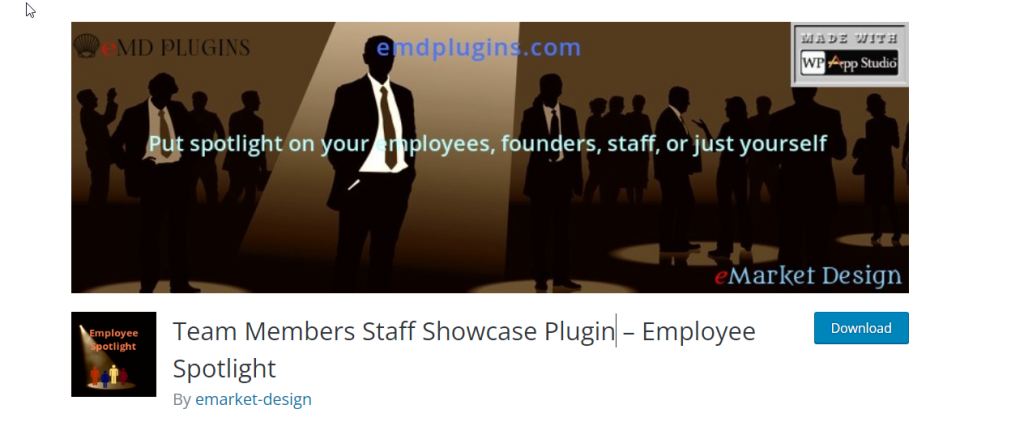 Employee Spotlight is an easy-to-use team member plugin. You can create a team section that includes adding a photo, job description, contact details, and social profiles.
You can display the team section on the sidebar as this team plugin comes with two sidebar widgets. Using the widget, you can highlight new hires, birthdays, or give special recognition, etc.
Key features of Employee Spotlight:
You can display the team section in five ways such as Employee Circle Grid, Employee Circle Panel Grid, Stacked view, etc.
Provides a shortcode option to insert team member section
Mobile responsive team section
With the pro version, you can highlight the employees celebrating birthdays in the current week
CSV export import option
Price:
Employee Spotlight has both a free and premium version. The premium version costs around $99.99/per site yearly.
8.TC Team Members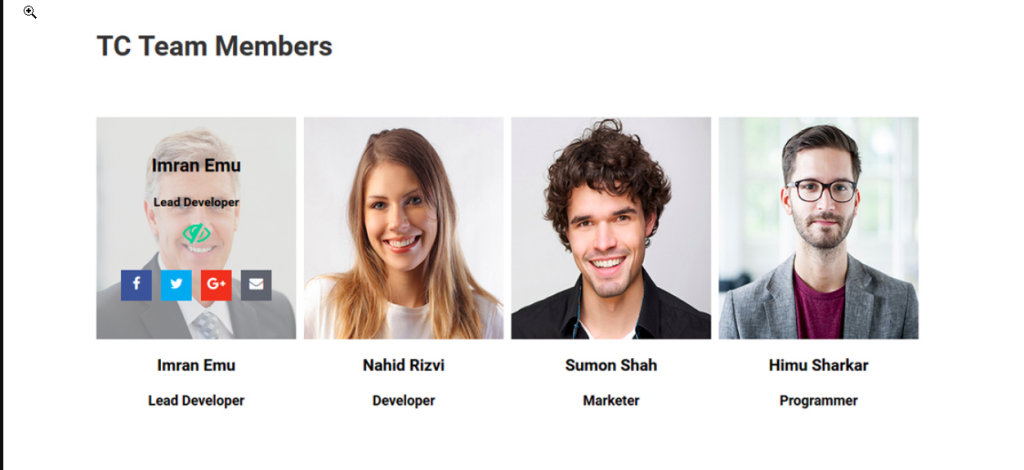 TC Team Members is a premium WordPress plugin with advanced features to help you build amazing team sections. You can create a fully responsive team section using this plugin. This plugin makes it to the list of best WordPress team member plugins because of the vast customization options it offers.
You get options to customize text, image, icon, etc. and on top of that can display your team member's information in a more enticing way on the modal popup. Along with a great plugin, the team also offers a great support service which usually replies within a few hours.
Key Features of TC Team Members:
6+ layout style option
Can show four social media icons out of the 23 choices.
You can change text and background color, text, and social icon alignment.
Can show the member section with more details on a popup.
Mobile responsive
Price:
TC Team Members Pro costs around $19/ Single website.
Which WordPress team member plugin should you pick ?
Team sections build trust between your brand and your potential clients by showcasing the people who actually work for them to bring all the success. So, you can realize how important it is to get your team page looking neat, clean, professional, and mobile responsive at the same time.
Now you know details about the 8 best WordPress team‌ ‌member plugins .You can pick any of the mentioned team builder plugins.
But, if you would ask me to recommend a plugin then it would be ElementsKit. Because WordPress team member plugin empowers you to create a modern-looking team section that will add value to your website. And you can create your complete website with just this one plugin which is great for website maintenance.