Best Progress Bar Plugin for WordPress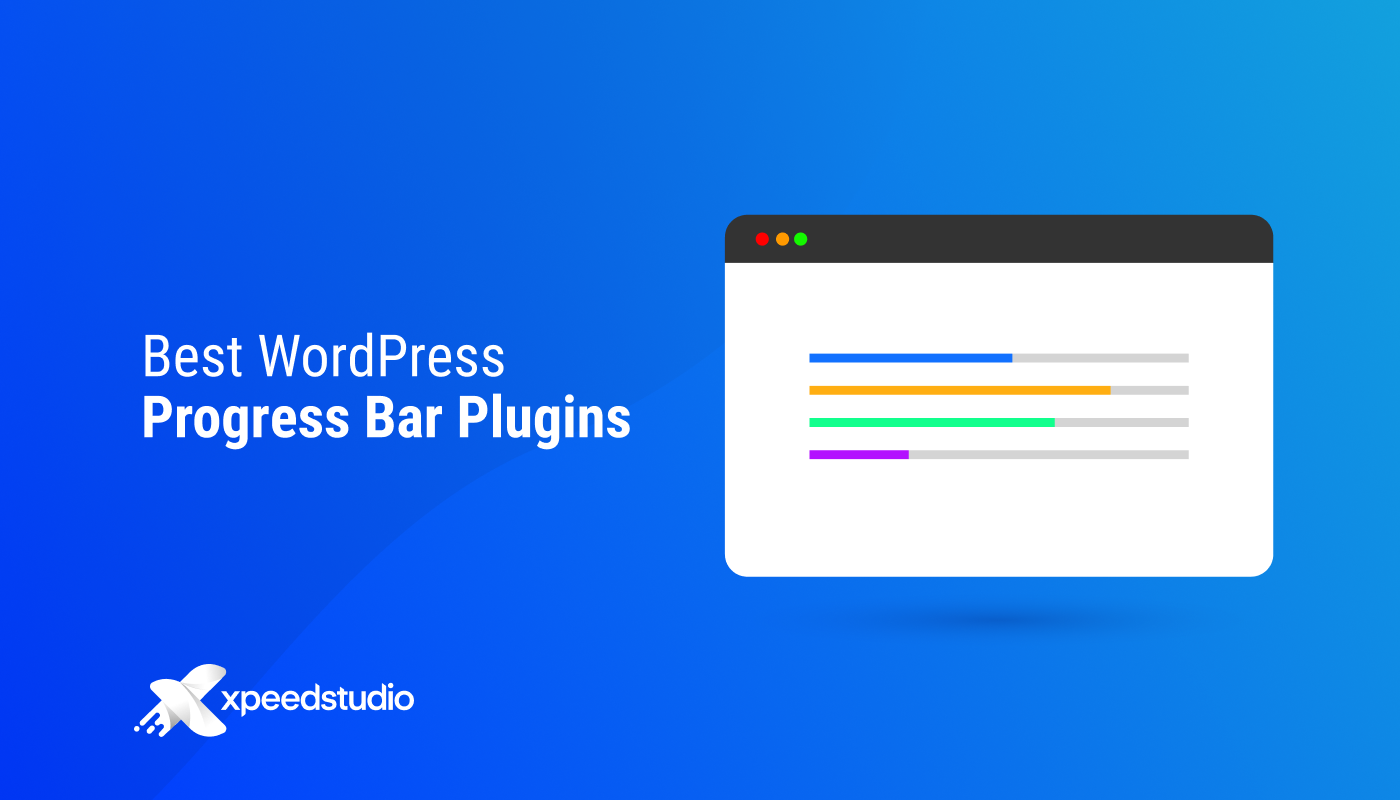 Do you want to use the best progress bar plugin for WordPress to showcase the headway of your site but aren't sure which one to use? You've come to the correct location.
Here in this article, we've compiled a list of the top 6 WordPress progress bar plugins with a wide range of customization options. Some of them have custom CSS support as well as the ability to add background, icons, or images to the Elementor progress bar.
🛒 Are you a social media enthusiast?
Facebook is now widely spread, and also stands out as the most advanced platform for allowing potential clients to participate in your web initiatives with just a few clicks. Learn more here.
Why Progress Bars on Website are Important:
Several people are looking for a WordPress progress bar to help clients when the site's pace is slow. Others, on the other hand, require progress bars in the header or footer to inform clients of the total they have viewed. Isn't it true that whatever the clarification, you might need a progress bar to demonstrate your site's mastery?
Progress bars are quite effective even for any eCommerce website when you can showcase your upcoming sale, countdown any festival events, etc.
Learning to teach oneself is fine, but it will take some time and effort. As a result, you'll require some reliable WordPress plugins from the hand-picked selection below. Take a look!
Best Progress Bar Plugin for WordPress
Continue reading to learn more about the 6 Best WordPress Progress Bar Plugins and their features.
ElementsKit (Progress Bar Widget)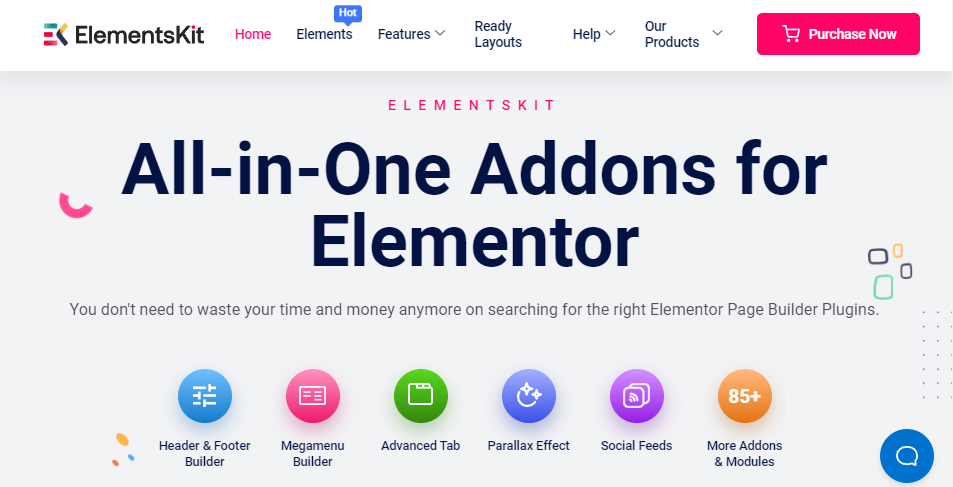 ElementsKit is an advanced all-in-one plugin for Elementor. In which you will get tons of multiple widgets, modules, and templates, and nevertheless astonishing widgets.
ElementsKit (Progress Bar) is one of the most feature-rich progress bar widgets for WordPress. With this widget, you will find 20+ pre-built progress bars, which will help create a progress bar in just a few clicks.
Apart from the advanced countdown timer widget, ElementsKit is your one-stop solution. In which you will get 85+ powerful widgets and extensions, 35+ pre-built templates, 500+ sections and blocks, and many more.
✨ Key features:
There are 20 fantastic blocks
Customizing text is currently being loaded
Customizing the site's preloader
Editing in real-time
Close the timeout function
Make changes to the loading page's backdrop
Lightweight
Easy-to-use
100% mobile-friendly layouts

💸 Price: This plugin has both free and pro versions. The All-in-one Elementor plugin starts just at $31.
Ultimate Blocks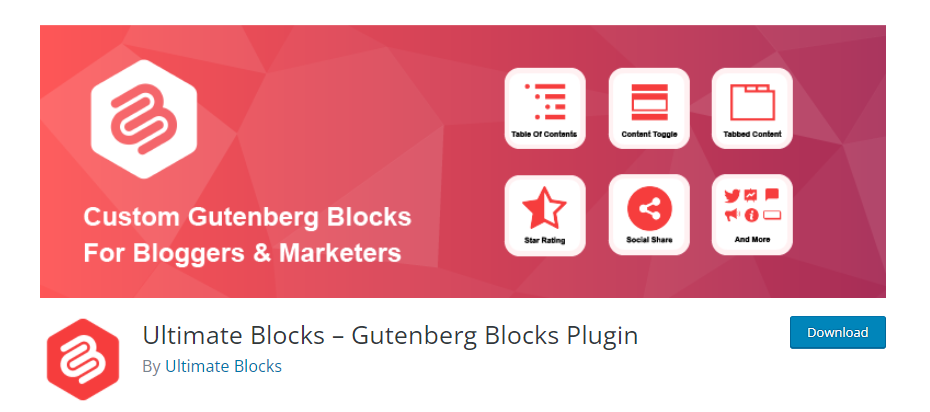 Ultimate Blocks is a WordPress blocks plugin with its own 'Progress Bar' block. You can use the Progress Bar block to create horizontal and circular progress bars for your WordPress posts and pages. The color and width of the bars can be changed. A horizontal bar can also be converted to a circular bar and vice versa.
They also include several other useful blocks, such as the Social Share block, which directly shares your social networking content.
✨ Key features:
The bar's appearance
The color of the bar can be customized
Customizable color thickness
There are 18 fantastic blocks.
Lightweight and modular
100% mobile-friendly layouts
Block for reviews and star ratings
Block for social sharing

💸 Price: This progress bar plugin is absolutely free.
⚡ Are you an Elementor fan or Divi?
Elementor and Divi both are popular page builders for WordPress. If you are just planning to start a new website, you must be puzzled about which one to choose between them. Here is a full exposure between Elementor vs Divi.
Progress Bar & Skill Bar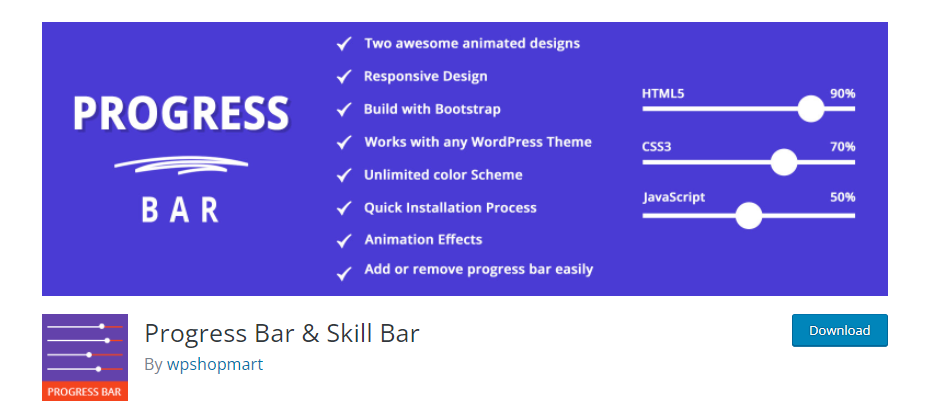 The Progress Bar & Skill Bar is the most effective means of displaying the proportion of your talents. You can use the plugin to display the progress of any process in the horizontal bar. Shortcodes make it simple to display the bar.
Because the plugin is built on Bootstrap, it is fully responsive and guaranteed to look great on any device screen. You may also add motion to your progress bar to make it more visually appealing.
There are two animation styles available in the plugin. Your progress bar's color scheme can also be changed.
✨ Key features:
Based on HTML and Bootstrap
There is no limit to the color scheme.
Design that is responsive
Two animated concepts
Effects of animation
Support for custom CSS (Pro)
Support for shortcodes (Pro)
Layout in the form of a chart (Pro)
Formatting a custom post (Pro)

💸 Price: This progress bar plugin has both free and premium versions. The Premium version starts at $8 single site.
WEN Skill Charts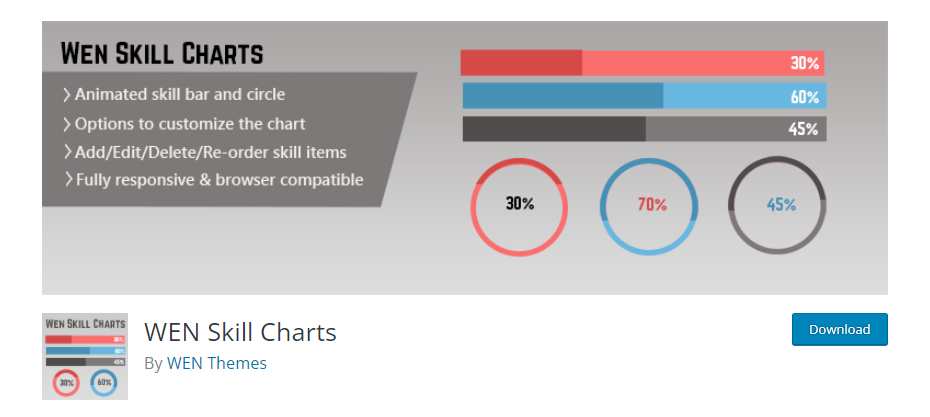 WEN Skill Charts is another excellent WordPress progress bar solution for displaying visually appealing animated skill circles and progress bars.
It is highly customizable, and you can use shortcodes to place it anywhere on your website. It is entirely responsive and will work flawlessly on any screen size.
This plugin also has an admin area where you can simply add, delete, modify, or delete items. Also, Rearrange the items in your Elementor progress bar.
✨ Key features:
Lightweight
Easy-to-use
Editing in real-time
Support for shortcodes
Design that is responsive
Progress bar with animations
There are no restrictions on color schemes

💸 Price: This progress bar plugin is absolutely free.
📈 Are you thinking of adding up a Countdown segment to your site?
Countdowns are an excellent technique to attract attention, especially when launching a rocket into space. But did you know that you can utilize them to boost sales, raise excitement for new products, and keep visitors engaged while you work on your site? Learn more on our latest blog here.
Ultimeter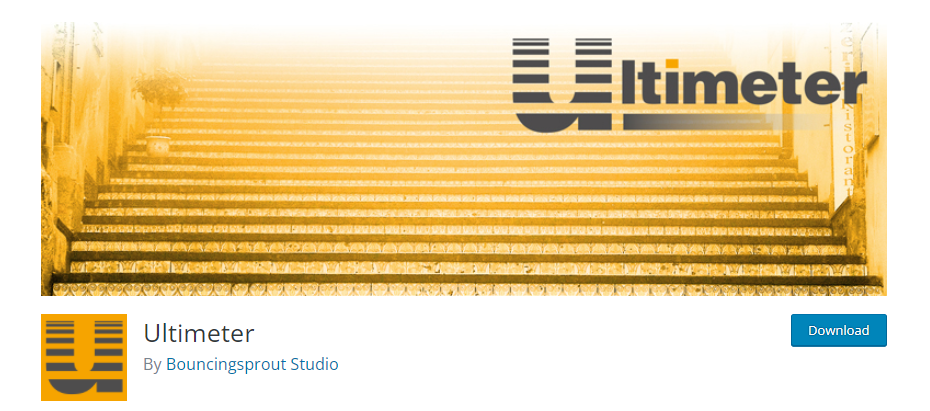 Ultimeter is the WordPress Bar Plugin you've been looking for if you want to display a progress bar as a thermometer. In addition to the thermometer Elementor progress bar, you can show a regular horizontal progress bar.
You can use this plugin to add percentage and currency units to your website. You can also provide the entire goal amount as well as the total amount raised. You can modify the color scheme of the WordPress progress bar to make it look different.
Other progress bars, such as a radial meter, vertical progress bar, and a variety of inline and text-based meter bars, are available in the pro version. You may also add custom CSS to further modify them.
✨ Key features:
Thermometer-style progress bar in meter color
Currency selection
Enter the desired outcome as well as the existing value
Support for custom CSS
To use as a meter, upload your own image
Follow the progress of your WooCommerce sales
GiveWP, Gravity Forms, and other plugins are compatible
Integration with Zapier

💸 Price: This progress bar plugin has both free and premium versions. The Premium version will cost $39.99.
WPComplete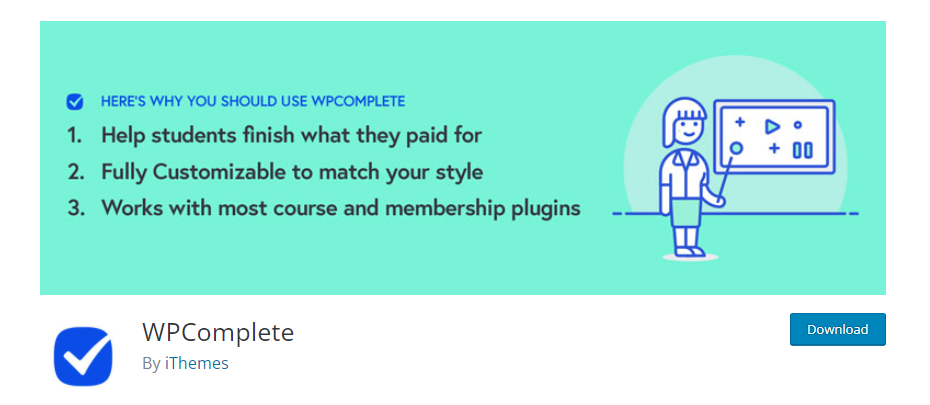 Try the WPComplete WordPress Progress bar plugin if you manage a membership or enrollment site and want to help your students keep track of their study progress.
To see how far they've gone, all your student has to do is click on the complete button on their course. By using the fast editor, you can select the pages or posts that can be completed.
This plugin also has a pro version that allows you to have several courses on a single site. This plugin simply displays an Elementor progress bar to encourage your pupils to complete their lessons. This plugin allows you to customize the bar and buttons you build, and it also supports custom CSS.
✨ Key features:
Showcase your success in your studies
Types of Custom Posts
Determine which page or post has been completed
CSS customization (Pro)
Shortcodes that can be customized (Pro)
Support for multiple courses on a single website (Pro)
Indicators of completion (Pro)

💸 Price: This progress bar plugin has both free and premium versions. The Premium version will cost $99 yearly for a single site.
Conclusion
We hope this article has assisted you in locating the top best progress bar plugin for the WordPress website. All of the plugins included in this list are the finest of the best. So choose wisely, and before making a decision, look over the top characteristics once more at a glance.
Choose the ElementsKit if you want a complete solution for Elementor, with proper customization, including multiple widgets, templates, and modules.