XpeedStudio is Sponsoring WordCamp Asia 2023: See You in Thailand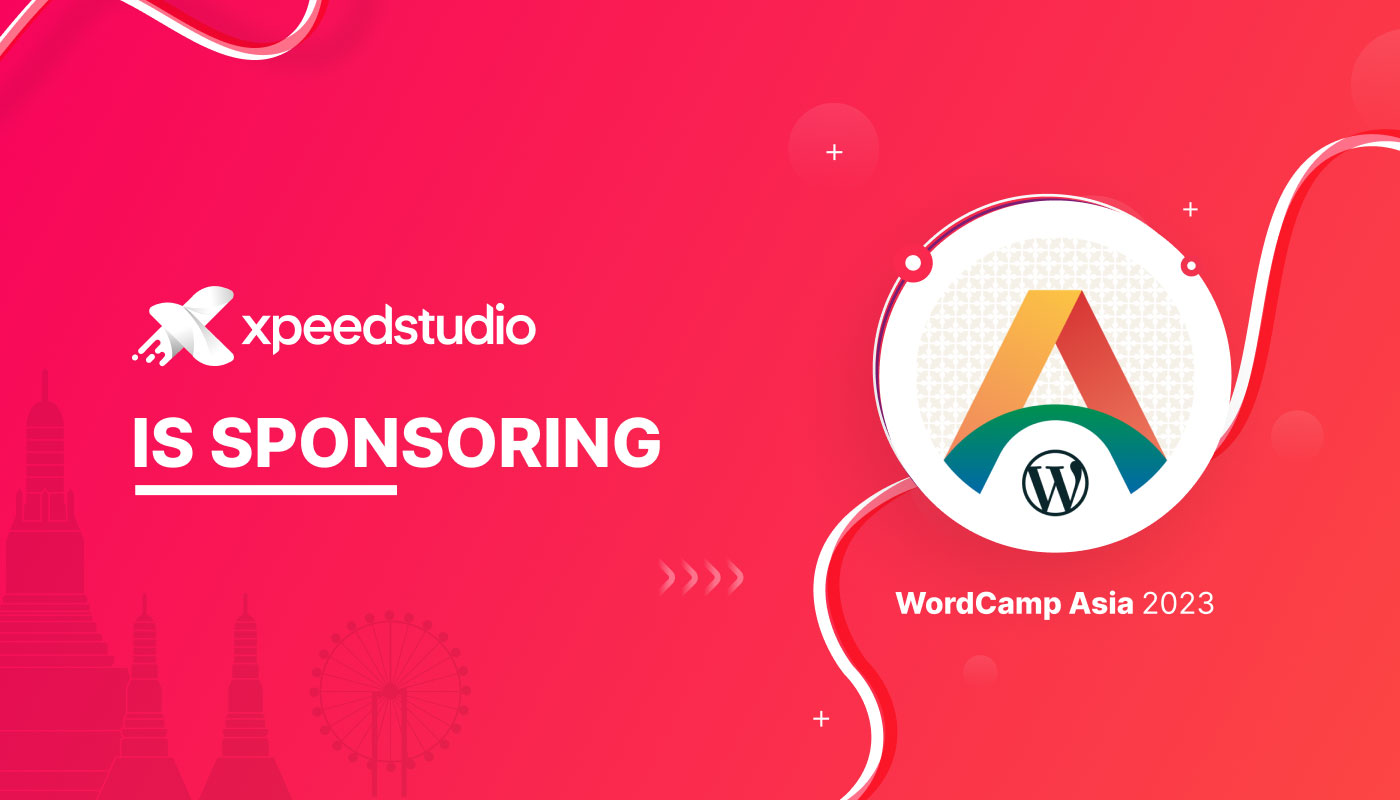 The wait is almost over! The WordPress community in Asia is finally going to experience what we all have been waiting for a long time. WordCamp Asia 2023 will take place this February in Bangkok, Thailand.
Perhaps you already know, XpeedStudio, the team behind popular WordPress products like ElementsKit, ShopEngine, GetGenie AI, and many WordPress themes, is a proud sponsor of WordCamp Asia 2023. Our team is super excited to be part of this most anticipated event and meet with fellow WordPress enthusiasts.
Asia's First-Ever Regional WordCamp
WordCamp is a community-organized event for WordPress users, developers, designers, and anyone interested in WordPress. WordCamps are held all around the world and provide an opportunity for the WordPress community to come together, hear from experts in the field, and connect with each other.
Previously, WordCamps were held in many cities in Asia, but a regional WordCamp was yet to happen. WordCamp Asia was originally scheduled to take place in February 2020 in Bangkok, Thailand, but it was canceled due to the COVID-19 pandemic and concerns over the health and safety of attendees.
Finally, after three years of waiting, the first-ever flagship WordCamp in Asia is going to take place on 17-19 February this year.
Schedule and events of WordCamp Asia 2023
Date: 17-19 February, 2023

Place: Bangkok, Thailand

Venue: True Icon Hall at Iconsiam
WordCamp Asia 2023 will feature a variety of sessions, including talks on design, development, marketing, and more. WordPress experts along with many popular faces in the community will join as speakers and share their experiences and knowledge with the attendees. Roughly 60% of speakers will be from Asia and 40% of speakers will be from the rest of the world.
Also, companies will showcase their products and exciting projects related to WordPress to the community in their allocated booths.
XpeedStudio is a proud sponsor!
We are proud to be a part of the history. XpeedStudio is an Ari sponsor in WordCamp Asia 2023 and will be participating in the event with our team.
We believe in community strength and the significance of exchanging ideas. As WordPress is an open-source platform, we have all gained from the contributions of other WordPress enthusiasts at some point. Thus, we see it as a time to give back to the community and contribute to its growth.
At WordCamp Asia 2023, our booth will feature a lively display of our versatile product line where you can chat about the products directly with the team, learn about the feature updates, and give your feedback and suggestions. We are willing to hear your feedback and answer any questions you may have about our product or WordPress.
Gifts, swags, and giveaways are waiting for you!
Don't miss out on the fun games, free gifts, and awesome swag at our booth! We've got some cool swags lined up for you: mugs, t-shirts, stickers, and stuff to take home as memories from XpeedStudio. And there will be exciting games too. You can play and win special gifts and enjoy the time. It's gonna be a blast!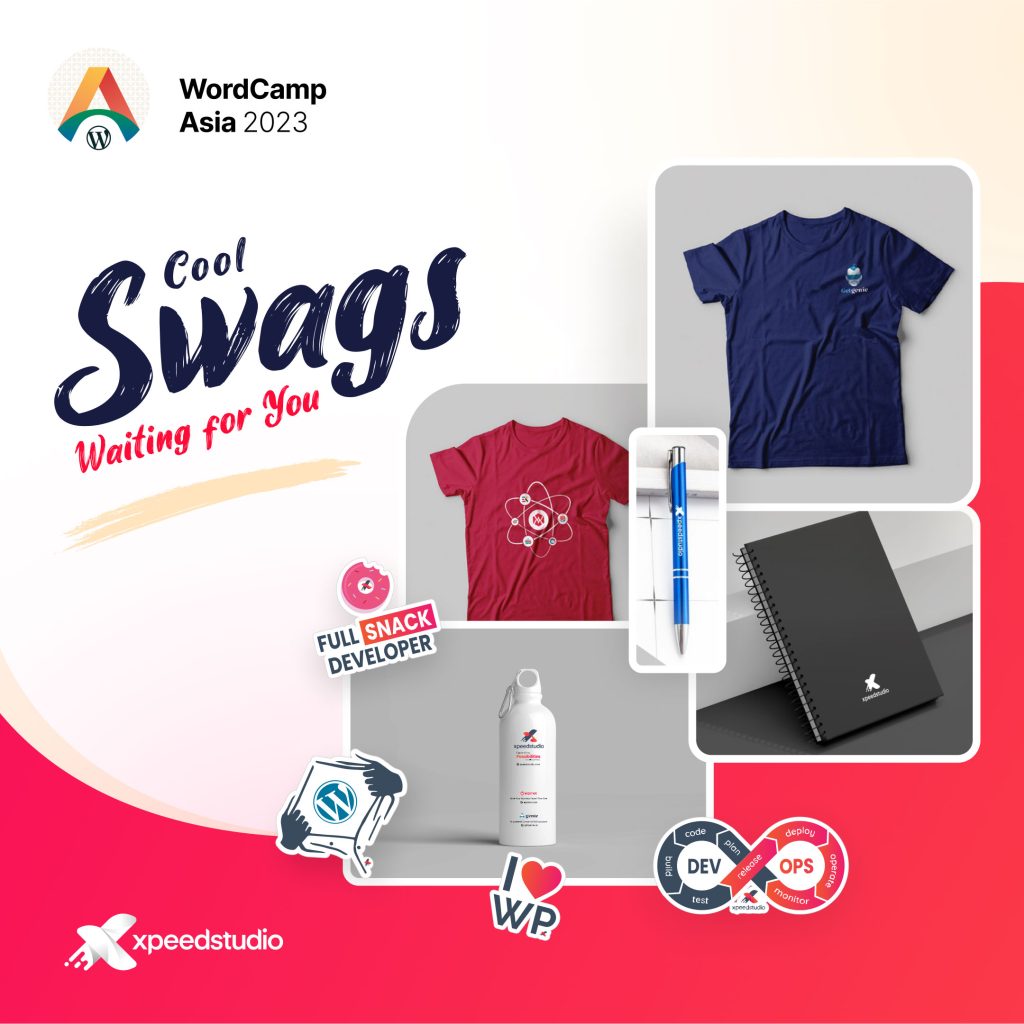 Our participation in previous WordCamps
XpeedStudio has been participating in WordPress events for years. Previously, XpeedStudio was a Gold sponsor of WordCamp Dhaka 2019 and a silver sponsor of WordCamp Kathmandu 2022.
WordCamp Dhaka 2019 was the first ever WordCamp organized in our home country, Bangladesh, where we were pleased to meet with our fellow WordPress enthusiasts in Dhaka.
Meanwhile, we had a great experience in WordCamp Kathmandu 2022. We were amused by the response we got from the attendees.
Can't wait to meet you in person
Looking forward to seeing you in Thailand and sharing experiences and knowledge. So if you are going to WordCamp Asia this year, take a moment to say hi when you come by!