XpeedStudio Year in Review 2022: A Year of Surprises, Growth, and Achievements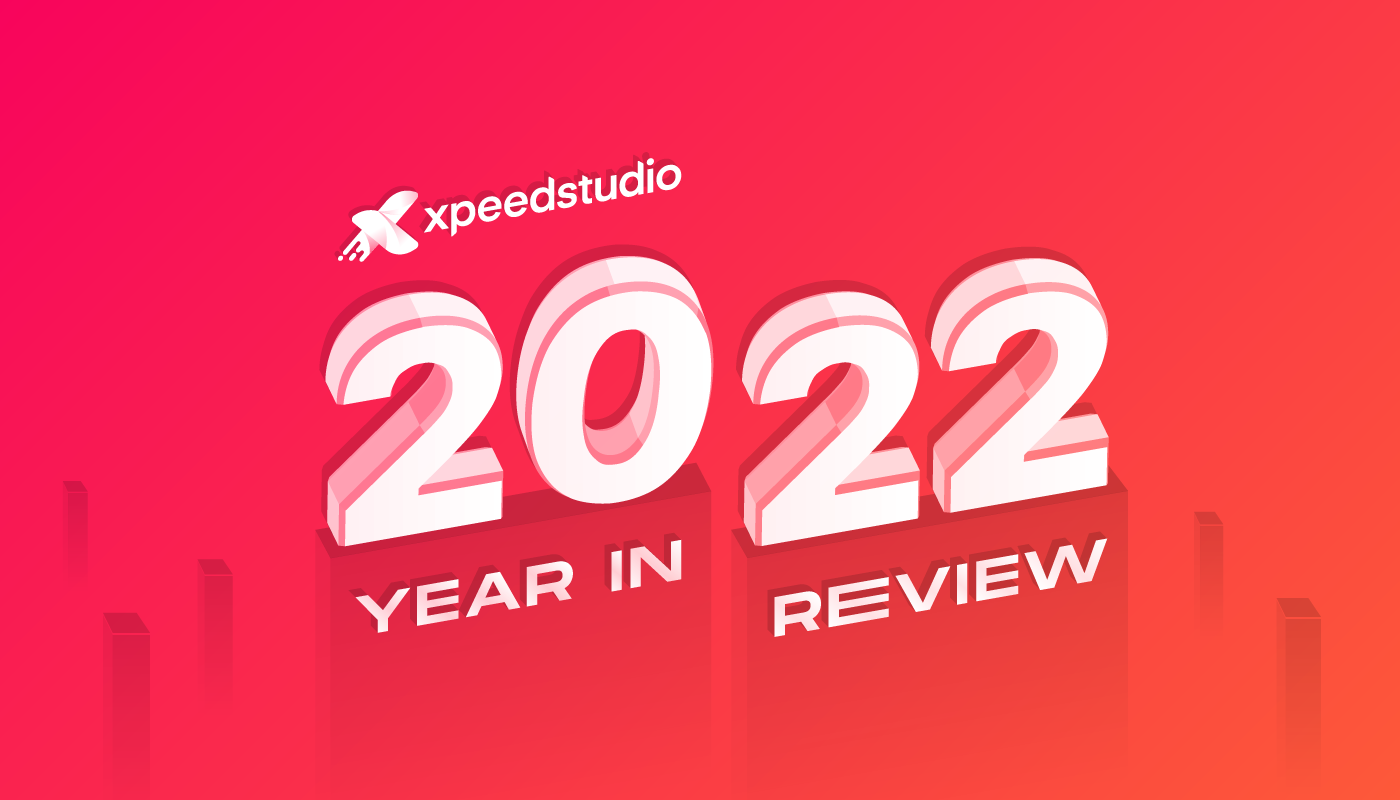 A year full of challenges, jubilation, and accomplishments! These are the words we would use to express our journey in the full year of 2022. We encountered challenges to carry out our projects, took a great delight in our work, and achieved resounding success with our products.
We can still recall heaps of fun moments with our coworkers, surprise birthday party celebrations of our colleagues, and casual chitchat with teammates in the last year. And of course, it's not just the previous year, that's how we always operate as a family.
So, I think you have already got the vibe of how good was 2022 for XpeedStudio! Yeah, we are over the moon to share with you that the year 2022 was a heck of a year for us. I would take you back to 2022 to give you a glimpse of each of the memorable moments we passed then.
But before that, let me introduce you to all the brands operating under the umbrella of XpeedStudio. Without further ado, let's get started…
An Overview of XpeedStudio's Wings:
The first and most well-known brand that we have is Wpmet which is dedicated to developing WordPress plugins. The second one is a more exciting one which we launched recently in 2022 is GetGenie. And the last one is Themewinter which is focused more on WordPress themes. But it has also developed a couple of WordPress plugins along with launching a cross-platform mobile app!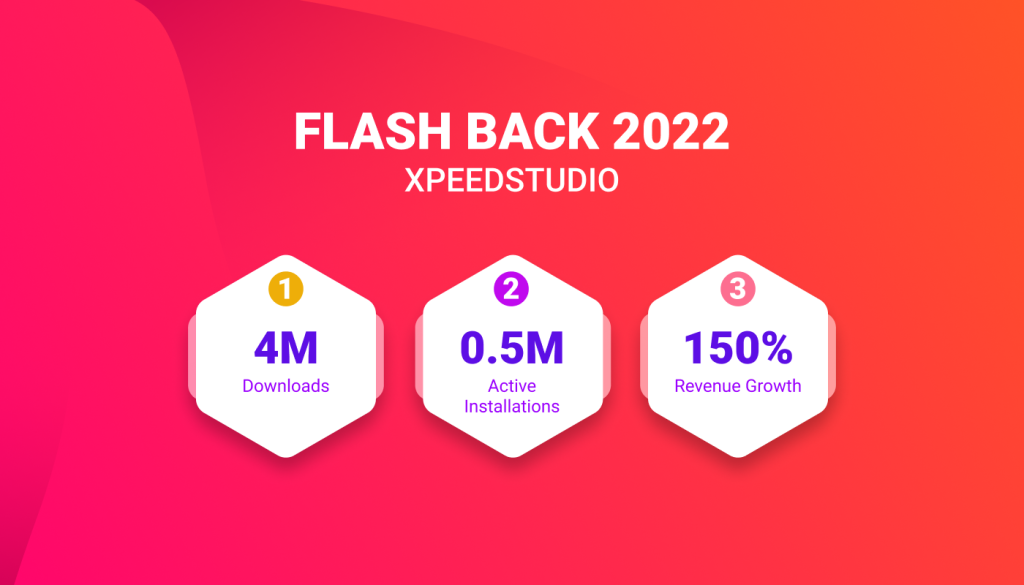 So, XpeedStudio is our parent company while the rest of the 3 are our subsidiaries. And we are delighted to share with you that we achieved some outstanding landmarks with respect to product growth, branding, innovation, and human resources in 2022.
Our Noteworthy Accomplishments in 2022:
The primary goal that we set right at the outset of 2022 was to release our long-awaited AI product GetGenie. With that in mind, for the 1st three quarters, the whole XpeedStudio team was engrossed with the aim of developing GetGenie to get it ready for release duly.
And the glad tidings is that we successfully rolled out GetGenie, our first-ever WordPress AI SEO & Content Assistant in September 2022. Not only we released GetGenie successfully but also started getting a massive response from our target audiences globally.
GetGenie at a Glance:
GetGenie is a WordPress AI Content & SEO Assistant, catered exclusively to WordPress users.
If you have dozens of writing tasks for your WordPress website, GetGenie will aid you to perform these tasks effortlessly. The AI writing tool is powerful enough to generate both content and copies in a snap.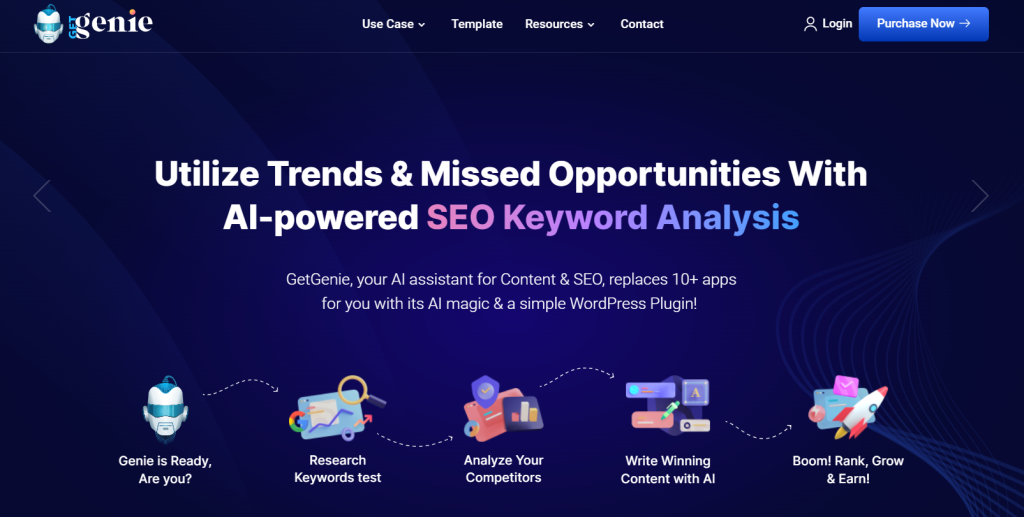 Apart from that, the AI Content Writer is able to generate product descriptions, WooCommerce product descriptions, list of questions, paragraph compression, taglines, summary bullets, feature-benefit, listicle ideas, pros & cons, and Explain Why type of content as well.
And what about the secret sauce? It's the SEO feature! GetGenie is capable enough to help you generate SEO-friendly content for your WordPress website based on SERP analysis and keyword research features. It will display you a Content Score along with suggestions to improve too.
Pricing
GetGenie comes with both free and paid versions. The paid version boasts 3 plans: Writer, Pro, and Agency.
You can buy the Writer plan for $11.4/Month, the Pro plan for $29.4/Month, and the Agency plan for $49.5/Month, if billed Annually.
GetGenie Highlights:
Best WordPress content and SEO solution
A plethora of content writing features, including 30+ templates
Content optimization with keyword research and SERP analysis for specific keywords
Content scoring system with suggestions to improve the content
Multi-language support available
A Quick Look at the Growth of all our Products:
Every business flourishes due to the growth of its product/products. A business can never expand without the growth of its products as time elapses. Let's have a quick look at how all our products fared in the previous year-
GetGenie- Crossed 2K Active Installations:
GetGenie was launched in September 2022. Since then, it has reached 2000+ active installations and 11000+ downloads. Apart from that, GetGenie generated a huge amount of sales in the last 4 months. And the amount is mounting every month.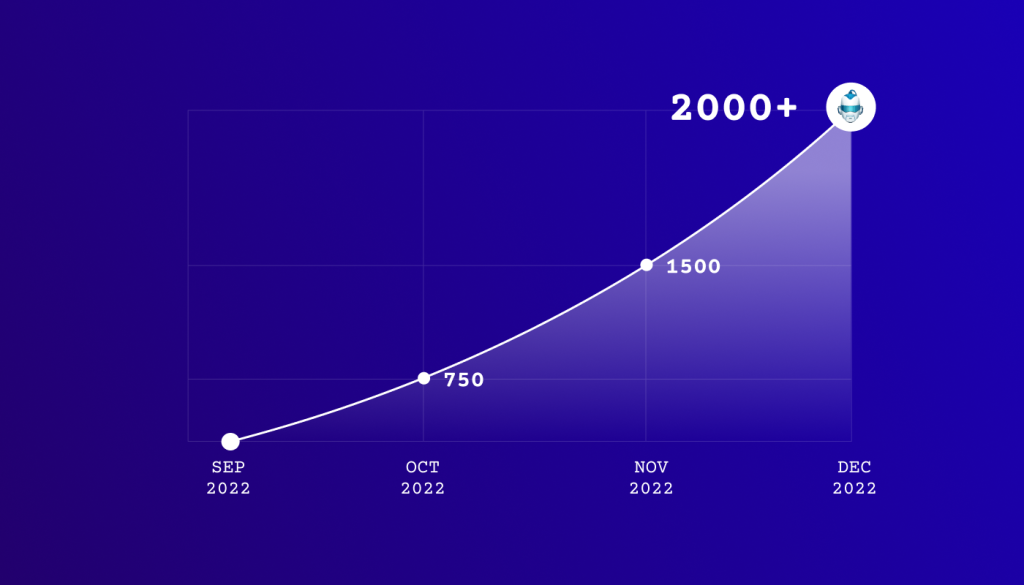 ElementsKit- Reached 800K Active Installations:
Last year, ElementsKit notched up multiple landmarks. In February, we had a phenomenal success of 600,000 active installations and the number is escalating every day.
After that in less than 4 months, ElementsKit gained another outstanding milestone of 700,000 active installations which is mind-blowing.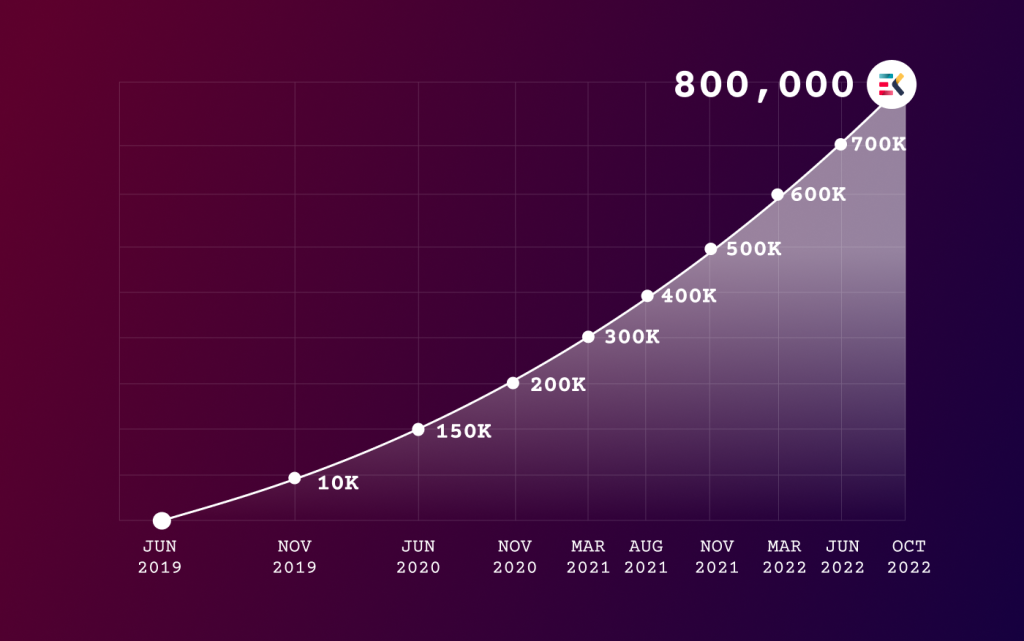 Finally, in October 2022, ElementsKit touched the landmark of 800,000 active installations. The time isn't that far from now when we will hit the dream number of 1M active installations.
MetForm- Earned an Enormous Number of Users:
In 2022, MetForm witnessed two of the cracking landmarks of all time. In early 2022, MetForm notched up 90,000+ active installations and then went on to hit the 100K milestone of active installations. Now, MetForm has over 100K active installations.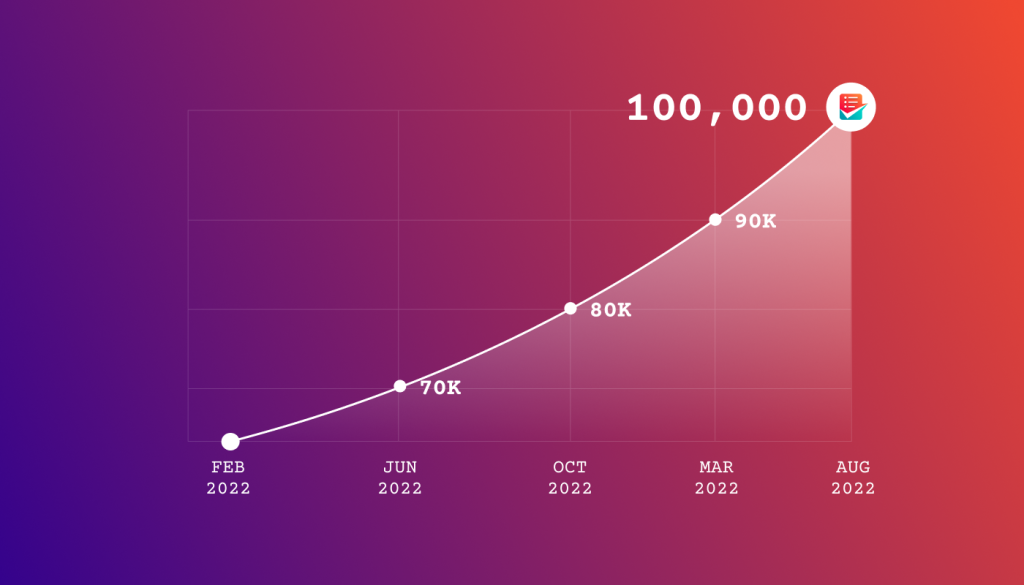 On top of that, MetForm has marvelously crossed the figure of 1.2M downloads in the last quarter of 2022. That's phenomenal, right?
ShopEngine- Achieved Massive Success:
ShopEngine which is one of our core products has reached 20K active installations and 250K downloads in 2022. Since its launch, ShopEngine has won over thousands of WooCommerce users worldwide. In the last 1 year, e-commerce businesses using WooCommerce have greatly benefitted from leveraging ShopEngine.
Wp Social and WP Ultimate Review- Grabbed the Attention:
Wp Social and WP Ultimate Review both have fared superbly in the last year. Wp Social has earned active installations and downloads of 20K+ and nearly 300K respectively. The performance of WP Ultimate Review is satisfactory as well.
All the credit goes to you guys. You made it possible for us to have such a thriving year!
WP Eventin and WPCafe- Making Buzz:
Besides having a Divi addon, WP Eventin also grew considerably as it crossed 8k active installations and 130K downloads. WPCafe isn't also behind in the race as it exceeded 6K active installations and 100K total downloads in the very last year.
Outstanding Effort by Development Team:
2022 was a banal year for the development team. Not only we had launched a product like GetGenie, but we also improved the internal infrastructure of the dev team.
The team entirely adapted to the "Git WorkFlow" process to contribute more to the company's growth. The dev team took in a total of 10 milestones in 2022 along with completing 98% of user stories as expected.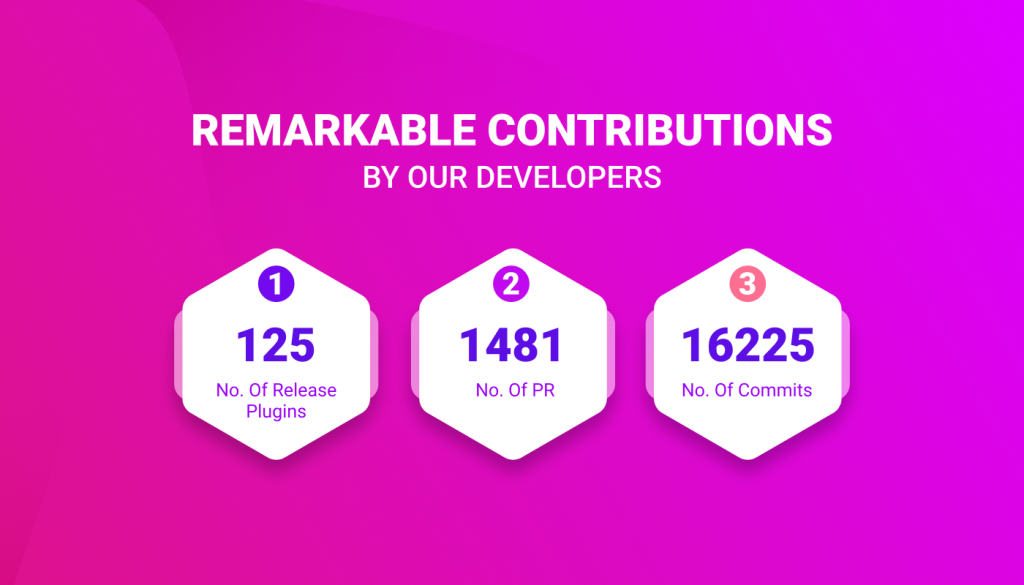 Our developers have released 125 plugin updates. All these updates assisted our customers to integrate new features into their websites.
Kudos to our Support Team:
In 2022, our support team did a phenomenally good job. As GetGenie is a comprehensive product, it brought forth scads of technical problems. But that doesn't mean that we succumbed to pressure. Rather, our 24/7 professional support team has successfully handled all the pressure passionately!
Marvelous Job Done by the Theme and Design Team:
The year 2022 was quite outstanding for our theme and design team as well. We've attained success in multiple sites, plugins, themes, and apps.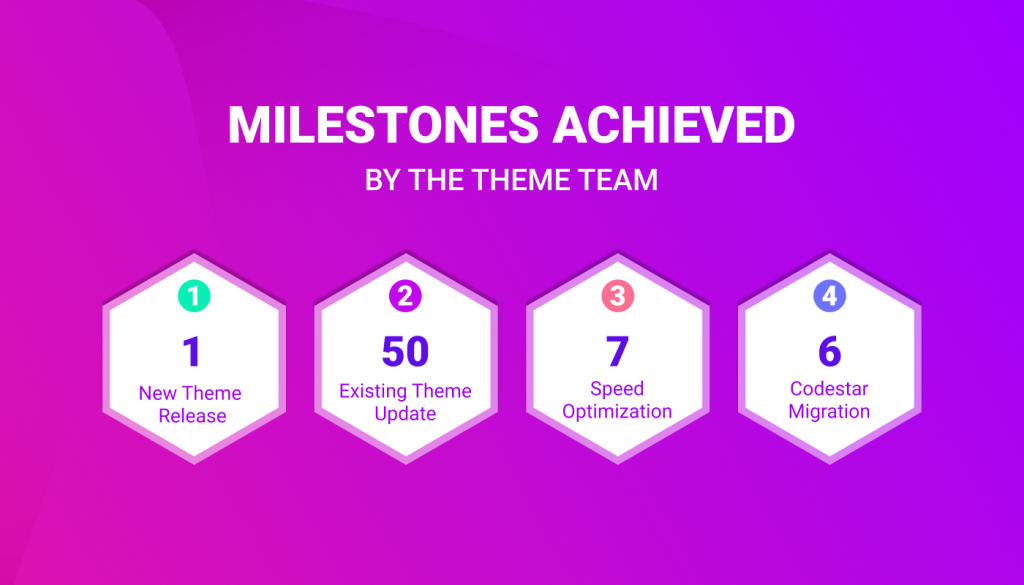 With full dedication and commitment, XpeedStudio's super professional theme as well as design team worked on ShopEngine, Eventin, WpCafe, WpCafe App, Wpmet campaigns, multiple themes, and social media content.
A Big Shout out to our Content & Marketing Team:
Content & marketing team of both Wpmet and ThemeWinter wings worked hard amply to give life to our well-designed and developed products. They put effort and time to make sure that all our products reached our leads and prospects last year.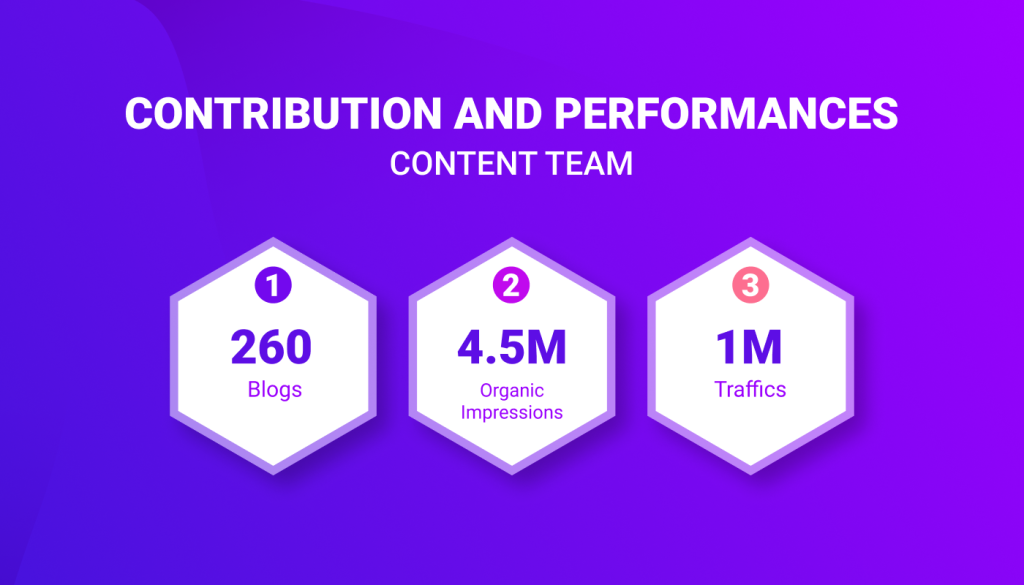 In 2022, the Wpmet team took all the necessary initiatives to market and sell our latest product GetGenie. They made use of both organic and paid channels to promote GetGenie in the best possible way.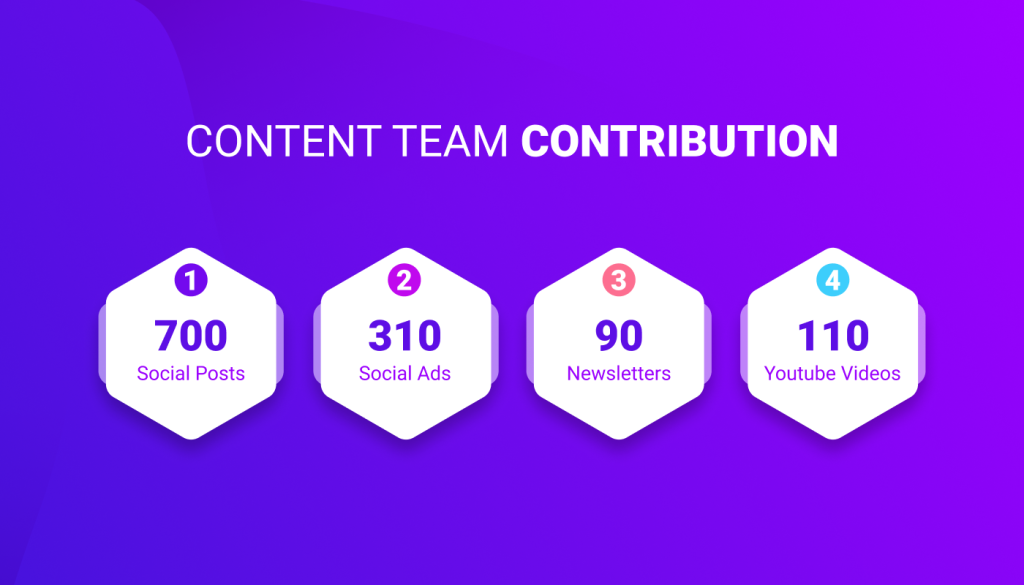 Likewise, the ThemeWinter team put in an all-out effort to elevate the sales of WPCafe and WP Eventin to the prospects.
Be it content marketing, social media marketing, outreach marketing, or paid marketing, they capitalized on all these channels and brought a wonderful outcome for our company.
Fun Activities and International Tour:
The year 2022 was full of fun as well as learning as we engaged in many fun activities and learning events throughout the year. We participated in annually recurring events, including an annual tour and a day tour. We even organized a potluck party and received compliments from everyone involved.
Let's take a quick look at the highlight events of the past year-
Long-awaited Annual Retreat in Darjeeling – 2022:
We visited Darjeeling last year as part of our annual tour. We explored the prominent venues of the city in a span of 5 days. We consumed traditional food, stayed in a luxury hotel, and traveled to tourist attractions like Kanchanjanga, Tiger Hill, and Ghum Monastery.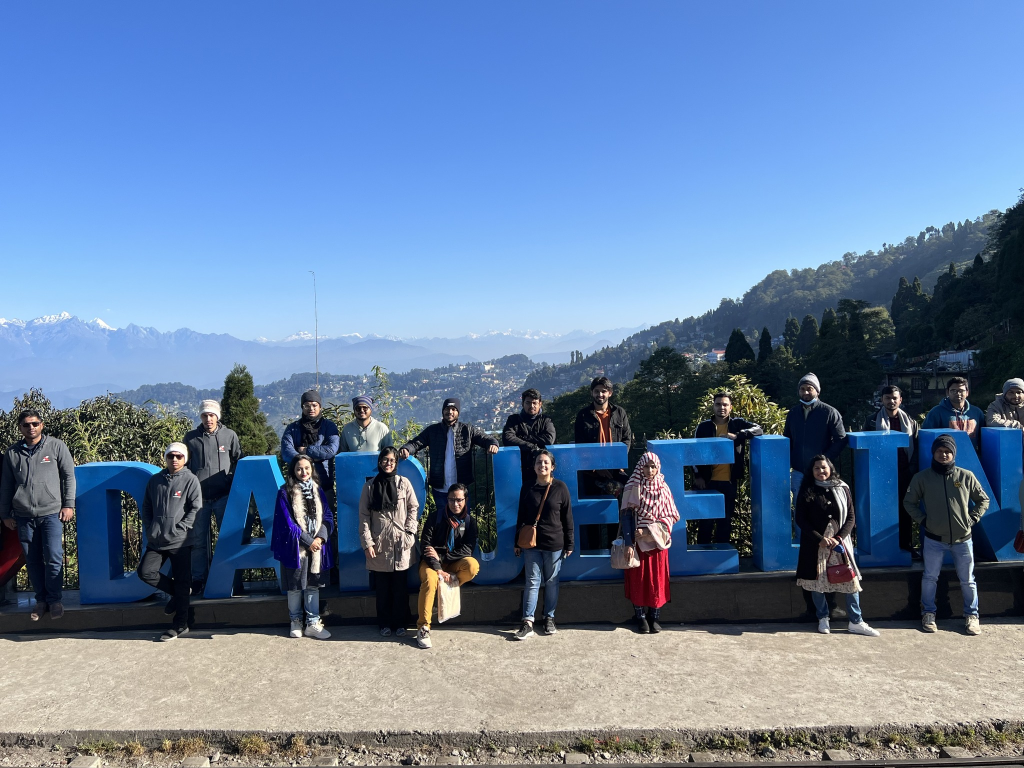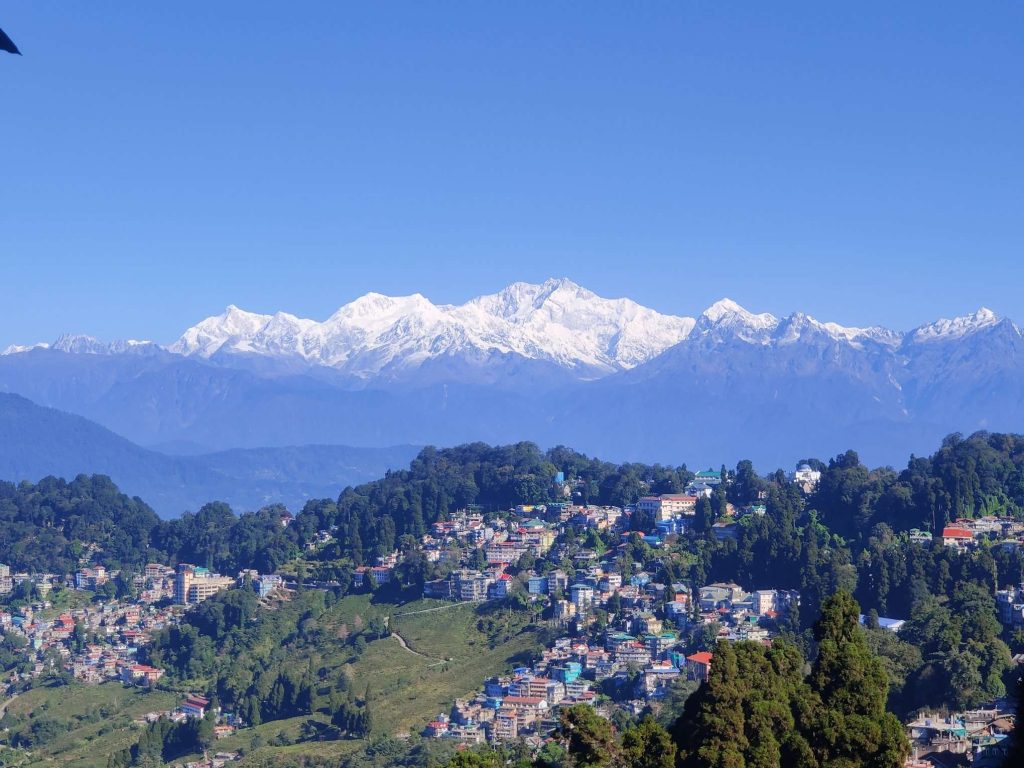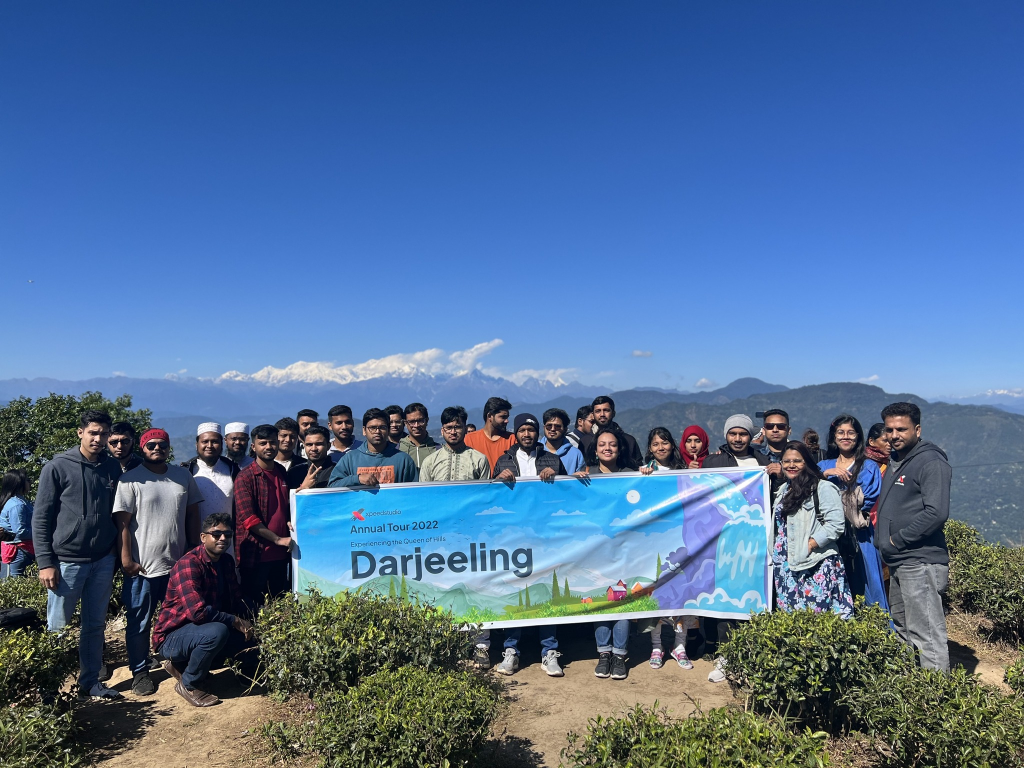 Rewarding Annual Day Tour:
Like previous years, we arranged a day tour in La Riveria, Riverside resort in Purbachal. Unlike the annual 5-day tour, it was meant primarily to recognize the top performers, rising talents, and exceptional contributions in some other categories by awarding them.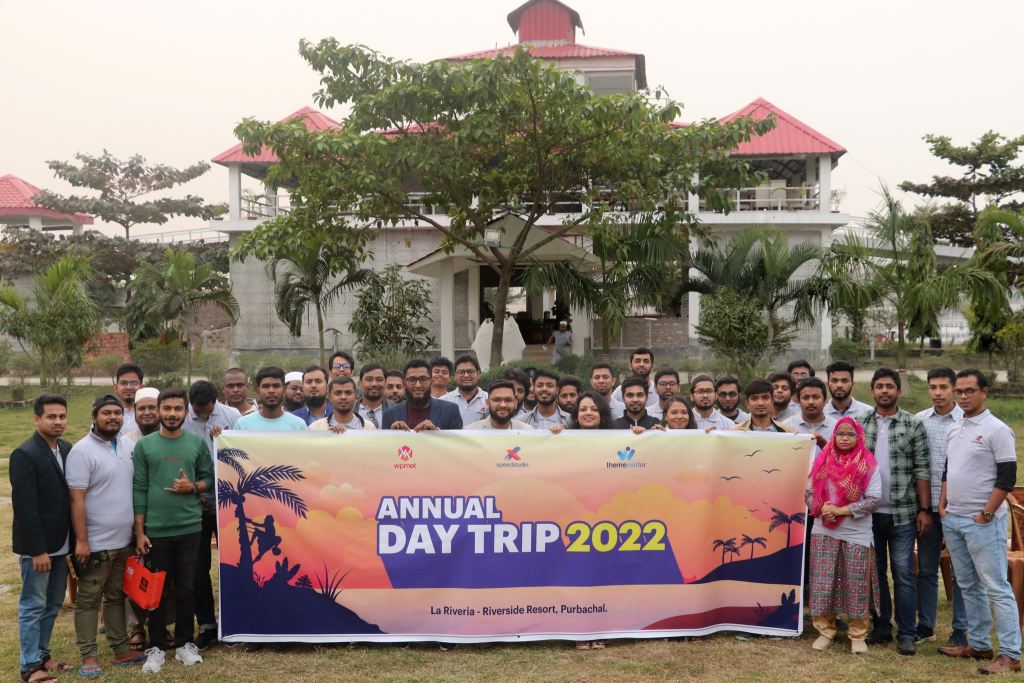 We conferred awards to each of our performers with handsome prize money. Our "Employee of the Year" received hefty prize money to travel to Cox'sbazar for 3 days and 2 nights with family. Besides, the awarding ceremony consisted of different types of refreshing games like pillow pass, one-touch football, swimming, etc.
Exciting Potluck Party:
The special attraction of 2022 at our office premises was arranging a potluck party. It was the first time ever that we organized such an amazing and unique program in our workplace. All the team members cooked a variety of foods at home and brought them at the office to share with others.
Some of the potluck dishes included bamboo chicken, special beef gravy, biryani, mouthwatering desserts, and so forth. The potluck ceremony was lightened up by the presence of prominent Agile Trainer Mr. Mizanur Rahman who presented gifts to the best dish makers.
Exciting Buffet Dinner:
We have lunch together daily at our workplace as a family. But dining out with special dishes and spending some quality time is a necessity either. It helps to blow off steam and build a stronger bond with team members.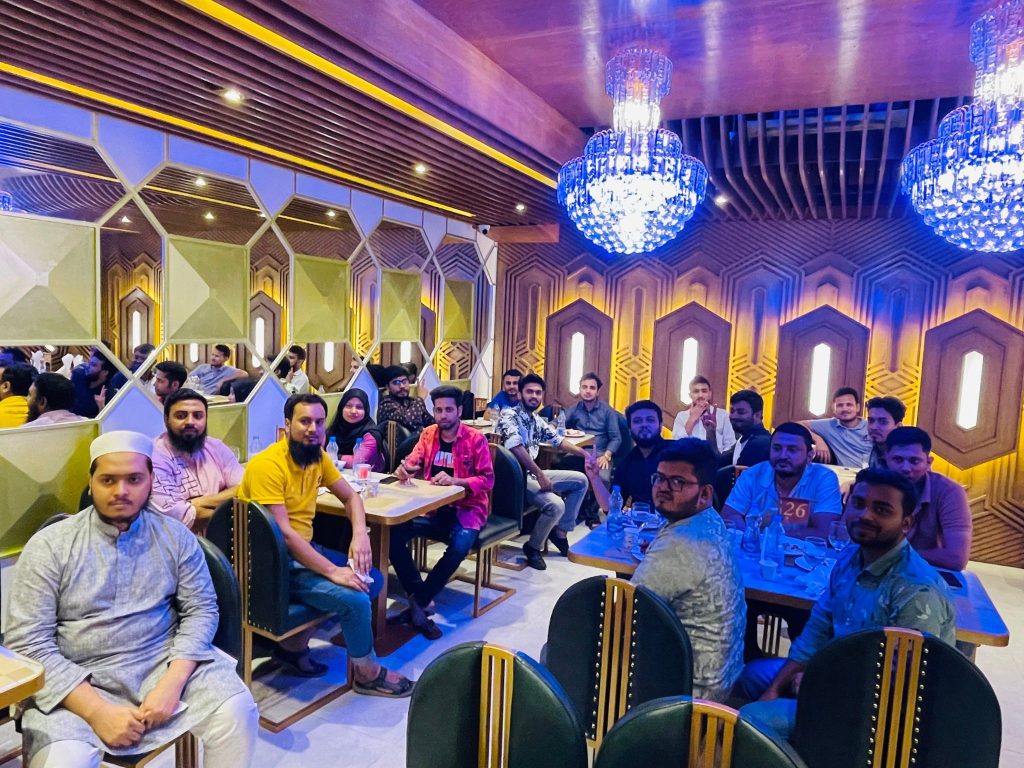 With that spirit, the entire XpeedStudio team went out for buffet dinners a number of times in 2022 at high-end restaurants of the town.
Regular Pizza Parties:
Having regular pizza parties is a part of our team culture. Since we worked hard in 2022 to release the most awaited AI Content Tool GetGenie, the frequency of our pizza parties redoubled in the last year. Along with the slices of pizza, we enjoyed sips of special coffee occasionally.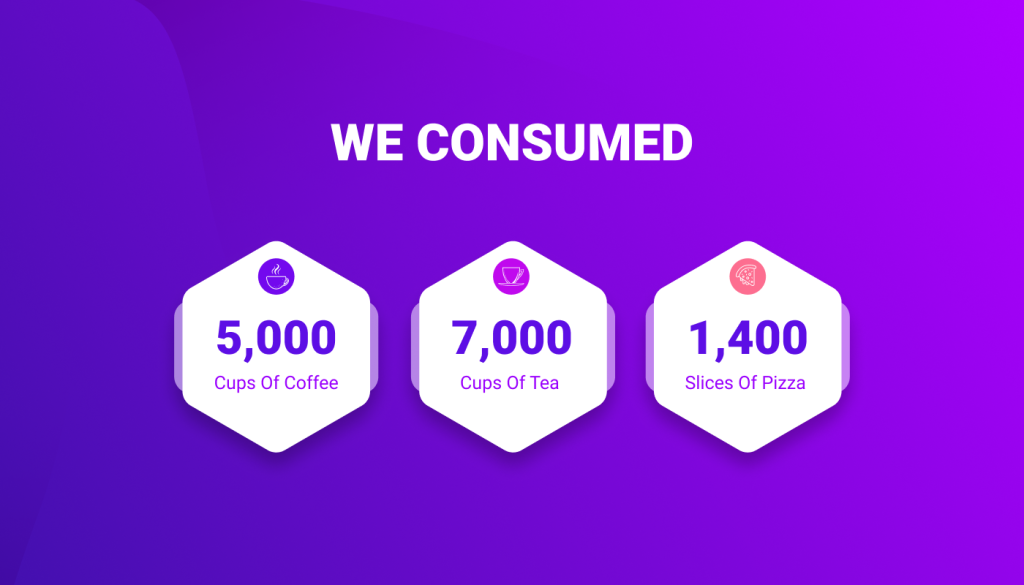 Refreshing Table Tennis Tournament:
We don't believe in constant slogging without room for rest and relaxation. Rather, we conform to the saying, "All work and no play makes Jack a dull boy" — thus the regular table tennis matches at the office premises keep us enlivened and motivated throughout the day.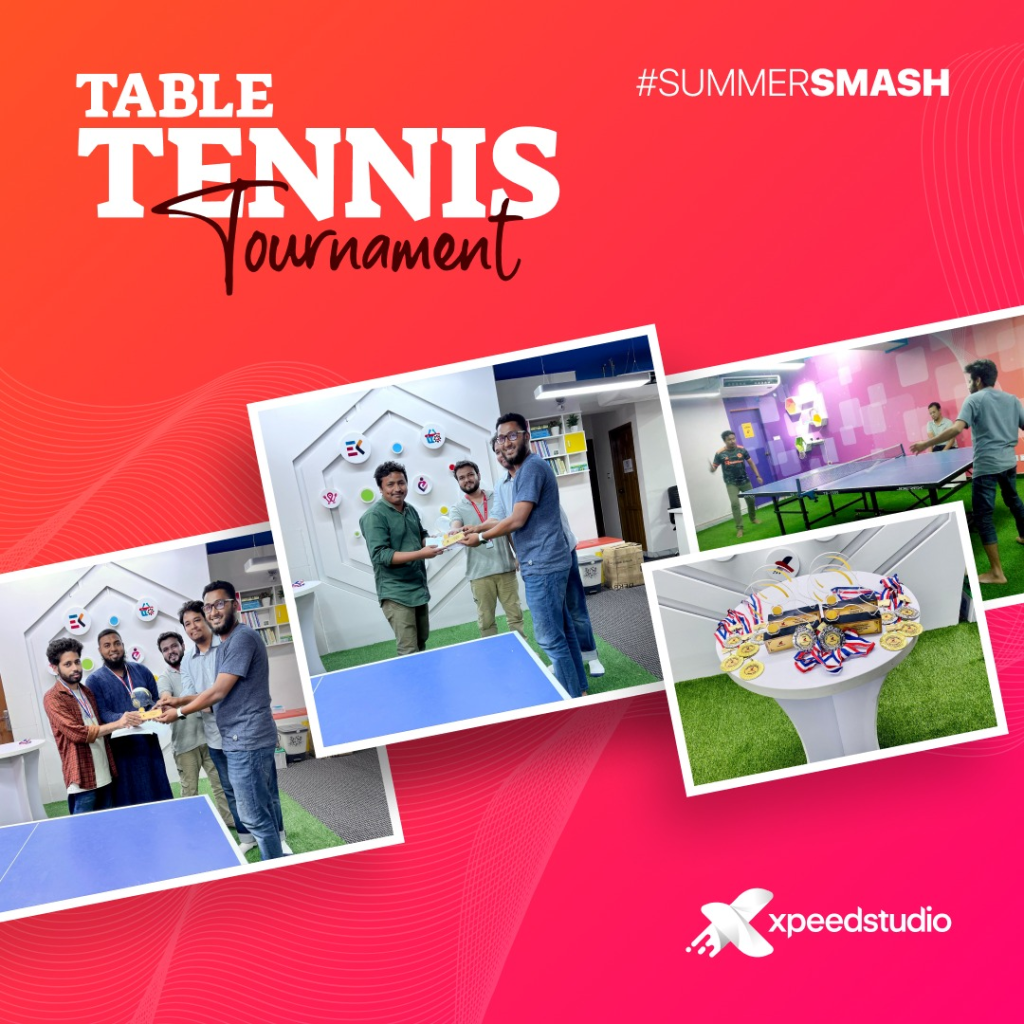 Especially in 2022, we organized an annual table tennis tournament to give our team members room for refreshment and take away the monotony and exhaustion from their lives. And the tournament went on with full of excitement and elation!
Enlightening Healthcare Session:
XpeedStudio is always concerned about the health and well-being of its employees. The outbreak of Covid-19 has made lives even more vulnerable. With that in mind, the XpeedStudio management took an initiative to organize a healthcare session.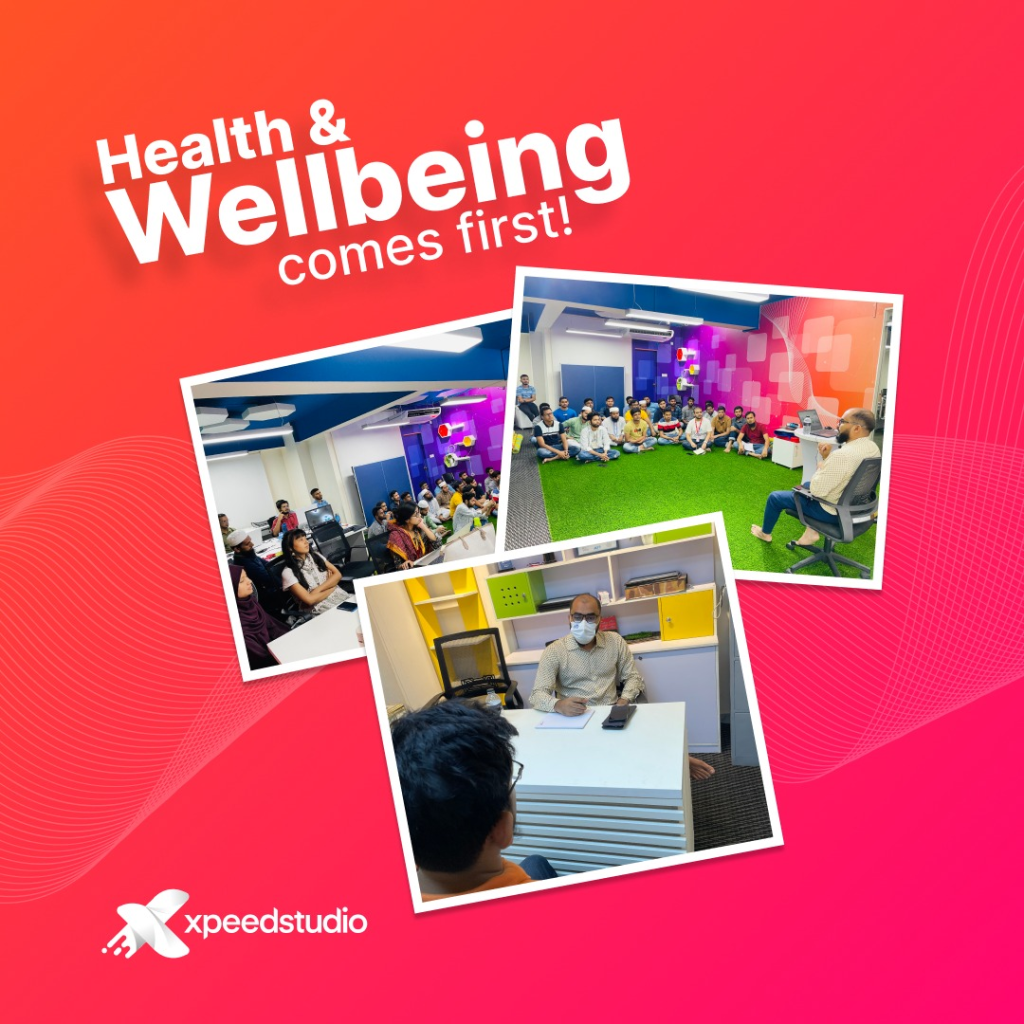 The invited healthcare expert took an enlightening session, provided medical advice, and gave prescriptions for many diseases and conditions. He also answered questions from our team members on different medical conditions.
WordCamp Kathmandu Sponsorship and Attendance:
It was 2022 when we made a Nepal tour to attend the WordCamp Kathmandu. And the glad tidings is that we were the Silver Sponsor of the WordCamp event. A team of 9 members went to the WordCamp to represent XpeedStudio and put forth our products.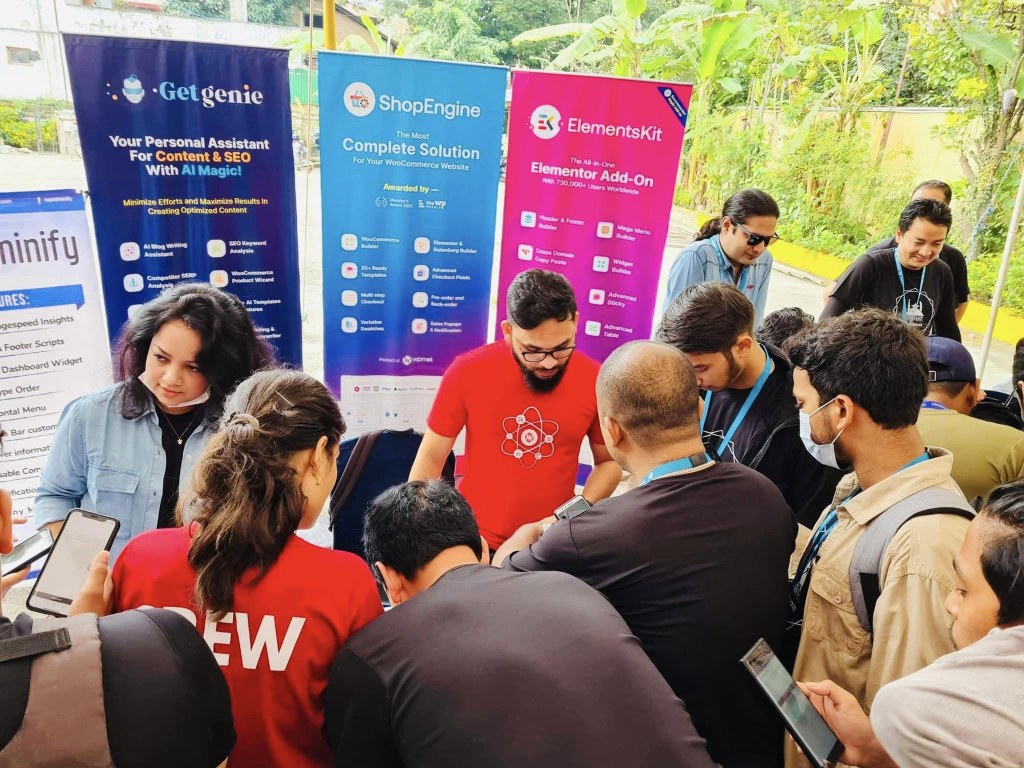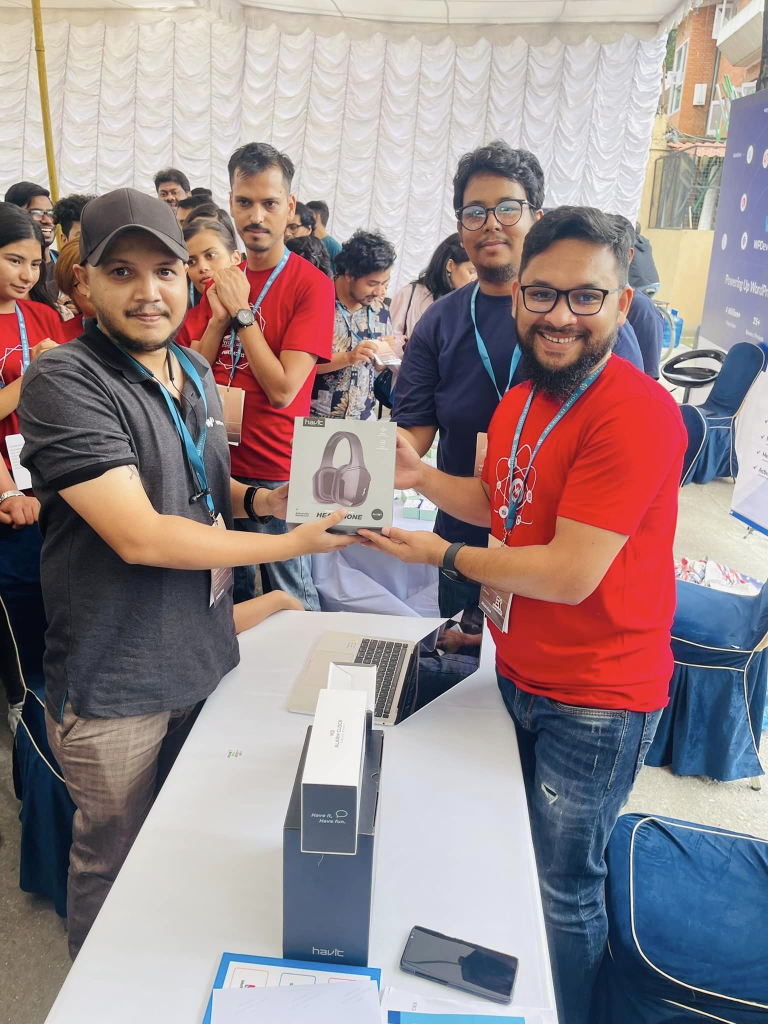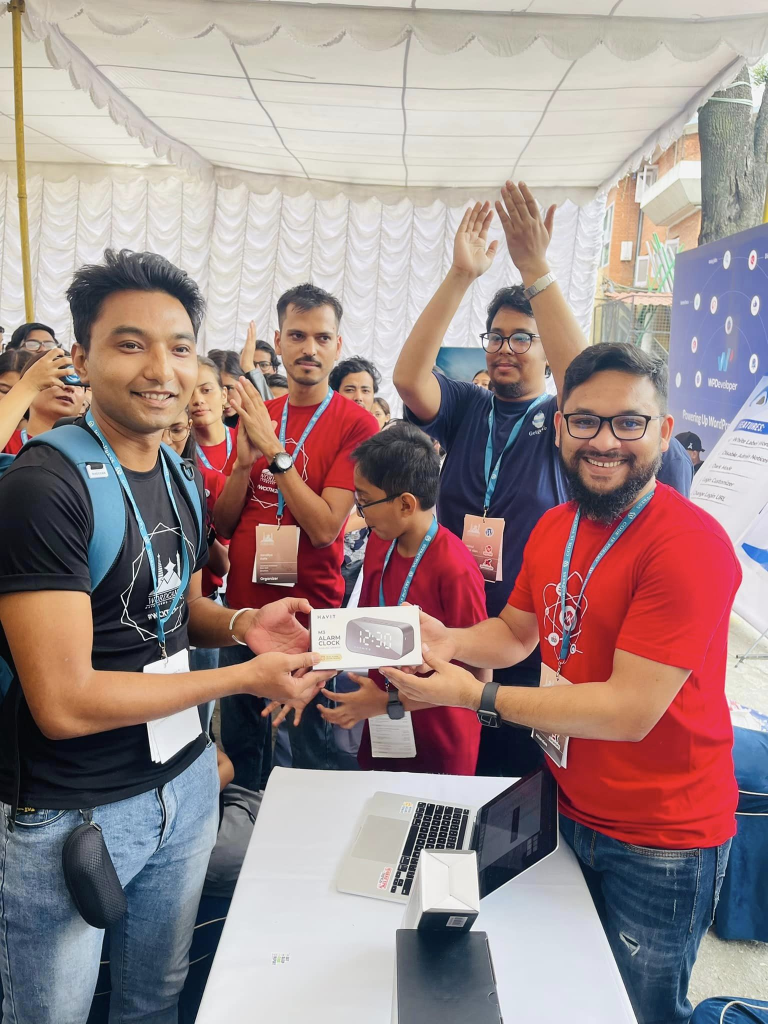 We set up our own booth in the venue and answered scores of questions asked by the attendees. Different types of games were arranged and the winners and participants were presented with gifts, swags, and giveaways. We even offered all our products with a 20% discount during the event.
Effective WordPress Meetups:
Along with all the above-mentioned fun activities and global tours, we organized 2 WordPress meetups at our office premises. Our team members, WordPress enthusiasts from other companies, and web developers, people from all these backgrounds made their presence in both meetups.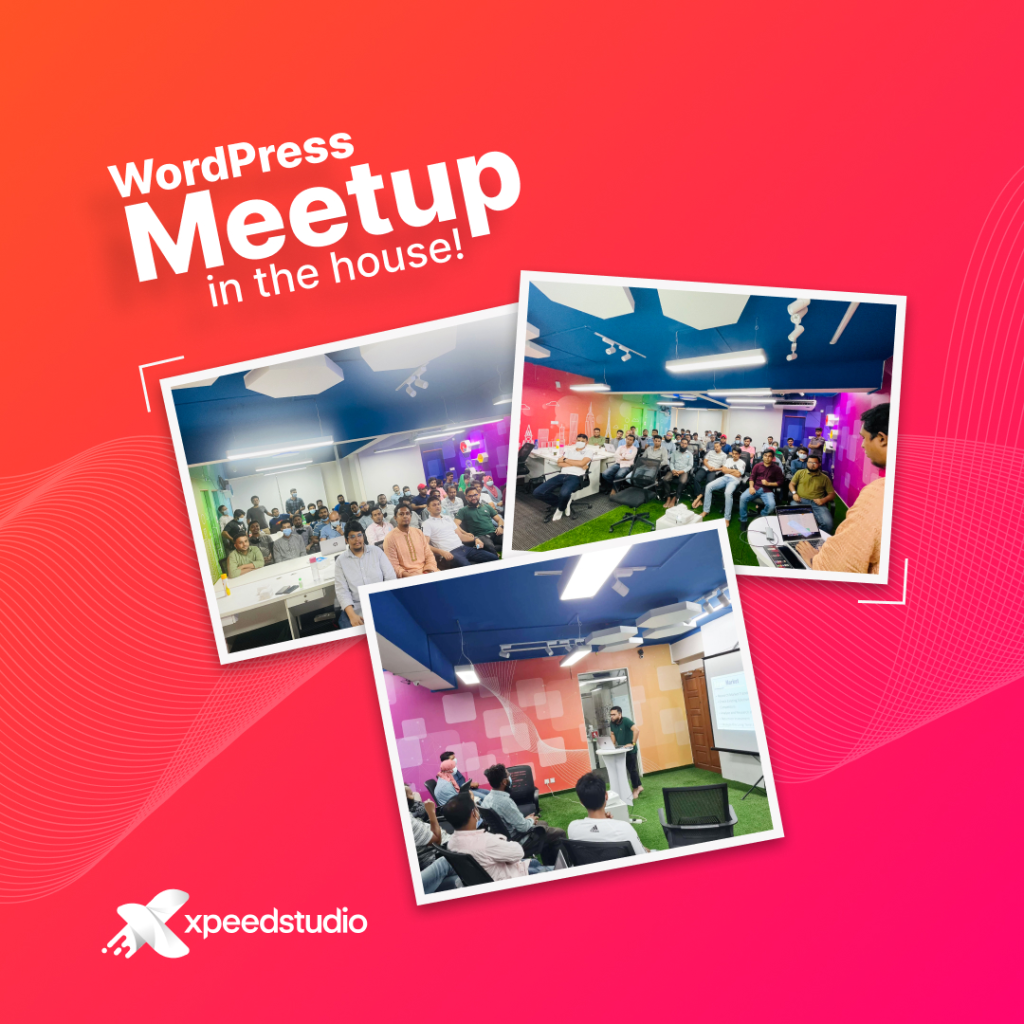 Distinguished speakers from different backgrounds shed light on various WordPress-related topics and addressed questions from the floor. The meetups also created an opportunity for all our team members to get introduced to the leaders of the WordPress arena.
Some of the other Remarkable Achievements in 2022:
Aside from GetGenie, we had a number of other resolutions and targets to attain at the beginning of 2022. And even those targets also we nailed by the end of 2022.
Let's have a quick look at some of the notable achievements we made in 2022-
Learning and Training Sessions for our Team Members:
Knowledge sharing is key to the development of an organization's employees. With that in mind, we organized weekly learning sessions at our office premises.
Besides learning sessions, training is a vital part of self-growth. Last year, we successfully conducted multiple training sessions to hone in our skillset.
Launch of Apps and Addons for WpCafe and WP Eventin:
Both WPCafe and WP Eventin received a massive response from users last year. But what caught the attention of everyone is the release of the WPCafe mobile app for Both Android and IOS, the WPCafe Multivendor Restaurant Addon for Dokan, and the WPCafe restaurant addon for Oxygen Builder.
Apart from that, WP Eventin also made some noise among the users after the release of Eventin Divi addon. And it continues to blow away users even in this year.
Indoor and Outdoor Entertaining Activities:
We partook in many fun and recreational activities in the previous year, including the indoor table tennis tournament, yearly tour, potluck party, etc.
Building a Strong Support System:
The support system is key to providing the best in class client service. Our support team has grown well last year and now we have a strong and robust client service team that we are extremely proud of. And of course, the credit goes to our wonderful support team.
Confident and Full-fledged Team:
After working hard for a year, now we are a self-motivated and self-starting team that can do the job on its own effortlessly.
Flexible Working Hours:
XpeedStudio management always focuses on their employees' health and well-being. That's why the team members started enjoying extended flexible working hours from 2022.
New Office Decoration:
In 2021, we adorned our office to provide a friendly working environment to our employees. But in 2022, we emphasized the decoration further to create a mesmerizing look of our office.
Looking forward to 2023:
The year 2022 was a positive and productive year for us. But that was possible only because everyone involved with XpeedStudio was committed to bringing out the best outcome. Whether they be team members, clients, subscribers, or well-wishers, all of them showed the zeal and urge to do their best.
We would like to thank each of our stakeholders for trusting and banking on us. Let us make a resolution and list all the targets that we want to achieve in 2023. Once done with that, let's approach each of our targets one by one with full commitment and dedication.
The success will continue in 2023 and even in the upcoming years. On that note, wishing you all have delightful and successful 2023. Till next time, enjoy your time!