7 Best WordPress User Registration Plugins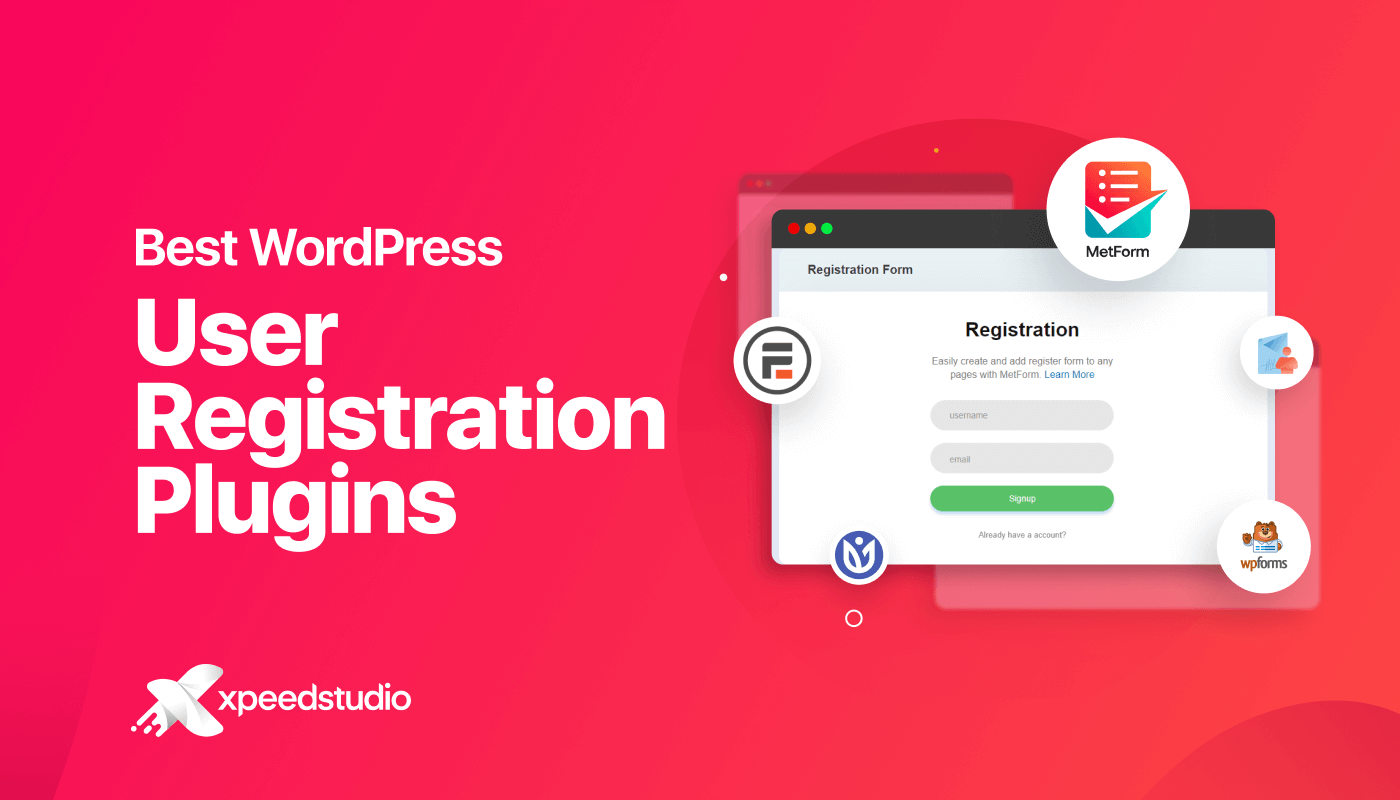 It is really easy to integrate a user registration form into a WordPress website. An easy-to-use WordPress user registration form can increase the number of registrations or entries for an event.
The problem is choosing the right one. There is a wide range of plugins to create a user registration form. Here you will get the best WordPress user registration plugins that are easy to use and are user-friendly.
You will get the details of each plugin so that you can decide which one to pick.
Why use a user registration plugin for WordPress sites?
As mentioned earlier, a user-friendly registration form plugin will help you to increase the number of entries for events. At the same time, if you are providing any SaaS-based service, it will be easy for the users to register a new account.
The opposite is, that if someone finds it difficult to create a new account on your website, there is a good chance of missing that customer. So, you shouldn't take any chances.
The 7 Best WordPress User Registration Plugins
After rigorous research, here is the result — an exclusive list of the best WordPress plugins for user registration and login.
MetForm is known as the most flexible and design-friendly form builder for WordPress. Especially, if you are looking for the best user registration Elementor plugin, there is no alternative to MetForm.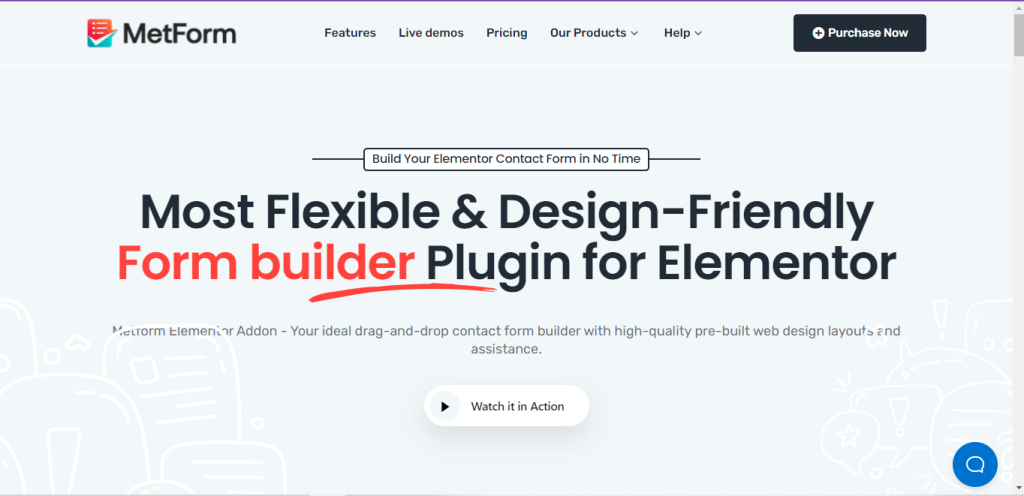 You can create and integrate a user registration form for your WordPress website just by dragging and dropping the widgets of the plugin. Each of the widgets is highly customizable so you can customize it based on your target audience.
The best thing about MetForm is that you can even integrate a multi-step user registration form with it. Also, there are lots of ready templates for a wide range of user registration forms that you can integrate with a few clicks. This user registration form builder has both free and paid versions. So, you can start easily.
The responsive design of the form helps to collect more leads. More leads mean more business!
Key features
Drag and drop form builder with lots of customization options
Supports most of the third-party email marketing and CRM tools
Doesn't require any custom code to create a form
Generates auto shortcode to integrate the form in any page of WordPress websites
Webmasters can export the entries in CSV form
If you are looking for a beginner-friendly user registration WordPress plugin, WpForms could be a good option. You can create a wide range of forms without writing a single code. For instance, you can create contact forms, payment forms, subscription forms, event registration forms, etc.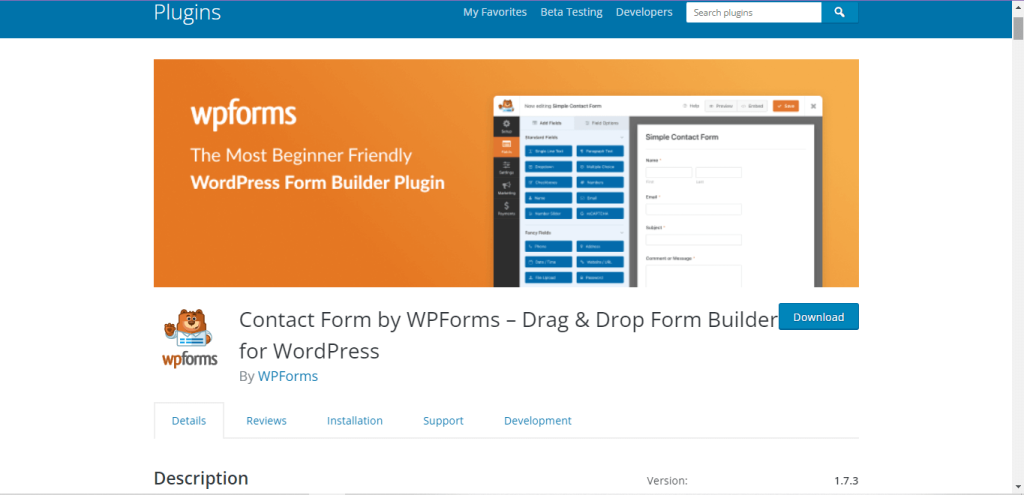 There are lots of templates inside the plugin that you can use for a variety of forms. Each of the templates is highly customizable so that you can give a unique look and use it for various purposes.
The interesting thing about this plugin is that it provides a challenge guide that guides the users to go through the form creation process. Even if you just have started with form building, you will understand the process.
Key features
Pre-built ready templates to save time
Optimized for fast loading speed
Mobile-friendly forms to collect leads regardless of devices
Tons of ready fields to integrate into forms
Easy to create support forms, donation forms, and payment forms
Too many functions in a form builder sometimes make it difficult to navigate the necessary features. But you can avoid the hassle by choosing simple WordPress registration plugins like WP User Manager. This plugin comes with easy-to-understand features.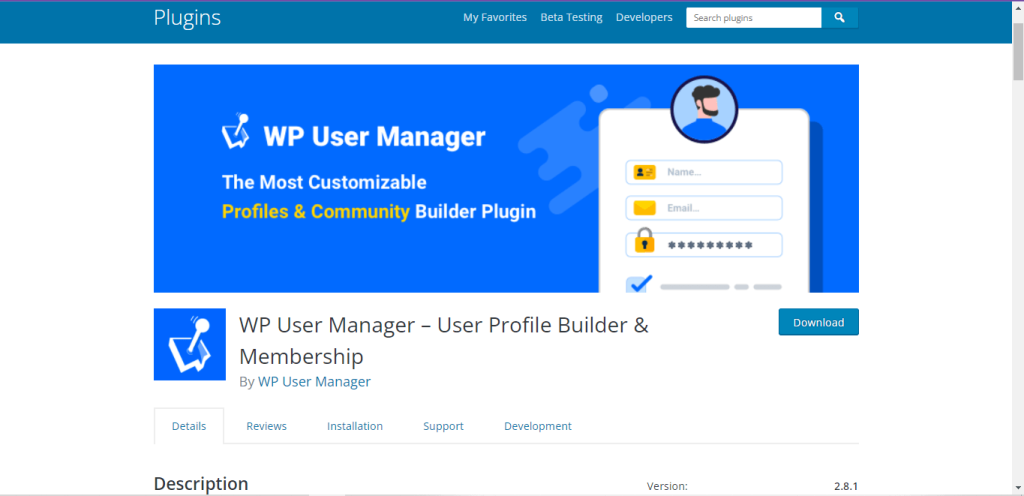 If you need only the basic features that make it easy to create user registration forms, go for this plugin. You will be able to create forms from scratch without much technical knowledge.
There are tons of features in this plugin to create a variety of forms without too much jargon. You can even create WooCommerce user registration forms with this. It can increase sales for your WooCommerce store.
Besides the default features, it supports integrating with third-party email marketing tools and CRM tools.
Key features
Comes with a one-click user restriction feature
Supports Google ReCaptcha for user registration
Export data about the user with a few clicks
Supports integrating social login without third-party tools
Without writing codes, create secured forms that are password protected
If you want to create advanced user registration forms rather than just random contact forms, you can check the Formidable Forms WordPress plugin. Compared to other plugins in this list, Formidable Form is a bit advanced.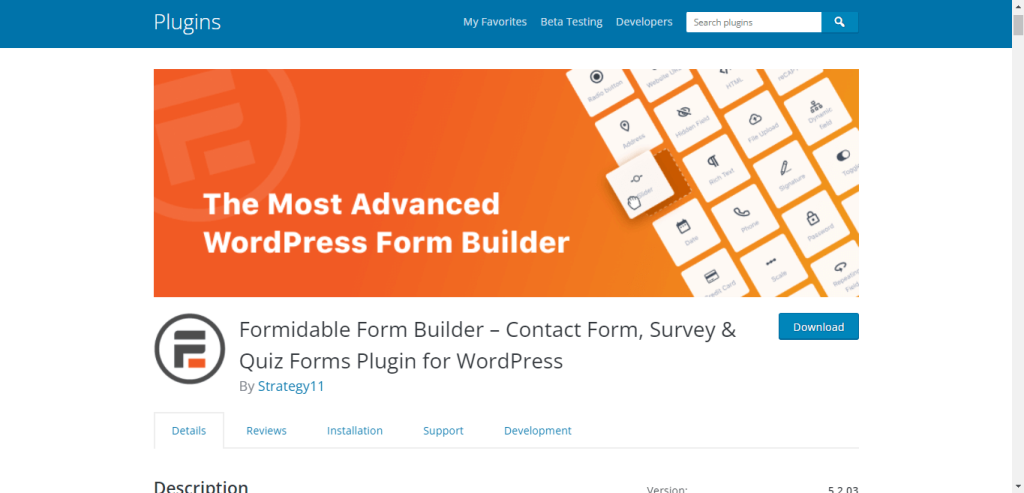 It is a drag and drop WordPress user registration plugin. No matter what kind of forms you want to create, the drag and drop functionality will make it easy. With a few simple clicks, you can create quizzes, event registration forms, contact forms, and many more.
If you are running a website where you need to collect user data only, Formidable will make it easy. For day-to-day surveys, it is convenient.
Key features
Create powerful survey forms
Drag and drop functionality to create forms within a short time
Advanced registration forms for events, sports, quizzes, etc.
Receive payment through credit cards using the default payment field in forms
Easy entry management system to collect user data
Ultimate Member is a versatile WordPress register plugin to create various forms without coding. Suppose your website offers membership for a particular service, you can create a membership form in a few clicks.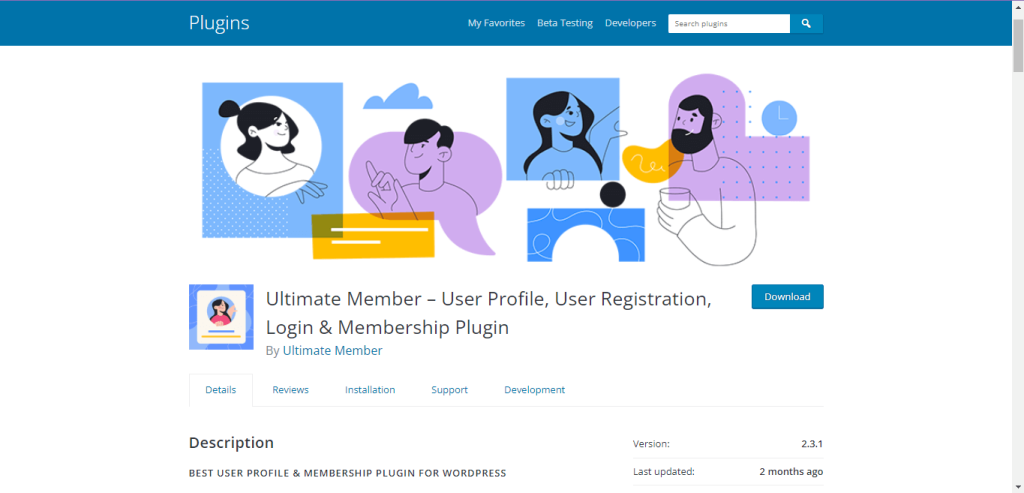 As mentioned earlier, there are versatile options available in this plugin. Besides creating user registration forms, you can use the plugin for custom user roles, member directories, and more.
This plugin features drag and drop functionality to make the form creation process smooth and convenient. However, there are no ready templates to create forms. So, you will have to create the forms from scratch.
Key features
You can set content restrictions for the users
Create conditional logic forms without heavy technical knowledge
Drag and drop form builder to avoid coding
Supports integrating third-party tools like MailChimp
Works with beaver builder and Elementor
If you are a beginner with form building and don't know where to start, User Registration by WPEverest is a good option. The form builder comes with tons of options to create custom user registration forms in WordPress.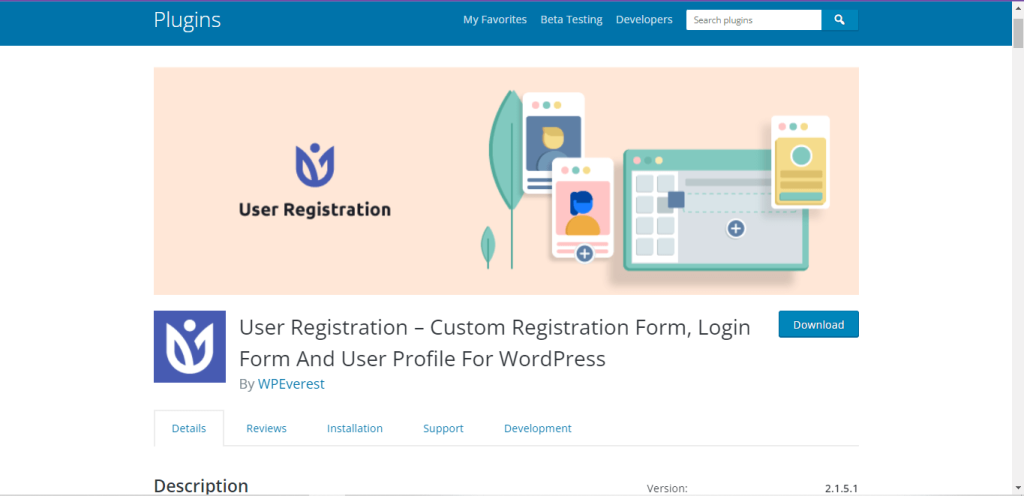 It is a drag and drop form builder that doesn't require writing codes or editing codes. Whenever creating a new form, you can simply drag and drop the fields that you want to add to a form. This plugin provides custom fields like country, profile picture, and privacy policy, etc. that you can use without much effort.
Besides user registration forms, you can also create login forms, account pages, regular contact forms, and more.
Key features
Built-in login form to integrate into WordPress websites
Set email notifications for the users
Create user roles such as editor, author, subscriber, and more
Create content restriction rules without any issues
You can add a WooCommerce billing address with this plugin
RegistrationMagic is a cross-functional user registration plugin for WordPress. Webmasters can create a complete registration process using this plugin and also can control how the process works. Whether it is for a single registration or multi-step registration, there won't be any issues.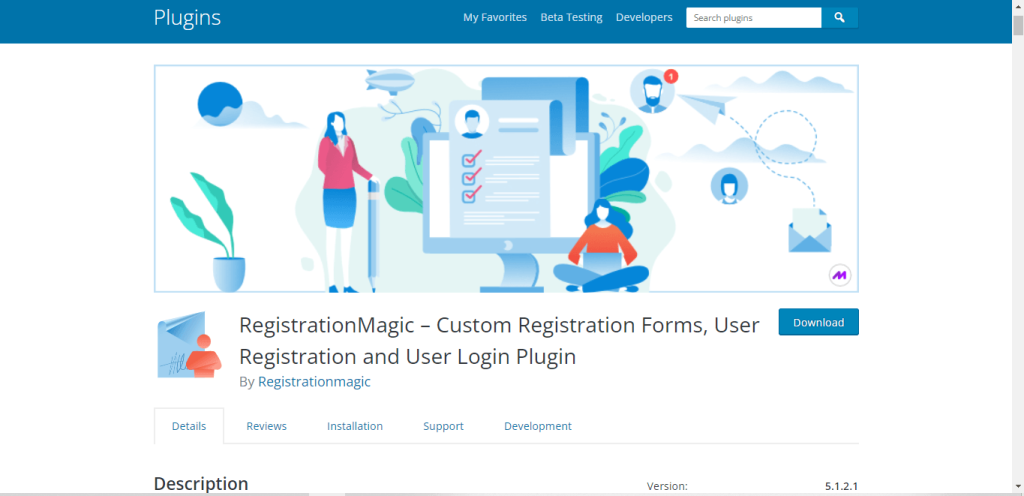 It is an easy-to-use plugin that anyone will find helpful. This plugin works as a complete user management system for WordPress websites.
You can connect this plugin with the default user meta-system of WordPress. So, there is no need to stick to a particular style. You can go for custom fields in a form for different users of your website.
Key features
Built-in user login management system for users' convenience
Drag and drop functionality for quick form building
Short-code system to integrate forms anywhere in a WordPress website
Duplicate forms to integrate the same style on multiple pages
Integrate terms and conditions checkbox and similar checkboxes for user registrations
Which WordPress user registration plugin should you use?
Though here you got the list of the top 7, if you consider the best WordPress user registration plugin, MetForm will be on top. This flexible form builder will make it possible to give a smooth user registration experience without any trouble. You can create multistep forms, event registration forms, conditional logic forms, and many more.
Webmasters can conveniently edit different sections of the form, customize it, export data, include payment options, and many more. In one form builder, you will get everything you need.