Ultimate Guide to Structure an eCommerce Team (2023)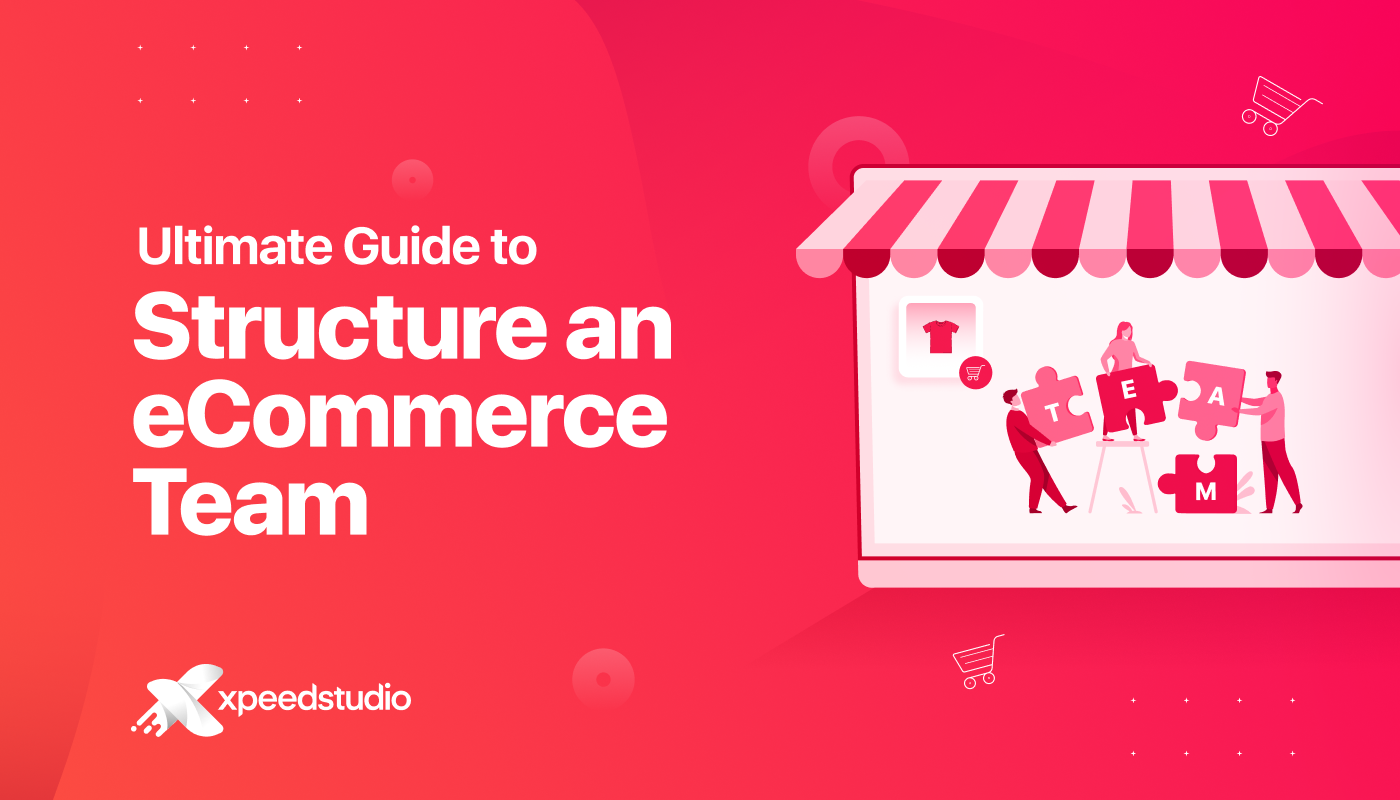 You should build your eCommerce team first, rather than thinking of constructing your eCommerce site. 'If you want to go fast, go alone, but if you want to go far, go together', according to an African saying! 💪🏽
Since creating an eCommerce website is a long process, you'll need to work closely with your team to get it done well. In this article, we'll go through the process of how to put together the team you want to work with.
To achieve eCommerce success, brands must have the correct fire team in place. A team with considerable industry knowledge, strategic foresight, and strong cross-functional capabilities is required to run a successful organization.
It might be difficult to know where to begin for individuals who are just starting to construct the basis of their eCommerce team.
Hesitated? Please, don't be! 🤗
You are not alone in this situation. We're going to show you how to build the ideal eCommerce team structure. Of course, each organization is unique, but I think that using this model as a starting point would be beneficial.
Continue reading…

How to Design a Well Structured eCommerce Team?
Typically, if you want to develop an eCommerce website, you'll need to hire a team to design it for you. When you're working with a limited budget, you'll have to decide which professionals are most essential to the project's success.
It won't be a smart move if you try to save some money by recruiting fewer or less qualified staff. Instead, you must concentrate wisely on investing your resources.
Having said that, a team should be structured in such a way that it maximizes automation and software use while also having the most valuable, highly professional people on board.
✅ Be Cost-Efficient
Being cost-effective does not mean not spending money, but rather spending it wisely. Every company must make judgments on how to distribute finances, and hiring the right expertise may be the most effective way to invest your money wisely.
However, in order to attain this goal, you must stick to your objectives and make personnel selections based on your company's needs.
✅ Be Consistent with Your Targets/Goals
Because each company's requirements are unique, it's critical to ensure that you have them sorted so you be able to meet them. Because when there is a clear goal to reach, your business will flourish better.
When you can no longer do the job due to a lack of expertise or skills, or when you don't have enough time to accomplish the job's objectives, it's time to engage a professional. When you're developing an internet store and don't know how to code, for example, you'll need an eCommerce developer.
✅ Hiring Your Manpower
It makes no difference if your team is geographically dispersed throughout the globe or collaborates in a single location. It is far more significant than your employees are concerned about your product and each other.
It's also critical that you put your faith in people to get the work done and that you search for ways to improve systems. After all, there is always the possibility of a mistake, but you can typically test your candidates before hiring them; just make sure to give a paid test.
✅ Establish Your Clan
Effectively onboard newcomers and ensure they are familiar with the team's values. And of course, make sure that the newcomers are in sync. A clear and planned onboarding procedure, as well as a set code of conduct, can help turn a newcomer into a member of your tribe quickly.
It is easier to add new people to your team when you have an onboarding program in place. Furthermore, with geographically dispersed teams, you are unlikely to see any of your experts in person, so having a strong corporate identity and a clear code of conduct will help ensure that your company's values are supported and upheld by all employees.
✅ Design Your Work Process
It is critical to consider workflow when forming your team. Regardless of the type of products you sell, you'll need a well-defined workflow for professionals to follow. Having established workflows allows you to make better use of the time of hired specialists and optimize procedures wherever you work.
Key Positions of eCommerce Team
It comes as no surprise that determining the roles in the eCommerce team is entirely up to you, but in general, the set of responsibilities is linked to the position title. Here are some of the positions:
👨🏻‍💼 Executive Management:
Since it is their company, the CEO/Founder has a significant role in designing and developing it. Regardless of their location, most CEOs/Founders endeavor to keep up with multiple duties and maintain a high level of productivity.
👨🏻‍💻 Developer Team:
The web development team is one of the most important professions that determines the success of your online business. According to the technical description offered, web developers are responsible for managing the website's back-end and/or front-end operations, as well as developing the website's functionality.
A web developer is usually in charge of maintaining the online store and keeping the platforms on which the website is built up to date.
⚡ Here are the few aspects that you need to keep in mind before launching your site:
Device responsive: Consumers are rapidly adopting mobile purchasing, so make sure your site is compatible with smaller devices like mobile and tablets.

User-friendly: In eCommerce, your website serves as your storefront, therefore it's critical that it's simple to navigate and operate. Also it's important users can easily locate anything.

Payment and Filtering Options: At a basic level, this implies it should be visually appealing, accept a variety of payment methods, and provide a variety of search and filtering options.
While you may not require an in-house web developer, you will require someone who can make minor changes and updates to your site on a regular basis.
🕵🏻‍♀️ HR Team:
A company's HR department is its engine. They keep track of your personnel, their work, and their compensation. They also write a report about it.
You can make judgments based on their reports, such as whether or not your organization is progressing. And you can easily track which individual is responsible for which progress or demotion.
⚡ Here are some of the most important activities that your HR team should complete in order to keep your eCommerce business going forward:
Maintain the number of employees
Update and convey the latest announcements
Keep track of who is on leave or vacation
Keep track of employee office check-ins and check-outs
Managing the onboarding hiring process
Hiring, onboarding, employee management, leave requests, payroll, and other administrative tasks consume a significant amount of time, it can be simplified when your business is actually up and running.
💸 Finance & Accounting Team:
Accounting is frequently thought of as the "boring" component of growing an eCommerce business, but it is crucial. Inefficient accounting methods will not only stifle business growth but may also result in wider, more significant legal issues.
⚡ As a result, prepare an accounting team capable of performing the tasks listed below.
Customers, vendors, and employees who are new to your company are profiled by the accountants
They accept payments, create and erase invoices, and keep track of sales data for final reporting
This group is in-charge of all the nitty-gritty details of spending, such as creating expenses, making and paying bills, and so on
They are in charge of the bank accounts where money is received from customers, spent on suppliers, or any transferred
Taxes are handled by the accounting team, which creates tax zones, tax categories, and communicates with tax agencies.
If you wish to handle all of this confidential information manually, it will take a long time and be quite difficult. Instead, give it to your finance and accounting department.
🦸🏻‍♂️
Marketing Team:
A marketing team is in charge of maintaining your client base's growth, so investing in marketing is an investment in your future growth.
⚡ Apart from tons of other responsibilities they're obliged to do the following tasks:
Email Marketing: Email marketing is a low-cost marketing method that allows you to easily engage customers.
Competitor Analysis: Your marketing team will conduct a competitor analysis and inform you of what your competitors are doing currently and how they are performing in the market.
Social Marketing: In today's world, social marketing has a huge impact on your online business's sales growth.
When it comes to the ideal eCommerce team structure, the marketing team is one of the most important components. They essentially perform the most important role in spreading the word about your product's name and qualities.
👨🏻‍🎤
Content Tea

m:

Content marketing is a type of integrated marketing that includes a deliberate approach to content creation, management, distribution, and sharing. So you can educate, engage, raise brand awareness, create leads, and meet your marketing objectives.

You will struggle in acquiring customers until you achieve a high rating on search engines.

⚡ The following are the content team's primary responsibilities:
Make interesting content for a number of multiple platforms.
Create intriguing material by utilizing great communication abilities.
This unique and experimental multimedia techniques are driven by his knowledge of eCommerce trends.
The content team assists in the development of brand identity and increases client trust. More importantly, it's one of the most effective techniques to boost your eCommerce company's current SEO score.
👩🏻‍🎨 Graphics Designer:
The role of a graphic designer is crucial, and it must be handled with care. A good designer can create a design that is both user-friendly and memorable. As a result, hiring a graphic designer who shares your company's principles may help you gain more customers.
👨🏻‍🏭
Inventory Manager:
The Inventory Manager is in charge of the merchandise movement. The Inventory Manager's job is to ensure that warehouses and deliveries run well and that products are packaged and delivered on time.
👨🏻‍🔧
Customer Support Team

:

An eCommerce customer service differs from other businesses. In that, employees rarely interact with customers face to face. Instead, eCommerce companies frequently engage employees to handle live chat and phone calls. And they occasionally use chatbots to communicate with customers.

Customer support agents' primary role, or even goal, is to assist web store visitors and clients throughout their purchase process.
👩🏻‍⚖️ Lawyer (When Needed):
If you want to build the ideal eCommerce team structure, you should include a count lawyer. Make a lawyer ready to safeguard your company from some unwelcome activities.
Apart from that, they are in charge of all federal, state, and local taxes and fees. They are in charge of all of your legal matters.
You don't need an in-house lawyer for 24/7 stand-by. Instead, hire a freelancer or a contract lawyer to assist you if necessary.
Building eCommerce Site in WordPress:
Some of the top WordPress eCommerce platforms recommended by tech professionals include Magento, Shopify, and WooCommerce.
Magento: An e-commerce platform designed specifically for web developers and for medium to big online retailers.

Shopify: One of the popular specialized eCommerce platforms, and is excellent for drop-shippers and entrepreneurs. Plans start at $29 per month.
WooCommerce: The WooCommerce plugin for WordPress gives the entire eCommerce capability.
If you utilize a hosted online business solution like WooCommerce, you may streamline the setup process by purchasing your domain name from the same provider.
Since WooCommerce is used by 39% of all online stores (more than any other platform), it's clear that they know what they're doing when it comes to assisting e-retailers with proper inventory management. PayPal, Bankers' Automated Clearing Services (BACS) for direct debit, credit, and cash on delivery are all built into WooCommerce.


Look for a platform that is intuitive, versatile, and expandable so that you don't have to move platforms as your customer base grows or you add new products to your portfolio.
There are multiple WooCommerce plugins available in the WordPress library. Each plugin is designed to make an eCommerce site better. However, downloading too many plugins can make your site slow and laggy.

In addition, if you're looking for a dedicated WooCommerce plugin that will assist you to build the best WooCommerce template in less time and hassle. Then you should look into ShopEngine, an all-in-one drag and drop WooCommerce builder plugin for Elementor.
ShopEngine is a freemium user-friendly plugin, which requires no coding. Even non-developers can build a visually stunning website all by themselves.
| Features | Free ⚡ | Pro 🔥 |
| --- | --- | --- |
| Widgets | 40+ | 65+ |
| Modules | 4+ | 13+ |
| Templates | 5+ | 15+ |
In other words, ShopEngine is a lightweight suite of WooCommerce solutions for Elementor with a blazing-fast loading speed, packed with WooCommerce pre-build templates.
In which you can avail Product Comparison, Wishlist, Variation Swatches, Pre-order, Quick Checkout, and many more at one place!
Final Thoughts on eCommerce Structure
If you don't have the right team in place, your business will never be successful. The execution team of a firm is critical to any future successes it may accomplish.
So, before you launch your eCommerce site, get your team ready (or at least establish a strategy) using this finest eCommerce team structure blueprint.
Now it's your time! If you need assistance discovering answers to any of the above, we can offer some insight based on our years of eCommerce experience – just ask us anything in the comments section below. Your efforts are much appreciated.