Create a stunning eCommerce website with Bajaar theme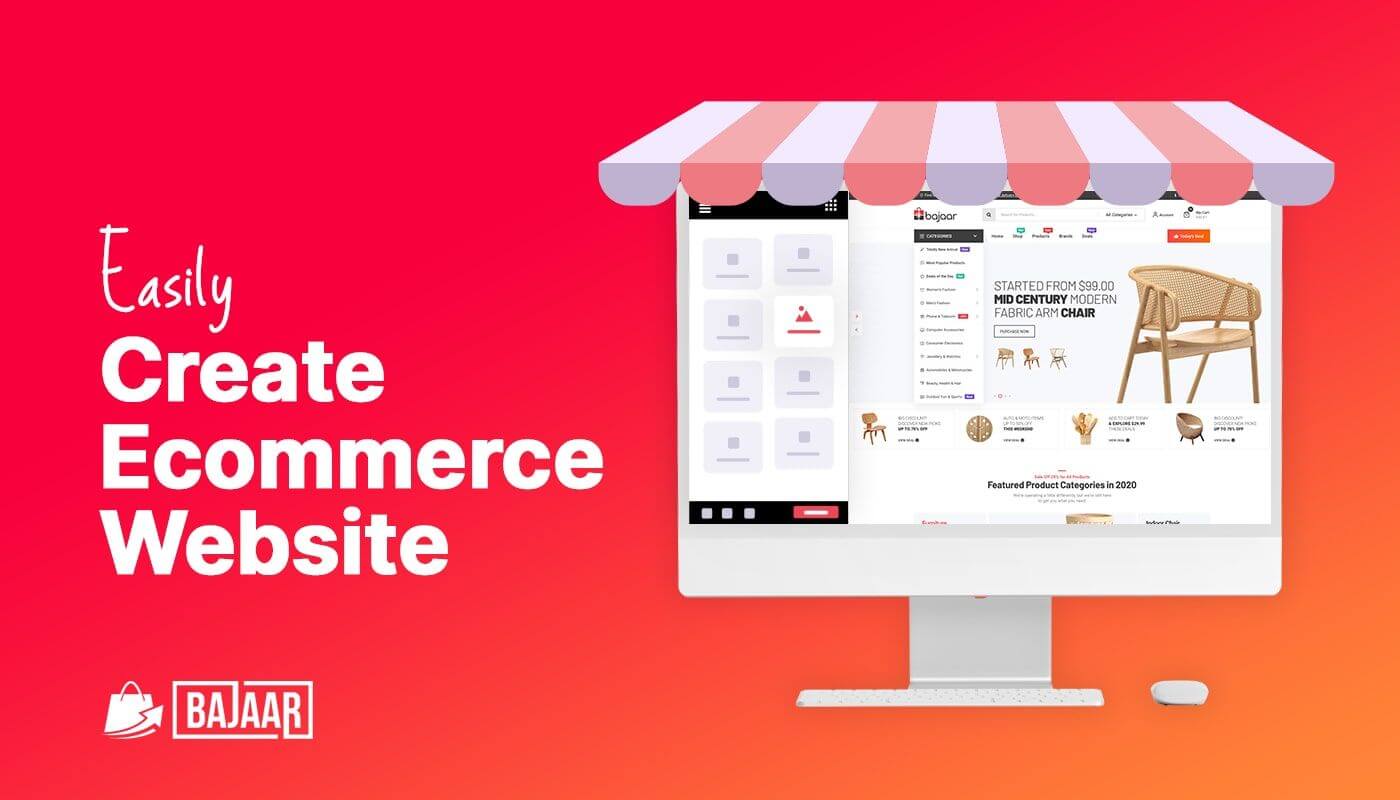 Your website represents your business to the customers. It could be your ultimate promoter. Besides, you will create the first impression on your customers with this. That's why it's very important to create a stunning as well as engaging website that is a good fit for branding and making conversions.
While developing a website in WordPress, the first challenge that you will face is choosing the right eCommerce theme and plugin. That's why in this blog we will guide you to create an engaging eCommerce website with Bajaar theme.
Bajaar is a highly responsive, compatible, fast-loading, flexible WooCommerce theme that is suitable for any eCommerce website. On the other hand, ShopEngine can be the ultimate solution for your WooCommerce pages. With these two, you can make a full-fledged eCommerce website very easily.
What is a Bajaar theme?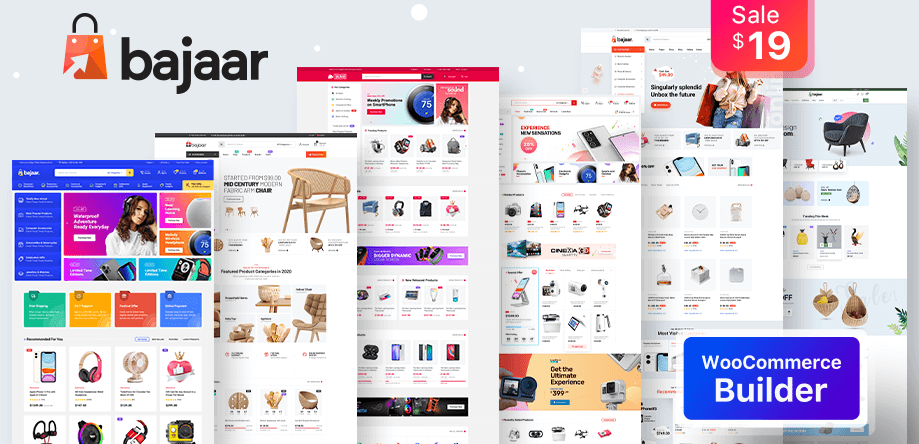 Bajaar theme is a fully customizable and responsive WooCommerce theme by that you can create any kind of eCommerce website. It is highly compatible with most of the WooCommerce plugins including ShopEngine. As a result, customization of your eCommerce website gets super easy.
Besides, you will get a custom CSS framework for smooth and fast loading speed.
It is compatible with Chrome, Opera, Firefox, Edge, IE11, Safari, and all major web browsers.
You will also get 400+ incredible font icons, 200+ line icons, parallax sections, smooth animation, and many more features for website customization.
All these features will help you to build a professional website like Amazon, eBay, Walmart, etc.
How to create an eCommerce website using Bajaar theme
Making a 100% responsive, engaging, and converting eCommerce website gets super easy with Bajaar. You can build it within few minutes that is really rare when you need to maintain standards. Want to know how?
Follow the following steps to create an eCommerce website like Amazon using Bajaar within few minutes:
Step 1: Install and activate Bajaar theme.
First, go to your admin dashboard and then, visit Appearance>> Themes.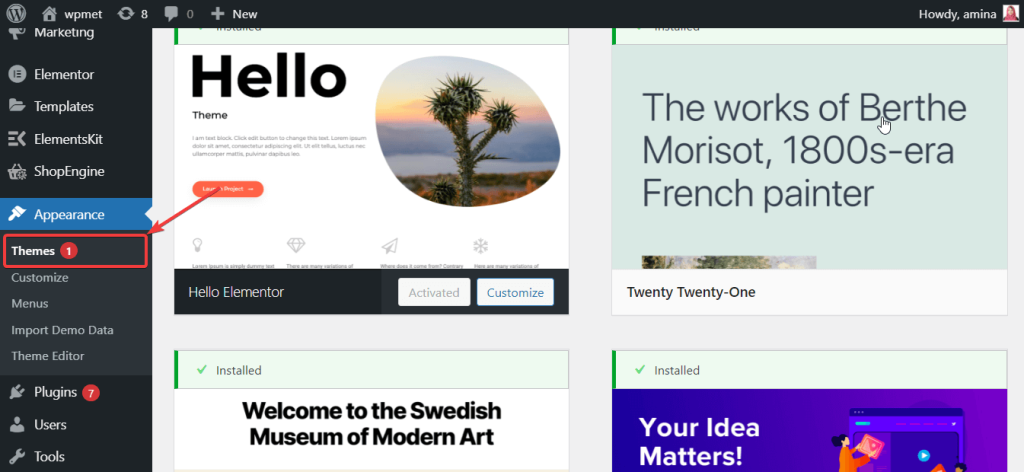 Now click on the add new button.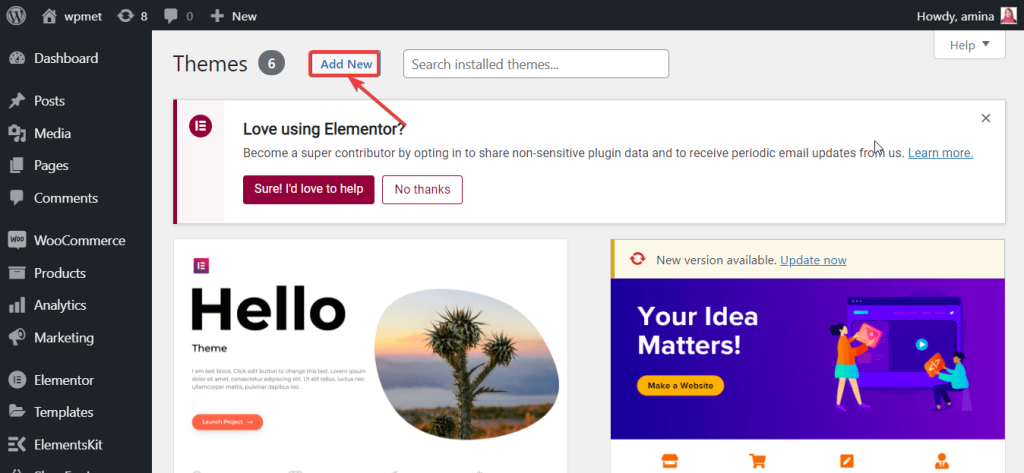 It's time to upload the theme. For doing it, click on the upload theme button.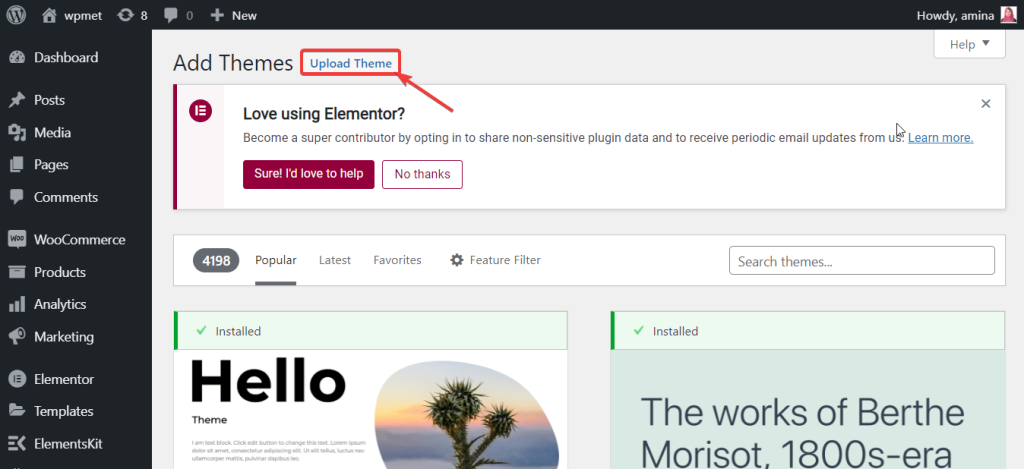 After that, you need to choose the zip file from your computer that you have purchased from Themeforest and click on the install now button.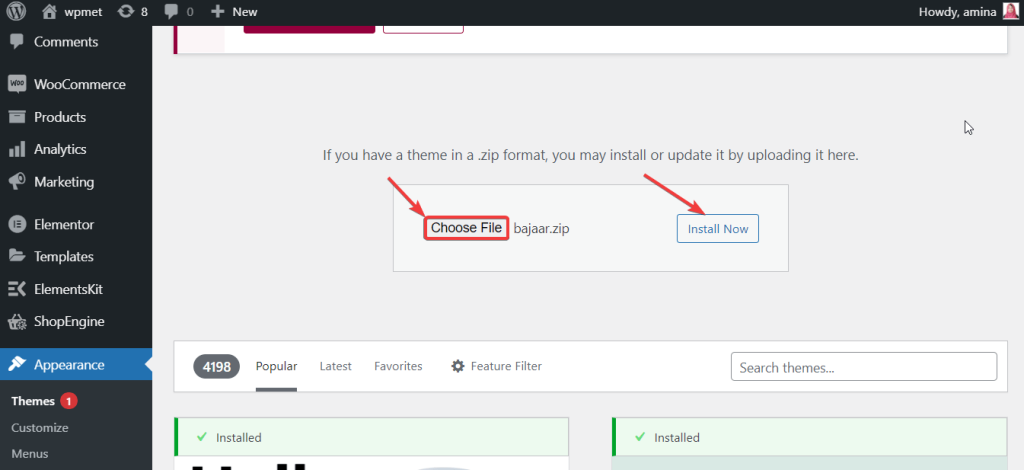 Then, active Bajaar by click on the activate button.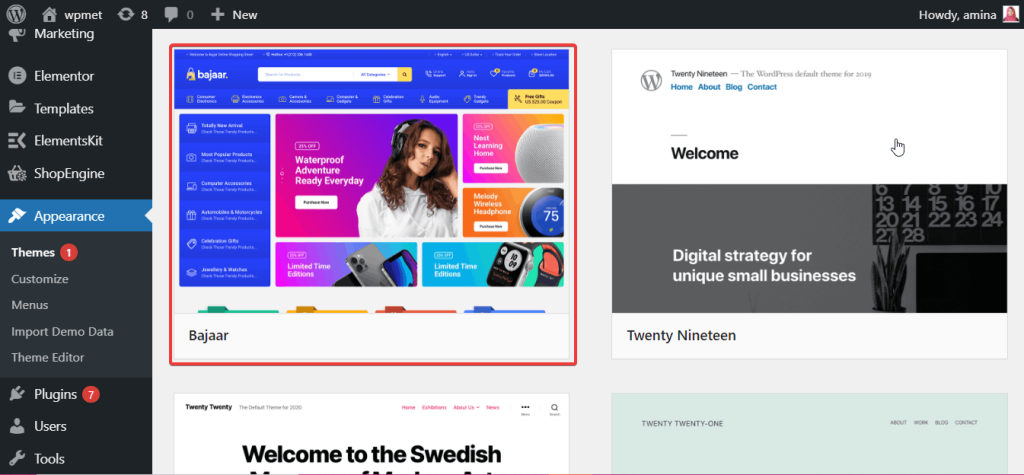 Step 2: Install and activate essential plugins for Bajaar.
In this step, you need to go appearance>> themes. Now click on the begin installing plugins.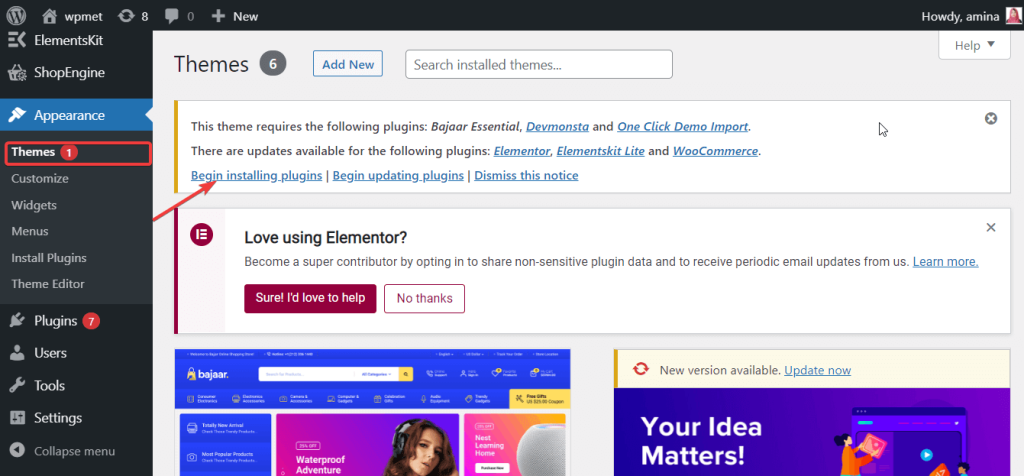 After that, click on the plugins then choose install for bulk action and now click apply.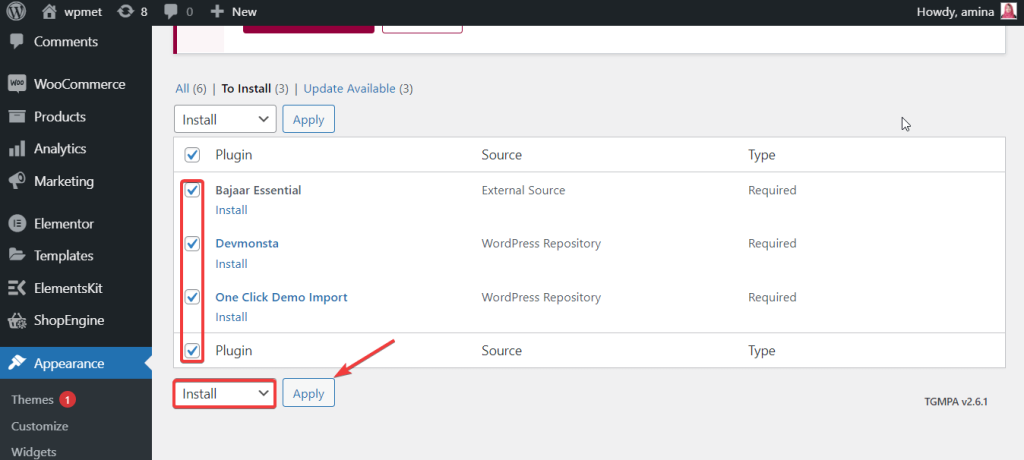 For activating essential plugins click on the begin activating plugins.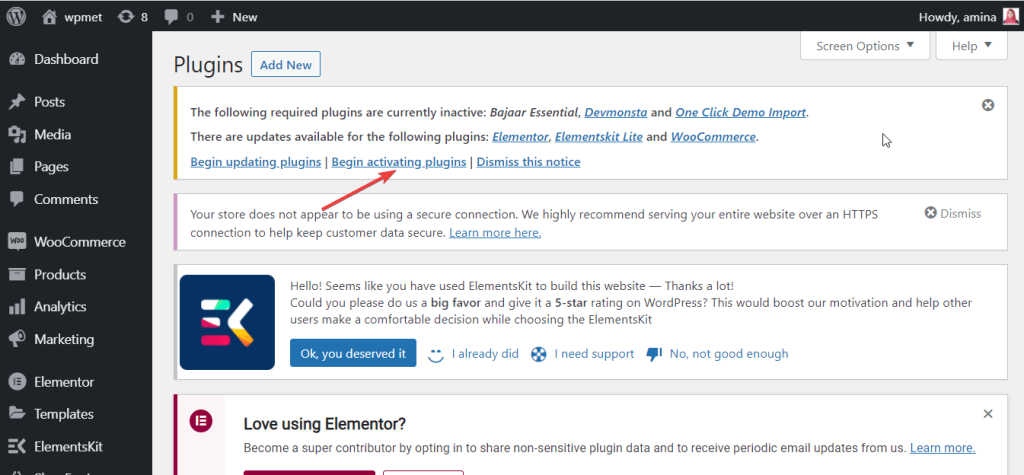 Activate essential plugins same as you have installed the plugins.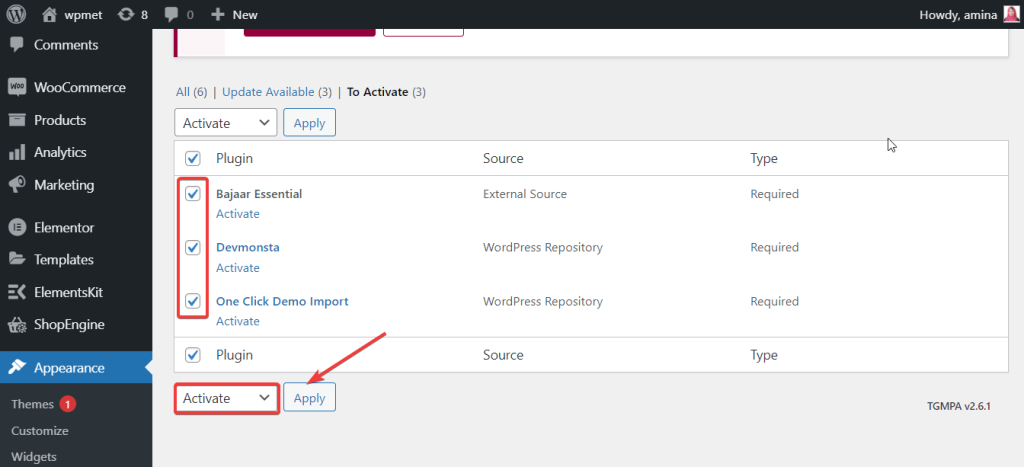 Step 3: Customize your website with Bajaar.
In this step, click customize to customize your website with Bajaar.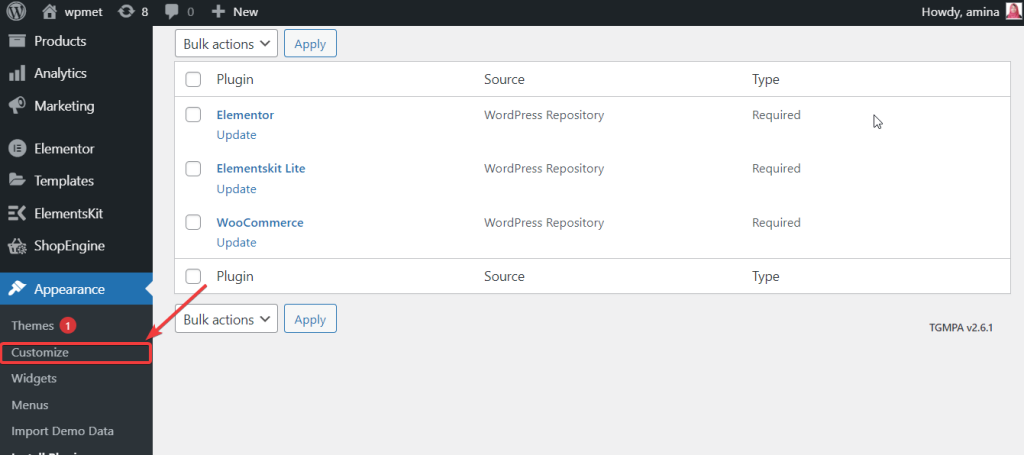 Finally, you can customize your site by the options that are shown in the picture.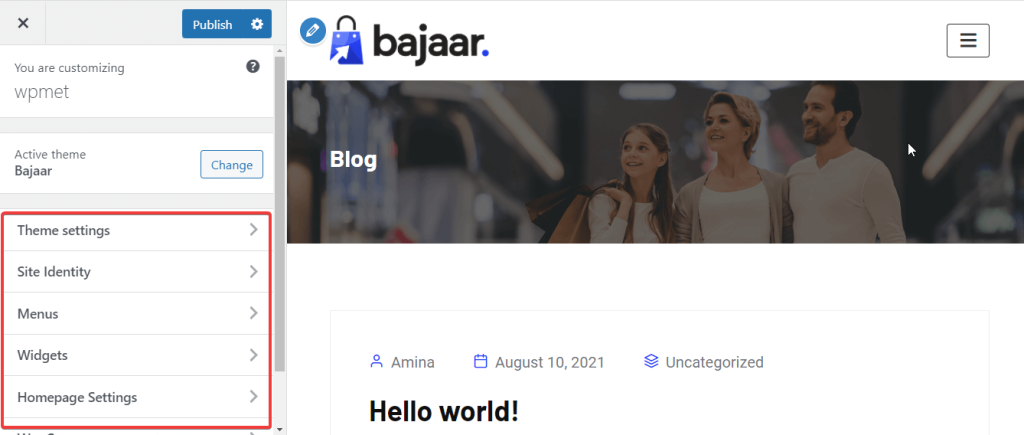 After customization, your website will look like this: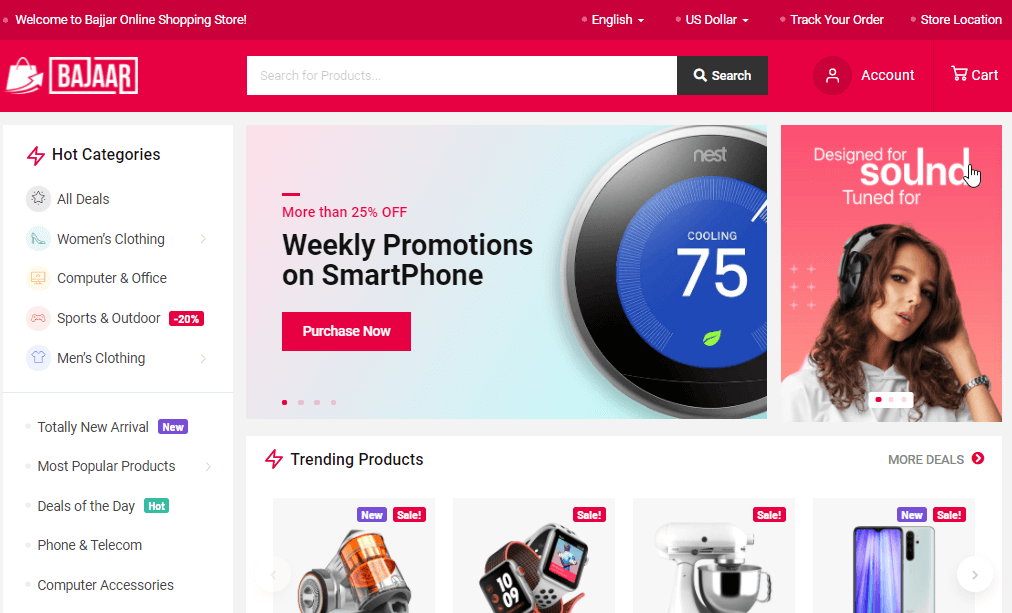 Want to find out detailed customization? If yes then, check out the documentation of Bajaar.
Essential features for an eCommerce site that Bajaar theme provides
You can differentiate each eCommerce website by its outlook and functionalities. But, These websites hold common must-have features. Without these features, your website will not function smoothly and you will be doomed for sure.
So, how can you bring in all these essential features to your eCommerce website?
This is where Bajaar theme comes in!
Here are the must-have eCommerce features that your website can have by using Bajaar theme –
Easy to use:
Providing the best user experience matters in terms of making your visitors or customers satisfied. You can provide the best user experience by keeping your website functionality simple. Here is the statistic that makes this feature so important:
HubSpot has found out that about 76% of users want easy-to-use websites.
This means you can't ignore it. Or else you will lose 76% of visitors. Bajaar will help you with this. It also has ShopEngine built-in, which provides Quick view, product variation swatches, preorder, backorder, wishlist, and many more modules to increase your user experience.
Mobile-responsive: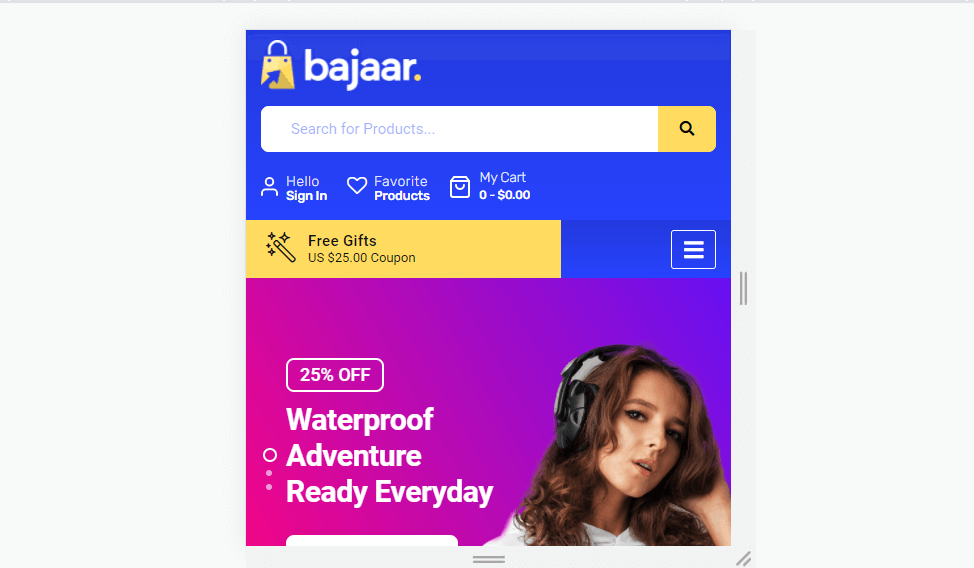 54.8% of global website visitors come from mobile devices in the first quarter of 2021 and for the USA it is 47.07%.
That means half of your website visitors will drop off if your site is not mobile-responsive. And this means a big loss for your or your clients' business. Luckily, Bajaar theme makes your website 100% mobile responsive and it looks super cool on mobile screens.
Simple design: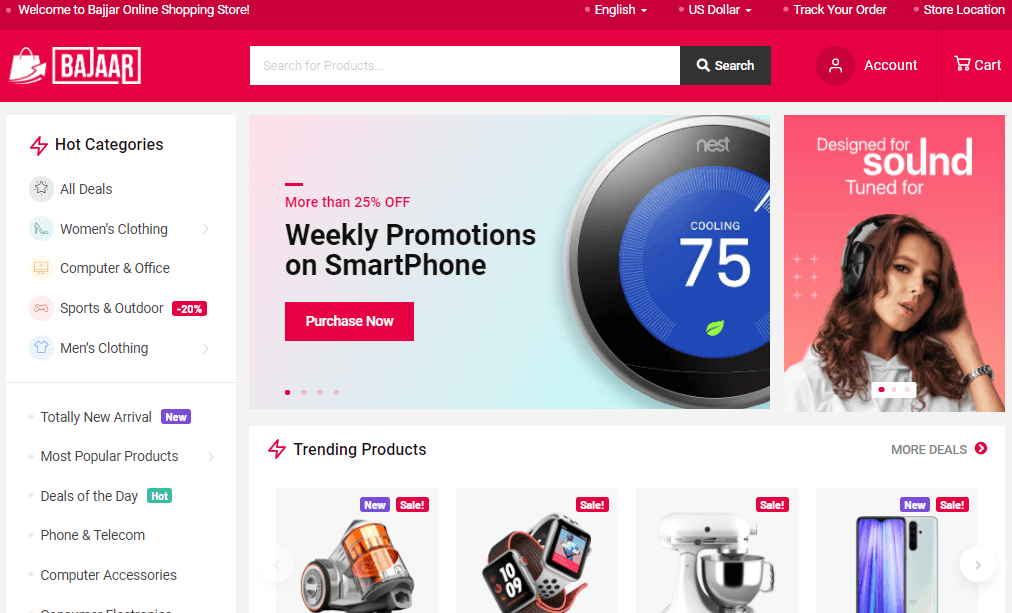 84.6% of web designer believes that making complex and crowded design is a common mistake. People always like the simple design of a website rather than the confusing one. You can build an engaging, simple website with the Bajaar theme.
Besides, an easy menu and the search option will help your customers to find any products in less time. Here advanced search, filter price, categories, etc widgets make your website more engaging. Surprisingly, you can also customize them as you want with Bajaar themes drag and drop builder which is powered by ShopEngine.
Quick checkout option:
The quick checkout option will save your customers time and let them checkout easily and quickly. As a result, user experience and website revenue both will be satisfying.
Bajaar theme comes with a quick checkout option. This will redirect your customers to the checkout page directly so that you can convert them right away.
Special offers and coupons: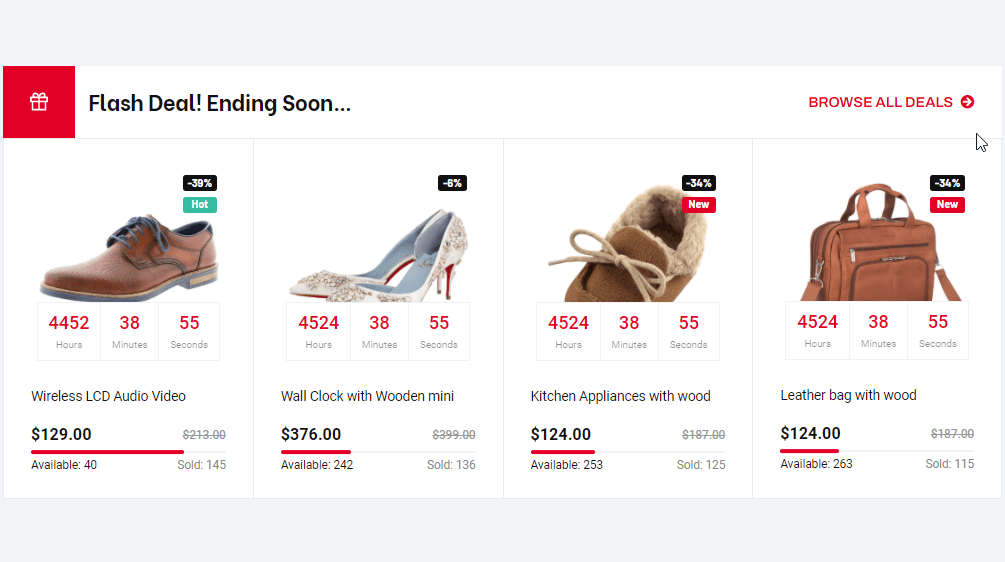 The effectiveness of providing special offers and coupons is known to all.
In 2020 about 88% of people in the USA have used coupons for shopping- Statista.com.
With Bajaar, you can add and customize flash sale badges and coupons. As a result, this will boost up your conversion rate by making those more eye-catching.
Wishlist: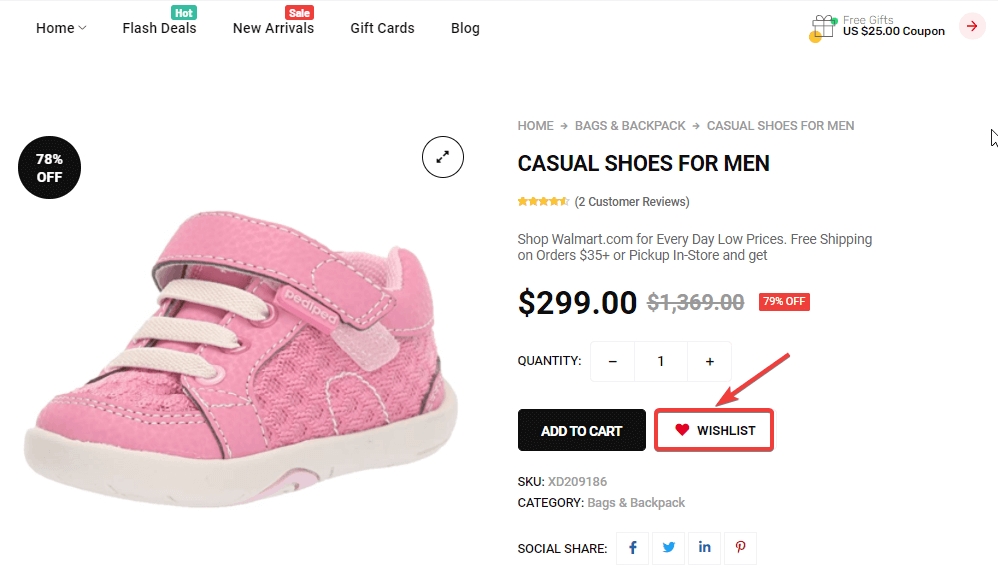 Most of the time customers want to save certain products to buy in the future. Bajaar theme's wishlist feature will let your customers do this easily. It will help them to notice the wishlist and your customers can select products and add these products to their wishlist.
That means you can bring more opportunities to grow your business and boost revenue by using Bajaar.
Testimonials:
94% of people are more likely to buy a product after seeing a positive review and 79% of people trust it as much as recommendations from friends and families. This proves how important reviews are for a website.
With Bajaar, you can add testimonials to gain your customer's trust. Besides, Bajaar will help you to customize this option more by supporting ShopEngine. So that, you can show testimonials in a more attention-grabbing form.
Quality pictures and videos: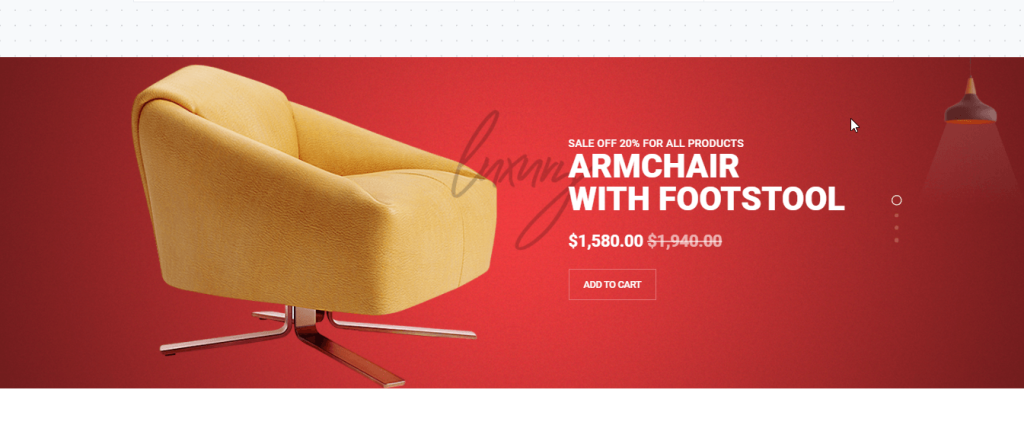 Pictures are more effective than text and videos are more effective than pictures. You will see a huge difference in engagement when you will use a quality picture. Bajaar theme will help you to add quality pictures that will boost up your site's engagement.
Social proof:
Social proof is another important feature that will help you to convert your visitors into new customers and new customers into regular customers. Making a social proof website is possible when you will use Bajaar theme. As you can add reviews, sales notifications, social share options by using the Bajaar.
Showing related products: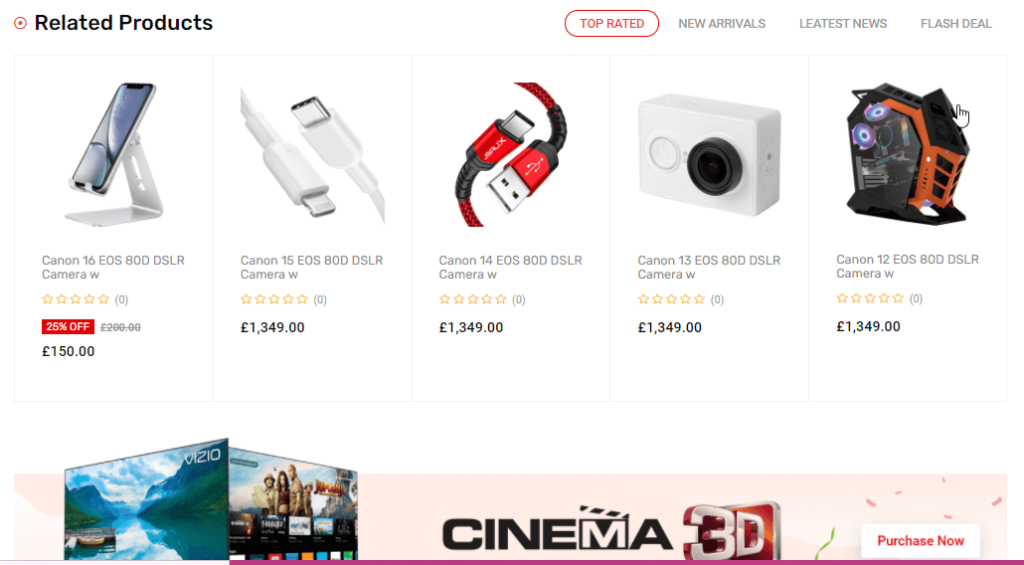 Customers love to get options. It will increase user experience by saving time and effort. Your customers can find products in less time. Sales will also increase as your customers can get their required product in less time. Bajaar will let you add related products feature to your website. That will help your customers to find more related products that they are looking for.
You can also make this option more stunning by using ShopEngine widgets that come with Bajaar. As a result, grabbing your customers attention will be easier.
Payment gateway:
This feature is a must for any business website. You can't do any transaction without payment gateways. You can add payment gateway by using Bajaar. So that, you can make conversions and expand your business as much as you want.
Bajaar is a compatible, fast-loading, responsive WooCommerce theme than any other WordPress theme like Claue, Kapee, BigBazaar, Ecolife, etc. It provides 200+ world-class premium demos, unlimited appearance, footers, and many more to build a full-fledged eCommerce website like Amazon.
Important factors that you should focus on for designing a website
Website is your most important employee. It will promote your business 24/7 without taking any breaks. That's why you can't take website designing lightly. It needs to be simple, attractive, and at the same time engaging.
Steve Jobs who was a co-founder of Apple said that, " Design is not just how it looks or feels. Design is how it works".
That's why you need to focus on important factors during designing your website. These will help you to maintain standards. Here are the important factors that you should focus on: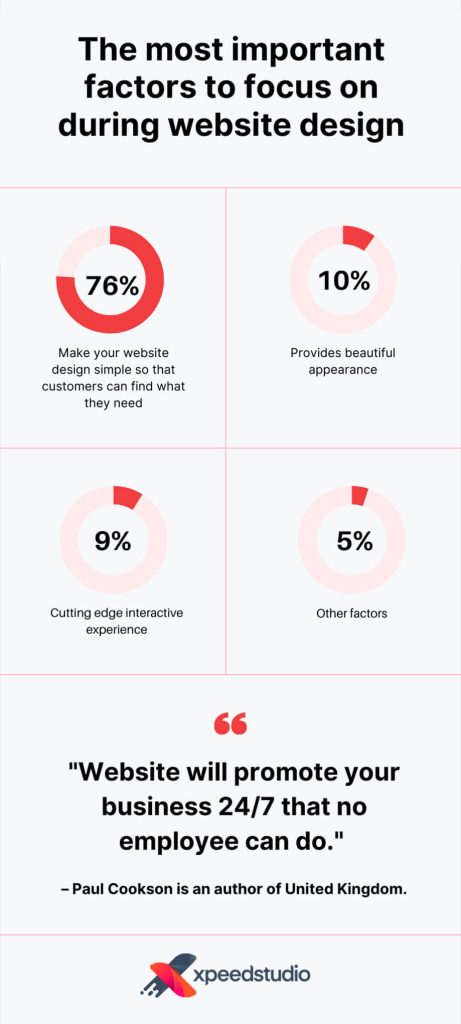 Simple website design:
Your website design needs to be as simple as any visitors can find their searching stuff at the least possible time. It has been found out that 76% of website visitors want this feature from your site. By using Bajaar theme you can make a simple as well as a user-friendly website.
Beautiful appearance:
This is the second important factor of website designing. 10% of consumers want a website that has a beautiful appearance. Ignoring it means ignoring 10% of your visitors. Bajaar will help you to stand on the requirement of these visitors by making your website's appearance beautiful.
Cutting edge interactive experience:
Your website design needs to provide a cutting-edge interactive experience to your customers. A cutting-edge interactive design means the most responsive, advanced, and newest design. Luckily, Bajaar will offer you features with that you can make a cutting-edge interactive website design.
Other factors:
You will be able to maintain other factors as well when you will use Bajaar theme. Website maintenance, contact info, content, and all other stuff remain in the other factors. Those are also very important for a standard website design.
Wrapping up:
Website design and its responsiveness mainly depend on the theme you are using. That's why you need to use a theme by that you can create a cutting-edge interactive design. Bajaar theme is a perfect fit for it. It provides unique and 100% responsive designs. Besides, it will help your website to have essential features and maintain website designing factors. As a result, you can build any kind of eCommerce website.
Hope you get proper guidance to create an eCommerce site like Amazon, eBay. If you need more assistance then don't get bothered to inform us in the comment section. Also, let us know if you have succeeded in building your Amazon.