Top 5 Stunning and Useful FAQ Plugins for WordPress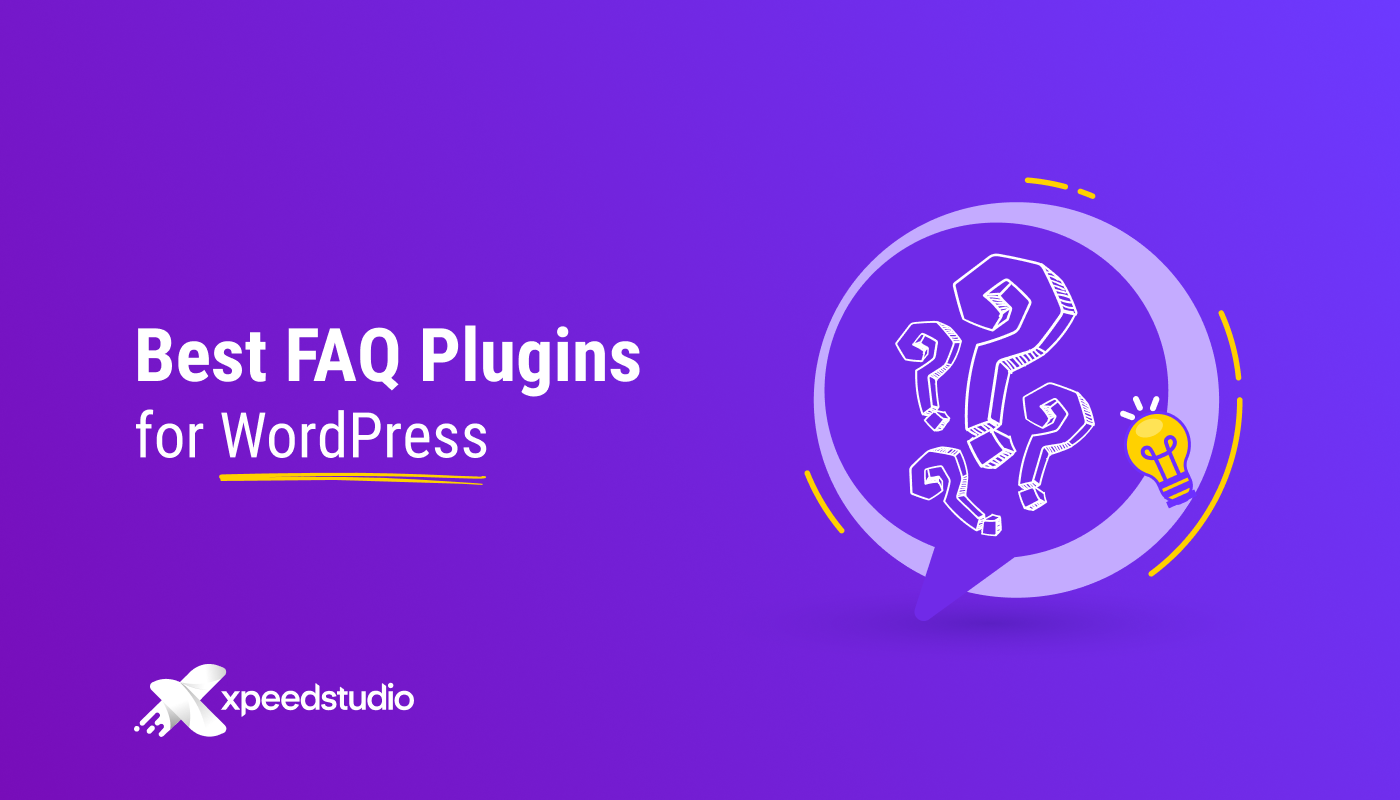 When you visit a website, how often do you come across a section called "Frequently Asked Questions (FAQ)"? Almost every time, right? Nearly all the sites, no matter whether it's a business site or a blogging site, contain the FAQ section.
You build your site for people and once people enter your site, not necessarily they would be convinced with all the descriptions you provide. They may expect further clarification on different points. This is where the FAQ section comes into play as with this, you can answer many queries of your site visitors.
No doubt, you have to conduct your research with regard to the questions you are gonna answer in the FAQ section. Once you are done with the research, you can incorporate these questions along with the answers in the FAQ section.
But how are you gonna create the FAQ section? No worries!!! In this write-up, I have come up with 5 killer WordPress FAQ plugins that will ease your effort to add a FAQ section to your WordPress site. Before that, let me clarify why you need FAQ plugins for your WordPress site.
Why Need a FAQ section for your WordPress Site?
Before I introduce you to the stellar FAQ plugins, it's salient that you know why you actually need to add a FAQ section to your site. Let me ask you a simple question. If you have any query about a particular product that you wish to buy, what will you do?
Naturally, you will ask your specific question to the seller. You will contact the support team of the product's manufacturer to get the answer to your query. Like you, there are many other people who will have queries about their preferred products. It's unlikely for the support team to address all the questions at once.
On top of that, if multiple people have the same question, it's time-consuming and foolish to answer the same question multiple times. This is where FAQs come into play. You can pick and choose the frequently asked questions of your visitors and customers. Followed by that, you can create a FAQ section with handy FAQ plugins and minimize your support team's efforts substantially.
Let me list out some additional benefits of adding a FAQ section-
Scales up your conversion rate
Saves your precious time
Streamlines SEO of your site
Builds trust and credibility
Top 5 FAQ Plugins for WordPress:
Now, it's time to get introduced to the best FAQ plugins that I have rounded up for you. As a matter of fact, top-notch FAQ plugins are very limited in the marketplace. So, this round-up will benefit you tremendously if you wish to make use of FAQ plugins. Let's take a look-
One of the most popular plugins existing in WordPress at the moment is ElementsKit with over half a million active installations. It's a comprehensive plugin letting you add countless functionalities to your website. FAQ widget is one of its stunning widgets that you can leverage to formulate your website giving a marvelous look.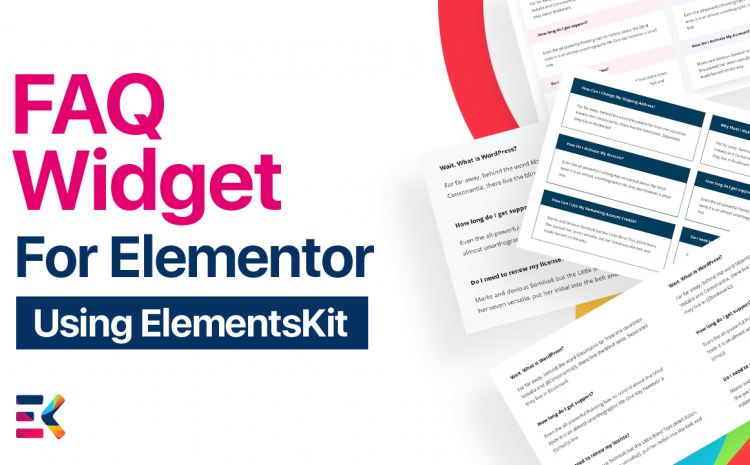 You will have unlimited customization options to design your FAQ section. You can modify the default tab content at an ease. Not only that, you can even bring out imposing styles to your FAQ section by setting title color, typography, background color, background type, border type, padding, and so on.
Key Features:
Fully responsive on any device
Limitless customization options
Bottomless styling options
Cross-browser compatible
Price: Free version available. $39/year for pro version
A feature-rich plugin, Ultimate FAQ is a magnificent one through which you can create a list of FAQs aesthetically. You will have the freedom to add as many FAQs as you wish along with unlimited tags and categories. The best part of the Ultimate FAQ plugin is you can add FAQs using shortcodes. Isn't it wonderful?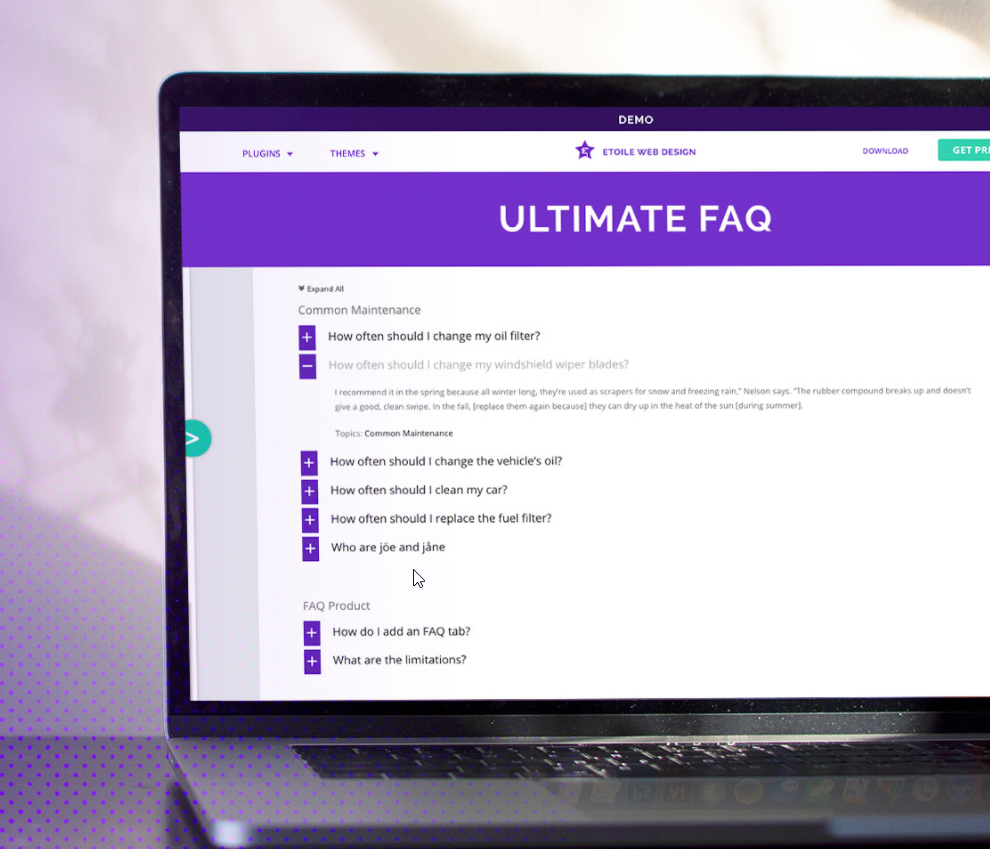 What makes the plugin unique is its options of search, sort, organize, and hide sections. With the plugin, you can take a look at the summary of your FAQ views in a stats dashboard. The plugin also lets your users search through your questions and answers with a search form. In a word, the plugin strives to do everything as it appears with the name "Ultimate".
Key Features:
A FAQ tab for WooCommerce products
A number of styling options with multiple layouts
Imports FAQs from a spreadsheet and exports in a PDF
Gutenberg support
Price: $30/year
Quick and Easy FAQs, yeah, it's exactly what it states. You can create all your FAQs effortlessly with this plugin in a single place and add them to your website using shortcodes. Not just that, you can display your FAQs in a list format, group format or even enable a toggle option to make it easier for your site visitors to view.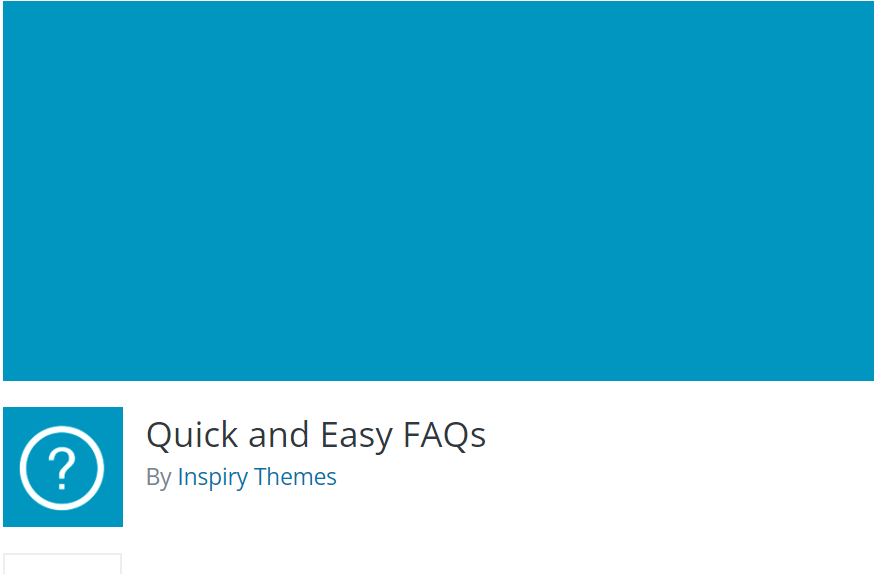 It's an easy-to-use plugin that offers filterable questions selection and the option of accordion display style. With this plugin, you can simply tweak the background and border color and toggle style text related to FAQs dashboard. With this plugin, you can create custom post types as well.
Key Features:
Comes with 3 different styles- simple list, accordion, and toggle
Translation-ready for your global audience with RTL support
Supports Gutenberg and Visual Composer page builder
Price: Free to use
Another easy-to-use plugin that I can't miss listing in this write-up is Arconix FAQ. It's a shortcode-driven plugin letting you inject FAQ sections anywhere on your site easily and swiftly. The plugin makes use of the WordPress editor to create questions and lets you to group them as per your requirements. After that if you assign a shortcode to each group, you can display FAQ sections deploying the shortcodes.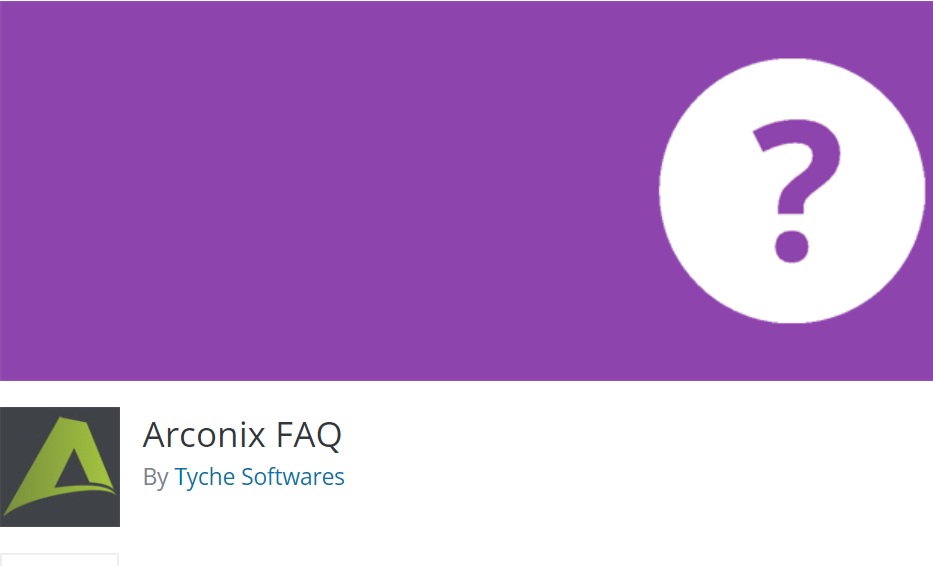 The specialty of the plugin is that it delivers what it promises. Unlike other FAQ plugins, it comes with 2 display types- toggle and accordion. It means you can show or hide your FAQs with animated jQuery toggles and accordion boxes. As a free plugin, it's one of the best choices you can have.
Key Features:
Comes with intuitive FAQ page builder
Allows enabling/disabling "Return to Top" link.
Translation available in 5 different languages
Price: Free to use
If you are hunting for an advanced FAQ plugin for WordPress, you can't brush aside Helpie FAQ. With this marvelous plugin, you can add questions and answers effortlessly. The plugin will let you question grouping as well as filtering using tags and categories. Then, you can assign shortcodes to each group for easy page placement like Arconix.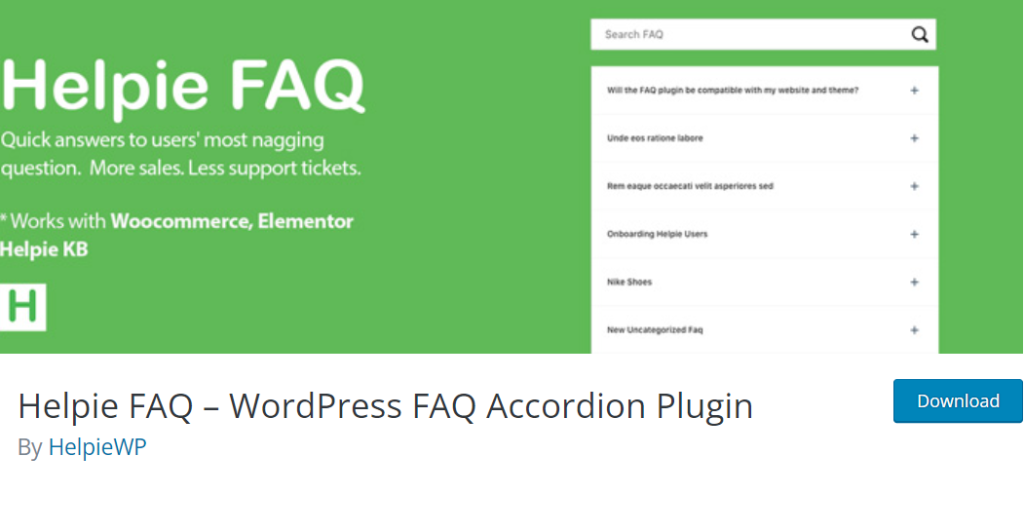 Apart from that, the plugin is compatible with Elementor, Gutenberg, and WooCommerce. You can also display the FAQ section in both dark and light theme mode. It automatically adds FAQ schema too for better SEO, meaning rich search engine results. .
Key Features:
Comes with Live Ajax Search
Lets Enable/Disable search bar for FAQs
Boasts WooCommerce FAQ support
Price: Free version available but premium version costs $49/year
Over to you
I have cataloged the top-rated 5 FAQ plugins for WordPress after conducting thorough online research and testing. Out of the above ones, you can take advantage of any of them and answer the expected queries of your visitors.
No doubt, some of them I have listed above are free to use while others have free and premium versions. If your need is limited, you can avail of the free plugins without spending a single penny. However, if you are looking to add a professional touch to your website, don't override the premium ones.
If you buy the premium version of ElementsKit, for example, you will get scads of additional features along with a FAQ section. In addition, ElementsKit also comes with all the latest updates that you need for Elementor. So, why miss out on the incredible features that plugins like ElementsKit come with when you afford to go for the premium version.