Top 5 Useful Business Hours Plugins for a WordPress Site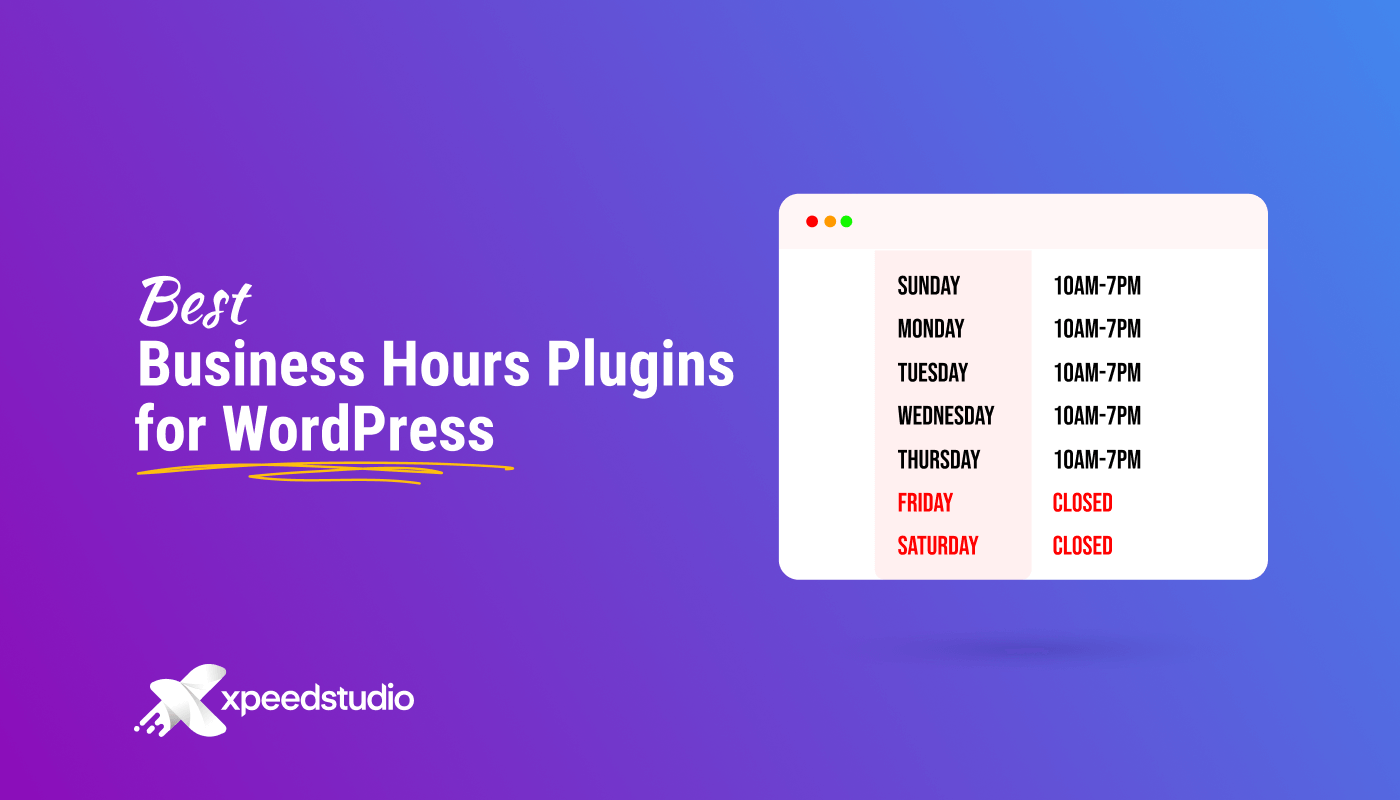 Ever wondered about the significance of displaying business hours to your customers? Well, it's pretty salient if you wish to multiply your client-base. When you showcase your week-long business hours to your website, your customers know exactly when you are open and closed.
What it does is it increases customer-engagement as they know when you are running your business operation. So, they can knock you or approach you exactly at that time for purchase, queries, or resolving other relevant issues.
But the question is how can you display business hours to your website? Well, it's a piece of cake if you take advantage of the right business hours plugins. You can get plenty of business hours plugins in the marketplace. But all of them don't function properly and hence are not worth trying.
I have rounded up 5 business hours plugins for a WordPress site that are not only top-notch but also will get a bigger bang for your bucks if you go for the premium version. Without further ado, let's cut to the chase.
Why Add Business Hours to your Website?
Before you think of leveraging business hours plugins, it's key to know the necessity of adding business hours to your website. Only then you can develop the urge to make use of the business hours plugin. So, let's check out why you should show off your business hours-
You can notify clients about your operation time.
You can acknowledge your customers about any special holidays.
You can consolidate the fact that your business is real and not fake.
You can build trust and credibility of your customers.
Let me clarify the need of adding business hours to a website with a small example. Let's say, you have an online confectionery shop selling sweets and chocolates. If you show your business hours, buyers after placing the orders will show patience and confidence. But if you don't show that, you will lose credibility.
Top 5 Business Hours Plugins for a WordPress Site:
To ease your effort to find a perfect business hours plugin, I have done an in-depth research and ended up with top 5 business hours plugins for a WordPress site. What are they? Let's check them out-
With over half a million active installations, ElementsKit stands on top of my list. ElementsKit isn't just merely a business hours plugin. Rather, it's a whole package encompassing tons of widgets and features. Business hours widget is one of its key and noticeable widget.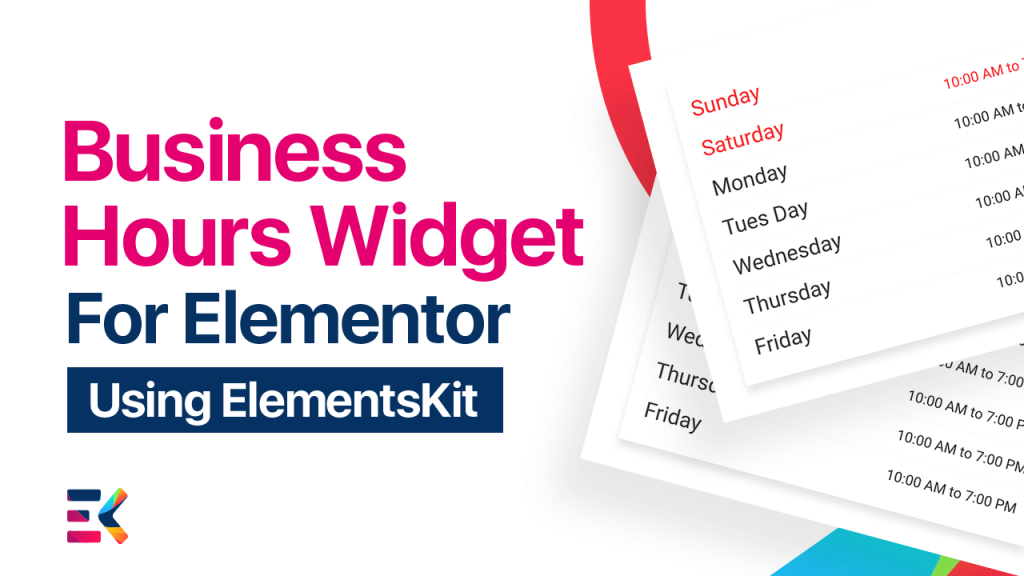 With ElementsKit's business hours widget, you can showcase your business working hours super elegantly. There is no hassle whatsoever to add the widget to your site. All you have to do is drag and drop the business hours widget to the designated area on the editor.
You can then do limitless customization to the content including the number of items and item color. Not only the content customization but also you can do plenty of stylization to your content. You can set the margin, padding, typography, background type, border type, border radius, etc.
Core Features:
Custom styling options
Unlimited content customization
Color highlight option
Responsive design & interface
One of the feature-rich business hours plugins that you can find is Business Hours Indicator. You can showcase your opening and closing hours with tons of variations. The plugin comes with 4 unique widgets letting you show your business opening and closing hours gracefully.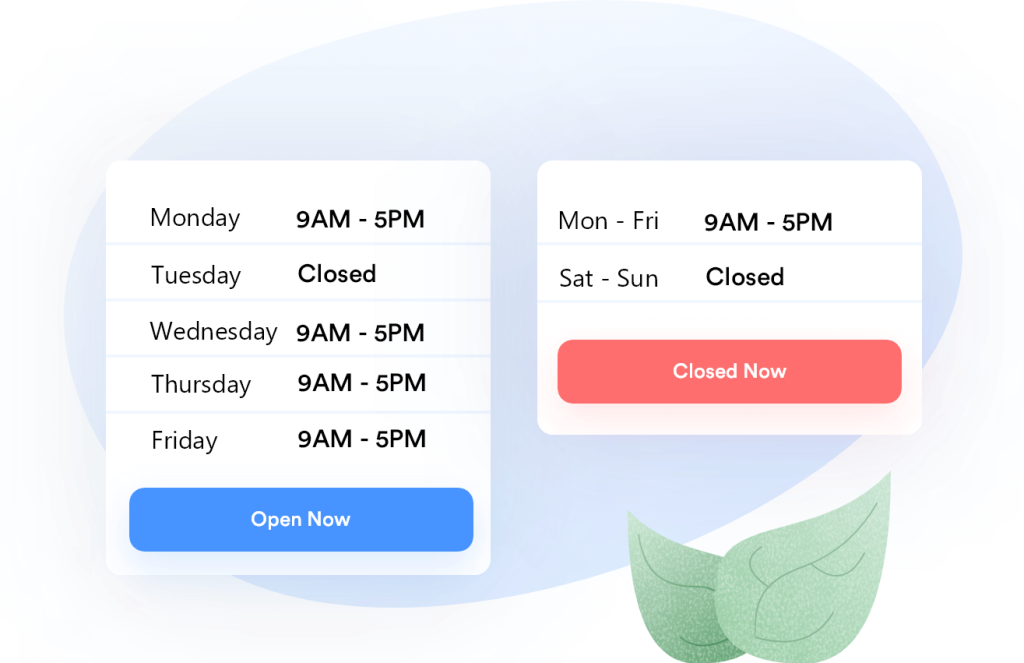 Apart from that, you can deploy shortcodes in this plugin to show your opening and closing time in any format you aspire. What makes the plugin stand out is its catchy countdown that shows up until your next opening or closing hours.
Besides, you can even display a "closing soon" message to create an urge in the mind of your customers. urgency. The premium version of the plugin supports SEO features, limitless multiple locations, custom message builder, advance opening or closing timer, and so on.
Core Features:
Special and vacation hours
Both 12 and 24 hour format time display
Displays time zone
Supports caching
As the name reflects all in one, the plugin literally is also an all in one business hours plugin. You can get an array of features and options in this stellar plugin. It will let you showcase your business hours with sophisticated and fancy layout.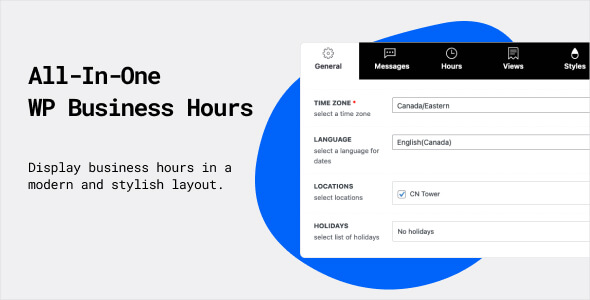 Not only that, you can even create different locations with varying information. The plugin is responsive and compatible with caching plugins. The exciting part of this plugin is you can add breaks like lunch break and special hours in-between regular hours. Besides, you can import and export business hours data along with duplicating them.
Core Features:
Showcases custom messages on occasions and special holidays
Displays status badge for opening and closed hours
Allows hiding weekends or specific days
Shortcodes usability
As the name suggests, this plugin is a WooCommerce-dedicated business hours plugin. But I have picked it in this list due to the array of benefits it will provide to your WooCommerce business. To avail of its plummy benefits, you don't have to go through strict procedures. All you have to do is, schedule the opening and closing hours and that's it.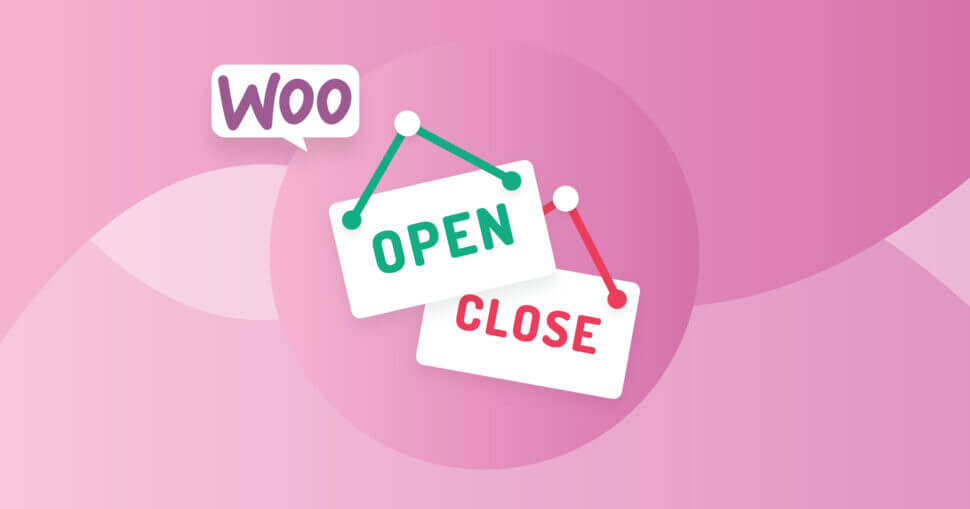 Once you display your business hours, your clients can view the working hours and closing hours. Based on that, they can deal with you at their preferred time. Aside from that, the plugin will let you create a number of sub-schedules for the same day with multiple styles.
Besides, you can show a countdown timer for each schedule with a custom message. This will automatically create more curiosity in your clients' minds. The plugin boasts some pro features as well including front-end schedule management.
Core Features:
Bottomless business schedules
Multiple styling options for countdown timer on different places
Add to cart option availability when the shop is closed (Pro)
Dokan plugin support (Pro)
Opening Hours is a mind-blowing business hours plugin that you can take advantage of. It will let you display multiple sets of opening hours individually. What catches the eye in this plugin is its support of irregular openings. Apart from that, the plugin also has child sets through which you can overwrite your regular working hours.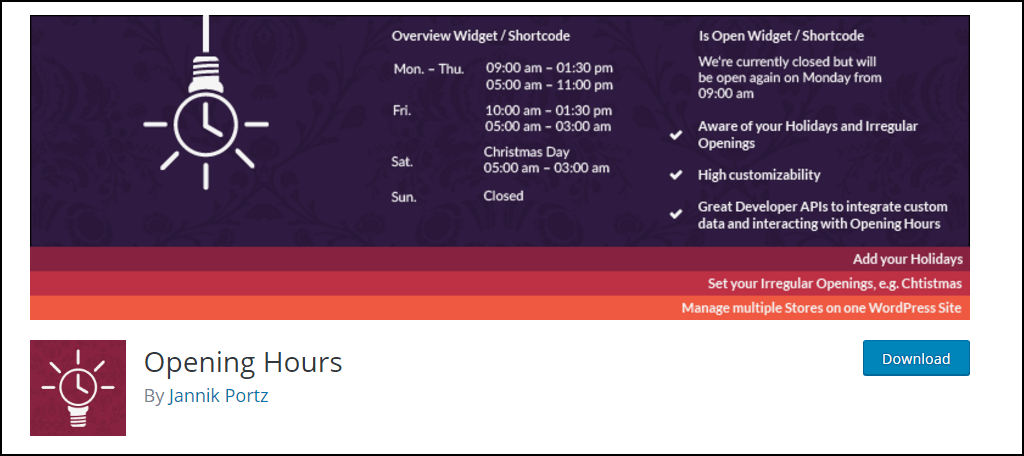 That's not the end!!! The plugin also comes with highly customizable widgets letting you display relevant business hour information. The widgets include open widget, overview widget, holiday's widget, and irregular openings widget. You can use shortcodes to showcase your opening and closing hours with this magnificent plugin.
Core Features:
Multiple sets of opening hours supportive
Supports shortcode and widget
4 highly customizable widgets
Over to you
Are you ready to utilize one of the above business hours plugins? Apparently, display of business hours may not carry that much weight. But technically, it's very crucial for your clients.
All the above plugins are worth trying but ElementsKit gets a little upper hand in my view. This is because of its splendid business hours features and appearance on the site.
On top of that, it's a comprehensive plugin. So, you will get many extra widgets and features as well. So, grab ElementsKit business hours plugin and enhance your user experience as well as engagement.