10 Best WordPress Themes for Blogs You Should Consider in 2023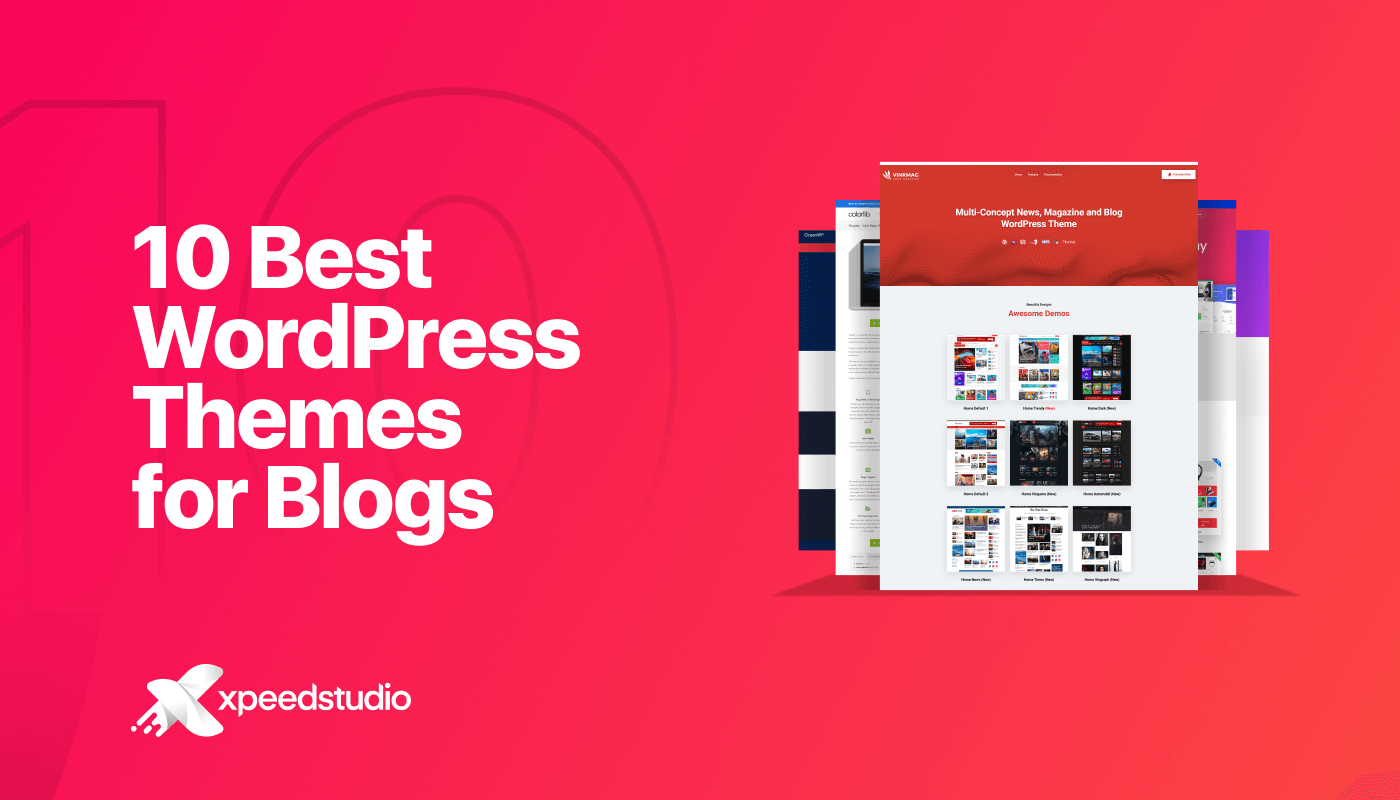 Too many options can delay the decision-making process. It is applicable to anything. Whether you want to pick a shoe from the store or a theme for your blogging site, it will be confusing.
Even, theme selection can be much more perplexing than other stuff as you need to try out and check if this plugin is suitable for your site or not. Therefore, it takes much time to select the best WordPress themes for blogs.
In this case, getting a well-sorted list can ease your theme selection process. That's why, here in this blog, we have listed down the 10 best WordPress themes for blogs in 2022.
How to choose the best WordPress blog theme?
More than 9.5k free themes are available in WordPress and among them, you will find 3k+ suitable themes for blogs. It is quite impossible to check all these themes and select just one. So, you need to follow some guidelines to pick the best WordPress theme by yourself.
Let's have a look at what you should consider before selecting the best WordPress themes for blogs:
Select a lightweight theme: First and foremost, you need to pick a lightweight theme that won't hamper your site's loading speed. The themes that are not lightly coded can slow down your site. As a result, no matter how handy features they provide, ultimately you will suffer in the long run because of choosing those themes.
Responsive theme: Choosing a responsive theme is very important to smoothly run a website. Because your website needs to look good on any screen size. And, a responsive theme provides designs that are optimized for different screen sizes. That's why you have to choose a responsive theme for your site.
Completely customizable: Choose a theme that offers sufficient customization options. Picking a customizable theme is important as you can't use the built-in templates that are too common. So, your theme should provide options to customize.
Pick a theme with a readable font: The readability of your site should be your main concern. As your visitors won't stay long if they can't read landing page content properly. Therefore, consider selecting a theme with an easily readable font.
Up-to-date theme: Check how frequently your theme is updated. For a flawless user experience, you need to select an updated theme that will have no compatibility issues with core WordPress, other plugins, and themes.
Look for the features you need: Make a list of the features that you need for your website. After that, check if your selected theme has those features or not.
So, these are the things that you should look at in your theme before picking one. Now, are you wondering how to narrow down the list of 3k+ plugins? Don't worry, below you will get a list of the best WordPress themes for blogs.
10 best WordPress themes for blogs 2022
Here we have shortlisted the 10 best WordPress blog themes in 2022 to help you pick the best WordPress blogger theme. So, let's check the features and specialties of those themes:
Vinkmag: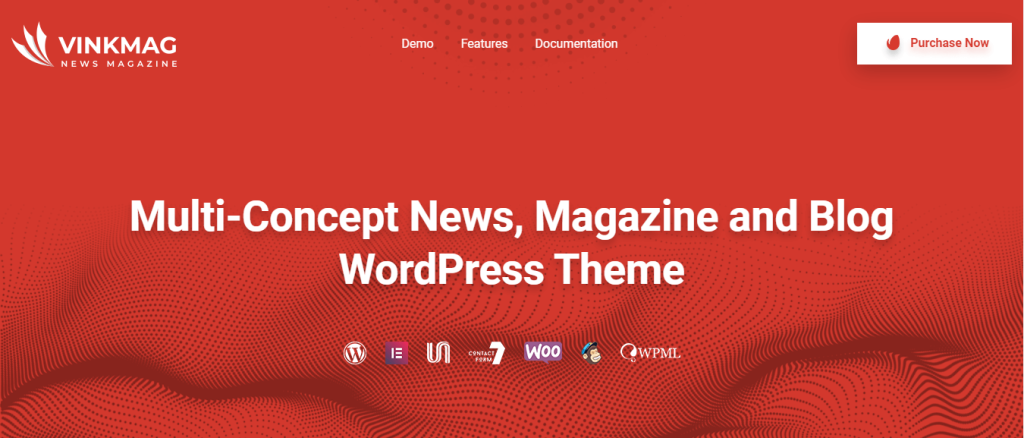 Vinkmag is one of the best WordPress themes for lifestyle blogs that you will find in 2022. It offers tons of templates and the designs of those templates are unique and attractive. Besides, the most pleasing part is that it comes with a drag and drop website building facility and needs zero coding knowledge.
On top of that, it has all the features that you are looking at in a theme that makes Vinkmag a compatible, customizable, responsive, lightweight, and perfect WordPress blogging theme. As a result, you can build an exemplary blogging site with this theme.
Features of Vinkmag:
50+ blocks are available to build an appealing site.
Vinkmag has designed section to display ads.
It is compatible with the Gutenberg page builder.
Vinkmag offers an engaging mega menu for your site.
You will get a footer builder to create eye-pleasing footers for your site.
It is super easy to use and install as it offers a one-click installation option.
RTL support for launching sites in any language.
Multi-color layer style.
Astra: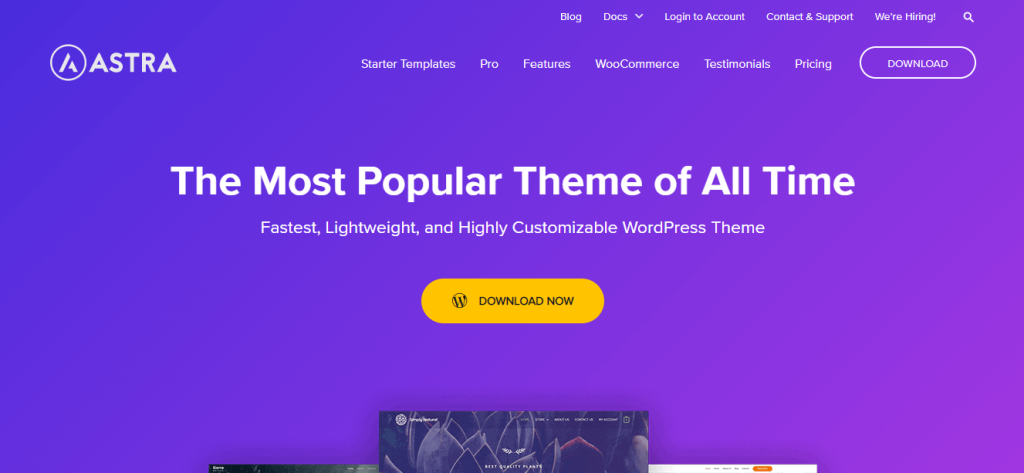 Astra is another popular, fast, lightly-coded, customizable WordPress blog theme that requires no coding for building an engaging blogging site. Besides, it is one of the fastest WordPress blog themes that is successfully fulfilling customers' satisfaction over the years.
Further, you will find built-in websites that are fully customizable. Also, you will get the latest designed templates to easily create sites in a few minutes. That's how Astra will help you to build high-performing and converting websites without putting much effort.
Features of Astra:
A resourceful library with pre-built website templates.
Compatible with Gutenberg blocks.
It has the perfect header and footer builder that you are looking for.
RTL support facility.
OceanWP: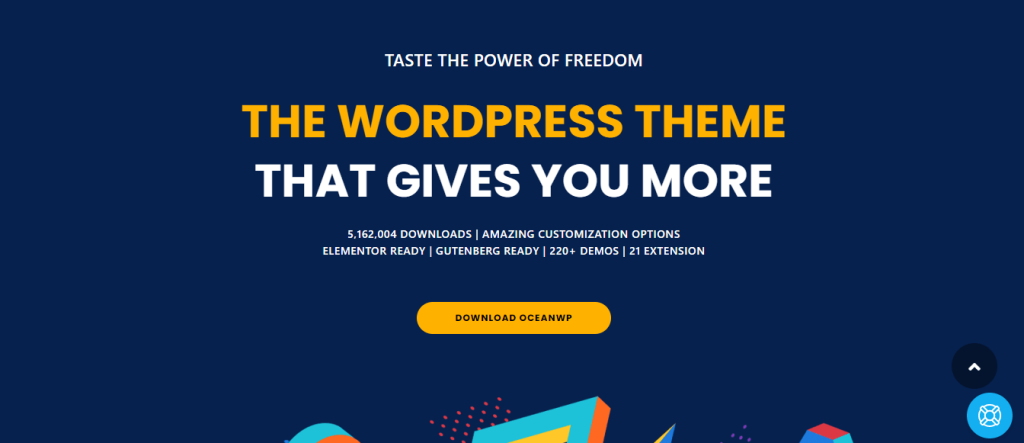 Looking for an extendable and customizable WordPress theme for your blogging site? OceanWP is a theme that is lightweight, speed optimized, and fully customizable at the same time. It is one of the best free WordPress themes for blogs that also offers a premium version that provides premium features.
Moreover, it is continuously updated, that's why lots of users are using this theme to get a smooth website-building experience. Furthermore, you can use this theme for creating any kind of website based on your needs.
Features of OceanWP:
More than 200 demos are available.
21 extensions to offer an effortless site-building experience.
Perfectly works with Gutenberg blocks.
7 fully customizable header styles.
3 different menu styles for mobile.
OceanWP has compatibility to work with all the popular WordPress page builders.
Neve: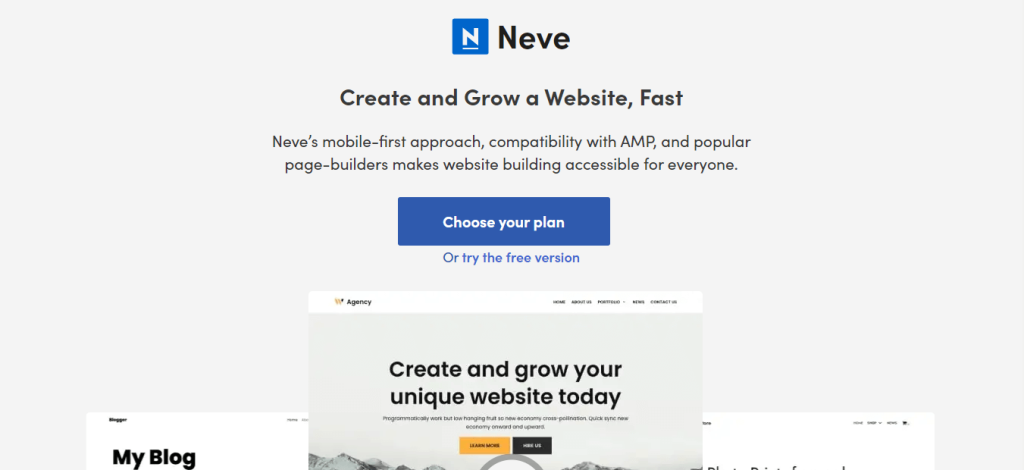 Neve is one of the most flexible and compatible WordPress blog themes that will let you create a unique lifestyle blogging site. This blogging theme mainly focuses on minimizing the loading speed of the site. As a result, the default installation of Neve takes 0.6s to load.
Another great advantage of Neve is that it is a lightly coded WordPress blogger theme. Furthermore, you can nicely present the content on your site with Gutenberg blocks and other popular page builders. Lastly, it offers all the features that you will need to create a tempting and stunning website.
Features of Neve:
It provides a resource-rich library.
Fully customized header and footer designs.
It offers you control over the layout options of your website.
Multi-color palettes option.
The blog layout option is also available for premium users.
Header and footer builder for pro users.
It provides an Elementor booster module that is full of widgets, content protection, animation, etc.
Shapely: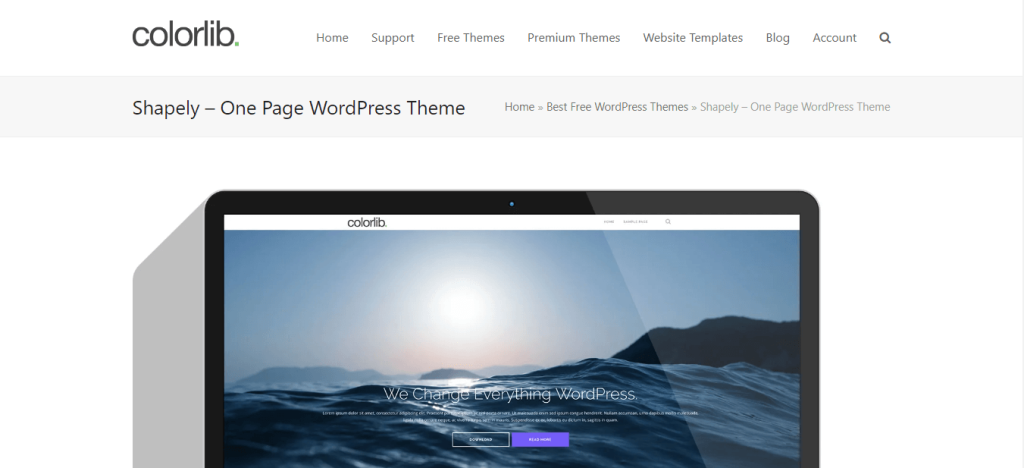 Shapely is a one-page WordPress theme that offers pixel-perfect designs for your site. This is the best WordPress blogger theme that provides excellent functionalities to build a splendid blogging site. Besides, it is compatible with all the popular plugins and device responsiveness is also quite accurate.
Moreover, because of the vast customization options of Shapely, you can build a site as you like. Also, this best WordPress blog theme will let you add a hero image on your site which will highlight certain content. Furthermore, it is a translation-ready, speed-optimized WordPress blogging theme.
Features of Shapely:
Boundless color customization options.
Awesome font styles.
Devoted support system.
One-page layout.
Phlox: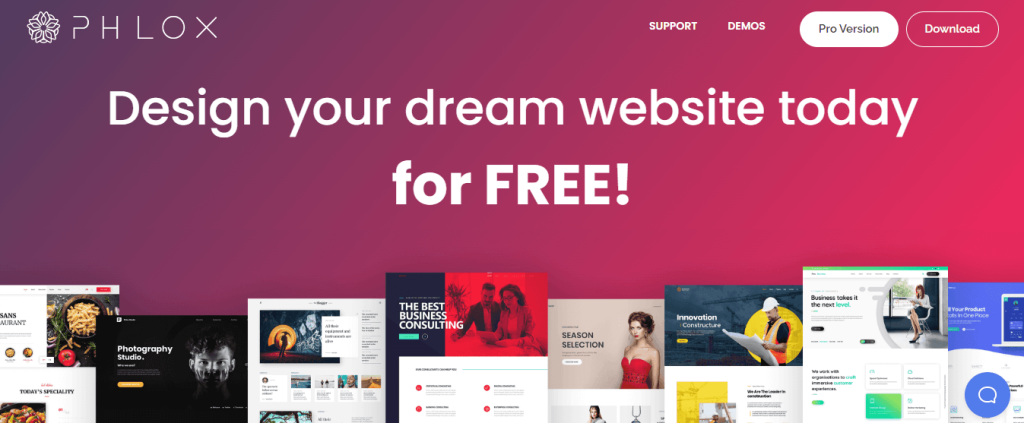 Phlox is the perfect example of the best free WordPress theme for blogs that has a live theme customizer option to create and edit websites in real-time. Besides, it provides the best touch slider to highlight any post on your website. In that case, you need to just select the post that you want to bring to the spotlight.
Because of its device-responsiveness and search engine optimization features, it is considered to be one of the best WordPress themes for lifestyle blogs. Also, you will get the best possible result because of its unlimited customization options.
Features of Phlox:
30+ useful and unique widgets.
40+ eye-catching & ready-to-use templates.
Single-click demo import option.
An Elementor template library is available which is full of resources.
It preloads images according to visitors' demands.
Phlox has just a one-click website building facility because of getting 180+ website templates.
Mesmerize: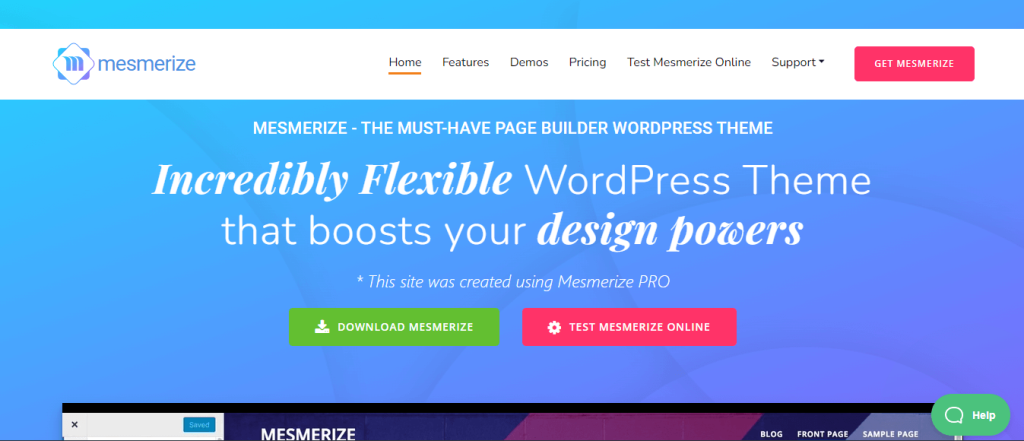 Are you looking for the live editing option in the theme customizer? Then Mesmerize is exactly the theme that you are looking for. With this theme, you can edit everything on your website just by clicking on it. Again, Mesmerize is a flexible, design-focused WordPress theme that will change the complete outlook of your website.
Moreover, you will get well-designed pre-built blocks, and advanced features to build up your site within a few minutes. You will not only get pre-built blocks but also get templates for websites that you can import with just one click. Apart from this, you can enjoy lots of other features that will smoothen your website building experience.
Features of Mesmerize:
100+ built-in well-designed blocks.
Option to create hero sections for your site to gain the attention of your customers.
Completely device responsive.
18 engaging and beautiful website templates.
20 stunning header designs.
100+ readymade header sections.
Virtue: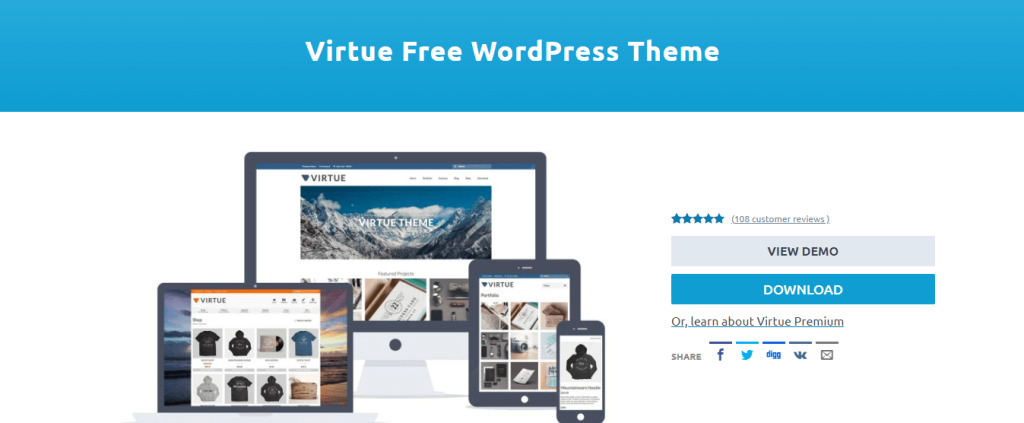 Virtue is considered to be one of the best WordPress themes for blogs because of its versatile designs for personal blogging, eCommerce, business, or portfolio sites. Besides, you can widely customize header, layouts, posts, typography, etc. Moreover, these designs will be highly responsive and optimized for devices, speed, and SEO.
Furthermore, this is one of the best premium WordPress themes for blogs where you will get advanced options to skyrocket your blogging site creation process. Nothing can beat Virtue if you want a well-designed, pleasing WordPress theme.
Features of Virtue:
3 different header menu options.
Boxed and full layout option.
Unbeatable support system.
RTL language support.
Tracks: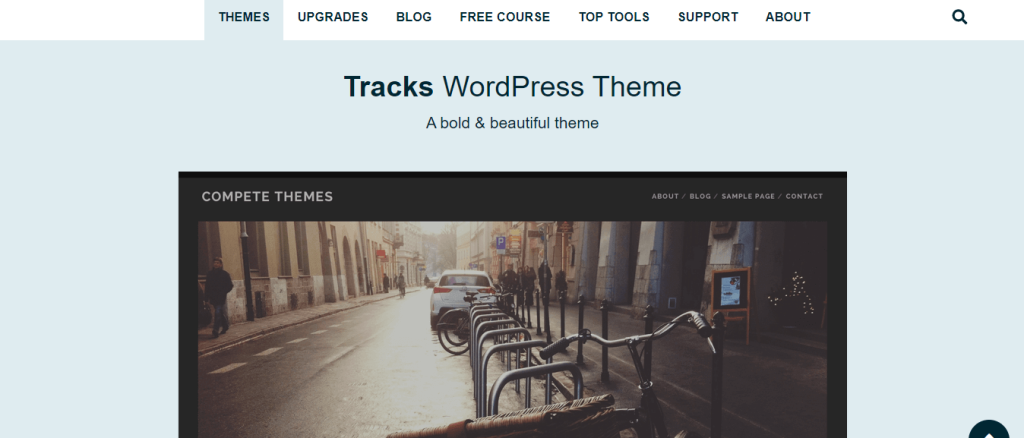 Tracks is a free as well as premium WordPress theme for blogs that offer customizable, responsive designs, layouts, and blocks for your lifestyle blogging site. Besides, you can import designs and layouts with only one click which will save your time.
Your website speed should be your first and foremost concern. Here Tracks plays the best role in it by reducing the loading time. Likewise, since it is fully Elementor compatible, you can create your whole site by simply dragging and dropping.
Features of Tracks:
Gutenberg block editor compatibility.
50+ social channel icons.
Top-notch support system.
Continuously updated theme.
Easy Blogily: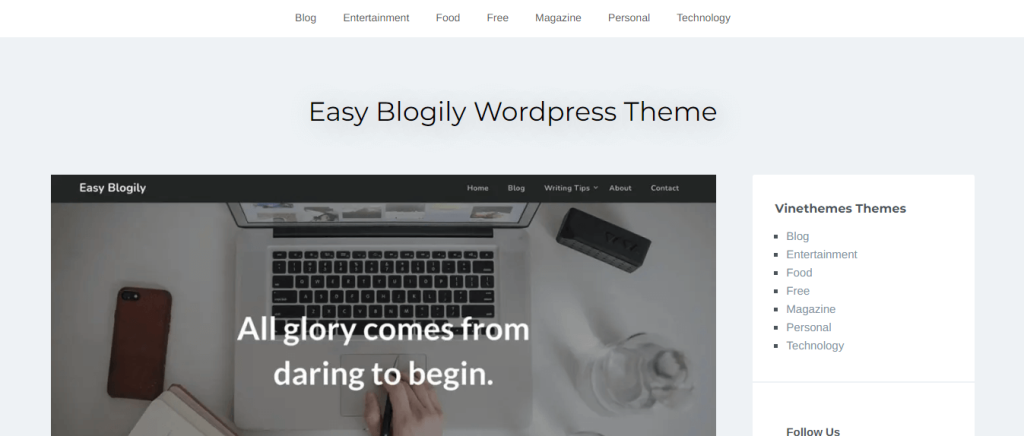 Easy Blogily is mainly created for WordPress bloggers who want to create their travel, lifestyle, and food blogging sites. Using this WordPress blogger theme, you can create an efficient, flexible, responsive blog landing page efficiently and effectively with pre-built designs and blocks.
In addition, Easy Blogily will let you beat your competitors as it is a fast, optimized, lightweight WordPress theme. Furthermore, you will have full control over your website customization to create sites as you wish. That's why it is considered to be one of the best free and premium WordPress themes for blogs.
Features of Easy Blogily:
Up-to-date WordPress blog theme.
SEO-friendliness.
Top-notch customization options.
Greatly optimized to rank high on search engines.
Which one is the best for SEO?
You should always consider a lightweight, speed-optimized theme for SEO. Any theme that stands on this criteria is good to go. In the above list, all themes are lightweight and responsive for speed and SEO. But, if you want to know the name of only one theme, then Vinkmag is the theme that you can choose by closing your eyes.
Because it has all the properties that an SEO-optimized theme should have. So, go for Vinkmag, if you want a lightly coded, SEO-optimized theme that will work great for your site.
Get Started with the best WordPress blog theme
So, now what's your decision on choosing the best WordPress theme for blogs? As you have reached the end of this blog, you have gotten a collection of themes that will work great for your blogging site. Now, choose one from the above list which has templates and designs you like the most. You can also pick a theme that is not included in this list. But, do check whether your chosen theme is responsive, compatible, lightweight, and updated or not.