Top 5 SEO-Friendly Tools to Create Meta Description Online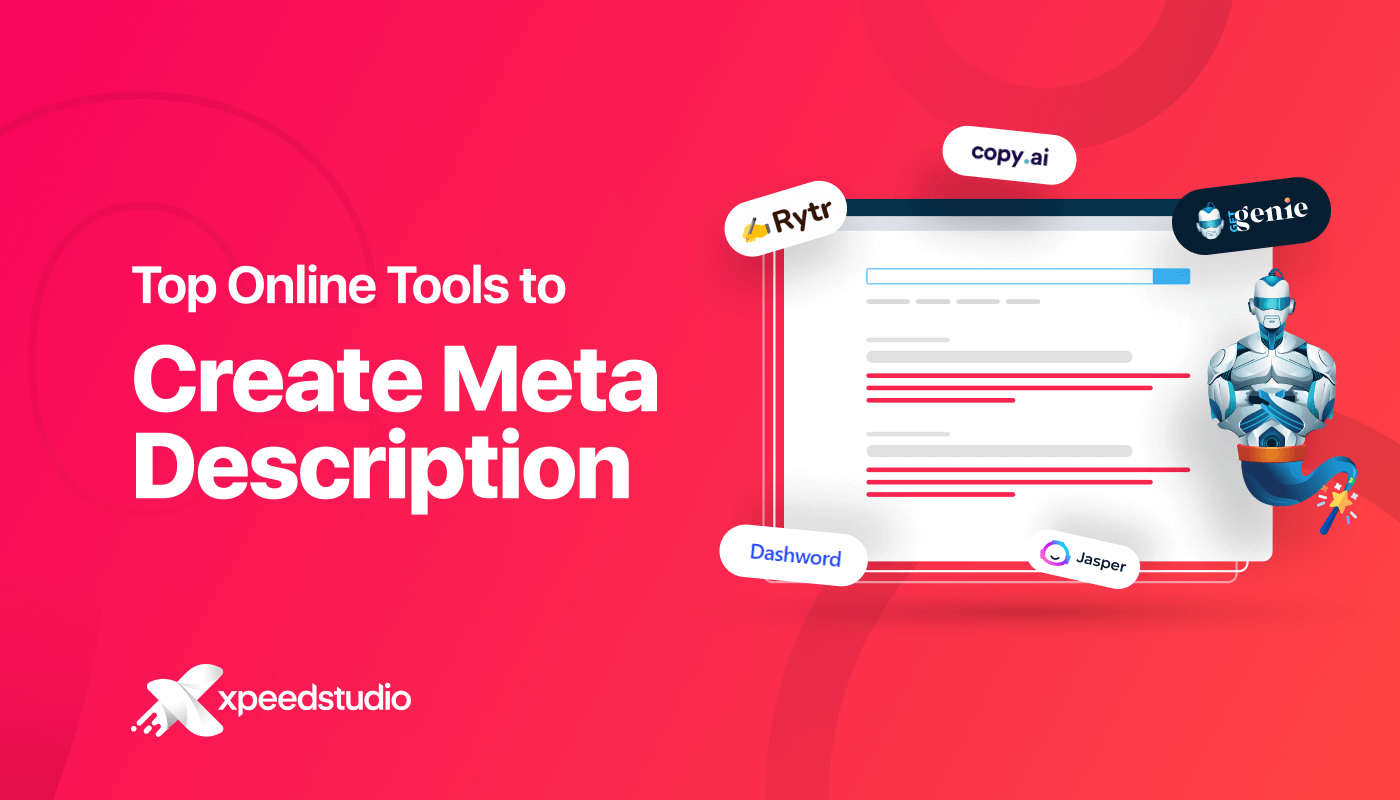 Did you know that only 9.36% websites get organic traffic? Just ranking on the SERP is not the end, you need to make sure viewers click on the result and visit your site.
While the headline is where people pay the most attention, Meta description also plays a crucial part in whether a user will click on your site's blue link or not.
That's why writing a captivating meta description is so important. Thanks to the advancement of technology, now meta description generators can help you to create meta description online more efficiently.
In this write-up, we have talked about 5 useful meta description generators that will help you to write SEO-friendly descriptions in order to increase your conversion rate. Also, we have covered key features and prices of all the tools so that you can take the final decision with ease!
What is a meta description?
A meta description is a meta tag attribute that is used to describe the summary of a webpage's content on the Search Engine Result Page. On the SERP pages, the meta description comes under the webpage title and URL. The ideal recommended length for meta description is 160 characters.
Usually, the meta description is written within a meta tag under the content attribute. Here is an example of a meta description for XpeedStudio's homepage.
<meta name="description" content="We build WordPress plugins incorporated with AI technology to help you grow your business faster."/>
Importance of meta description
While Search Engine has voiced out that they do not consider meta description while giving ranks to web pages, it's still crucial for your website. Because the benefits are worth your time and efforts to create a meta description for your page. Here are some of the advantages you can enjoy if you add meta descriptions to your web pages:
Meta descriptions are meant for viewers. While title is the first place where people eye go, most people also check out the description to know what to expect inside the page. So, adding a relevant meta description to your web page can increase the Click Through Rate of your site.
Increased click-through rate will have a positive impact on your site. Because while Search Engines don't consider meta descriptions to rank a page, they do consider the click-through rate as good CTR indicates viewers mostly likely found what they are looking for.
As meta description increases CTR with a better experience, it also increases your chance to get more leads/customers. The calculation is simple: when more people will visit your website, you will have more chances to turn them into leads/customers.
Usually, Google creates its own meta description by taking parts of your site that it finds relevant to the search query. But when you write your own meta description relevant to your keyword, you can have better control over what people see on the description on the SERP.
Now you are well aware of the necessity of using meta description to a webpage. Move on to the next section to find some awesome tools to create meta descriptions online.
Top 5 SEO-friendly tool to create meta description online
Writing a meta description is not hard but writing an SEO-friendly meta description that will entice your prospective customers can be quite hard. And to make this easy, you can use any of the tools listed below.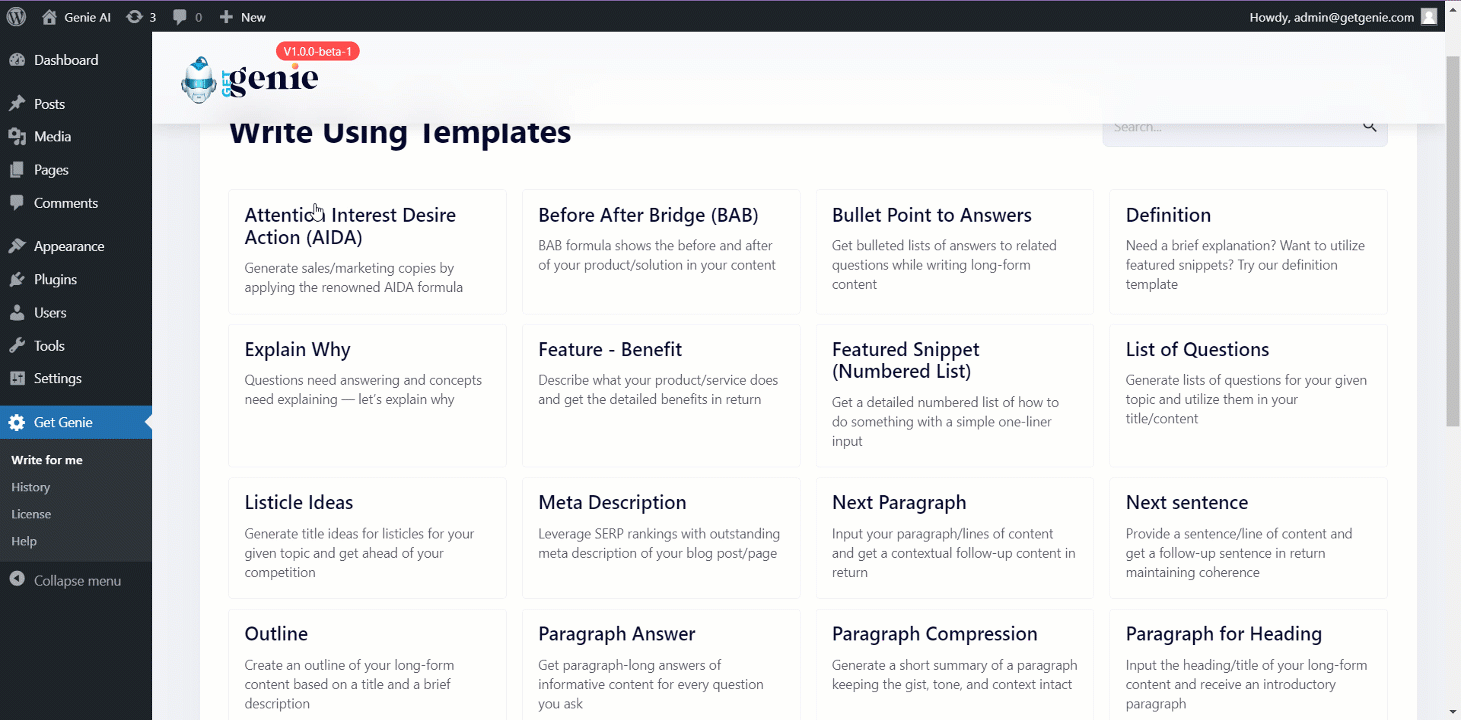 This WordPress plugin that takes the first place in this list of meta description creators online is GetGenie AI. This is an advanced AI writing tool suitable for WordPress platform that helps you to create meta descriptions online in just a few clicks.
The reason that this WordPress plugin takes the top place in our list is the fact it has been trained with NLP and various other marketing theory-based algorithms such as AIDA, BAB, etc. As a result, this tool is capable of creating content like meta description that is set to grab your user's attention and make them click on your site's link.
Moreover, with GetGenie, you can write meta descriptions for any page such as the home page, pricing page, product page, etc. All you need to do is provide the context/keyword and you will get alluring meta descriptions ready in a few moments.
Key Features of GetGenie AI:
Can generate up to 10 meta descriptions at once
You can control the creativity level of the results
Easy to use: just provide 3 inputs and get result
Comes with 30+ other writing templates
Can do both keyword analysis and competitor analysis
Check live SEO score of your webpage
Reliable customer support
Price: Starts from $19/month for a single site with unlimited websites and users.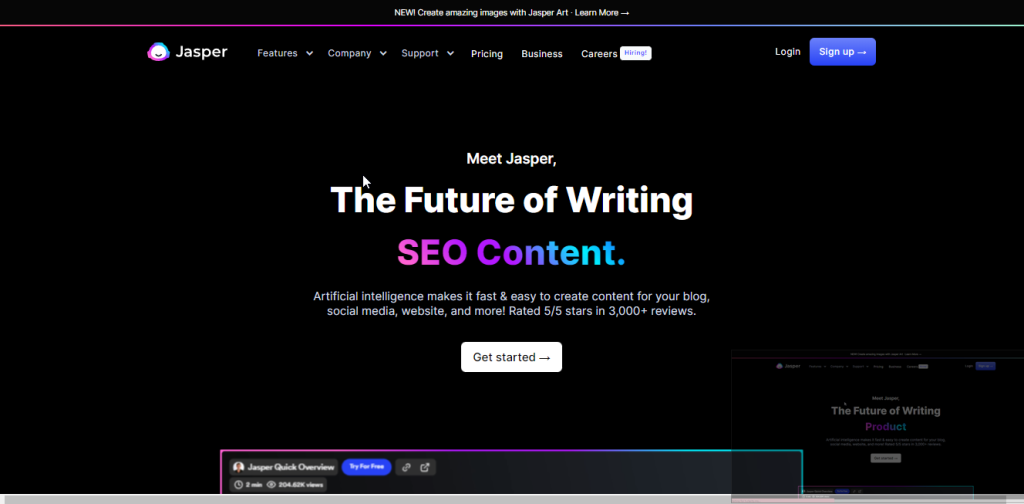 The second meta description generator on this list is Jasper. This AI tool creates marvelous meta descriptions based on the instructions you provide efficiently. Another great thing about this tool is that it can also add a CTA.
Moreover, this AI writing software has been trained with data collected from marketing experts all over the world so it creates content that has marketing value as well. To use Jasper to create meta descriptions online, you need to provide three pieces of information: company/product name, product description, and keyword.
The only drawback is that while GetGenie allows you to generate meta descriptions right inside WordPress, Jasper doesn't give you that comfort.
Key Features of Jasper:
Comes with a user-friendly interface
Offers 50+ content generating templates
Generates content super fast
Price: $49/month for up to 5 users.
Another great option to create meta descriptions online would be Dashword. This tool generates SEO-optimized content in no time. Trusted by brands like Insider, SideChef, etc, this tool is one of the most popular content creation tools available.
While this tool can be trusted to produce quality descriptions, it only produces 100-character descriptions. While this can be an issue, the upside about this meta-generating tool is that it's free to use.
Key Features of Dashword:
Uses machine learning to produce short descriptions
User-friendly meta description generator
Can monitor site's traffic along with rankings
A SEO-friendly tool
Price: $39/month with 3 users.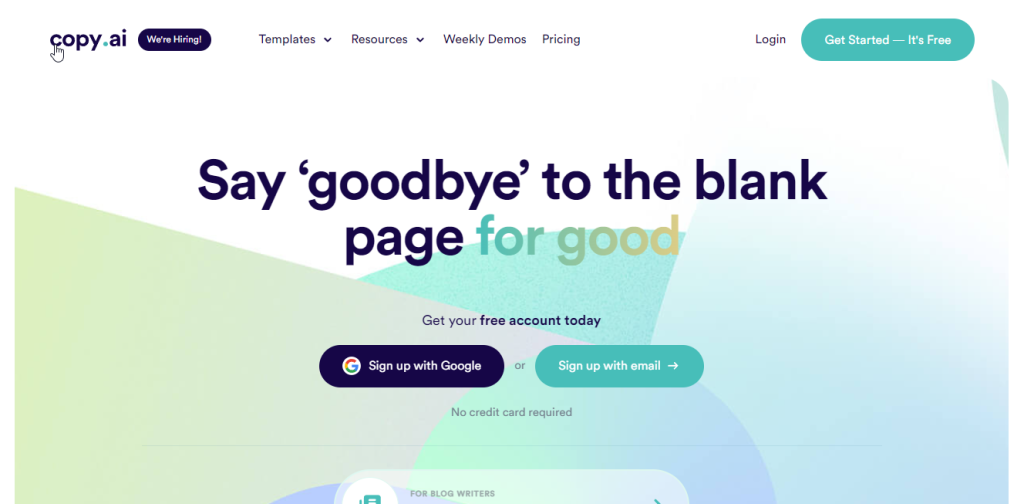 If you are looking for a good quality meta description generator for your blog post, then Copy AI is a good option. With this AI writing tool, you can generate meta descriptions by providing keywords and the title/description of your blog post.
Popular brands like Microsoft, eBay, Nestle, and many more trust this reliable AI tool. Besides meta description, this tool also can generate all sorts of content and copies such as social media copy, product descriptions, blogs, emails, etc.
Key Features of Copy AI:
Produces content super fast
Meta description option is free to use
Easy to use tool
Price: $49/month with 5 users.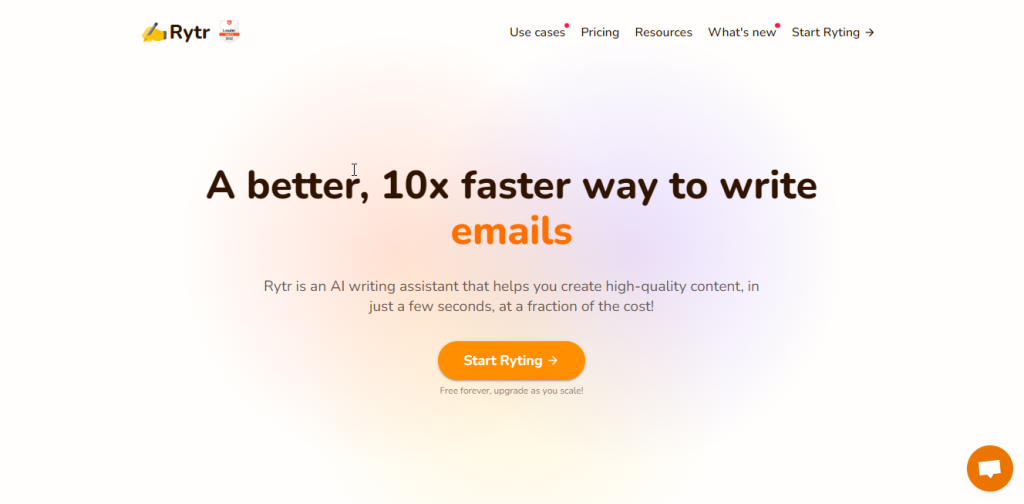 If you are looking to create meta descriptions online in a language other than English, then you should opt for Rytr. This tool allows you to generate meta descriptions in multiple languages.
Along with language, you can also choose the tone of the content and the number of results you want to generate with this advanced writing tool. This AI writer creates a concise meta description taking into consideration all the instructions you provide.
Key features of Rytr:
Can generate meta description in 30+ languages
Comes with 20+ tones
30+ content generating templates
Great customer support
Price: $9 per month.
Final words on meta description online tool
Although Search Engines create their own meta description based on the searcher's intent, if you write an efficient meta description that describes your content perfectly, Search Engines are very likely to show you one you write. 
Now you can take the help of AI tools to create meta descriptions online. If you are a WordPress user, then we would recommend choosing GetGenie AI as it comes in the form of a WordPress plugin and provides you more control over how you want your meta description to be.
Moreover, it also comes with 30+ writing templates without any extra cost. So, if you are looking to create great content faster along with creating top-notch meta description that brings in more clicks, then choose GetGenie AI.