Starting a Business with No Money: Complete Beginner's Guide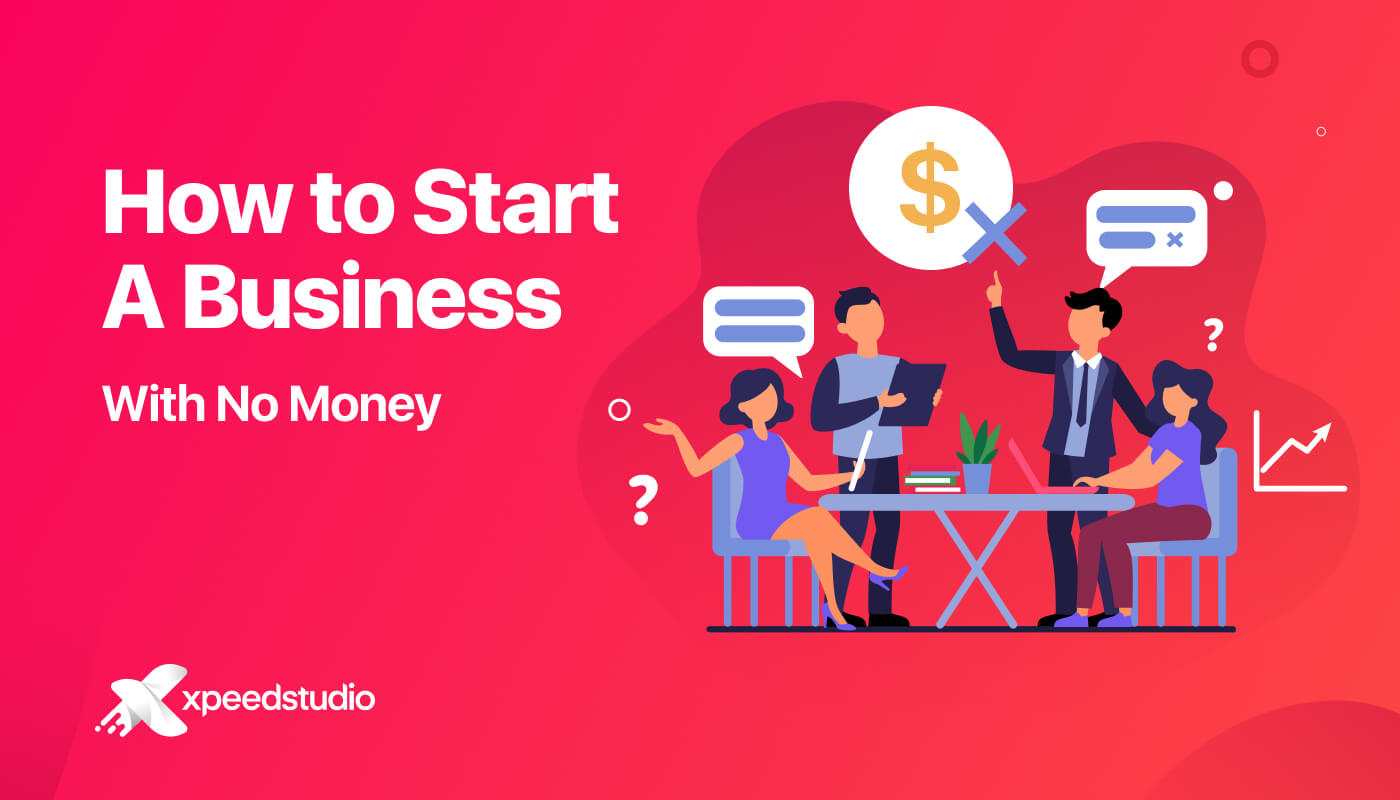 Do you have an amazing business idea but no money to get it off the ground? Don't worry!
Starting a business with no money is possible with a little creativity and hard work. In this blog post, you'll find some resourceful tips on how to start a business with no money. We'll cover everything from generating ideas to marketing your business on a shoestring budget.
So if you're ready to turn your dream into reality, read on!
Brainstorming business ideas
If you want to start a business without any money, the first thing you need to do is brainstorm business ideas. To get started, think about what you're passionate about or what you're good at.
Once you nail down the idea, research the relevant industries to see if there's a potential market for your product or service. If there is, start planning your business. Decide on your business model, create a budget, and develop a marketing plan. 
Researching your industry
When it comes to starting a business, one of the most important things you can do is research your industry. This will help you understand the potential market for your product or service and the competition.
To get started, you can use Google to search for industry reports or specific information about your niche. You can also visit your local library, or attend industry events and networking functions. Speaking to people who are already in the business you're interested in can also give you some valuable insights.
Once you've done your research, you should have a better understanding of the potential for your business. With this information, you can start to put together a plan and start working towards making your dream a reality!

Creating a lean business plan
Cost optimization is a must for businesses without investments in their early stages. Creating a lean business plan can minimize costs while also maximizing revenue potential.
Here's how to create a lean business plan:
1. Start by researching your industry and target market. This will help you identify potential areas of opportunity and potential customers.
2. Once you have a good understanding of your industry and target market, create a business model that minimizes costs while maximizing revenue. It can be anything ranging from selling digital products instead of physical products to offering services on a subscription basis instead of one-time fees.
3. Next, develop a marketing plan that is focused on generating leads and sales. This may include online marketing, search engine optimization, and social media marketing.
4. Finally, make sure you have a solid financial plan in place. That means you'll need a budget for start-up costs, as well as projected revenue and expenses.
By following these tips, you can develop a lean business plan that will help you get your business off the ground with minimal investment!
Marketing on a shoestring budget
When you have no money for your business, it's obvious that your marketing efforts should be optimized accordingly. With little to no budget for marketing, you'll have to work wonders with your strategies!
Here are some marketing strategies for your business on a shoestring budget:
1. Make use of social media.
Social media is a great way to reach out to potential customers without spending any money. Create a strong social media presence for your business and make sure to post interesting and engaging content regularly.
2. Get involved in your community.
Another great way to market your business without spending any money is to get involved in your local community. Attend community events, sponsor a local youth team, or volunteer for a local charity. This will help raise awareness of your business and make people more likely to support it.
3. Utilize word-of-mouth marketing.
One of the most effective ways to market your business is also one of the cheapest — word-of-mouth marketing. Make sure your customers are happy with your product or service and that they feel comfortable recommending it to their friends and family.
Want to learn how to prepare a killer content marketing strategy?
Read our detailed write-up and implement it in your business in no time to utilize the power of content marketing!
Getting creative with financing
There are plenty of ways to finance a business, even if you don't have any money yourself. You can look into bank loans, lines of credit, or even crowdfunding. But if you're starting a business with no money, you'll need to get creative.
One option is to look for investors who are willing to give you money in exchange for a percentage of your business. This is a great option if you have a solid business plan and a good track record. You can also look into government grants or small business loans.
Another option is to bootstrap your business. This means that you start with a small amount of money and then reinvest your profits back into the business. This can be a risky option, but it can also be very rewarding.
No matter how you decide to finance your business, make sure you do your research and plan carefully. With the right planning and execution, you can start a business with no money and make it a success!
Building a great team
A great team is a key to success for any business, but especially for a business with limited resources. Here are some tips for building a great team without breaking the bank:
1. Look for talent in unexpected places. You don't need to hire Ivy League graduates to build a successful team. Look for people with the right skills and attitudes, regardless of their educational background.
2. Be willing to pay for the experience. While you don't want to overspend on your team, it's important to remember that experience counts for something. Be willing to pay a bit more for someone with the right experience.
3. Train your team members well. A well-trained team will be more productive and efficient and will make your business look more professional. Invest in training your team members and you'll see a great return on investment.
4. Foster a culture of collaboration. Encourage your team members to work together and share ideas. A collaborative culture will lead to better solutions and a more cohesive team.
5. Celebrate successes together. When your team achieves something great, celebrate together. This will help to build team morale and keep everyone motivated.
Conclusion
That's a wrap for today! We tried to give you a head start by providing you with the basics of starting a business with no money. Following the tips mentioned above, you can start a business with little to no money. Just remember to stay focused and dedicated, and you can make your dream business a reality!