Best Tooltip Plugin for WordPress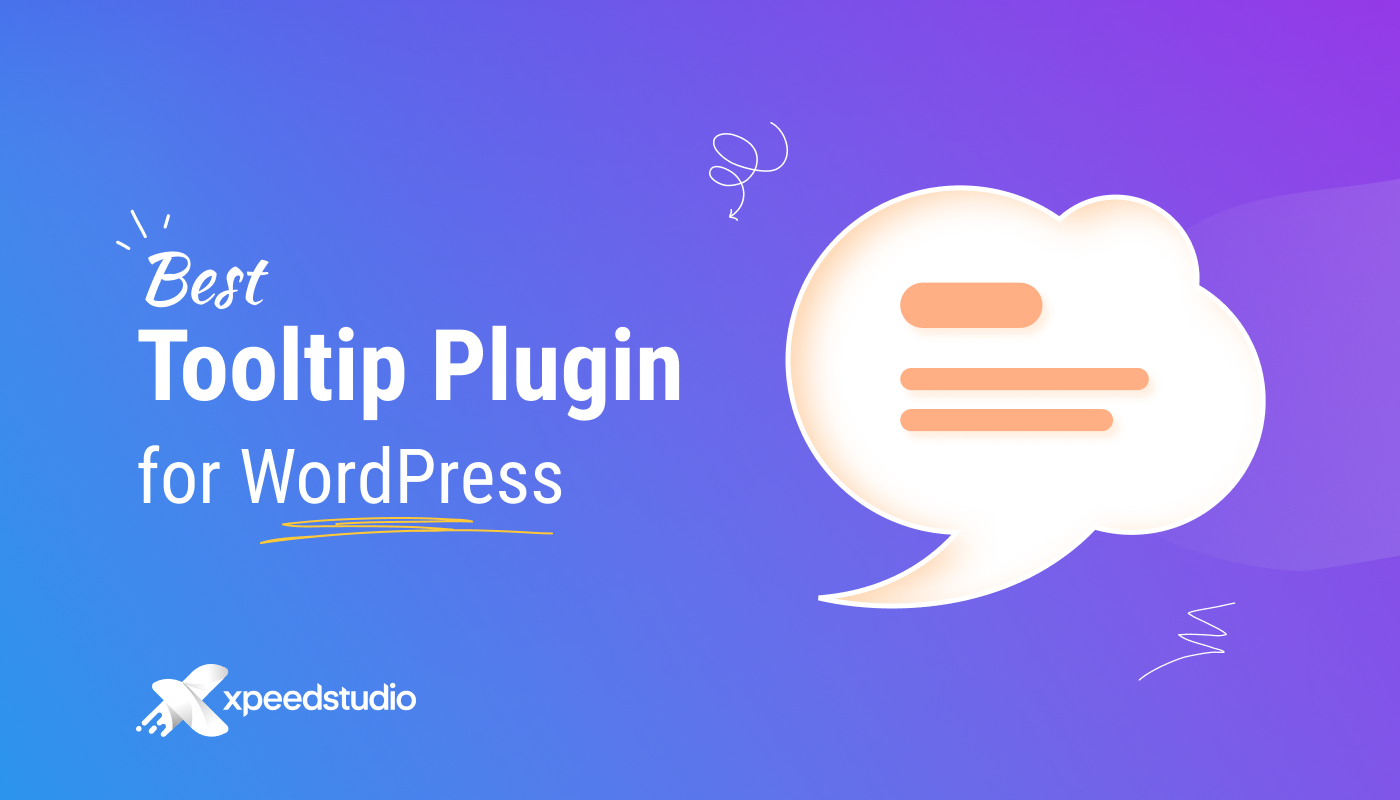 A tooltip plugin for WordPress, often known as an "info tip," is a standard graphical user interface element that gives bits of helpful information to site visitors without cluttering the design. It's an excellent building component to use in your site's design and development.
It's typically used in tandem with a cursor (usually a pointer). When a user hovers their pointer over an object without clicking it, an Elementor tooltip plugin or a little "hover box" appears, providing information about the item.
What is a Tooltip plugin?
Tooltips are little pop-ups that appear when a mouse is put the cursor on them. These tooltips contain a short piece of information about a particular item, sentence, or product info, etc.
People frequently undervalue the value of tooltips on their websites. They can genuinely engage website visitors by providing them with information about the numerous terms or items offered on the site.
Tooltips are a wonderful method to communicate important information in a concise manner. Tooltips can be anything from a hint to a glossary term to text that appears when a user hovers their mouse over or clicks on something on your website.
✨ Adding tooltips to your WordPress site can assist you in the following ways:
Improve the usability of your website.
Encourage users/visitors to take action.
Improve the site's content accessibility.
Best Elementor Tooltip Plugin for WordPress
You've come to the right place if you're wanting to add tooltips to your WordPress site. Here in this blog, we will discuss the top 6 best tooltip plugins for WordPress.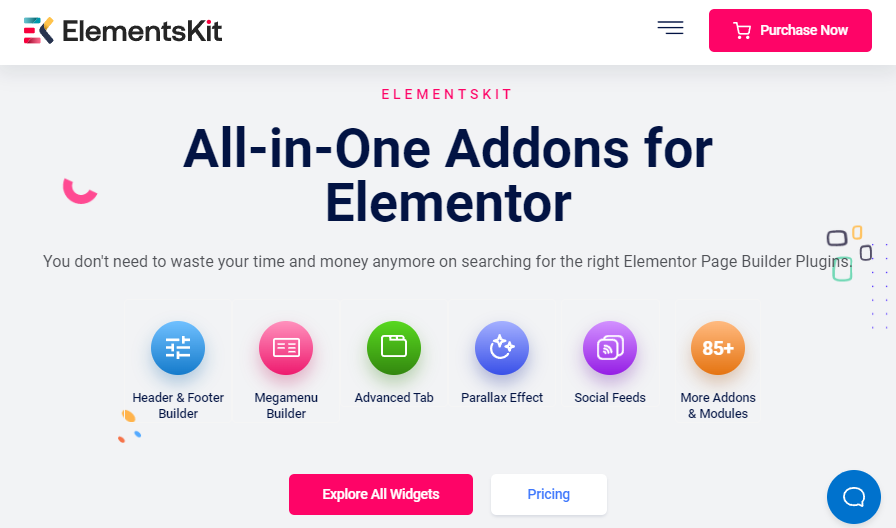 ElementsKit's advanced tooltip widget is capable of providing you with a sleek website look. With its hover effect, you will be able to input any information on your site.
This tooltip widget is designed to add a tooltip effect to a post; there is no need to manually insert a tooltip or use a tooltip shortcode. ElementsKit has an easy-to-use drag-and-drop feature with which you don't need to have any professional coding knowledge. 
ElementsKit WordPress tooltip widget is responsive and works well on mobile devices.
In addition, to the advanced tooltip widget, ElementsKit is your one-stop solution. In which you will get 85+ powerful widgets and extensions, 35+ pre-built templates, 500+ sections and blocks, and many more.
✅ Key features:
Image, text, links etc.
Customizations and supported Links
Hover direction and tooltip will pop-up.
Easy to use tooltip solution.
This plugin also has other useful widgets that will provide you a proper Elementor WordPress website solution.
Compatible with any Elementor themes or plugins.
Price: The price of this plugin starts at $39/year. Includes all the pro features, as well as one year of free plugin updates and customer support.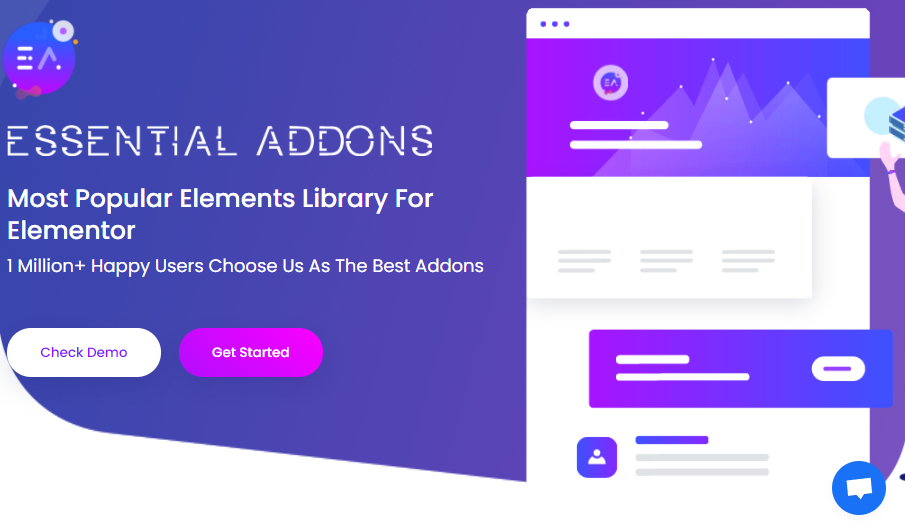 EA Tooltip is a one-of-a-kind Elementor tooltip that conceals the underlying text until the user hovers the mouse over the text, image, icon, or short-code. It displays crucial language for the user's clarification or rapid information.
It presents the information in a clear and concise manner. This Elementor tooltip improves the sharpness and correctness of the message intended for the user. This dynamic content on your WordPress website engages the user while also providing important information.
✅ Key features:
Types of Content (Image, Text, Shortcode, etc).
Supported Links
Hover Direction and Tooltip Speed can be changed.
High in customizations.
Price: The price of this plugin starts at $39.97/year. All pro features are included, as well as one year of free plugin updates and customer support.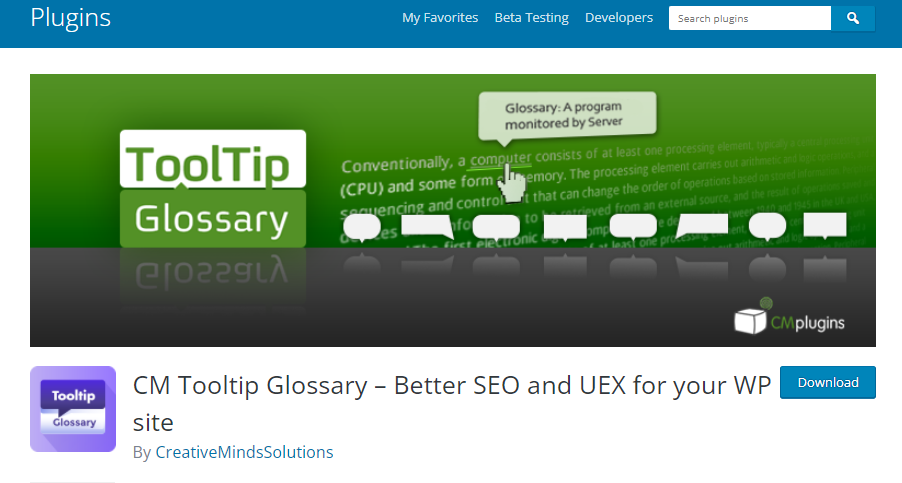 This is a fantastic Elementor tooltip plugin with a variety of options for giving valuable information to each word or term. The information provided by this plugin comes from reputable sources such as Wikipedia, Amazon, and Merriam Webster.
Audio files, photos, and even WooCommerce products can be added to the tooltips. Furthermore, this user-friendly plugin is responsive to all screen widths and supports many languages.
With the help of this plugin, you can quickly create a share or embed option for your users, allowing them to easily put words from your glossary into their own websites. This plugin also comes with 12 pre-designed index layouts to help you present your glossary.
✅ Key Features:
Creates several Glossaries, using shortcodes.
Save multiple glossary sheets on the server.
Widget for social sharing.
Supported by Google Translate.
CSV Files can be imported and exported.
Price: The pricing options of this plugin starts at $39/year.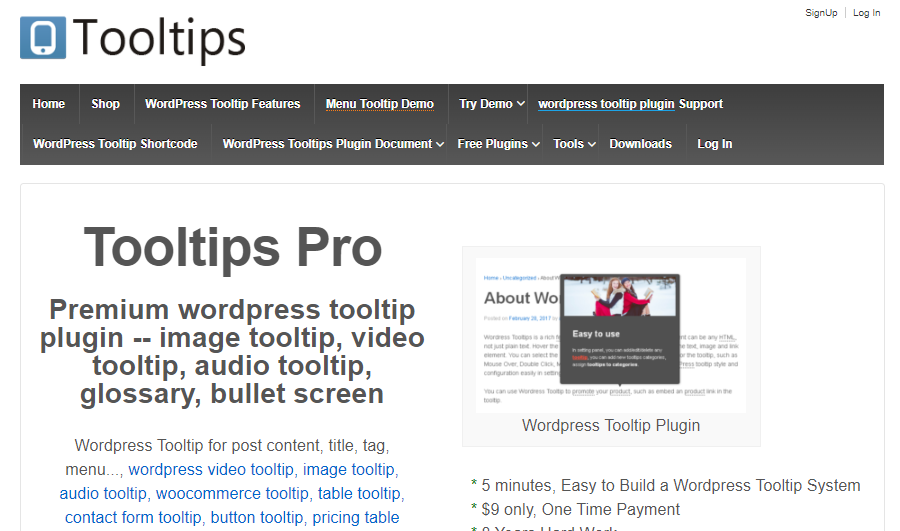 Tooltips Pro is a multilingual WordPress plugin that includes all alphabets and letters. It has a number of useful features that allow you to personalize the tooltips. It allows you to use tooltips in any tags, post titles, post excerpts, and so on to improve the site's performance.
This plugin can be used with many sites, posts, and pages. It includes seven lovely style sheets in a variety of color schemes, including green, red, cream, and more. It's an easy-to-use plugin that adjusts to different screen sizes.
✅ Key Features:
Change the Toolip's color, width, border, and alignment.
Image, text, video, links, and more formats are supported.
Effects of Animation
bbPress, WooCommerce, and 7BuddyPress integration.
It also has a pop-up option.
Price: This plugin, together with all upgrades and features, costs $9/year.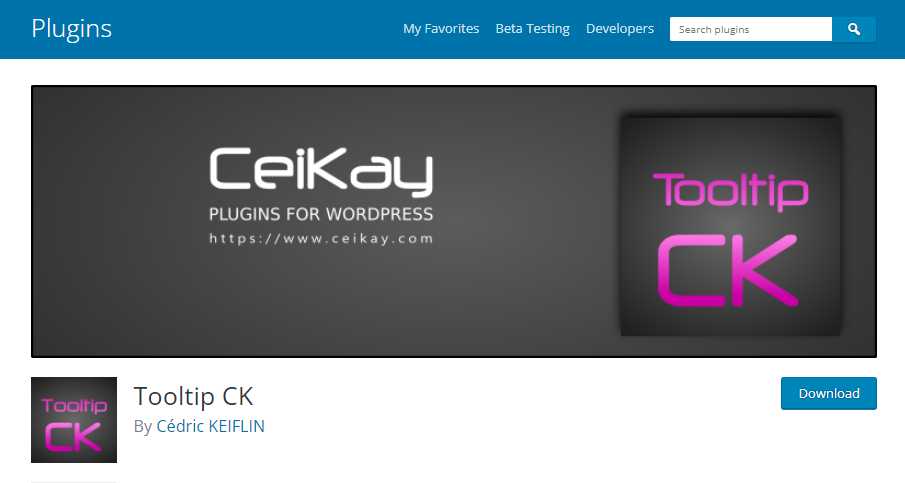 The Tooltip CK plugin allows you to add tooltips to your WordPress site that are animated with jQuery. Text, photos, videos, and animations can all be displayed in this tooltip. This tooltip works on mobile phones and other touch devices. The POT file supports many languages.
Because it has an edit button, you can make this tooltip more quickly. It provides your WordPress website's tooltip with a lovely and pleasant overall effect. There is also a French version included.
✅ Key Features:
Customize the border radius, gradient, shadow, and opacity.
Parameters that can be customized (Duration, Width, etc)
Optional Styles
Animation of the tooltip.
Effects of Fading
Overflow on the screen.
Price: It is Free and a Pro version starts at $21.96/year.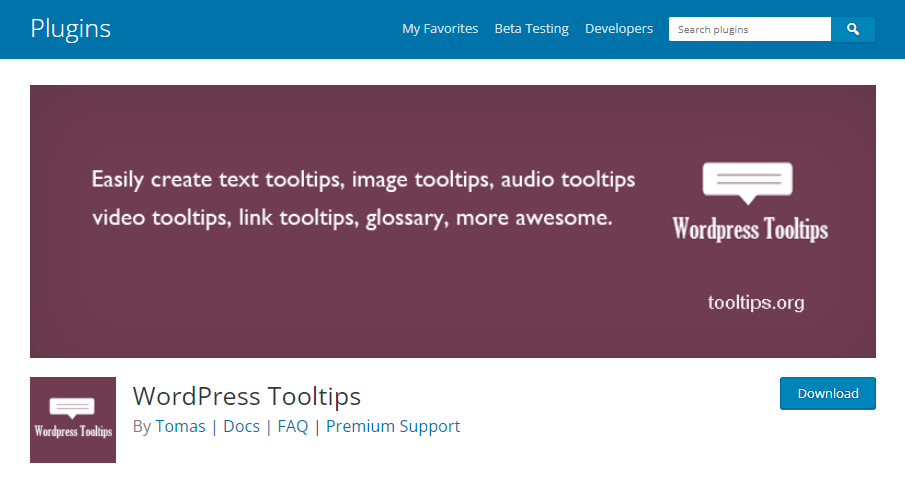 WordPress tooltips enable you to make a variety of changes to your WordPress site, such as adding a glossary, an index page for the glossary, and so on. It allows you to add video, image, text, and other relevant stuff to this Elementor tooltip.
You may also add tooltips to any part of the page, such as tags, post content, post title, WordPress archives, and so on. It supports a variety of languages and makes navigating different language websites easier.
✅ Key Features:
Change the style of the glossary.
Tooltip for Importing CSV Files
Glossary Index Page can be enabled or disabled.
Shortcodes are accepted.
Options for personalization.
Price: It's completely free.
Conclusion
So there you have it: the top six WordPress plugins for tooltips. These plugins can be quickly inserted into your website using with or without shortcodes. You'll be able to determine which plugin to use for your website after reviewing the essential features and costs of these plugins.
All of the above plugins are adaptable and simple to use, with a variety of appealing features. They'll make it easier for you to make your WordPress site more engaging and interesting.
These plugins will provide a useful service to visitors to your website. So, pick the best plugin for your website and keep your visitors interested.
Lastly, we hope that you like the article. And for more interesting updates on WordPress don't forget to like us on Facebook.